Mara Tieken, assistant professor of education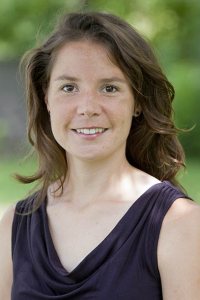 Mara Tieken, newly appointed as assistant professor of education, researches how rural public schools shape their communities and, in particular, the schools' influence on racial dynamics. A former public schoolteacher in rural Tennessee, Tieken says she is "continually stunned by how overlooked rural schools are in educational policymaking."
Bates is especially proximate to that reality. While one in five children in the U.S. lives in a rural area, in Maine that figure is closer to one in two. "You never hear about these children in all of the education debates," Tieken says, "yet that context powerfully influences the education schools provide. What works in an urban or suburban school might not work in a rural one."
She adds that rural schools support their communities in ways that may not apply in the cities — not only providing scarce jobs, but promoting community cohesion, providing political power and, she notes, "influencing who is — and who isn't — a part of the community."
"The threat of school closure hangs heavy over many rural communities because, many residents fear, closure means the end of their community. We need a better understanding of all of these aspects of rural schooling in order to write policies that promote strong, equitable schools and healthy, inclusive communities."
For her dissertation at the Harvard Graduate School of Education, where she also earned her master's, Tieken conducted and analyzed some 70 interviews exploring the functions of public schools in the rural South. (She received her undergraduate degree in social psychology at Dartmouth.) She is a consultant on rural education and community organizing for the Annenberg Institute for School Reform at Brown University.
This fall, Tieken will teach two 200-level courses, "Race, Cultural Pluralism, and Equality in American Education" and "Perspectives on Education." She looks forward to exploring ways that rural Maine and its schools are experiencing the influx of new populations, particularly Latino.
"It's an interesting time to be in Maine, with the new charter school laws and the recent focus on school district consolidation," she says. "These issues could dramatically reshape rural schooling, and they raise all sorts of questions about community, democratic participation, local control. I'd love to work with students tracking some of these trends."
Qualities that drew Tieken to Bates include its commitment to social justice, its focus on undergraduate teaching and its size, with only about 1,700 students on campus. She adds, "I felt that I'd be challenged and supported to teach well and do rigorous work — it seemed like the sort of place where I could remain committed to the things that are most important to me."
"I love the somewhat-rural setting, too," Tieken says. "The snow? Not so much. But I have snow tires, lots of down and a kitchen cabinet full of grits. I'm ready."
Leave a Reply
This is a forum for sharing your thoughts about the preceding post with the public. If you have a question for the author, please email the Bates Communications Office at communications@bates.edu.