Facing wind and rain, AESOP leaders held fast and thought faster
Bates' student-run Annual Entering Student Outdoor Program expeditions are plenty stimulating all by themselves, but this year an uninvited guest called Tropical Storm Irene upped the ante on the excitement.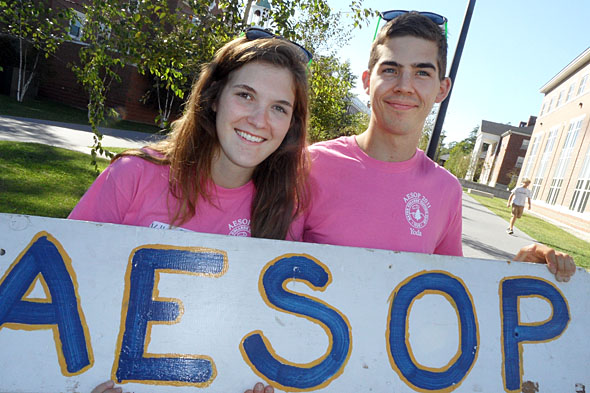 The former hurricane, still packing heavy rain and strong winds, cast doubt on whether new students could get to Bates in time for their trips; and whether AESOP could launch the trips from Bates and to the intended destinations.
Mike Sagan '12, current Outing Club president, and past president Kellen MacFadyen '12 organized the 2011 AESOP program. As the storm drew near, they stayed glued to the forecasts and worked with associate deans of students Holly Gurney and James Reese to plan for the worst (even speculating, says Sagan, on the prospects for putting campers in the Gray Cage).
Sagan pondered trip logistics while MacFadyen's job was to track (and in several cases fetch from the airport) incoming students who faced storm-related delays.
One of those students was Matt Neal '14 of Indianapolis. He and his parents spent 35 hours driving to Lewiston. Thanks to roads closed by Irene, "we were pretty much stuck in the car," says Neal, who did make his scheduled AESOP departure. "We spent a couple of hours at a McDonald's, but you can only do that for so long."
In the end, some 10 students simply arrived too late to take part in AESOP. Eight or so students arrived later than they'd hoped, but were either driven out to meet their scheduled expeditions, or given an alternative such as a "chillin' trip" spent tenting at Hermit Island, or joining a community-service AESOP group working in Lewiston.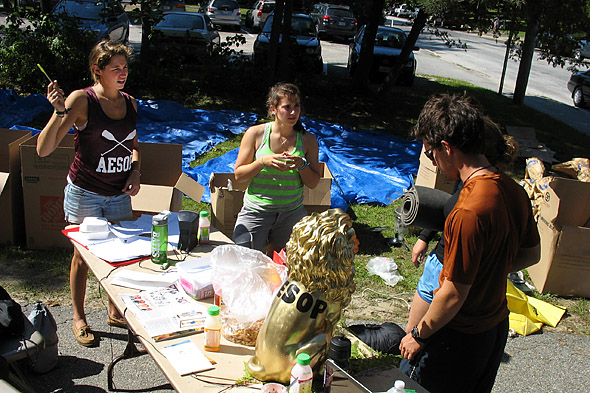 While some itineraries were changed, mostly due to water conditions, only one — a canoe trip on the Saco River — was canceled, as the outfitting company conducting the trip felt that the river was rolling too high. "Safety was our No. 1 priority," says Sagan. "Everyone was very understanding" about the adjustments that the storm caused.
So in the end, AESOP got off easy — as did Bates and Maine in general, especially considering the misery the storm inflicted elsewhere. In part, that's certainly a result of Irene's timing and path through New England. "We were very fortunate," says MacFadyen.
But the success of the 2011 program also reflects the spirit and expertise of the Bates Outing Club. "We were passionate about getting the kids outside," says MacFadyen. "The Outing Club is very dedicated to that cause."
"That gung-ho, can-do spirit absolutely translated into AESOP 2011," Sagan agrees. "There was never any question in our minds that the trips would go on" one way or another.
View Comments