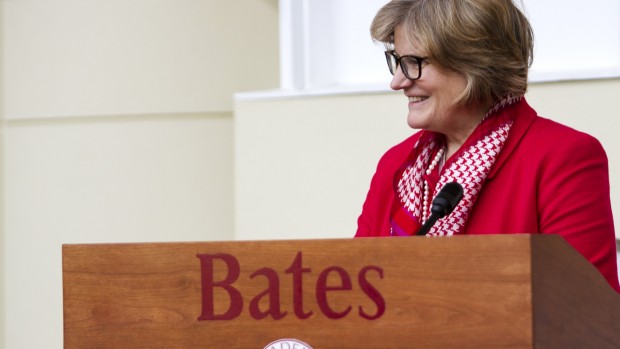 "We have ambitious goals for Bates, and I am inspired by this outpouring of support from the college community," said President Clayton Spencer.
Published on
Description

---

August 14, 2012
3:30 pm

Ray brings more than 15 years of experience as a scholar and leader who bridges thought and action.

July 30, 2012
4:33 pm

The departure of longtime managing editor Robert Long '79 from The Times Record of Brunswick, Maine, did not go unnoticed…

July 24, 2012
3:17 pm

Steve Kingston '88, proprietor of The Clam Shack in Kennebunk, Maine, is the underdog winner of a New York City lobster roll contest.

June 29, 2012
9:40 am

The 12th annual Clean Sweep sale raised a record $21,223 that will be divided among participating nonprofit organizations.

June 18, 2012
4:05 pm

The Lewiston Sun Journal profiles Tomi Chipman '14 and her father Doug on the front page of its Father's Day…

June 5, 2012
12:44 pm

Thanks to a two-year collaboration among the Portland branch of the NAACP, the University of Southern Maine and Bates, valuable papers of the Portland branch are being made accessible to researchers and the public for the first time.

June 1, 2012
3:13 pm

Bates invites Lewiston-Auburn residents to a campus viewing of Tuesday's highly anticipated transit of Venus.

June 1, 2012
2:48 pm

The June 16 Clean Sweep is a "garage sale" on a massive scale that benefits the environment, community organizations and countless satisfied shoppers.

June 1, 2012
2:31 pm

In a May 8 ceremony, the Harward Center for Community Partnerships honored 15 persons and organizations for their efforts to strengthen college-community ties.

May 21, 2012
7:22 am

The Lewiston-Auburn 911 Communication Center is a cheerier workplace thanks to two student artists from Bates.