President's welcome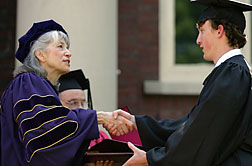 Welcome to this joyous occasion. We are gathered to confer degrees and honor our graduates.
In the last chapter of her great, compassionate novel about people like Bates graduates whose aspirations are boundless, the author of Middlemarch, George Eliot, indulges herself and her readers in a brief glimpse beyond the limits of what we normally see, into the future of the characters she has lovingly brought to life. She cannot bear to let the people of Middlemarch go, and her rhetorical question expresses what may be in the hearts of many here today: "Who can quit young lives after being long in company with them and not desire to know what befell them in after years?"
For all of us who have had the pleasure of your company for the last four years at Bates — and for your parents and families, from whom you also move on after college, though to a lesser degree — this is a difficult moment of letting go, even though we know that the Class of 2006 has been prepared for the after years by the finest undergraduate education in the country.
So while this ceremony celebrates you, our graduates, and our pride in you, it also gives us a welcome opportunity to pause, to hold and extend this moment of being in company with you. These four years have flown by so fast, and now we round out the story of your time at Bates with fitting ritual, a space for thought and memory, for appreciation and hope.
While our 387 seniors one by one cross the stage to receive their diplomas, I invite everyone here to use this time for private reflection: Let's remember the chapters already so successfully written; let's thank the people and ideas, present and absent, who brought us this far; and let's imagine all the wonderful challenges and opportunities that will befall our newest graduates in the years ahead. As Eliot also says, "Every limit is a beginning as well as an ending." That's why we call this commencement.
I know that the members of the Class of 2006 would want to begin by recognizing collectively the parents, grandparents and special others whose support and encouragement have made this occasion possible.  Will all those in the audience who have nurtured and nudged our seniors please rise, so we can thank you?
And I know that we would all like to have the opportunity to recognize another group in our audience, the members of this faculty, whose qualities define the teaching, the scholarship and the learning that occur here. Would the faculty please rise?
Now, it is my distinct honor to confer the honorary degrees for the 140th Commencement of Bates College.