Counseling & Psychological Services
We hear you! In response to students' needs, CAPS is thrilled to offer same-day access appointments beginning in fall 2021. This stream-lined scheduling not only provides more access but allows for much more flexibility in scheduling appointments. Stay tuned for more detailed information to come.
For the 2020 – 2021 academic year, Counseling and Psychological Services will be available for an array of tele-mental health services by appointment only. Please email CAPS@bates.edu or call 207-786-6200 to schedule an appointment.
* Due to professional licensing restrictions, CAPS cannot offer clinical services to any student who is not in Maine.
---
To speak to a crisis counselor 24/7 call 207-786-6200 and dial "0" at the prompt.
Comprehensive & Confidential Mental Health Care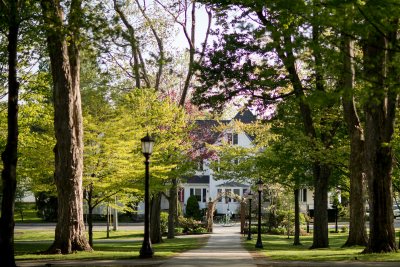 Bates College recognizes that mental health significantly influences one's ability to participate fully in the College community. Counseling & Psychological Services (CAPS) strives to enhance each student's well being by providing comprehensive, confidential mental health care and by encouraging informed, individual participation on mental health-related decisions. Counseling is free to all Bates students. The number of counseling sessions is based on student's needs. Students and their counselor can decide what is most beneficial and how long to continue.
Diversity Statement
The staff of Bates College Counseling & Psychological Services is committed to social justice and examining the impact of systemic and historical issues of power, privilege, and access to resources at the individual, interpersonal, institutional, and structural levels. We are dedicated to the active process of critical thinking and rigorous self-reflection to ensure that all students are treated fairly and competently as well as to compensate for obstacles and unequal treatment that can be set in place by individuals, institutions, and society. For more information, please click here.
Contact Us

In order to ensure the best clinical care while maintaining the health and safety of our students and providers, CAPS is offering video-based tele-mental health services by appointment only.
We look forward to talking with you. Please do not hesitate to contact us at:
Phone: 207-786-6200
Fax: 207-786-8219
Email: CAPS@bates.edu
Virtual Office Hours: 9am-5pm ET Monday – Friday
Emergency Needs
If you have an urgent need to speak to a counselor, please call (207) 786-6200 and press 0 to be connected to our off-site crisis counseling service. This service is available 24/7.
If you are concerned about a student's safety or well-being when CAPS and Health Services are closed, please call Campus Safety at extension 6111 or (207) 786-6254. If you or the student are off campus, please call 911.