Fall 2016
Thursday, September 19
6:30-7:30pm
Muskie Archives, 201
A reading with author

Aleksandar Hemon
book sales and signing
FMI janthony@bates.edu/207-753-6963


Born in Sarajevo, fiction writer and essayist Aleksandar Hemon visited Chicago in 1992, intending to stay for a matter of months. While he was there, Sarajevo came under siege, and he was unable to return home. He published his first story in English in 1995, and has since written two novels, The Lazarus Project (Riverhead 2009) and The Making of Zombie Wars (FSG 2015), three collections of short fiction, and a book of essays, The Book of My Lives (Picador 2013). Winner of MacArthur "Genius" Foundation and Guggenheim Fellowships, Hemon has been nominated twice for the National Book Critics Circle Award, and the National Book Award. He lives in Chicago, IL.
PHOTO CREDIT: Velibor Bozovic
Thursday, October 6
6:30-7:30pm
Pettengill Hall, G52 Keck Classroom
A reading with poet

Cate Marvin
book sales and signing
FMI eosucha@bates.edu/207-753-6963
Cate Marvin's first book, World's Tallest Disaster, was chosen by Robert Pinsky for the 2000 Kathryn A. Morton Prize and published by Sarabande Books in 2001. In 2002, she received the Kate Tufts Discovery Prize. She co-edited with poet Michael Dumanis the anthology Legitimate Dangers: American Poets of the New Century (Sarabande Books, 2006). Her second book of poems, Fragment of the Head of a Queen, for which she received a Whiting Award, was published by Sarabande in 2007. Marvin is Professor of English at the College of Staten Island, City University of New York.  A recent Guggenheim Fellow, her third book of poems, Oracle, was released from W.W. Norton & Co. in March 2015. She is currently a visiting professor in creative writing at Colby College and lives in Portland, Maine, with her family.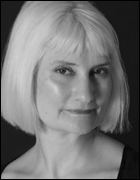 Thursday, September 19
6:30-7:30pm
Muskie Archives, 201
A reading with poet, essayist and novelist

Terese Svoboda
book sales and signing
FMI janthony@bates.edu/207-753-6963
Nebraska-native Terese Svoboda is an internationally-renowned poet, essayist, novelist and translator, including a full-length South Sudanese Nuer book of song. Her memoir, Black Glasses Like Clark Kent (Graywolf 2008), an investigation into her uncle's claim that MPs may have executed their own men during the occupation of Japan after World War II, won the Graywolf Nonfiction Prize.
Svoboda is the recipient of the Guggenheim Fellowship, the Iowa Prize for poetry, the O. Henry Award for the short story, and is a three-time winner of the New York Foundation for the Arts Fellowship. Her writing has appeared widely in the New Yorker, the Atlantic, Paris Review, Poetry, Times Literary Supplement, and the N. Y. Times. Svoboda has published five books of fiction and six books of poetry, and her Collected and New Poems will be published in November of 2016.