David Chokachi '90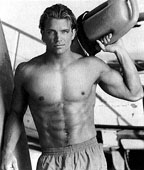 At first, David Chokachi '90 was understandably awed by working with his co-stars on "Baywatch," the most-watched television program in the world."In the beginning it was intimidating," he said recently. "But after about two weeks, you realize everybody's human, and everybody puts their pants on the same way."
Not that the stars on "Baywatch" are putting pants on that much. The syndicated show, portraying the lives and loves of a small group of Southern California lifeguards, derives at least some of its amazing world-wide popularity from its insistent aversion to clothes.
"Baywatch" is also the latest pop culture fad to feed into the escapist, sun-and-fun image of the Southern California beach culture, first cultivated by the Beach Boys more than three decades ago.
Today, "Baywatch" perpetuates that Southern California dreamin' lifestyle. The phenomenon is undeniable: each week, more than a billion viewers worldwide tune in. "Watching the show is a great way to escape," says Chokachi of the show. "And that's a concept that translates pretty well around the world."
Chokachi is the newest addition to the buff Baywatch band, playing Cody Madison, a Pepperdine University swimmer and Olympic hopeful. To get the role, Chokachi had to beat out hundreds of other Cody wannabees. Some didn't get the job for a simple reason: they were afraid of the water. He says his athletic ability, honed partly at Bates as a letter-winning member of the football and lacrosse teams (his former coach, Web Harrison '63, remembers Chokachi as a "dedicated athlete") helped quite a bit.
"They like the energy I bring to the show, and the fact that I'm a good athlete has definitely paid off," he said. "I'm the only one — except for Alexandra Paul [Lt. Stephanie Holden] — who can actually do a lot [of the action stunts]."
Chokachi's journey from Bates (where he's remembered as David Al-Chokhachy) to "Baywatch" has been rapid. After Bates, he worked briefly for Massachusetts Congressman Gerry Studds before returning to his hometown of Plymouth, Massachusetts.
Looking for work back home, he noticed aBoston Globe modeling ad seeking "good-looking guys with athletic bodies." Before long, Chokachi was modeling for the Ford Agency under the name David "Chokes" (a Bates nickname he shared with his brother, Robert '92) and doing ads for Reebok and L.L. Bean.
Did the Bates economics major have any qualms about entering a field where his physique would be valued over his liberal-arts trained mind?
"Bates gave me the confidence to take a chance," he says. "It gave me the awareness that there's a lot out there in the world. A liberal-arts education, where you get a bit of everything, enabled me to think, wow, I can try this."
Before long, that take-a-chance attitude landed Chokachi in Los Angeles, where commercial work for Sunny Delight, small roles in movies and rock videos, and print work kept him busy until his agent called about the "Baywatch" opening.
Nothing at Bates — not its supportive, friendly community anyway — prepared Chokachi for the LA scene. "If you're not working, it's you against everyone else," he says. "Before I got this part, I might audition fifteen times a week for a month straight and get nothing. It's definitely a dog-eat-dog world, and completely different from Bates. When you finish an audition, there's no one there to say, 'Hey, you did a great job, nice work.'"
But now, he's enjoying being part of a hit TV series. "Everyone from the crew to the producers (who include the show's star, David Hasselhoff) is so supportive. It's weird: You go through a stage of you against the world, then when you get a part, it seems you get that support team."
Filming for the 1995-1996 season began in June and concluded in October. The season opener — in which Chokachi played a prominent part — aired in late September.
When Chokachi signed his contract last spring, the producers only guaranteed him seven episodes this year. "Within those seven episodes, the producers would decide whether to pick me up. Well, they did, and I'm in fifteen of nineteen episodes this year, which is unheard of for a new person on the show."
This fall, Chokachi and his comely co-stars are traveling around the world to promote the show: London in October, then Australia and New Zealand. "They say when we travel it's ridiculous, you can't go anywhere without five security guards. They'll maul you," he says.
Chokachi is definitely enjoying himself. He keeps in touch with his Bates friends — classmates like Robert Whitley, Jeff Bochenek, Joe Sylvester, David Smith — and tries to maintain his perspective working on the world's most popular television show.
"It's just a job," he says, adding, "a job that a lot of people watch you do."
By H. Jay Burns