Zerby Lecture
2022-2023 Lecture: Cole Arthur Riley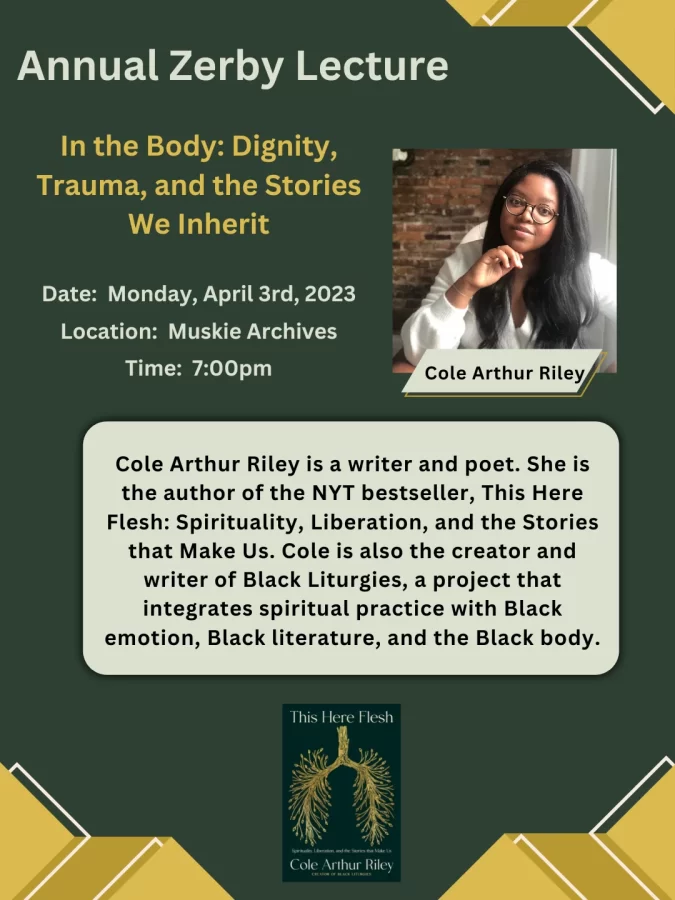 ---
The Rayborn Lindley Zerby Lectureship on Contemporary Religious Thought was established with a gift to the College by the Campus Association in April of 1965. The series was initiated the following year by the late Dr. Samuel Miller, Dean of Harvard Divinity School.
The lectureship "honors a man who devoted many years to the growth of Bates College as a teacher and as Dean of the Faculty. It is entirely fitting that Bates students should initiate such a tribute to a highly respected teacher and friend."
A native of Avilla, Kansas, Dr. Rayborn L. Zerby received his Bachelor's degree from Eureka College in 1916. He received his Bachelor of Divinity degree in 1927 and his Ph.D. Degree in 1930. As an instructor, he was promoted to Assistant Professor in 1932, Associate Professor in 1935, and Professor of Religion in 1942. He served as Chairman of the Department of Religion and Philosophy from 1930 to 1945. Director of the Chapel from 1945 until his retirement in 1962, he was appointed Dean of the Faculty in 1958.
---
Past Lecturers:
2022-2023: Cole Arthur Riley
2020-2021: A Panel Featuring Rev. Dr. Otis Moss Jr.
2019-2020: Michael Twitty
2018-2019: Dr. Emily Welty
2017-2018: Rev. angel Kyodo williams
2016-2017: Sohaib N. Sultan
2015-2016: Kate Braestrup
2014-2015: Jay Michaelson and John Thatamanil
2013-2014: Michelle A. Gonzalez
2012-2013: Patrick S. Cheng
2011-2012: Celia Deane-Drummond
2010: Paul F. Knitter
2009: Kimberley Patton
2008: Sam Keen
2007: Barbara Brown Taylor
2006: Karen King
2005: Stephen Prothero
2004: Marvin Ellison
2003: Judith Plaskow
2002: Marcus J. Borg
2001: Larry Rasmussen
2000: Rosemary Radford Ruether
1999: Riffat Hassan
1998: Katie Cannon
1997: Diana Eck
1996: Albert Borgmann
1995: Vincent Harding
1994: —–
1993: —–
1992: Gideon Makhanya
1991:(Christopher Lasch/cancelled)
1990: —–
1989: Preston N. Williams
1988: Stanley Hauerwas
1987: —–
1986: James Edward Loder
1985: Eleanor S. Meyers
1984: Peter J. Gomes
1983: Bruce Rusett
1982: John Reeder
1981: Elie Wiesel
1980: William G. McLoughlin
1979: Gene Outka
1978: Daniel Berrigan, S.J.
1977: Mark N. Taylor
1976: Sydney Ahlstrom
1975: Bernard Lewis
1974: Robert N. Bellah
1973: Sallie McFague
1972: Willis E. Elliot
1971: Meredith B. Handspicker
1970: Richard L. Rubenstein
1969: Tom F. Driver
1968: Herbert Richardson
1967: William H. Hamilton
1966: Samuel H. Miller