'Hyman Bloom: The Lubec Woods' on view at Bates Museum of Art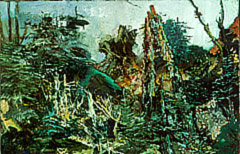 An exhibition of paintings and drawings by distinguished artist Hyman Bloom will be on view at the Bates College Museum of Art from Sept. 14 through Oct. 17. "Hyman Bloom: The Lubec Woods" will open with a reception at 7 p.m. Friday, Sept. 14, in the museum's upper gallery. The public is invited to attend free of charge.
The exhibition will feature a group of landscapes, inspired by the woods of Lubec, a small fishing village on the northeastern coast of Maine near the Canadian border. In consecutive summers from 1955 to 1957, Bloom visited the area of Lubec, making daily forays into the woods and observing with detail the various intricacies and complexities of the trees and natural environment around him. The haunting impressions of the Lubec wilds served as the inspiration behind the collection of Bloom's landscape paintings and drawings featured in this exhibition.
"In his studio, he was free to allow his imagination to transform the Maine woods into a metaphor for everything that is mysterious and wondrous about nature and the human spirit," said Genetta McLean, director of the Bates College Museum of Art.
Born in the tiny village of Brunoviski, Latvia, Bloom fled with his family in 1920 at the age of seven, immigrating to Boston. From there his art was shaped and molded by the transcendent influence of that era. According to author and art critic Philip Isaacson, Bates class of '47, "Hyman Bloom is unique in our time. The level and consistency of the intensity embodied in these visionary drawings are the rarest of accomplishments." A catalogue accompanies the exhibition and includes an essay by Isaacson.
The exhibition will feature 18 Bloom paintings and drawings of the landscape around Lubec, produced with charcoal, pen and ink and oil on canvas media.
The exhibition was funded through the generous support of the Richardson Florsheim Art Fund.
The Bates College Museum of Art is located in the Olin Arts Center, 75 Russell St., and open Tuesday through Saturday, 10 a.m. to 5 p.m., and Sunday, 1 to 5 p.m. Admission is free. Guided tours for schools and other groups are welcome. Call 207-786-6158 or e-mail museum@bates.edu or visit the museum's Web site at <www.bates.edu/acad/museum> for more information.
View Comments