Helen Nearing documentary to be shown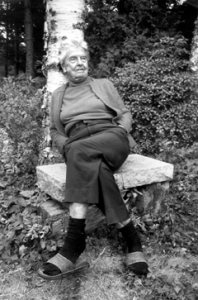 The documentary film Helen Nearing & The Good Life: Conscious Living and Conscious Dying will be shown at 4:30 p.m. Tuesday, Oct. 23, in Skelton Lounge of Chase Hall at Bates College. The public is invited to attend the screening, followed by a discussion with its Portland producers Polly Bennell and Andrea Sarris, free of charge. The presentation is part of a series, "Spiritual Journeys: Stories of the Soul 2001-02," sponsored by the chaplain's office.
The film, first released in 2000, examines the lives and deaths of Maine authors Helen and Scott Nearing, best-known for their book about homesteading,Living the Good Life: How To Live Simply and Sanely in a Troubled World. More than a biography of Helen, this film explores the Nearings' commitment to self-sufficiency and voluntary simplicity. It also unveils the spiritual philosophy in which their lives and work were rooted.
Arriving in the Maine village of Harborside in 1952, the Nearings eventually wrote more than 50 books and hosted a steady stream of visitors seeking to learn about their way of life. Producers Bennell and Sarris spent five years collecting photographs, interviews and archival footage to create this film portrait.
Part of the film explores Helen Nearing's eagerness to face death. "I have never taken the outside of life too seriously," Nearing says in the film. "The real Life, with a capital L, is behind all this scenery. I'm anxious to get there and experience that, but I still have to live my day in school. So as long as the old body can continue, I'll stay here – but I'm on my way somewhere else. In transition." Scott Nearing died at the age of 100, in 1983, when he decided to stop eating solid foods. Helen died in 1995 when the car she was driving struck a tree.
Following the screening of the film at Bates, Bennell and Sarris will answer questions and discuss how producing this documentary affected their own spiritual journeys.
Next in the Spiritual Journeys series is Dr. David Loxterkamp, familiy practice physician of Belfast, Maine, who will discuss Practicing Medicine as 'Practicing the Presence of God at 4:30 p.m. Friday, Nov. 2, in Skelton Lounge. Call 207-786-8272 for more information.
View Comments