Le Corbusier designs depicted at Bates College Museum of Art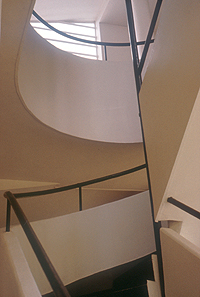 New York architect Elizabeth Donoff '89 discusses her photographs of two structures designed by Le Corbusier, one of the 20th century's most influential architects, in a lecture at 7 p.m. Friday, Jan. 11, at the Bates College Museum of Art. The lecture, followed by a reception for Donoff's exhibition at the museum, is free and open to the public.
Le Corbusier was one of the architects whose work gave rise to the International Style, the industrialized, glass-steel-concrete aesthetic that has dominated urban architecture since World War II. Titled Elizabeth Donoff: Two Photographic Promenades: The Villa La Roche-Jeanneret and the Villa Savoye, Donoff's exhibition depicts two buildings in France that are among Le Corbusier's most influential.
Through collaging and multiple views of specific architectural features, Donoff's images seek to reflect in two dimensions effects that the architect created in three. The exhibition is intended to comment on how photography influenced both Le Corbusier's designs and how we perceive them.
Donoff graduated from Bates in 1989 and holds a master's degree in architecture from Washington University, in St. Louis. She made the photographs in the exhibition during a 1993 visit to France supported by the Steedman II Traveling Fellowship from the university's School of Architecture. She is now an architect and planner in New York City.
Donoff's exhibition runs through March 24, as does the Upper Gallery exhibit. That show, 2001 Biennial Design Awards of the Maine Chapter of the American Institute of Architects, consists of building designs, by firms throughout Maine, that were judged for excellence in architecture. For more information about the exhibit, call Judith Harvie of the AIA at 207-623-1218.
The Bates College Museum of Art was founded to preserve the nation's largest repository of Marsden Hartley drawings and other items relating to this important American artist, a Lewiston native. Its other holdings include a robust print collection and notable works by Maine artists of national significance, such as Dahlov Ipcar, the late William Thon, Neil Welliver and Charles Hewitt.
The flagship museum for the Maine Art Museum Trail, the Bates College Museum of Art is located in the Olin Arts Center, at the edge of the Bates campus on Russell Street, Lewiston. Admission is free. The museum is open 10 a.m.-5 p.m. Mon.-Sat. and 1 p.m.-5 p.m. Sun. The museum is closed New Year's Eve and New Year's Day. For additional information, please call 207-786-6158.
View Comments