Robert Feintuch discusses his paintings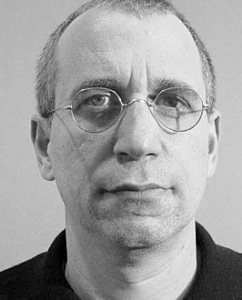 A member of the  Bates art faculty whose work has received prominent exhibitions in America and Europe, Robert Feintuch discusses his paintings at 7 p.m. Thursday, March 14, in Room 104, Olin Arts Center.
Based in New York, Feintuch achieves a clarity and brightness that, paradoxically, deepen the mystery of his images. His best-known works include self-portraits set in cryptic, sometimes humorous, circumstances that find the artist particularly vulnerable — asleep, nude or literally with his pants down.
"Many of these images could be moments in a narrative sequence selected from quotidian, lived life," stated the catalog for Feintuch's 2001 solo exhibition at the Howard Yezerski Gallery, in Boston. "But the cropping and stillness of the compositions, and [their] luminosity . . . make it clear that the images are metaphorically open and psychologically suggestive."
Feintuch has exhibited his work at the CRG Gallery in New York, the Jewish Museum in San Francisco and the Venice Biennale, as well as galleries and museums in Cologne, Germany, and Verona and Bologna, Italy, among other venues.
Sponsored by the Bates College Museum of Art, this event is free and open to the public. For more information about the lecture, please call 207-786-6158.
View Comments