Babb exhibition enters final weeks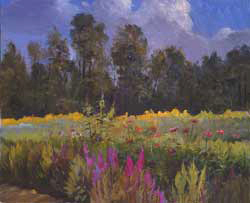 A major exhibition of Maine landscapes by Joel Babb, whose realist approach has made him a favorite with collectors all over the Northeast, is featured at the Bates College Museum of Art through Dec. 29.A resident of Buckfield and an instructor at the School of the Museum of Fine Arts, Boston, Babb has been a notable presence in New England art for more than 20 years. He is known for large, luminous, boldly colored works whose approach to imagery and composition is virtually photographic.
In Boston, Babb is especially well-known for cityscapes that include street-level views and a series depicting the city as seen from a helicopter, such as "Copley Plunge." In 1996, working in consultation with the doctors who performed the first successful kidney transplant, Babb finished a mural of that historic operation that is displayed in the Courtway Library at Harvard Medical School.
Babb's work is represented in the collections of the Bates museum, Harvard University's Fogg Art Museum, the DeCordova Museum (Lincoln, Mass.) and numerous corporations and individuals. His exhibition venues have included the prestigious Sherry French Gallery and Gerold Wunderlich and Co. (both in New York City), Kathleen Dolan Fine Art (Boston), the Art Complex Museum (Duxbury, Mass.) and the Contemporary Art Center (Cincinnati, Ohio).
In Maine, he has shown at the Portland Museum of Art, the Ogunquit Art Museum, Frost Gully Gallery, Round Top Center for the Arts and Maine Coast Artists, among other venues. Intimate Wilderness is the fifth Bates exhibition representing Babb.
The Bates College Museum of Art was founded to preserve the nation's largest repository of Marsden Hartley drawings and other items relating to this important artist, a Lewiston native. Its holdings include a robust print collection and notable works by Maine artists with national significance, such as Dahlov Ipcar, the late William Thon, Neil Welliver and Charles Hewitt.
The flagship museum for the Maine Art Museum Trail, the Bates College Museum of Art is located in the Olin Arts Center, 75 Russell St. Admission is free. The museum is open 10 a.m.-5 p.m. Mon.-Sat. and 1 p.m.-5 p.m. Sun. The museum is closed Christmas Eve, Christmas, New Year's Eve and New Year's Day.