Global Lens film series presents I Am From Titov Veles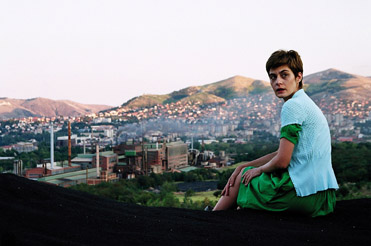 Now in its second season at Bates College, the 2009 Global Lens film series features the Macedonian film I Am From Titov Veles in showings at 8 p.m. Friday and Sunday, Sept. 18 and 20, in Room 105 of the Olin Arts Center, 75 Russell St.
Hosted by the Bates College Museum of Art, the series continues on Fridays and Sundays at the same time and location throughout the fall. Admission is $5. For more information, please contact 207-786-6135 or this olinarts@bates.edu.
Written and directed by Teona Strugar Mitevska, I Am From Titov Veles is a contemporary story that follows three sisters who take different paths out of their decaying hometown (2007; 102 min. In Macedonian with English subtitles).
The Global Lens series is produced by the nonprofit Global Film Initiative, created to promote cross-cultural understanding through cinema. Although American film continues to thrive in the global marketplace, filmmaking in the developing world has suffered from shifting economic conditions in financing and distribution. As a result, audiences in the United States have been denied the rich cultural lessons these films have to offer.
Mitevska's film is set in the scarred town of Veles, where the sisters long to escape the suffocating environment of their dying community. Burdened by memories of their late father, Sapho struggles to secure a visa to Greece, Slavica desperately searches for a rich husband and Afrodita harbors hopes for love and children. Mitevska blends stark realism with memorable performances to create a vivid landscape of life and longing in post-communist Macedonia.
Mitevska was born in Skopje, Macedonia, in 1974. As a child she acted in commercials and dramas in the theater, television and radio. She later trained as a painter and obtained her bachelor's degree in graphic design. In 1998, she enrolled in the MFA film program at New York University's Tisch School of Arts. Her first feature film, "How I Killed A Saint," screened successfully at festivals around the world. I Am From Titov Veles is her second feature film.
Here's the remaining Global Lens schedule at Bates:
Mutum, a coming-of-age story set in rural Brazil and directed by Sandra Kogut (Sept. 25 and 27).
My Time Will Come, a murder story directed by Ecuadorian director Víctor Arregui and focusing on a doctor at the city morgue forced to confront his connection to the living and the dead (Oct. 2 and 4).
The Photograph, Indonesian director Nan Triveni Achnas' story of the unlikely but powerful relationship between a young prostitute and an elderly portrait photographer (Oct. 9 and 11).
Possible Lives, a haunting and suspenseful study of grief and letting go by Argentinian director Sandra Gugliotta (Oct. 16 and 18).
Sleepwalking Land, which follows an orphaned refugee on a journey with an elderly storyteller to find his mother after a devastating civil war. Directed by Teresa Prata of Mozambique (Oct. 30 and Nov. 1).
Song from the Southern Seas, by Kazakh director Marat Sarulu, a film described as "darkly somber" and "tender and wistful" that deals with suspicion and cultural differences between longtime friends (Nov. 6 and 8).
Those Three, by Iranian director Naghi Nemati, tells of friends who desert their military training and attempt to survive in the wilderness of northern Iran (Nov. 13 and 15).
What a Wonderful World by Moroccan director Faouzi Bensaïdi closes the series with a film illustrating the complex web of connections between a prostitute, traffic cop and contract killer in modern Casablanca (Dec. 4 and 6).
View Comments