Pianist Jon Nakamatsu to perform with Bates Orchestra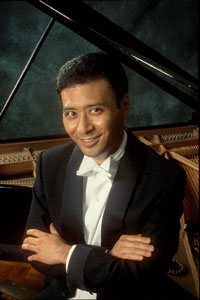 Classical pianist Jon Nakamatsu, gold medalist in the 10th Van Cliburn International Piano Competition, will perform Edvard Grieg's Piano Concerto with the Bates College Orchestra at 8 p.m. Friday, Nov. 7, in the Olin Arts Center Concert Hall, 75 Russell St.
Works by Dvorák and Mozart round out this concert conducted by Philip Carlsen, a composer and lecturer in music at Bates. Sponsored by the Mellon Learning Associates Program in the Humanities, the concert is open to the public at no charge.
Called "a major pianistic talent" by the Denver Post, Nakamatsu first performed at Bates in September 2002 in the Bates College Concert Series. A California native and former high school German teacher, he secured his place on the international scene in 1997 by winning the coveted Cliburn gold — the first American to have achieved this distinction since 1981.
Equally comfortable in solo recital, chamber ensemble or in front of an orchestra, Nakamatsu brings a formidable grasp of repertoire ranging from Bach to contemporary composers like Lukas Foss.
"Besides being an astounding technician," wrote Chicago Tribune reviewer Dan Tucker, "Nakamatsu shows impeccable taste; he puts a high gloss on anything he plays."  Nakamatsu will make a five-day visit to Bates that culminates with the orchestral concert. "I'm quite excited about getting to know him better and all of us being on stage with him," says Carlsen.
Composed in 1868, Edvard Grieg's Piano Concerto in A minor (Op. 16) is a staple of the Romantic repertoire and is the work that first put this Norwegian composer on the international stage. Lively, tuneful and imaginative, the concerto is overtly indebted to Norwegian folk music and as such is an enduringly popular result of a 19th-century wave of musical nationalism.
The program also includes the Serenade in D minor, written for winds, cellos and basses by another composer associated with Romantic nationalism, Antonin Dvorák; and Wolfgang Mozart's Symphony No. 35 ("Haffner").
"We're having a great time with the 'Haffner,' " Carlsen says. "It's a piece that helps the orchestra sound good — the students are working hard on it and enjoying it." Numbering about 45 players, the orchestra will consist almost entirely of Bates students.
View Comments