Alumni performers celebrate Plavin, Modern Dance Company's 35th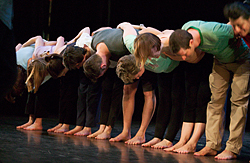 More than 150 alumni of the Bates College Modern Dance Company came from as far away as Japan to take part in a May 1 dance performance marking the company's 35th anniversary and honoring company founder Marcy Plavin.
In addition to the performance, the dance alumni, along with the Plavin family and friends of dance, offered two lasting and visible thank-yous to this revered Bates mentor: a collective gift of more than $450,000 to fund two new dance studios within Merrill Gymnasium, and an original, mixed-media charcoal drawing of Plavin, based on a photo, that will hang in the studio space.
The studios, to be named after Plavin and scheduled to open in September will be the first home for the dance program, whose rehearsal spaces over four decades have included dorm basements and a variety of gyms.
The Schaeffer Theatre performance on Saturday evening included the current Modern Dance Company performing "Canonic 3/4 Studies," a piece by acclaimed choreographer Mark Morris, and Alwin Nikolais' 1953 "Tensile Involvement." Alumni from as far back as the Class of 1969 danced in both a variety of short pieces and a long suite that constituted the entire second half of the program.
That suite included choreography by two alumni who have made dance their professions: Michael Foley '89, who is assistant professor of modern dance at the University of South Florida, and John Carrafa '76, a Tony Award-nominated choreographer acclaimed for his work on the Broadway hits Urinetown and Into the Woods.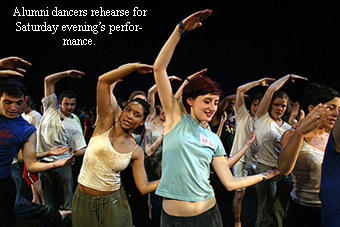 The performance was rich in tributes to Plavin, of Lewiston, who started at Bates in 1965 and retires as director of dance this year. Plavin is known at the college as both an early advocate for an expanded role for arts in the curriculum and a close friend and mentor to many of the students who worked with her. Saturday's event was "almost solely about devotion to Marcy and what she contributed to our experience at Bates," said dance company veteran Suzanne Carbonneau '76, who is now a dance critic and dance historian.
This wasn't the first MDC anniversary for which alumni have trekked back to Lewiston, but was an especially significant one because of the impending retirement of Plavin, who was first hired at Bates by the director of women's physical education. "Marcy might have been the first adult who wanted me to call her by her first name," said Geri FitzGerald '75, now a Bates Trustee, told Bates Magazine in 2000. "In many ways, she was the first adult friend that I had."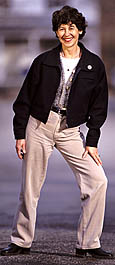 "They're my extended family," Plavin says. "We've had great times together. Dance seems to build those kinds of friendships."
During Plavin's tenure, the dance program has grown dramatically — from two courses in the PE department to a rich slate of academic offerings that students can take as a secondary concentration. In the not-too-distant future, Bates hopes to offer a dance major. Since 1983 the college has been home to the Bates Dance Festival, which Plavin founded and which today ranks in the top tier of such events in the United States.
Plavin will remain a presence at Bates, but succeeding her as head of the dance program is Carol Dilley, who arrived last fall. Dilley's resume includes teaching at the University of Washington and in a variety of dance programs in Sydney, Australia. She has also run a dance company in Barcelona, and attended the Bates Dance Festival as a student in the early 1990s.
"Carol will do wonderful things," Plavin says.
For information on making a gift to support the ongoing dance-studio project as well as dance programming at Bates, e-mail Shanna Bruno, Office of College Advancement, or phone 207-786-8254.
View Comments