Comedian visits to discuss Maine's creative economy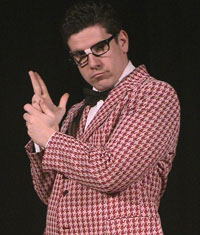 Bates College presents Michael Miclon, a well-known Maine comedian and new vaudevillian, with a talk about the state's creative economy at 7 p.m. Monday, Oct. 25, in the Edmund S. Muskie Archives, Campus Avenue.
Part of the Bates College Seminar Series on Entrepreneurship, the talk is sponsored by the Office of Career Services and is open to the public at no charge. For more information, please call 207-786-6232.
Miclon is a juggler, humorist and slapstick comic. He and his wife, Kim, own the Oddfellow Theater, in Buckfield, an establishment featuring an eclectic range of family-friendly entertainment — including the popular variety revue, the Early Evening Show. In its first six years, the theater has presented more than 300 performances for more than 10,000 audience members.
Miclon is a member of the Odd Company, a trio with Fritz Grobe, four-time gold medalist at the International Jugglers Festival and co-founder of the juggling and dance ensemble "blink," and Amanda Huotari, from the Boston improv comedy troupe "Juice."
The former executive director of Maine Arts Inc., Miclon is known for his advocacy of the arts as an economic force in the state.
Miclon began his career in 1982 at age 14 as an apprentice to Benny and Denise Reehl, of the New England New Vaudeville Revue, based in Gardiner. He also studied with the late mime master Tony Montanaro at the renowned Celebration Barn Theater, South Paris.
Miclon has performed across Maine, at the Kennedy Center and the White House in Washington, D.C., the Keller Theater in Giessen, Germany, and the Festa Americana in Naples, Italy.
View Comments