Bates Choir to perform Britten's Ceremony of Carols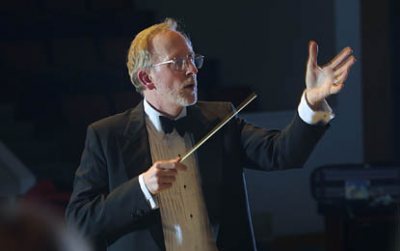 Directed by John Corrie, the Bates College Choir performs Benjamin Britten's popular Ceremony of Carols in concerts at 8 p.m. Saturday and Sunday, Nov. 15 and 16, in the Olin Arts Center Concert Hall, 75 Russell St.
Admission is free, but tickets are required. For more information, please contact 207-786-6135 or this olinarts@bates.edu.
Corrie is the artistic director of the Maine Music Society and a member of the college music faculty. He has directed the Bates choir since 1986.
The choir's program also includes Vivaldi's Gloria and Das Cartas, a piece by Hiroya Miura of the Bates music faculty.
An English composer and conductor, Britten wrote his paean to the Christmas season in March 1942, during a five-week voyage across the North Atlantic as he returned to England from America. He originally created the work as a series of unrelated songs and later organized it into the present 11-movement piece.
Set to a sparing musical fabric of harp and voices, the Middle English texts come from The English Galaxy of Shorter Poems and are, for the most part, of 15th- and 16th-century origin.
The work was first sung by the Morriston Boys' Choir, conducted by Britten, in London in December 1943.
View Comments