Indonesian shadow puppets, orchestral concert make for intriguing evenings in Olin Concert Hall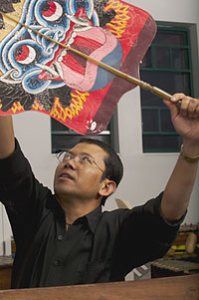 A shadow-puppet performance of an ancient Indonesian story and an orchestral concert featuring a setting of four poems by a noted Maine poet will distinguish Bates among local arts presenters this weekend.
At 8 p.m. Friday, Nov. 12, the Bates College Orchestra presents a program including conductor Philip Carlsen's setting of poems by renowned Maine writer Wesley McNair.
At 8 p.m. Saturday, Nov. 13, Indonesian puppet master Joko Susilo will present a shadow-puppet performance of "The Abduction of Sinta," a central story from the Hindu epic Ramayana. Susilo will be accompanied by the Bates Gamelan Mawar Mekar ("blossom of inspiration"), an Indonesian-style gamelan orchestra, and guest musicians from New Hampshire and Minnesota.
Both events take place in the Olin Arts Center Concert Hall at Bates, 75 Russell St., and are open to the public at no charge. For more information, please call 207-786-6135.
The orchestral concert features Four Journeys in Maine, a 1989 composition by Bates faculty member and orchestral director Philip Carlsen. This piece is a setting of works by award-winning poet McNair, author of the collections My Brother Running and Fire. McNair and Carlsen are colleagues at the University of Maine at Farmington, where the poet directs the creative writing program and Carlsen is a professor of music.
Soprano Christina Astrachan, of the Bates music faculty, is featured vocalist on the Carlsen work. Each movement of Four Journeys evokes a place, or a sense of place — a late-night drive in the country, a Farmington street in the snow, a decrepit building in the potato fields of Mars Hill, birdwatching on Monhegan Island.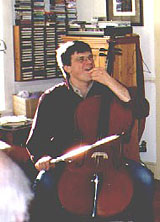 The orchestra will also perform Haydn's Symphony No. 99 in E-flat and Borodin's In the Steppes of Central Asia.
Joko Susilo belongs to the eighth generation of "dalangs" — shadow-puppet masters — in his family, and also composes and teaches gamelan music. Although Indonesia today is predominantly Muslim, a period of Hindu rule beginning in the seventh century left a cultural legacy that remains robust.
"Wayang kulit," the puppet theater form practiced by Susilo, derives many of its stories from the Hindu epics Mahabarata and Ramayana. On Nov. 13 he will perform a central episode from the latter.
It's the story of the battle between Rama, a semi-divine king, and the demon-king Rawana. Rawana, smitten by the beauty of Rama's wife, Sinta, asks a servant to help him kidnap her.
The servant transforms himself into a golden deer, which Sinta asks Rama to catch for her. "This evil deer tricks Rama away from Sinta, far away in the middle of the forest, so then Rawana can take Sinta from Rama," Susilo explains.
"Rama's friend, the gigantic bird Jatayu, tries to save Sinta," he continues, but Rawana kills the bird and reclaims Sinta. Finally, Rama enlists the aid of a monkey god and his followers to fight Rawana, and an epic battle ensues between the monkey army and the giant soldiers of Rawana.
"The story ends with the reunion between Sinta and her husband, Rama," says Susilo. "Happy ending."
More than mere fantasy, the story and the epic from which it's derived are rich in moral lessons, Susilo says. "In the puppets we have a lot of philosophy. If you watch the puppets it's like you're watching yourself in the mirror. You will find yourself, because many, many characters appear on the screen — 'Oh, that's like me.' "
"Rama is the incarnation of wisdom, the god of law," and exemplifies good leadership, he continues, and the play will offer lessons, about leadership and other subjects, that won't be lost on observers of contemporary politics. "It's for everybody — for children, adults, all people."
The guest artists are Jody Diamond, a New-Hampshire-based singer and international expert on gamelan, and Nicole Erickson, a gamelan musician from Minnesota.
Bates is unique in Maine and distinguished nationally for its resources in Indonesian performing arts, especially its extensive collection of shadow puppets — around 250 — on permanent loan by David Eisler, of Dover, N.H.
"Only a few schools in the United States have a complete set of puppets," Susilo says. "There are more than 500 gamelan groups, but the complete puppets are very few."
A lecturer in the music department at the University of Otago, Dunedin, New Zealand, he is teaching at Bates through the college's first-ever grant from the Fulbright Scholar-in-Residence Program. He was born into a family of dalangs in a village in Central Java, Indonesia. At the age of 3, his father began taking him to performances, and at age 10 he performed his first all-night wayang kulit play.
He finished his doctorate at Otago in 2000. In the United States, Susilo has taught and performed at the Kennedy Center in Washington, D.C, at Dartmouth and at the University of Virginia, among other venues. Internationally he has worked in the United Kingdom, Australia and the Netherlands, and brought his Padhang Moncar gamelan group from Victoria University, Wellington, New Zealand, on tour in Indonesia.