Bates ranked in top 5 percent of national athletics programs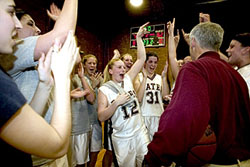 In its highest rating ever, the Bates College athletics program has been ranked 19th out of 420 in the NCAA Division III winter rankings.
The National Association of Collegiate Directors of Athletics introduced the Sports Academy Directors' Cup (formerly called the Sears Directors' Cup) in 1995-96 as a measure of the overall athletic success of colleges and universities in the three NCAA divisions as well as in the National Association of Intercollegiate Athletics. Besides awarding a trophy cup to the top school, the organization ranks the top 100 schools in each of the NCAA's three divisions.
"This places us squarely among the top 5 percent of all Division III athletics programs," said Bates Director of Athletics Suzanne Coffey. "Our successes have come in both team and individual sports."
Bates is one of four schools in the top 20 that are all members of NESCAC (the New England Small College Athletic Conference). "We compete in the strongest conference in Division III, and our ranking is evidence of our ability to win at both the NESCAC and national levels," Coffey said. She noted that one year ago, Bates was ranked 34th among the 420 NCAA Division III athletics programs.
The three other NESCAC teams are Williams (ranked first), Middlebury (fifth) and Amherst (11th). The only other Maine teams in the top 50 are Colby (24th) and Bowdoin (36th). The rankings are conducted three times a year: after fall, winter and spring sports seasons.
These winter standings include the sports of fencing, skiing, women's and men's basketball, ice hockey, swimming, track and field, and men's wrestling.
The Sports Academy Directors' Cup was developed as a joint effort between the National Association of Collegiate Directors of Athletics and USA Today. The United States Sports Academy, based in Daphne, Ala., is the program sponsor. Points are awarded based on each institution's finish in up to 18 sports — nine women's and nine men's.
The ranking was announced at Bates April 10 before 546 Bates student-athletes at the college's annual All-Sports Awards Banquet. Varsity athletes constitute almost one-third of the Bates student body.
View Comments