College Concert Series presents jazzman Kenny Garrett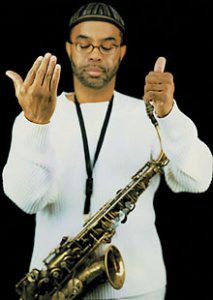 The quartet led by jazz saxophonist Kenny Garrett performs in the Bates College Concert Series at 8 p.m. Friday, Jan. 6, in the Olin Arts Center Concert Hall, 75 Russell St.
Admission is $8 for adults and $5 for senior citizens and non-Bates students with ID. For additional information about the series and the concert hall, please see the concert series Web site. For reservations, please call 207-786-6135.

The next entries in the series are the St. Lawrence String Quartet (Feb. 4) and a program of South American music by classical guitarist Michael Nigro (March 4).
Composer and alto saxophonist Garrett is well into the third decade of a career dedicated to sustaining the freshness and vitality of jazz. Firmly rooted in the bebop he performed with legends Miles Davis and Art Blakey, Garrett has also explored rock with Sting and Peter Gabriel, classical music with the New Jersey Symphony and hip hop with Guru and Q-Tip.
Born in Detroit, Garrett was introduced to jazz and the sax at an early age by his father, who played tenor. Detroit offered ample opportunity to explore soul, gospel and classical firsthand. In 1978, Garrett was hired by the Duke Ellington Orchestra, and in the 1980s worked with Blakey and Woody Shaw. In 1986 Davis called, starting a five-year, four-album association that indelibly marked Garrett's life and career.
His first album as a leader, Introducing Kenny Garrett (Criss Cross) appeared in 1984. He has since recorded for Atlantic and Warner Bros. His eighth and latest Warner title, Standard of Language (2003), delivers some of his most forceful work to date, capturing the spark of the quartet's live work and showcasing Garrett's compositions.
View Comments