Maine singer-songwriter closes Midsummer Lakeside Concert Series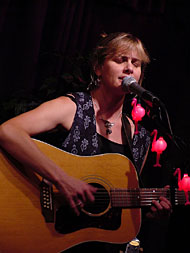 The 2006 Bates College Midsummer Lakeside Concert Series concludes on Aug. 10 with a 6 p.m. performance by Maine-based singer-songwriter Carolyn Currie. The show takes place in the Florence Keigwin Amphitheater, overlooking Lake Andrews at Bates. The rain site is the adjacent Olin Arts Center Concert Hall, 75 Russell St.
The concert is open to the public at no charge. Bring blankets or lawn chairs and a picnic supper. For more information, please call 207-786-6400.
Of Currie, the respected folk-music magazine Dirty Linen said simply, "Look out, Dar Williams and Catie Curtis . . ." Celebrated for her deeply felt lyrics, ringing melodies and captivating voice, she is a prizewinning veteran of festivals and folk competitions all across the continent, including the gold-standard Kerrville Folk Festival, in Texas.
A student of the Beatles, Judy Collins, Simon and Garfunkel and other '60s icons, Currie was also influenced by such writers as Henry David Thoreau and Emily Dickinson. She has shared stages with such respected artists such as Cheryl Wheeler, Tom Rush and Maine's own Ellis Paul. Her latest recording, Kiss of Ghosts (Etherean), was chosen as one of 2004's top independent releases by Performing Songwriter Magazine. She lives in Cumberland.
View Comments