Bates Dance Festival presents 'Different Voices' concert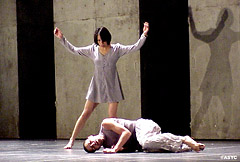 The annual "Different Voices" concert features a wide range of dance from around the globe as visiting artists from the United States, Mexico, India, Taiwan, Hong Kong and South Africa bring new works to the Bates Dance Festival stage. The festival presents "Different Voices" at 8 p.m. Thursday, Aug. 10, and Friday, Aug. 11, in Schaeffer Theatre, 305 College St. Tickets are $18/$12 (students and seniors) and may be purchased by calling 207-786-6161 after July 8.
Rani Khanam is one of India's foremost Kathak dancer/choreographers. For 15 years, she was groomed under Birju Maharaj and Reba Vidyarthi, gurus at the Kathak Kendra, New Delhi, where she graduated with top honors in Kathak-Lucknow, a traditional style of Indian dance. The Kathak Kendra experience widened her horizons and enriched her repertoire so that her innovative choreographies are simultaneously traditional and contemporary.
Alicia Sanchez is the artistic director of El Teatro de Movimiento, a Mexico City-based contemporary dance company. She has received numerous choreographic awards at home and abroad and has preformed in the United States, Canada and the Czech Republic. Her most recent commission was for the Ririe Woodbury Dance Company in Salt Lake City.
Po Lin Tso is an independent choreographer who danced for 12 years with the Hong Kong Dance Company, performing a repertoire of modern and traditional Chinese dance. In 1997 she was named "Artist of the Year" by the Hong Kong Artist's Guild. Her interpretation of leading roles has won her critical acclaim in the local cultural community.
Wei Ching-Ju is a young dancer and actor from Taiwan who currently performs with Legend Lin Dance Theatre, a repertory company devoted to large-scale dance dramas. She has acted with several well-known Taipei theater troupes, including Shakespeare's Wild Sister, that were instrumental in establishing the highly acclaimed Taipei international Theater Festival.
Lucky Kele is an emerging choreographer from Johannesburg, South Africa. Despite having no formal dance training, he has been creating engaging small works over the past several years. His work has been presented annually at two major dance venues, the FNB Dance Umbrella and The Dance Factory in Johannesburg.
In addition to main stage performances, the festival offers a selection of free and low-cost events. Complete information is available at the festival's website
At press time the Bates Dance Festival gratefully acknowledges support from the National Endowment for the Arts, New England Foundation for the Arts, National Performance Network, Maine Arts Commission, Surdna Foundation, Asian Cultural Council, Altria, Fisher Charitable Foundation, Sam L. Cohen Foundation, Androscoggin Bank, Cole Hahn, Liberty Mutual Insurance, Mechanics Savings Bank and TD Banknorth.
View Comments