College receives national recognition for community partnerships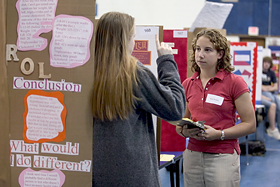 The Carnegie Foundation for the Advancement of Teaching recently selected Bates College for its new Community Engagement Classification, created to recognize colleges and universities that have institutionalized community engagement in their endeavors.
In another honor, the Corporation for National and Community Service has named Bates to the first President's Higher Education Community Service Honor Roll  for distinguished community service, a recognition of extraordinary volunteer efforts by the school and its students to serve local neighborhoods.
Bates is one of 62 schools, out of 76 recognized, to receive the Carnegie Foundation's classification for community engagement under both "Curricular Engagement" and "Outreach and Partnerships." Unlike the foundation's other classifications that rely on national data, this is an "elective" classification — institutions chose to participate by submitting required documentation.
The Carnegie classification recognizes the particular strengths of Bates' collaboration with the community: the breadth and depth of partnerships; the variety of models; the longevity and innovation of partnerships; and the variety of campus partners involved. Some of the collaborative efforts that best exemplify the work that Bates is doing include partnerships with the Lewiston Public School System, Maine State Government, Lewiston Housing Authority, Museum L/A Oral History Project and Thorncrag Bird Sanctuary.
The Harward Center maintains partnerships, many spanning a decade or more, with more than 120 community organizations. This community work was nurtured early on through the Bates Center for Service-Learning, established in 1995 as one of the first of its kind. The commitment to community partnerships has been extended through the 2005 formation of the Harward Center, which now houses the Service-Learning Program.
"I am delighted, but not surprised, that both the Carnegie Foundation and the Corporation for National and Community Service saw fit to recognize Bates' accomplishments in community engagement and public service," says David Scobey, director of the Harward Center for Community Partnerships and Donald W. and Ann M. Harward Professor of Community Partnerships.
It's especially gratifying, says Scobey, that the Carnegie Foundation has named Bates as a "community engaged institution" under both the possible headings of community partnerships and curriculum. "We have worked hard to make civic engagement a means of public benefit and educational innovation," Scobey says. "It's wonderful that both achievements were recognized."
Led by Anna Sims Bartel, the associate director of the Harward Center, the staff spent much of the summer gathering a wealth of information about community projects, partnerships, volunteer programs, summer programs, work study and funding commitments.
"Many people know, for example, about Bates dining services' commitment to local sustainable practices; many know about our green energy commitments; many know about the Service-Learning Program or the Bates Morse-Mountain Conservation Area," Bartel says. "But few of us have had the opportunity to see it all together at once, to understand the scope and scale of our work in and with the community. It's fairly staggering."
By making its case for national recognition, Scobey says, "we also unearthed parts of our history of community engagement that will enrich and inspire the future work of the Harward Center. These honors are the culmination of many years of creativity and hard work by Bates staff, students and faculty — literally hundreds of individuals."
"But they are also the result of the generosity and staying power of our community partners," adds Scobey. "The Harward Center is lucky to reap the benefits of many years of collaboration, and we are grateful to everyone who made possible these honors."
Carnegie Foundation President Lee S. Shulman points out that the colleges and universities selected for this elective classification provide examples for other schools "around teaching and learning and around research agendas that benefit from collaborative relationships. Funding new and better ways to connect with their communities should be a high priority for higher education institutions today."
Bates was one of 140 institutions of higher education recognized for distinguished service among the nearly 500 schools named to the President's Honor Roll. Schools receiving distinguished service recognition provided exceptional community service over the past year, contributing their time, resources, energy, skills — and intellect — to serve America. As an honor roll recipient, Bates was also one of a handful of institutions commended for using more than 20 percent (23.19 %) of its federal work-study funds for community service.
The President's Higher Education Community Honor Roll is co-sponsored by the Corporation for National and Community Service, the Department of Education, the Department of Housing and Urban Development, USA Freedom Corps and the President's Council on Service and Civic Participation. The recognition is presented in cooperation with Campus Compact, a national coalition of nearly 1,000 college and university presidents, and supported by all the major national higher education associations.
View Comments