With college's support, Museum L-A opens Portraits and Voices exhibition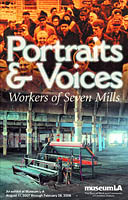 Museum L-A, an institution presenting the story of work and community in Lewiston-Auburn, opens the exhibition Portraits and Voices: Workers of Seven Mills at 5 p.m. Saturday, Aug. 11, in the Bates Mill Complex, 35 Canal St. Supported by a Bates College Harward Center Grant for Publicly Engaged Academic Projects, the museum's first temporary major exhibit remains open through Feb. 28, 2008. The museum's first-floor gallery is open to the public 10 a.m. through 4 p.m., Monday through Saturday.
Called "extraordinary" by Harward Center director David Scobey,  the exhibition consists of 45 photographic portraits of retired millworkers taken by Mark Silber, a cultural anthropologist, photographer, oral historian, author and organic farmer. Silber has written and illustrated a number of books on a broad range of subjects, including local histories of Sumner and Rumford, Maine, organic gardening and stock car racing. He has taught at Bates, the University of Southern Maine and other institutions.
Each exhibition photograph is accompanied by an excerpt from the depicted millworker's oral history interview, produced by Andrea L'Hommedieu, an oral historian for the Bates College Edmund S. Muskie Archives.
Bill Low, assistant curator at the Bates College Museum of Art, co-designed and helped to install Portraits and Voices. To support his work on the exhibition, Low was one of eight Bates faculty and staff to receive a 2007 Harward Center for Community Partnerships grant, given for publicly engaged teaching, research, cultural and other community projects.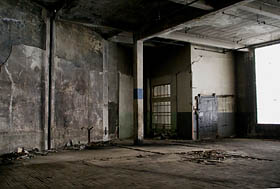 While Silber's photographs portray the workers, Bates photographer Nels Nelson '07 uses his camera to explore the historic, largely unoccupied Bates Mill Complex. "Representation in handmade images is illusory, but photographs …  can be mirrors of specific times and places," Nelson wrote for his senior thesis exhibition work. Nelson's archival digital prints that are hung in Museum L-A, he says, "are a record of these spaces before their eventual renovation or destruction."
In addition to Portraits and Voices, the Harward Center and Bates faculty members have partnered with Museum L-A to collect oral histories and create a traveling social-history presentation about the mills and the 20th-century millworker experience. This exhibit will open in November.
View Comments