Noted environmental artist to present Otis Lecture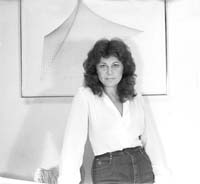 Agnes Denes, a renowned environmental artist who brought a wheat field to the Manhattan cityscape, offers the annual Otis Lecture at Bates College at 7 p.m. Friday, Sept. 28, in the Olin Arts Center Concert Hall, 75 Russell St.
Titled The Paradox of Eco-Logic: Individual Creation vs. Social Consciousness, the talk is open to the public at no charge. A reception for the landmark exhibition Green Horizons, a dynamic examination of environmental sustainability, will follow in the adjacent Bates College Museum of Art. Denes is a participant in the exhibition.
The Otis Lecture is made possible by the Philip J. Otis Endowment at Bates.
An originator of conceptual art, Denes has investigated the physical and social sciences, philosophy, linguistics, psychology, art history, poetry and music — explorations that have informed her unique works of visual art. She was one of the first to develop the relationship of science to art, and is internationally regarded as a pioneer in ecological art.
Often monumental in scale, Denes' works bridge ecological, cultural and social issues. She may be best-known for "Wheatfield — A Confrontation," a two-acre planting in 1982 in New York City that addressed human values and misplaced priorities.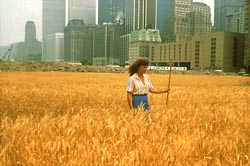 Denes' "Tree Mountain — A Living Time Capsule" is a conical mound in Finland planted with 11,000 pine trees in a complex spiral pattern. "A Forest for Australia" comprises 6,000 trees of endangered species planted in pyramids in Melbourne. Denes is currently creating a 25-year master plan for an 85-kilometer string of historic forts in the Netherlands.
She displayed work in more than 350 solo and group exhibitions, including three Venice Biennales and the "Master of Drawing" Invitational, in which she represented the U.S., at the Kunsthalle in Nurnberg, Germany. In New York, Denes has shown at the Museum of Modern Art, the Metropolitan Museum of Art and the Whitney Museum, and her work has appeared in 42 other museums on four continents.
A 100-piece retrospective of her work organized by Bucknell University in 2003 toured across the United States.
Her many honors include the Jill Watson Award for Transdisciplinary Achievement in the Arts from Carnegie Mellon University, the Rome Prize from the American Academy in Rome and the Eugene McDermott Award in the Arts from the Massachusetts Institute of Technology.
Denes was born in Budapest in 1931, grew up there and in Sweden, and attended Columbia University and the New School. She lives in New York City.
The annual Otis Lecture at Bates is funded by the Philip J. Otis Endowment, established in 1996 by a gift from Margaret V.B. and C. Angus Wurtele in memory of their son, Philip, a member of the class of 1995 who died attempting to rescue injured climbers on Mount Rainier.
In recognition of Otis' appreciation for nature, the endowment helps support Bates programs with an environmental focus, in particular those exploring the spiritual and moral dimensions of humanity's relationship with the environment.
View Comments