Vienna Piano Trio opens impromptu, nine-day 'piano week' at Bates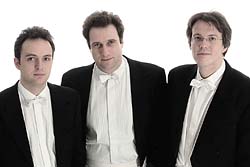 Featuring Maine's best-known pianist and visiting performers of international renown, the piano rules Bates College's Olin Arts Center Concert Hall, 75 Russell St., for nine days in October.
One of the world's foremost violin, cello and piano ensembles, the Vienna Piano Trio performs music by Beethoven, Erich Korngold and Brahms at 8 p.m. Friday, Oct. 5.
Bates' Noonday Concerts series presents artist-in-residence Frank Glazer and his former student Chiharu Naruse, now a performer and teacher in her own right, playing Mozart's Piano Concerto in D minor on two pianos at 12:30 p.m. Tuesday, Oct. 9.
In a particularly "Batesy" event, pianist Duncan Cumming, another Glazer student and a member of the Bates class of 1993, premieres two preludes by Bates faculty member William Matthews at 7 p.m. Wednesday, Oct. 10.
Finally, acclaimed pianist Inon Barnatan — described as "refined, searching, unfailingly communicative" by London's Evening Standard — opens the Bates College Concert Series at 8 p.m. Saturday, Oct. 13. Barnatan also holds a master class in the concert hall at 11 a.m. the following day.
Admission for the Barnatan concert is $10 for the general public and $3 for students. The other events, including the Barnatan master class on Oct. 14, are open to the public at no charge. For Barnatan concert reservations or more information, please contact 207-786-6135 or this olinarts@bates.edu.
More about the performers:
(Oct. 5) Since 1988, the Vienna Piano Trio has visited virtually every major music center in Europe, the Americas, Australia and the Far East. Violinist Wolfgang Redik, cellist Marcus Trefny and pianist Stefan Mendl studied with such towering musical figures as Isaac Stern and Joseph Kalichstein as well as members of the Beaux Arts Trio and the Guarneri and LaSalle string quartets.
In 2001, Matthias Gredler replaced Trefny. Today the trio performs regularly at such festivals as the Schubertiade Schwarzenberg, the Mozartwoche Salzburg and the Beethovenfest Bonn, as well as events in Canada. They have appeared in London, Paris, New York, Buenos Aires, Toronto, Mexico City, Tokyo, Sydney, Barcelona and Berlin.
(Oct. 9) Ninety-two-year-old Frank Glazer, a pianist of international renown, has taught at Bates since 1980. In a era whose pianists often strive for the gloss of mechanical precision and a big sound, Glazer instead makes all else secondary to the music's own message.
"He has thought everything through and tried to get at the core of what the music is about. Everything he does is about that," says colleague James Parakilas, a pianist himself and the James L. Moody Jr. Family Professor of Performing Arts at Bates.
A Topsham resident, Glazer brings to the concert stage a highly distinguished career that includes numerous recordings, solo recitals and performances with orchestras and chamber ensembles, including the New England Piano Quartette, of which he was a founder.
In October 2006, Glazer celebrated the 70th anniversary of his 1936 New York City debut by performing that debut program at Bates.
A faculty member at the Portland Conservatory of Music, Chiharu Naruse began studying piano at age 4 and studied in Japan until 1996. In 1997, she was accepted to the Hans Eisler Hochschule fuer Musik in Berlin, where she performed recitals regularly. In 2002, she moved to the United States to study with Glazer. She has given several concerts at Bates and has played with the Portland String Quartet and the Augusta Symphony.
(Oct. 10) Duncan Cumming will premiere the preludes "Two Chords" and "Prestissimo" by Matthews. "They are part of a set of eight pieces composed two years ago, exploring different styles of music and ways of making pianists work extra hard," the composer explains.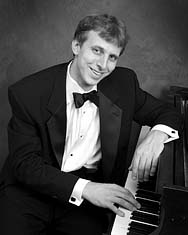 'Prestissimo,' for example, usually indicates that the music should be played about as fast as possible. Yet in this quick little piece, the performer finds the word 'stringendo' at a certain point, which means to speed up still more."
Cumming will also perform music by Debussy, Chopin and Weber. A native of Maine, he graduated with highest honors from Bates College in 1993, where he studied with Glazer.
In 1994, on a full scholarship from the European Mozart Foundation, he participated in chamber music study and performance at the European Mozart Academy in Prague, Czech Republic. He received his master's in 1996 from the New England Conservatory, and in 2003 earned his doctorate from Boston University.
Cumming was on the faculty at Phillips Academy in Andover, Mass., from 1994-2006. In 2002, he joined the faculty of the Boston University Tanglewood Institute, where he is assistant director of the Young Artists Piano Program. He joined the faculty of the University at Albany in fall 2006.
Cumming frequently collaborates in double concerto, two-piano and four-hand repertoire with Glazer, and performs with his wife Hilary, violinist and head of applied music at Concord Academy in Concord, Mass.
Alice Swanson Esty Professor of Music at Bates, Matthews is a composer and conductor who studied at Oberlin, the University of Iowa, Yale and the Institute of Sonology in the Netherlands. A recipient of several national awards and commissions, he is particularly interested in electronic and computer-generated music, and in American music of all types. He teaches composition along with courses in jazz and popular music.
(Oct. 13–14) In the opening performance of the 2007–08 Bates College Concert Series, Barnatan will play sonatas by Haydn, Barber and Schubert. A Dallas Morning News reviewer wrote of Barnatan, "This young Israeli, only 27, has had some great teachers and won some important prizes — who hasn't these days? But he really might be on the level of [iconic pianists] Artur Schnabel or Leon Fleisher."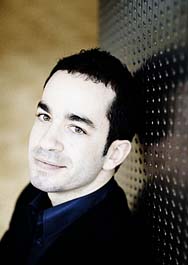 Despite his youth, Barnatan has built a flourishing reputation through orchestral, recital and chamber performances worldwide. He is praised for his poetic and passionate playing and his thoughtful programming. Recent seasons have brought him to Carnegie Hall, Lincoln Center's Alice Tully Hall, Vienna's Musikverein and the Arts Theatre in Shanghai.
His debut CD, a Schubert collection for Bridge Records, was released in June 2006 to great critical applause. Also in 2006, Barnatan devised a project of compositions from Schubert's last year of life that he will present this season with the Amsterdam Concertgebouw and guest artists.
Born in Tel Aviv in 1979, Barnatan started piano at age 4 and made his orchestral debut at 11. He resides in New York City.
View Comments