Muskie Oral History Project receives national award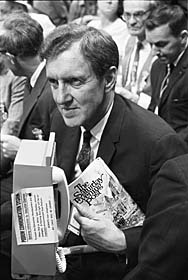 The Edmund S. Muskie Oral History Project, a decade-long Bates College effort to preserve memories and impressions of people who knew the late U.S. senator and secretary of state, has been chosen to receive an important award from the national professional organization of oral historians.
Andrea L'Hommedieu of Auburn, an oral historian who was central to the Muskie project, will receive the Oral History Association's Elizabeth B. Mason Major Project Award on behalf of the college on Saturday, Oct. 18, during the association's annual meeting, in Pittsburgh.
Given every other year, the Mason Award recognizes outstanding oral history projects in two categories, major and small. The awards go to projects that represent high standards of professional accomplishment, are noteworthy in their scholarly and social value, and advance both the understanding of an important historical subject and the disciplined practice of oral history.
The award committee cited the Muskie project as a "model for other Congressional collections and Centers to emulate."
A native of Rumford, Maine, and a member of the Bates class of 1936, Edmund Sixtus Muskie would become a Maine governor, U.S. senator, U.S. secretary of state and a candidate for the White House.
Completed at Bates under the auspices of the Edmund S. Muskie Archives and Special Collections Library, the Muskie Oral History Collection is the result of one of the largest and most comprehensive oral history projects about a modern political figure ever undertaken.
Interviews were conducted between 1998 and 2007 primarily by L'Hommedieu and longtime Muskie advisor and friend Don Nicoll. The collection includes more than 400 interviews with individuals who knew, affected or were affected by Muskie over the course of his life and career.
Interviewees include Muskie friends and family, Maine and national politicians, journalists, gubernatorial and U.S. Senate staff, Senate colleagues, State Department officials, law practice associates and citizens affiliated with Muskie in a variety of programs. Opinions and topics vary broadly, collectively providing a nuanced, multifaceted picture of Muskie's contributions to Maine, the United States and the world.
Funding for the creation, processing and online publication of the Muskie Oral History Collection was generously provided by the Edmund S. Muskie Foundation.
The oral history materials complement the Edmund S. Muskie Papers at Bates, some 3,000 linear feet of materials comprising letters and memoranda; press releases and news clippings; speeches, reports and reference materials; photos, film and videotape. Much of the collection documents Muskie's 21 years in the Senate, where his accomplishments included the landmark Clean Air Act of 1970 and Clean Water Act of 1972.
View Comments