Multicultural alumni to share experiences in Homecoming event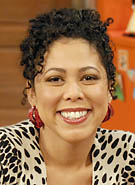 Among the attractions at the forthcoming Bates' Homecoming Weekend is "Faces of Bates Across the Decades," a panel discussion exploring and celebrating experiences of the college's international alumni and alumni of color.
The hour-long discussion begins at 4 p.m. Saturday, Oct. 25, in the Benjamin Mays Center at Bates, 95 Russell St. A reception follows. For more information, please contact Ashley Jewell in the Office of Alumni and Parent Programs at 207-786-6487 or ajewell@bates.edu.
"Alums from different backgrounds and places, with varied lives at and after Bates, will tell their Bates stories," explains Leslie Hill, an event organizer, associate professor of politics and special assistant to President Elaine Tuttle Hansen. "We'll hear how they got here, what mattered most to their success in college, and what parts of that Bates experience may have influenced their lives afterward."
The panelists: Evette Rios '99, an on-air designer for Rachael Ray's television show; Luis Martinez '05, who is working to incorporate what he learned as an art history major into the field of correctional rehabilitation; Kevin Stroman '00, who is juggling careers in music, management consulting and artist management; Anike L. Tourse '92, whose experiences as a Watson Fellow inform her work on stage and as an immigrant rights advocate; and Ibrahim Gharghour '76, a hedge fund developer.
The presentation will offer "a personal, rich and nuanced picture of the Bates experience," Hill says. And the reception will afford an opportunity for audience members, panelists, students and staff to renew old acquaintances or make new ones, as well as discover ways to help Bates build better connections to its multicultural grads.
"Our work with multicultural alumni has not been as successful as with Bates alumni as a whole," Hill explains. "This represents a substantial loss to the College community. For alumni of color and international alums, the significant social, educational and economic benefits that accrue from lifelong engagement with Bates and its alumni body are largely foregone.
"For all alumni, opportunities to participate in a more diverse alumni community are diminished, along with the pleasures of reconnecting with former classmates. And the college as a whole suffers the loss of the contributions of multicultural alumni in such areas as student recruitment, mentoring and career networking, not to mention volunteer service and philanthropy."
Bates now seeks to build a strong culture of engagement, commitment and philanthropy among multicultural alumni. "We have invited alumni of color and international alumni back to campus to offer them a glimpse of Bates now, and to kindle their interest in working together to make the connections meaningful and mutually enriching."
After earning a biology degree at Bates, Rios attended the Parsons School of Design and the Graduate School of Design at Harvard. She now designs interiors through her firm Sitio, as well as sharing her advice in the Spanish-language magazine "Siempre Mujer." Prior to working with Ray, Rios designed on camera for HGTV's "Freestyle" and TLC's "In A Fix."
Martinez had already achieved some success as a high school football champion in Cleveland by the time he arrived at Bates. Not content to confine his prowess to the field, he traveled to Italy to pursue his art history major. Now, he wants to inject art into prison rehabilitation as part of criminal justice policy.
Stroman was a track and field champion at Bates, majoring in economics and Chinese language off the field. These days he juggles three careers — jazz singing and tending corporate duties in both a global management consulting company and an artist-management company — while applying to business school.
Tourse graduated from Bates with a rhetoric degree. Her Watson Fellowship supported research into multicultural and multiclass theater in Israel and Nigeria. She now lives in Los Angeles, where she acts, writes for the stage and works to advance the rights of immigrants.
A native of Lebanon, Gharghour majored in economics at Bates and went on to earn an MBA from New York University. After a successful career in international banking, he has parlayed his expertise into hedge fund development at a leading global investment company.
View Comments