Your Page: Regarding Harry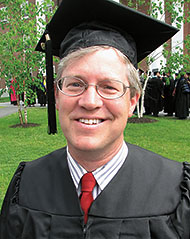 Harry W. Rowe graduated in 1912, began work at Bates in 1914, and retired as dean of the faculty in 1957. That was two years before I was born.
He was 90 when I met him while working a few summer hours in his garden at his home on College Street.
He was 92 when I became his roommate.
On move-in day my senior year, 1980, the phone rang in our Turner House suite. The voice on the phone was easy to recognize: Dean Harry Rowe — "Harrirowe" to most of his peers.
"Don, my daughters want to put me in a nursing home," he said. "I'm hoping that I can find a responsible Bates student to take the room upstairs here so that I might remain at home."
I moved in immediately. It was an odd decision, like a lot of my decisions back then, which is perhaps why I was a few credits short of a diploma in 1980–81.
I found that not much ever went to waste at Dean Rowe's home. Like many of his generation, he saved every National Geographic issue and owned complete collections of several other periodicals. He saved scraps of bread, cake, and other such stuff in a special place in the big chest freezer. These became the fundamental ingredients for his annual batch of brown bread.
Almost everything was planned out, and the list of tasks was always forward-looking.  Each spring he made a batch of root beer so it would be aged properly for the warm days of summer. It was a welcome reward for the boys who worked summers in his garden.
Almost everything was planned out, and the list of tasks was always forward-looking.
Dean Rowe, like many of us, enjoyed foods that aren't necessarily good for us. Fried clams at the Chickadee were a high point. And he loved to add salt to everything. The doctors wanted him to cut down on salt, so his dutiful daughter replaced all the salt in the house with a salt substitute. One day of that was enough for Dean Rowe. "Don, I'm 92 years old. My quality of life is diminished without salt," he announced. "Pick a solitary shaker and put real salt in it — and tell no one."
I broke my promise recently, telling his daughter Ruth Rowe Wilson '36, who just turned 95. She was relieved that her "well-intentioned but misguided" actions — those are Dean Rowe's words — were not heeded. Ruth knows about quality of life.
One Saturday morning the phone rang while we were up in his attic archives (the attic stairs were off-limits to Dean Rowe, but we were up there anyway). The caller asked for Dean Rowe's daughter — odd, I thought. "I'm sorry, she's not available," I said.  "Would you like to speak with Dean Rowe?"
There was a long pause before the caller responded somewhat incredulously, "Is that possible!?" Dean Rowe took the call, then hung up. He was grinning. "Go to the library and get the latest issue of the SAR Magazine," he said with glee, referencing the publication of the Sons of the American Revolution. "They've published my obituary!" He was tickled, actually, as this was a man who liked to show off his "Life Begins at 90" T-shirt.
Harry Rowe was a man of his word. After finishing his oatmeal one morning, he carried his breakfast dishes to the kitchen sink— not an easy task with a walker. He was there at the sink for quite some time but I didn't check on him. That drove him crazy because he liked his space. Finally I carried my dishes over to the sink, not to interrupt but to see if he needed assistance.
It was clear that he had been crying. "Hope once asked me to put a flower box outside this window. I never did it, and I had forgotten about it until just now," he said.
"Hope" was Eleanor Chandler Rowe '12, his wife and classmate, who had died a few years before. The agenda for that day was transformed. We procured a flower box, brackets, soil, and flowers. The flower box was in place that very afternoon.
Over the last couple of years, I earned my final college credits, and at this year's Commencement I marched with the Class of 2009, wearing a garnet tie that belonged to Harrirowe.
Back then, he had been frustrated with my academic performance. I hope that he would be pleased today. He, of all people, would understand that some things take awhile.
By Don Hill '81
Don Hill '81 lives in New Hampshire.
View Comments