Global Lens series continues with Mozambican film Sleepwalking Land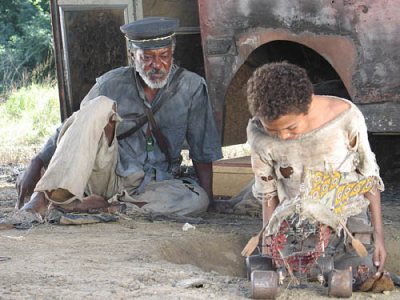 The Global Lens film series at Bates College continues with Sleepwalking Land by Mozambican director Teresa Prata in 8 p.m. showings on Friday, Oct. 30, and Sunday, Nov. 1, in Room 105, Olin Arts Center, 75 Russell St.
Hosted by the Bates College Museum of Art, the series continues throughout the fall. Admission is $5. Sleepwalking Land (97 min.) is in Portuguese with English subtitles. For more information, please contact 207-786-6135 or this olinarts@bates.edu.
The annual series is produced by the Global Film Initiative to promote cross-cultural understanding by showing American audiences little-known, skillfully made independent films. The initiative believes that "a powerful, authentic narrative can foster trust and respect between disparate cultures and mitigate the social and psychological impact of cultural prejudice."
A 2007 adaptation of the Portuguese novel of the same name by Mia Coutou, Sleepwalking Land tells the story of a young boy growing up during the Mozambican civil war. An orphan combing the war-torn countryside of Mozambique in search of his mother, Muidinga's only companion is an elderly storyteller.
Sleepwalking Land is Prata's first feature film. Born in Portugal but raised in Mozambique, she studied biology at the University of Coimbra, but also has a degree in screenwriting and directing from the German Film and Television School.
Learn more about Sleepwalking Land and the entire Global Lens series.
View Comments