Bates College Museum of Art exhibitions explore role of drawing
Featuring Maine artist Joel Babb and Maryland artist Barry Nemett, two exhibitions dedicated to drawings open Saturday, Oct. 10, at the Bates College Museum of Art, Olin Arts Center, 75 Russell St.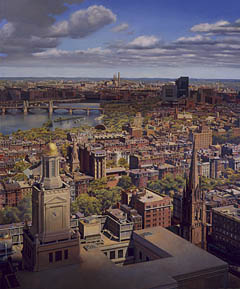 A reception celebrates the exhibits at 6 p.m. Friday, Oct. 30, in the museum. Nemett, chair of the painting department at the Maryland Institute College of Art, talks about his work and signs his 2009 book Paintings, Poems, and Passages at 6:30 p.m. Thursday, Oct. 29, in Olin Arts Center's Room 104.
Babb's exhibit, The Process Revealed, shows until March 26, 2010, while Nemett's Drawings from Italy remains up until Dec. 18. Open free of charge, the museum's hours are 10 a.m. to 5 p.m. Tuesday to Saturday.
Through Babb's exhibit, curator Bill Low investigates the roles of both the act of drawing and the drawings themselves in the production of paintings. Commonly thought of as by-products of the act of creating paintings, drawings are works of art in their own right. Illustrating the creative process by pairing preparatory drawings with finished paintings, this exhibition reveals the stages of work that go into resolved art. The exhibition will display works from three of Babb's many areas of interest: cityscapes, wilderness landscapes and figural works.
Nemett presents landscape drawings made during travels to Italy. He has received numerous awards, including two from the Alfred and Trafford Klots Residency Program to paint in Brittany, France, and a Ford Foundation grant to support his work in Italy.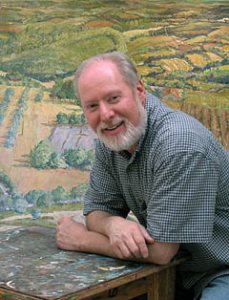 Babb, who lives in Sumner, received a B.A from Princeton University and an M.F.A. from the School of the Museum of Fine Arts in Boston and Tufts University. In 2003, his work was the subject of a major exhibition at the Bates museum titled Intimate Wilderness. He has shown at Vose Galleries and Gallery Naga in Boston; Sherry French Gallery, Gerold Wunderlich and the National Academy Museum in New York City; the Center for Maine Contemporary Art, Frost Gully Gallery, Portland Museum of Art and the Ogunquit Museum of Art in Maine and Trudy Labell Fine Arts in Florida.
Nemett, a graduate of the Pratt Institute and Yale University, has also exhibited widely, including the National Academy Museum in New York, the Rochefort-en-Terre Museum of Art in France and the Aichi Prefectural Museum of Art in Nagoya, Japan. He is also the author of a novel, a textbook and a collection of both writings and art. He has been on the faculty at the Maryland Institute College of Art since 1971. In 2006, he worked as an artist in residence at Bates.
Learn more about these exhibitions and the Bates College Museum of Art.