President Hansen's mid-semester update: Finances, facilities and planning for Bates' future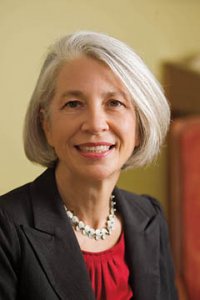 Dear members of the Bates community,
As we head into the second half of Fall semester and following on our first Board meeting of the year, I write to express ongoing appreciation for all the outstanding work that you are doing and to update you on some important matters that our Trustees considered.
As you might imagine, we continue to focus extensively on the financial situation and its effects on Bates people and programs. The Trustees were reassured to see that there is considerable good news on this front. Thanks to concerted efforts to stay within projected budgets, we managed to balance the FY09 budget. Our current work is also made possible by those generous supporters who rose to the occasion last year and remarkably enabled us to reach our goal for the Bates Fund, despite trying times.
This year's goal is significantly higher, but we expect to meet it thanks to the hard work of our Advancement team and the faith that alums, parents and other donors have in our mission. To affirm these high hopes and show their own extraordinary commitment to our College in the most tangible way, each of our Trustees has already made a pledge for this year's annual gift.
Most of you are aware that last year we experienced unexpectedly high student enrollment, and we have prudently earmarked the additional revenue this produced to establish a reserve fund to be used should we see a decrease in enrollments in any future year. So far, we continue to achieve remarkably steady outcomes in admissions. This year, enrollment is right on target, with 1,714 full-time students as of Oct. 1, which should put us close to the budget assumption of an average of 1,710 students for the year.
The incoming class is the most diverse in the college's history, with 19.3 percent of our students identifying themselves as African Americans, Hispanics, Asian Americans or Native Americans, and 4.9 percent hailing from other nations. Retention of continuing students remains strong at 94.4 percent, and this year we have awarded approximately $23 million in financial aid to about 750 students (43 percent of the student body).
A third of the way through the current fiscal year, the FY10 budget looks to be on track as well. As you may remember, we locked in our gas and electric prices, so as long as we are mindful about consumption, energy costs should be on budget this year. Health care is also expected to be on budget, and you can anticipate a more detailed announcement about this issue shortly.
I am particularly grateful to everyone who participated in "CSI Lewiston" (Cost-Saving Initiatives). By decreasing departmental operating budgets and identifying things that we can stop doing as well as things we can do more efficiently, we realized approximately $600,000 in savings. The efficiencies you've already accomplished through thoughtful and collaborative approaches range from putting W-2's on the Web instead of incurring the costs of mailing them and video-conferencing with outside scholars for our Honors program, to greater collaboration between Facility Services and Dining Services in the routine maintenance of our Dining Commons.
We are now taking additional steps that involve both smarter use of technology (like student billing on the Web) and more efficient coordination between departments and offices (such as consolidating Office Services and Facility Services delivery routes). Looking forward, we are also analyzing several more ideas that will result in savings small and large, which will in turn allow us to support the most important priorities and pursue robust educational innovation.
The news about our endowment is more mixed. This past year we witnessed stress in the investment environment the likes of which we have not seen since the 1930s. Moreover, this collapse was sudden and adversely affected all asset classes around the world. Bates was not immune to these shocks and our endowment ended the fiscal year (June 30, 2009) with a decrease of about 26 percent. These results are a departure from five consecutive years of very strong performance, during which our investment returns performed at a level comparable with universities many times our size.
The endowment has since participated in the recent market rise with 9-month (calendar) year-to-date performance of about 20 percent. Our endowment now stands just under$200 million dollars. We are fortunate to have a dedicated and experienced team of Trustees and advisors supporting the investment management process, and I will continue to keep you apprised of endowment changes in future reports.
Looking beyond the current year, in this environment the multi-year forecasting we have been doing for some time now is more difficult and important than ever. Many of our assumptions are challenged, and some we know must change.
As recent media attention reminds us, the growth of our comprehensive fee is going to come under more and more scrutiny. The full effect of the drop in our endowment will be felt in FY12, due to the formula we use to spread out sudden changes. Spending on financial aid is only likely to increase, even as our commitment to making a Bates education accessible remains strong and the kind of education we deliver is more urgently needed than ever. At this point, projections indicate that our budget would be out of balance by approximately $2.5 million. There will be only four ways to close that gap: increasing revenues, boosting fundraising, cutting operations, and reducing salary and benefits. All of these strategies must be carefully considered.
We are also thinking hard about how to encourage the new kind of growth and development this economy and other new realities require. As I discussed with the Trustees, colleges like Bates — and most other higher education institutions in this country — cannot evolve incrementally any more. Now we are pressed to stop doing some things in order to do new things. Although this kind of decision-making is new for colleges, I believe we will find that there are advantages to be gained.
And we have no intention of standing still. The front-page headline in this week's Chronicle of Higher Education reads "In a Time of Uncertainty, Colleges Hold Fast to the Status Quo." If this means we are staying focused, despite the uncertainty, on the fundamental purposes of a four-year undergraduate college that has graduated leaders and problem-solvers for over 150 years, then I read the steadiness and prudence with which we approach change as a key to our dynamic evolution. But there should be no doubt about the fact that we are not hunkering down but instead taking this opportunity to prepare our college to grow even stronger in the future by clearly identifying priorities, planning ahead and thinking strategically about sustainable growth and innovation.
To this end, the Trustees engaged in a lengthy discussion of our Campus Facilities Master Plan Update with our consultants. Like many of you who attended open meetings about the update a couple of weeks ago, Board members were enthusiastic about emerging ideas for the next phases of development. They also discussed in detail the remaining and final project to be completed in Phase I of our Campus Facilities Master Plan, the renovation of Hedge and Roger Williams.
In light of the economic uncertainties and other compelling needs, the Board carefully revisited the commitment of funds to these two projects. After scrupulous deliberation about all the implications of the decision, the full Board approved a recommendation from the College Infrastructure Committee to go forward, providing new homes for key clusters of academic departments together with more and better classrooms, learning and gathering spaces. While practical considerations like the currently low costs of borrowing and construction influenced the Trustees' decision, their action also demonstrates their faith in our academic mission and administrative leadership and the process we engaged in to determine the best use for these historic structures. Work is scheduled to begin this spring.
Finally, the Trustees also reviewed Choices for Bates, which I shared with the campus last month. They join me in thanking all who worked on this two-year opportunity to think strategically and collaboratively, and they extend their support for the initiatives we presented.
As we now begin to implement the initiatives, we will cultivate a new level of collaboration across traditional lines — bridging the academic and administrative silos that have helped define us and creating a more effective web of relationships, academic programs and informal learning opportunities.
We will realize benefits for all constituencies as we address the priorities that have emerged. As we integrate academics and experience more fully, students will learn to use the interconnectedness of the world. Collaboration and networking will become signature skills, because they engage the values and habits we will practice every day. As we strengthen a range of programs, Bates will continue to be a destination for faculty seeking to integrate transformative teaching and stellar research. And because there is high strategic value in the facilities we need and the programs we create, opportunities to invest will energize our donors. Stay tuned for details about implementation. You will hear more very soon.
Going forward, the theme of Choices for Bates suggests doing far more than maintaining the status quo, good as it is; instead we are using the increasingly constrained environment to encourage wise choices and proceeding in a planful, prudent way to build on the palpable momentum of this extraordinary educational community.
With warm regards,
Elaine T. Hansen
President, Bates College
View Comments