Solo show culminates actress's self-designed theater program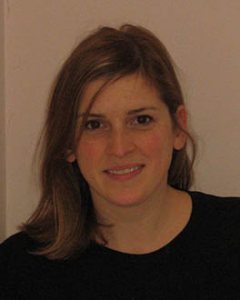 Kelly Cox '11
Tossing and turning on a simple purple couch, Lillian Sullivan '10 delivers an ode to a pizza man.
Rhythmically transforming from needy hopelessness to frantic desire, Sullivan takes her character to extremes. She prattles to the audience in iambic pentameter as she displays her dramatic talent in an intimate 18-by-20-foot space.
Sullivan, an anthropology major from Telluride, Colo., performed Three In One, a set of three monologues by three very different characters, Dec. 1-3 in Bates' Black Box Theater. It was her solo debut on stage after years of performing improv comedy with the student troupe Strange Bedfellows.
The performance culminated an independent study in theater, in which she is minoring. Wishing to create her own production and stretch her acting range, Sullivan designed her course of study in consultation with a faculty advisor.
"I wanted to be able to do theater while incorporating my strengths and creativity from improv," Sullivan explains.
The monologues were chosen by lecturer in theater Katalin Vecsey, who is faculty advisor to the Bedfellows and was Sullivan's independent study advisor. As president of the Bedfellows, Sullivan has had ample experience in comedy, and Vecsey helped her round out her abilities through the more serious monologue set.
The monologues began with "House" by Ruth Margraff, about a woman who calls a clothing company to inquire about an item she admires in their catalog. "My Mother's Eyes" by Jamie Pachino depicted a 25-year-old woman who inherits her father's terminal kidney disease. The closer was "Pizza Apostrophe," Katerine Catmull's monologue by the needy but indecisive woman who longs for a delivery man.
Sullivan took her academic career into her own hands through the independent study, developing a unique program that would address her learning needs and her theatrical growth areas. "This course strengthened my willingness to perform pieces that I may have been indifferent to," she adds.
"[Vecsey] was great at instructing me in areas for improvement, instilling an awareness of movement, providing honest feedback and fostering stronger control. The theater department was also exceedingly accommodating to any desire I had in envisioning this performance."
Vecsey enjoys mentoring students in independent studies. "Working one-on-one with a student throughout an entire semester allows me to focus on developing and improving specific skills," she says, "digging more into their creativity and pushing them really hard to do well."
After graduation, Sullivan plans to take classes at The Second City in Chicago, the nationally acclaimed and influential improv company.
View Comments