Hammered-dulcimer player Harry Vayo continues Midsummer Lakeside Concerts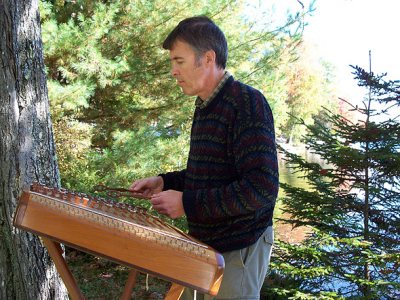 Hammered-dulcimer player Harry Vayo continues the Bates College Midsummer Lakeside Concert Series at 6 p.m. Thursday, Aug. 5, in the Florence Keigwin Amphitheater at the college's Lake Andrews.
Midsummer Lakeside concerts take place on Thursdays in July and August. The series concludes on Aug. 12 with the Celtic-bluegrass fusion band Irish Hill.
Sponsored by the Garcelon Society, the Bingham Betterment Fund and the Harward Center for Community Partnerships at Bates, these family concerts are open to the public at no cost. Listeners are encouraged to bring a picnic and lawn chairs or blankets.
An alternative site will be announced in case of rain. For more information, please call 207-786-6400.
A master of the hammered dulcimer and a self-described healing musician, Vayo performs his own compositions, Celtic and Asian tunes, Beatles songs, Cajun sounds and an occasional classical piece. He has made two recordings and has appeared at the Common Ground Fair and New Year's by the Bay in Belfast, among many other Maine venues.
A local quartet, Irish Hill offers a heartfelt blend of Celtic, bluegrass and old-time fiddle music. The players are guitarist Scott Williams, mandolinist Roberta Hill, fiddler-banjoist Michael Conant and bassist Tim Clough. Rich harmonies by Hill and Conant round out Irish Hill's distinctive sound.
View Comments