Bobcat News: Baseball Chatter
After Chris Burke '11 looped a single into left vs. Fisher College on May 4, PA announcer Dave Myerson '10 delivered the news: "Congratulations to Chris Burke, who just tied Tommy Beaton's single-season hits record!"
Moving to third on the play was none other than Beaton himself, whose 55th hit of the season a few minutes earlier had given him, albeit briefly, the hits record alone. So Beaton couldn't help but rib Burke from across Leahey Field. "At least you could have hit a line drive," Beaton shouted.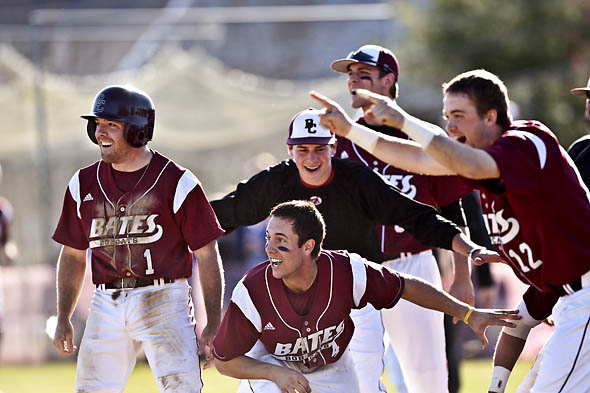 The jocularity was understandable: The Bobcats were in the midst of a doubleheader sweep of Fisher, 17–6 and 18–7, and Bates records were a-tumbling.
The Sun Journal calls the season an "amazing turnaround."
By season's end, second-year head coach Edwin Thompson's team had won a record 25 games against 11 losses, the program's first winning season since 1993.
The Sun Journal calls the season an "amazing turnaround" (Bates went 12–22 in Thompson's first year) and notes that Thompson and his staff "plan to make Bates a worthy rival to perennial NESCAC powers…and even a force in Division III. Don't put it past them."
A slew of single-season records were set in 2010, some simply because of the longer-than-ever season. Still, it's worth noting these broken records, many of which had stood for nearly a generation:
• Twenty-five wins passes the 1984 record of 18.
• Noah Lynd '11 of Meriden, N.H., hit 15 homers, passing the previous record of nine by Gary Page '79 (1979) and Andy Carman '85 (1984).
• Lynd had 44 RBIs, passing Carman (40 in 1984).
• Jake Simon '11 of Waterford, Conn., scored 43 runs, passing Peter Mrowka '85 (40 in 1985).
• Noah Burke '11 of Appleton, Maine, hit 15 doubles, passing Ben Bines '01 (14 in 2000).
• Pat Murphy '11 of Cape Elizabeth, Maine, made no errors in 89 chances in center, the fourth Bobcat to record a perfect fielding percentage with a minimum of 50 chances.
• Pitcher Paul Chiampa '11 of Pembroke, Mass., had 55 strikeouts, passing Dennis Gromelski '88 (52 in 1988).
• Ryan Heide '11, now attending Columbia on the 3–2 engineering program, went 8–1 to take the win record from Pete Shibley '76 (7–1 in 1976).
Meanwhile, in the final game of the season, Tom Beaton collected two hits and graduates owning the single-season hit mark alone — giving Chris Burke something to aim at in his senior year. — HJB
View Comments