Speaker biographies for African Refugee Health: Best Practices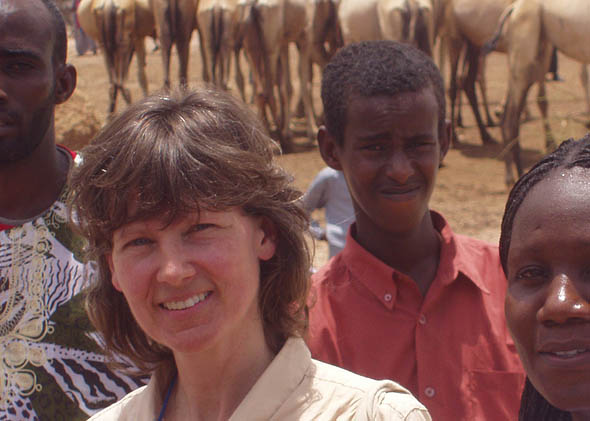 Here are speaker biographies for African Refugee Health: Best Practices.  The conference's nearly three dozen presenters include healthcare workers from across the country and beyond; faculty in diverse disciplines from Bates and other colleges; and interpreters, social workers, counselors and other experts in breaching cultural factors that impede refugee access to healthcare (*indicates keynote speaker).

Aden Hersi Ahmed: Trained by Medicines Sans Frontiers; has eight years of experience as head auxiliary nurse in Hagadera Hospital, Dadaab Refugee Camp, Kenya, where he lived as a refugee. Currently works as an interpreter for C.A.L.L., Lewiston, Maine.
Omar Ahmed, M.A.: A refugee from Somalia, where he worked for the Ministry of Education, he has co-authored papers on Somali immigrant and refugee mental health and substance abuse in the Journal of International Psychology Bulletin. Holder of a master's in leadership and organizational studies, he is a Somali elder and poet-playwright who mediates conflict in the Somali diaspora.
Fozia A. Abrar, M.D., M.P.H.: Practices occupational medicine at HealthPartners Clinics in Minnesota. Also board-certified by the American Board of Preventive Medicine in public health and general preventive medicine, she lectures on Somali health beliefs.
Fadumo O. Ali, B.S.: Certified community health worker for WellShare International, Minnesota which has developed numerous health education materials that are culturally appropriate for Somali patients. She has extensive experience with counseling on child-spacing methods and has been a family advocate for 10 years.
John Bernardo, M.D.: Medical director, Division of Tuberculosis Prevention and Control, Massachusetts Department of Public Health. Professor of medicine at Boston University School of Medicine.
Catherine Besteman, Ph.D.: Anthropologist and Colby professor, she completed field work in the late 1980s in Somalia and has published several works on the Somali Bantu refugees who have settled in the U.S. Editor of The Struggle for Land in Southern Somalia: The War Behind the War and author of Transforming Cape Town (California Series in Public Anthropology).
Nina Bacaner, M.D., M.P.H., D.T.M&H: Faculty member at the University of Minnesota Medical School, where she is on the Global Health Pathway Mentor List because of her interest in the chronic health concerns of immigrants.  She has 25 years of experience in immigrant medicine and has published articles on travel, tropical and immigrant medicine.
*Martin Cetron, M.D.B.: Director for the Division of Global Migration and Quarantine at the U.S. Centers for Disease Control and Prevention (CDC).  He has authored or co-authored more than 100 publications and received numerous awards for his work since joining CDC in 1992, including the 2009 Public Health Hero Award. His primary research interests are international health and global migration with a focus on emerging infections, tropical diseases and vaccine-preventable diseases in mobile populations. He holds faculty appointments at the Emory University School of Medicine and the Department of Epidemiology at Rollins School of Public Health.  As a graduate of the Harvard School of Public Health and Kennedy School of Government's National Preparedness Leadership Institute, he has led several domestic and international outbreak investigations and has played a leadership role in CDC responses to intentional and naturally acquired emerging infectious disease outbreaks, including the 2001 anthrax bio-terrorism incident, the 2003 global SARS epidemic the 2003 U.S. monkeypox outbreak and recent 2009 H1N1 influenza pandemic.
Jennifer Cochran, M.P.H.: Director, Refugee and Immigrant Health Program, Massachusetts Department of Public Health.
Susan Cote, R.D.H., M.S.: Dental hygienist who is program manager for From the First Tooth, Portland, Maine. She was previously program coordinator for cross-cultural oral health at the Program for Refugee Oral Health at the Boston Center for Refugee Health and Human Rights at Boston Medical Center. She has published articles on refugee oral health and on survivors of torture, and contributed the chapter "Dental Diseases and Disorders" in the medical text Immigrant Medicine. She lectures at national and international conferences on refugee oral health.
Warren Dalal, L.C.S.W.: Public health analyst for the CDC Division of Global Migration and Quarantine. After seven years of working on the HIV epidemic in Kenya he has returned to DGMQ, where he serves on the domestic team as well as providing programmatic support to the Refugee Health team in Kenya.
Asmo Dol, B.S.: An ethnic Somali from Ethiopia, she is a medical interpreter who has just completed her degree in biology of human health and illnesses. She also has six years of experience working for a refugee resettlement service organization doing employment counseling and cultural-skills training. Has worked on female genital mutilation issues for Save the Children, USA.
Mohamed Duale, M.Sci.: Consultant to the Minnesota Institute of Public Health, for which he does drug counseling for the East African community in the Twin Cities and is a researcher and speaker on effects of khat on human health.  He is also senior community health worker for Hennepin County Child and Teen Checkups Program, Minnesota.
Heidi Ellis, Ph.D.: Clinical psychologist and assistant professor of psychiatry at Children's Hospital Boston/Harvard Medical School, and director of the Children's Hospital Center for Refugee Trauma and Resilience. Her expertise lies in developing interventions for traumatized youth.
Paul Geltman, M.D., M.P.H.: Medical director of Refugee and Immigrant Health Program, Massachusetts Department of Public Health. He is associate professor of pediatrics at Boston University School of Medicine, and pediatrician with Cambridge Health Alliance.
Alice Haines, M.D.: Family physician, and community preceptor at Central Maine Medical Center Family Medicine Residency, she has done primary care and international health clinic for federally qualified health center clinics in Maine that serve a large population of East African refugees. She does asylum exams for HealthRight International and has worked for the German Technical Organization in the Dadaab Refugee Camp, Kenya.
Susan Jacoby, C.N.M., D.N.P.: Nurse-midwife at Central Maine Obstetrics-Gynecology, Lewiston, Maine, where she has assisted African immigrants and refugees with their deliveries for the last five years. Her recent dissertation for Massachusetts General Hospital Institute of Health Professions was Certified Nurse Midwives' Obstetrical Management of Women with Female Genital Mutilation/Cutting.
Jean Kahn, R.N., C.N.M.: Nurse-midwife at Women's Health Pavilion, St. Mary's Regional Medical Center, Lewiston, Maine. Has extensive experience with well-woman and maternity care for East African immigrants and refugees.
Mursal Khaliif, R.N., M.A.: Senior director of Multilingual Service and Patient Transport at Cambridge Health Alliance, Cambridge, Mass. Originally from Somalia, he has worked and lived in Minnesota, where he served as the director of Community Health and Language Services for the University of Minnesota Medical Center. He is a cultural-competency fellow with the American Hospital Association and regularly presents at national conferences on cultural and linguistically appropriate services in the delivery of care to all patients.
Christina Khaokham, M.S.N., M.P.H.: Epidemic intelligence service officer for the CDC, assigned to the County of San Diego Epidemiology and Immunizations Services Branch and CDC Division of Global Migration and Quarantine's U.S.–Mexico Unit to work on health issues, including Somali migration via that border.
Georgi V. Kroupin, M.A.: Director of mental health and lead psychologist at HealthPartners Center for International Health, St. Paul, Minn., he came to the U.S. to pursue a doctorate in family social science and family therapy. He has lectured extensively on the mental health needs of refugees.
Susan Lee, R.N.: As health coordinator for Maine Childhood Lead Poisoning Prevention, Maine Center for Disease Control, Maine Department of Human Services, she oversees case management of children identified with elevated blood lead levels for the state of Maine and has been active in ensuring that elevated leads in the Somali community are appropriately addressed. She also has been a public health nurse, visiting families with young children in homes in central Maine.
Heather Lindkvist, M.A.: Anthropology instructor at Bates College and member of its Public Health General Education Concentration.  Has published on female genital mutilation, and on elevated lead levels in Lewiston's Somali population.
Abdirahman Mahamud, M.D.: Now with the Division of Viral Disease at the CDC, he was most recently the medical officer at the Dadaab refugee camp in Kenya as part of the Refugee Health Team for the CDC.  His work included surveillance activities as well as outbreak investigation and management for camps in Kenya.
*Richard Mollica, M.D.: Harvard Medical School professor and director of the Harvard Program in Refugee Trauma, he writes on issues pertaining to global mental health, social healing, personal healing, human rights and the obstacles and pathways to peace. His book Healing Invisible Wounds: Paths to Hope and Recovery in a Violent World won the Creative Scholarship Award of the Society for the Study of Psychiatry and Culture in 2010. His many honors include the Human Rights Award and the Kun-Po-Soo Award (2010) of the American Psychiatric Association.
Mary Naughton, M.D., M.P.H.: Medical officer, Division of Global Migration and Quarantine, CDC. Wrote the technical instructions for tuberculosis screening of persons changing status in the U.S. (green card applicants) and contributed to the "Yellow Book," the CDC Health Information for International Travel 2010. As lead physician for panel physician training, she trains physicians who perform medical screening of immigrants and refugees and performs on-site evaluations of their work.
Douglas Pryce, M.D.: Participated in the advisory committee that oversaw the development of the Minnesota Refugee Health Provider Guide. For five years he has taught in the CDC-sponsored Global Health Course at the University of Minnesota, and lectures on Vitamin D, cancer screening in immigrants, participatory research, travel advice for pilgrims to the Hajj and chronic hepatitis B. As a physician at Hennepin County Medical Center, he has had 15 years' experience caring for Somali patients in a Somali clinic. As a civil surgeon, he certifies medical exams needed for the immigration paperwork for refugees and asylees. His research into Somali health has included Vitamin D, cardiovascular disease risk factors and tobacco cessation.
Julie M. Schirmer, L.C.S.W., M.S.W.: Director, Behavioral Medicine and Assistant Family Medicine Clerkship Director, Family Practice Residency Program, Maine Medical Center, Portland, Maine. Editor of and contributor to Behavioral Medicine in Primary Care: A Global Perspective.
Reshid Shankole, M.D.: Has 10 years of experience working for the Ministry of Health in his native Ethiopia, including a working relationship with the Refugee Health Unit, which coordinates refugee care with international nongovernmental organizations.
William Stauffer, M.D., M.S.P.H., C.Trop.Med.: Associate professor of internal medicine and pediatrics, infectious diseases, University of Minnesota (UMN).  Medical consultant, CDC, Division of Global Migration and Quarantine, Immigrant and Refugee Health.  Facilitating development of the domestic refugee medical screening guidelines.  Course director, eight-week UMN/CDC Global Health Course that focuses on care of globally mobile populations, including immigrants and refugees. He is lead author of "Pre-departure and Post-arrival Management of P. falciparum Malaria in Refugees Relocating from Sub-Saharan Africa to the United States."
Eyasu Teshale, M.D.: Medical officer, Division of Viral Hepatitis, CDC. Research has ranged from hepatitis E epidemics in sub-Saharan Africa to hepatitis patterns in drug abusers in the U.S. He is author of the article "Hepatitis A Among International Adoptees and Their Contacts."
*Patricia Walker, M.D., D.T.M.&H.: Medical director at Center for International Health, HealthPartners, St. Paul, Minn., and associate medical director of the Global Health Pathway at the University of Minnesota. She is co-editor of the recent medical textbook Immigrant Medicine. She and her clinic are featured in "My Heart It Is Delicious": Setting the Course for Cross-Cultural Health Care, a book about the inception and workings of the Center for International Health, Minnesota's international medicine clinic, which has served refugees for more than 30 years.
Michelle Weinberg, M.D., M.P.H.: Medical officer, Division of Global Migration and Quarantine, National Center for Emerging Infectious Disease, CDC. She is a pediatric infectious disease specialist who has worked on refugee health issues with CDC for more than 10 years.
Sergut Wolde-Yohannes, M.Ed., M.P.H.: Member of senior staff at the Refugee and Immigrant Health Program, Massachusetts Department of Public Health. Has extensive experience working with refugees and lecturing and presenting on female genital mutilation. Has also presented to the American Public Health Association on Refugee Resettlement and Public Health Challenges: The Experience of Somali Bantu Refugee Resettlement.
Ana Zea, D.D.S.: Innovator for Oral Health Program at Boston Center for Refugee Health and Human Rights, which offers screening, education and referrals for follow-up care, enhancing access to culturally sensitive dental care for refugees and asylum seekers.
View Comments