African performers featured during conference on refugee healthcare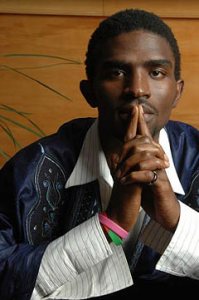 As part of the regional conference African Refugee Health: Best Practices, hosted by Bates College Oct. 15-17, performers from Africa are featured at 7 p.m. Saturday, Oct. 16, in the college's Olin Arts Center Concert Hall, 75 Russell St.
Performing are spoken-word poet IBé, Somali poet and playwright Omar Ahmed and the Somali rap and dance group Jamal and Friends. The performance is open to the public at no charge, but seating is limited and tickets are required. For reservations or more information, please contact 207-786-6400 or this bpelleti@bates.edu.
IBé was born in Guinea and grew up in Sierra Leone, Evanston, Ill., and St. Cloud, Minn. He is the recipient of a 2010 Midwestern Voices Award, a 2009 Urban Griots' Cultural Award and a SASE/Jerome Verve Grant, and was nominated for the Minnesota Academy's Best Spoken Word Award.
Author of Bridge Across Atlantic, a collection of poems about life between Africa and America, he now resides in Minneapolis. See excerpts from his book.
Ahmed was raised in Jamaame, Somalia, a city that's now torn by war but once was not unlike Lewiston. A playwright, poet, Somali elder and peace activist, Ahmed will perform his poem "Waddadii Nabadda" ("The Path of Peace") and recite excerpts from his new novel, The Flowers and Flames of Turda. The novel tells the story of a young Somali woman who strives to meet threats first from deep tribal animosities in Somalia, and then from the challenges of modernity as a refugee in the United States.
Ahmed explains, "We have such a rich literature that has survived from our oral traditions. Only a very minute amount of our literature was written down, and even that portion was destroyed in the war. Even our national museum was destroyed, and wild plants are growing there."
Through his work, Ahmed attempts to bring to the minds and hearts of people across the world the destruction his people has faced.
Jamal Karama, singer and lyricist of the rap-dance group Jamal and Friends, was born in Mogadishu, Somalia, and has lived in Maine for nine years. Karama, who focuses his energies on love rather than controversy, performed at Bates previously as part of the Saaxibo Band whose members include Maine fiddler Greg Boardman. This time he will bring a team of four African dancers to join him for the performance.
"African Refugee Health: Best Practices" is sponsored by Bates, St. Mary's Health System and the Central Maine Medical Family in Lewiston, and the U.S. Centers for Disease Control and Prevention. The conference will include nearly three dozen presenters including healthcare workers, interpreters, social workers, counselors, refugee health experts and faculty from Bates and other colleges. See a full list of conference presenters and their bios.
View Comments