Longstanding Bates-L/A Arts partnership picks up pace with theater, poetry, music
Bates and the local arts agency L/A Arts have been collaborators for years, jointly presenting arts and cultural events, but the partnership has gained a new intensity for autumn 2012.
In part, this higher level of activity is simply reflecting a new excitement and cooperative spirit in Lewiston-Auburn. And in part, it's directly attributable to Odelle Bowman, executive director of the arts agency for 18 months.
"I'm a collaborator by nature and a community person," says Bowman. "It's my nature to want to bring people together, because we are stronger together than by ourselves."
The college and L/A Arts are jointly hosting the Aquila Theatre Company in a three-day residency (Sept. 27-29). Dedicated to bringing the greatest works of the stage to the greatest possible number of viewers, Aquila is known for a robust touring program that takes in some 70 cities across the country each year. Learn more.
Coinciding with the Aquila visit are two readings, Sept. 27-28, by Brian Turner, known as a soldier-poet who served as an infantry team leader in Iraq, and has two published poetry to his credit. Learn more.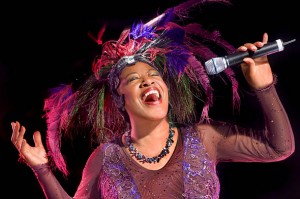 As if all that weren't plenty, Bates' Olin Arts Center and L/A Arts are also jointly presenting a return performance by jazz-gospel-blues singer Francine Reed, whose 2011 date at the college was one of the highlights of the concert season. Learn more.
Here are the specifics:
Aquila Theatre: All at 7:30 p.m., Aquila performs Cyrano de Bergerac on Thursday, Sept. 27, in Bates' Schaeffer Theatre; Ancient Greeks / Modern Lives: Poetry-Drama-Dialogue*, which combines a community discussion with excerpts from ancient Greek drama about war, on Friday, Sept. 28, in Lewiston Public Library's Callahan Hall; and Shakespeare's The Taming of the Shrew on Saturday, Sept. 29, back at Schaeffer.
Schaeffer Theatre is located at 305 College St., Lewiston, and the public library is downtown at 200 Lisbon St. Admission to Cyrano and Taming of the Shrew is $15, and discussions precede each of those performances at 6 p.m. in the college Chapel, 275 College St.
Ancient Greeks is open to the public at no cost. For tickets or more information, please contact 207-782-7228 or visit www.laarts.org.
Brian Turner: Both open to the public at no cost, Turner's readings take place at 7:30 p.m. Thursday, Sept. 27, at Bates College's Edmund S. Muskie Archives, 70 Campus Ave., as part of the Language Arts Live series of literary readings at Bates; and at 6 p.m. Friday, Sept. 28, in Callahan Hall, Lewiston Public Library, 200 Lisbon St. This Poet As Art series reading coincides with the monthly Art Walk Lewiston Auburn.
Also supporting Turner's appearances are the library, the Harward Center for Community Partnerships and the Spanish department at Bates, and the Maine Humanities Council.
For more information, please contact L/A Arts at 207-782-7228 or www.laarts.org.
Francine Reed: Reed takes the stage at the Olin Arts Center Concert Hall, 75 Russell St., at 7:30 p.m. Saturday, Oct. 13, presented by the Olin Arts Alive concert series in collaboration with L/A Arts. Admission: $15 / $10, increasing to $20 /$10 on the day of the show. Available at batestickets.com. For more information, please contact 207-786-6135 or olinarts@bates.edu.
L/A Arts, the designated Local Arts Agency of the Twin Cities, has a 35-year history of arts and cultural initiatives, partnerships and performances. L/A Arts combines arts-centered educational programming, MainStage performance series, free summer concerts, gallery installations and more.
Frequently partnering with local community organizations, L/A Arts promotes the arts and culture in various forms — from benefit concerts for veterans to Art Walk Lewiston Auburn, the Auburn Art Wall to Arts in Education.
*Ancient Greeks/Modern Lives has been made possible by a major grant from the National Endowment for the Humanities: great ideas brought to life. ancientgreeksmodernlives.org. Any views, findings, conclusions or recommendations expressed in this program do not necessarily represent those of the National Endowment for the Humanities.
View Comments