Works by New York choreographers Ford, Barnes on Bates College Modern Dance Company program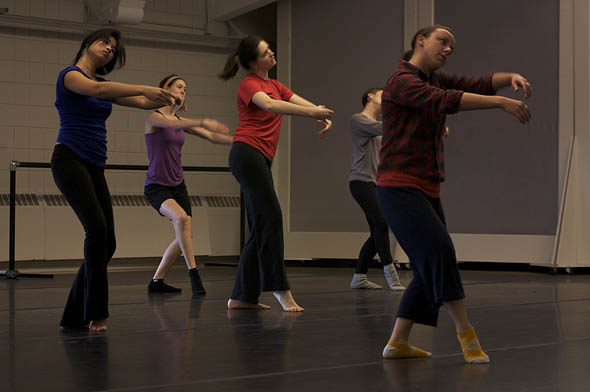 Works by noted choreographers Monica Bill Barnes and Niles Ford are featured in Bates College Modern Dance Company performances at 5 p.m. Saturday, Nov. 13; 2 p.m. Sunday, Nov. 14; and 7:30 p.m. Monday, Nov. 15, in Schaeffer Theatre, 305 College St.
Tickets are $6 general admission and $3 for seniors and students, and can be purchased at www.batestickets.com. For more information, please call 207-786-8294.
In addition to dances by Ford and Barnes, the program includes pieces created by Bates faculty members Rachel Boggia and Debi Irons for students in repertory dance courses. Finally, Annie Kloppenberg, a new member of the Colby College dance faculty, presents one of her dances in a performance by her professional company.
Barnes and Ford each spent two weeks working with students to choreograph pieces for the "Repertory Performance" course. Offered every two years, the course gives students experience with renowned choreographers in a professional environment.
"It is truly amazing to see how much the students have grown as dancers and as a community over the semester," says Boggia, visiting dance professor and acting director of the Bates dance program.
"They all know how to focus deeply despite the demands of their college career. They have physical evidence that hard work brings change. And they've learned something about choreography from very different artists. I'm very proud of them."
In Barnes' humorous Standing in a Line, the student dancers strive to keep themselves together in a ladylike manner while falling apart at the seams. Assistant Professor of Theater Christine McDowell designed the costumes for the piece.
A rising star in the contemporary dance firmament, Barnes has brought her company to Jacob's Pillow and the American Dance Festival, in addition to their appearance last summer at the Bates Dance Festival. Barnes' choreography has been performed at more than 20 New York City venues, including Danspace Project and Symphony Space. Her work has been presented in 30 cities in the U.S. and abroad.
During his Bates residency, Ford asked students to use dance to explore their personal perspectives on political action.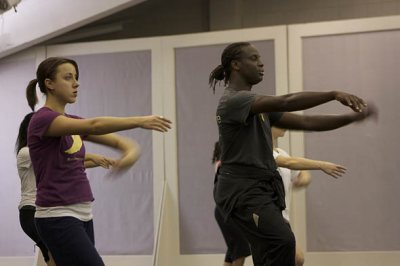 Ford founded and is the artistic director of the Urban Dance Collective, which deals with social issues through art, spoken word and music as well as dance. A 1993 Bessie award recipient in 1993, he has performed with the Boston Ballet, Philadanco, the Rod Rodgers Dance Company and the Dance Theatre of Harlem and with such distinguished figures as Bill T. Jones.
While Boggia created choreography, animation and video design for her piece Somebody, Home, she nevertheless describes the dance as a "deep collaboration." She worked with students to assemble movement and texts to meld with original music by Portland composer Shamou.
The piece centers on nostalgia for a partly remembered, partly imagined "home." It was funded in part by the Harward Center for Community Engagement, which coordinates collaborations between Bates College and the community.
A dancer and video artist, Boggia holds a master's in choreography and technology from Ohio State University. Her collaborations include work with physicist Nandini Trivedi and biologists Susan Fisher and Michael Singer. She has also authored experimental documentation on the artistic process of artists such as Meredith Monk.
Shamou has created original scores for dance companies and choreographers across the U.S., and is known for his collaborations with the Alvin Ailey American Dance Theater, Mark Morris Dance Group and the San Francisco Ballet, among others. A native of Iran, Shamou began his formal training in Tehran and completed it at Berklee College of Music.
Irons, a highly respected member of Maine's dance community, is a prolific choreographer who works with Bates students in jazz-dance technique and advanced jazz repertory. Her students will perform a flirty take on bossa nova and works set to music by T.O.K., Adele, Outkast and Stevie Wonder.
Kloppenberg's company will perform a 2005 dance called The Waters at Whose Edge We Stand. Her choreography has been presented at such venues as the Judson Church, Green Street Studios and the Dancespace Center. She performs and teaches nationally as a member of the improvisational ensemble Like You Mean It.
"It's really exciting to have Annie perform here," says Boggia. "There are new dance faculty at Bowdoin and Colby colleges this year, and we're very happy to be establishing exchanges with them."
View Comments