Gamelan Orchestra, guests cross musical boundaries with Harrison's Double Concerto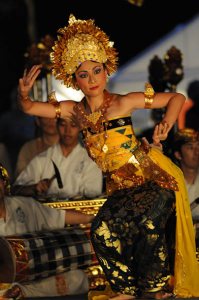 The Bates College Gamelan Orchestra, a student ensemble that plays music of Indonesia, and special guest artists perform Lou Harrison's remarkable Double Concerto for Violin, Cello and Javanese Gamelan at 8 p.m. Saturday, March 12, in the Olin Arts Center Concert Hall, 75 Russell St.
The concert is open to the public at no cost, but reservations are required. For reservations and more information, please contact 207-786-6135 or olinarts@bates.edu.
Titled Cross-Currents in Bronze, the orchestra's program of contemporary music for the gamelan also features performances by Balinese dancer Shoko Yamamuro and a world premiere of music by composer Peter Steele.
"Gamelan" refers to the traditional orchestras, composed mainly of percussion but also making use of voice and string instruments, heard on the islands of Java and Bali. The Bates ensemble is conducted by Assistant Professor of Music Gina Fatone.
Harrison, who died in 2003, was an American composer particularly distinguished by his work incorporating gamelan instruments into the Western idiom. Playing the solo string parts in the Harrison concerto are Deborah Greitzer, a member of the Buffalo Philharmonic Orchestra's first violin section, and Linda Jennings, assistant professor of cello at Indiana University of Pennsylvania. Percussionist Nancy Smith of the Portland Symphony Orchestra also performs in the concerto.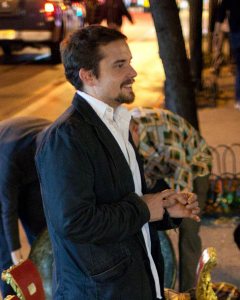 Greitzer, whose daughter Esther Kendall graduated from Bates in 2010, approached Fatone about a Bates performance of the Harrison concerto last year, Fatone explains. "Deborah and Linda were going to perform it in Bali in summer 2010, and she wanted to find venues for additional performances in the States," she says.
"Little did she know I am a huge fan of Lou Harrison, who has written numerous Indonesian-inspired pieces for gamelan and Western instruments. I was thrilled."
The work consists of three movements, with the violin, cello and certain percussion pieces being the only Western instruments involved. The gamelan orchestra and strings play together in the outer movements, while the middle section is for strings and percussion only.
That second movement "is Harrison at his finest, drawing on his many years of meditation on the 'proper melody,' " writes Larry Polansky, a composer at Dartmouth College. "The listener can hardly believe how long the phrases breathe, soar and propel themselves past any prior expectations."
As a whole, the concerto is "a radical and highly successful experiment in the combination of traditional Javanese forms with Western ones," notes Polansky.
"Almost all our players this academic year are new to gamelan, and I'm especially impressed with how they adjusted to rehearsing with the violin" during several sessions with Greitzer in January, says Fatone. "It helps that the students really love the piece."
She adds, "I think the challenge is greater for the Western string players, however, because they have to adjust their tuning to the gamelan," which uses pitch intervals slightly different from mainstream Western music.
Steele, a doctoral student at Wesleyan University researching the relationship between music and language in Balinese performance, composed "Reaches of Time" for the Bates ensemble. The piece combines a contemporary sensibility with strong influences from traditional Balinese musical structure.
Yamamuro, one of Japan's leading performers of Balinese dance, will perform two pieces. One is a traditional Balinese dance to orient the Bates audience to the idioms of that style. The other, called "Aoi Tori" ("Bluebird"), is a contemporary-style dance, with electronic music by Steele, that Yamamuro created to explore the paradoxical relationship between happiness and desire.
Continuing the evening's Balinese theme is a gamelan performance of a piece by I Ketut Alit, a famous Balinese composer who worked with the Bates ensemble last fall.
Greitzer has been a member of the first violin section of the Buffalo Philharmonic for more than 30 years. She has appeared as a soloist with the Philharmonic and other orchestras, and has performed as a soloist and chamber musician in Europe, the United States and Canada.
Jennings is an active solo, chamber and orchestral musician who has performed in the U.S., Europe, Mexico and Asia. She is a member of several chamber ensembles and is known as a proponent of string music education.
The participation of Yamamuro and Steele is made possible by the Freeman Foundation.
View Comments