Civil Rights leader Rep. John Lewis to deliver 2016 Commencement address, joining honorands Lisa Genova '92, Daniel Gilbert and Robert Witt '62
Congressman John Lewis of Georgia, often called "one of the most courageous persons the civil rights movement ever produced," will deliver the Bates College Commencement address and receive an honorary degree on Sunday, May 29.
For its 150th commencement, Bates will welcome Lewis and three fellow honorary degree recipients whose achievements in literature, psychology, and higher education have touched the lives of millions worldwide:
Lisa Genova '92, neuroscientist and author of the bestselling novel

Still Alice,

whose empathetic insights into the workings of the brain have touched millions;

Daniel Gilbert, renowned psychologist and author of

Stumbling on Happiness

, whose work resulted in new understandings of human emotions;

Robert Witt '62, higher education leader who transformed the University of Alabama into one of the country's best public universities.
"We are profoundly honored to be joined for this historic Commencement by these distinguished leaders, two of whom we are proud to claim as our own graduates," said President Clayton Spencer. "And we are thrilled that the Commencement address will be delivered by Congressman Lewis, whose life and work exemplify the animating values of this institution."  
Bates, founded in 1855, was coeducational from its origin, and educated a number of important civil rights leaders, including Benjamin Elijah Mays, Class of 1920, who was president of Morehouse College from 1940 to 1967 and mentor to Martin Luther King Jr.
Commencement concludes the undergraduate careers of the 461 members of the Bates Class of 2016, representing more than 30 U.S. states and the District of Columbia, and roughly 40 countries.
---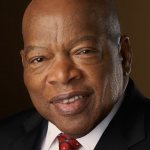 U.S. Rep. John Lewis, of Georgia, has dedicated his life to protecting human rights, securing civil liberties, and building a society ruled by justice and compassion — the "Beloved Community" described by the Rev. Martin Luther King Jr.
The history of Lewis' involvement in the civil rights movement is virtually a history of the movement itself. Born in 1940 to a sharecropping family in Alabama, Lewis was inspired early on by King's words on the radio.
As a college student in Nashville, Lewis organized sit-ins at segregated lunch counters. In 1961, he became a Freedom Rider, one of the volunteers who risked their lives challenging segregation at interstate bus terminals across the South. Despite more than 40 arrests, assaults, and injuries, Lewis remained firmly devoted to nonviolence.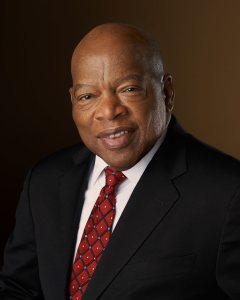 Lewis chaired the influential Student Nonviolent Coordinating Committee during the height of the civil rights movement. In 1963 he was an architect of, and keynote speaker at, the historic March on Washington.
In 1965, Lewis helped spearhead a watershed moment: On March 7, with Hosea Williams, he led more than 600 peaceful protesters across the Pettus Bridge in Selma, Ala., a march to the state capitol in Montgomery to demonstrate for voting rights. The marchers were attacked by state troopers in a brutal confrontation now known as "Bloody Sunday."
Media coverage of such senseless cruelty helped hasten the passage of the Voting Rights Act of 1965 — a pivotal achievement of the movement. "Of all the surviving leaders of the movement, Lewis is most responsible for its . . . overwhelming reauthorization four times by Congress," voting rights historian Ari Berman wrote in The Nation in 2013. "He is the soul of the voting rights movement and its most eloquent advocate." As leader of the Voter Education Project during the 1970s, Lewis helped add nearly four million minority voters to the rolls.
Elected to Congress in 1986, Lewis has served as U.S. representative of Georgia's 5th Congressional District since. His dedication to the highest ethical standards and moral principles has won him the admiration of colleagues on both sides of the aisle.
Lewis' books include the graphic novel memoir trilogy MARCH. The series is used in schools across the country to teach the civil rights movement to a new generation of young activists.
He has received numerous awards from eminent national and international institutions, as well as more than 50 honorary degrees from colleges and universities throughout the United States. In 2011, President Barack Obama awarded Lewis the highest U.S. civilian honor, the Presidential Medal of Freedom.
Lewis holds a bachelor's degree in religion and philosophy from Fisk University and is a graduate of the American Baptist Theological Seminary, both in Nashville.
---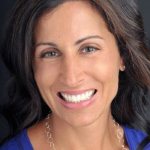 In crafting a literary career defined by compassionate insights into the human condition, best-selling author Lisa Genova has relied on uncommon empathy informed by years of neuroscience study and research that began at Bates.
Genova, author of the novels Still Alice, Left Neglected, Love Anthony, and Inside the O'Briens, has shown millions of readers, especially the afflicted and those who love and care for them, what it feels like to live with Alzheimer's disease, traumatic brain injury, autism, and Huntington's disease. As Genova told Bates Magazine in 2009, "what I can do is illuminate stories and show people a view of a certain kind of world that they normally don't have access to."
Her debut novel, Still Alice, was on The New York Times best-seller list for 59 weeks and has 2.6 million copies in print. It has been translated into 37 languages; adapted for stage and screen, the latter in 2014 with Julianne Moore in the Academy Award–winning title role; and selected as one of the 30 titles for World Book Night 2013.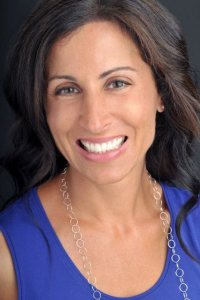 First published in 2007, the novel owes its global reach to Genova's personal resolve; she self-published the novel after being told that her story — about a cognitive psychology professor at Harvard University stricken with early-onset Alzheimer's disease at age 50 — would have no audience. It was later published by Simon and Schuster, in 2009.
Today, Still Alice is sui generis in the important genre of Alzheimer's fiction, writes novelist Stefan Merrill Block in The New Yorker. Because fiction alone can hope to answer the question "What is it like to lose oneself and still live?," he writes, Still Alice serves as both an "empathetic evocation of the internal experience of dementia" and a "guidebook for those confronting a similar diagnosis."
A summa cum laude and Phi Beta Kappa graduate of Bates, Genova designed her own interdisciplinary biopsychology major. She earned a doctorate in neuroscience from Harvard University in 1998 and has coauthored scholarly research on cocaine addiction published in The Journal of Neuroscience. Described by her senior thesis adviser, Professor Emeritus of Psychology John Kelsey, as the "brightest student I have ever taught," Genova "wanted to know how the world works" and went on to build a cross-disciplinary approach that has served her as both storyteller and scientist.
In 2015, she received Bates' highest alumni honor, the Sesquicentennial Award, for opening "hearts and minds about an urgent matter of public health and public policy."
In creating her stories, "I always start with the science," she told an audience at the University of Southern California in February. After getting the science right, "my job is to write a compelling, human story that…creates an awareness that has empathy, which is a motivation for action."
---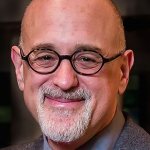 As an internationally acclaimed social psychologist and Harvard professor, Daniel Gilbert has reached millions through a surprising variety of media — from academic journals and TED talks to NPR and The Late Show. But despite the varied platforms, a fundamental question underlies Gilbert's work: Why are we so often wrong about what will make us happy?
"What we've been seeing in my lab, over and over again, is that people have an inability to predict what will make them happy — or unhappy," Gilbert told The New York Times in 2008. "… The truth is, bad things don't affect us as profoundly as we expect them to. That's true of good things, too. We adapt very quickly to either."
Gilbert summed up his and others' research on the topic in his 2006 book Stumbling on Happiness, which spent six months on The New York Times best-seller list and was awarded the Royal Society's General Book Prize for best science book of the year. Leavened with humor and a welcoming style, Gilbert wove together findings from psychology, cognitive neuroscience, philosophy, and behavioral economics to explain what bedevils our attempts to predict our own emotional futures.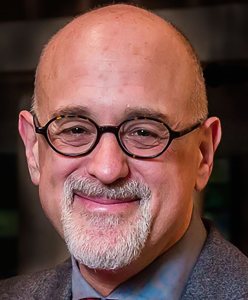 Gilbert's research has created an area of study now known as "affective forecasting," and in the last two decades, psychologists, neuroscientists, and economists have begun tackling these questions as well, especially in relation to decision making. The lessons learned from this growing field are impacting public policy, health care, economics, and the law.
Gilbert is the Edgar Pierce Professor of Psychology at Harvard University. He's a past winner of the American Psychological Association's Distinguished Scientific Award for an Early Career Contribution to Psychology; a member of the American Academy of Arts and Sciences; and has received a Guggenheim Fellowship and the Phi Beta Kappa teaching prize. Gilbert's TED talks have been viewed by more than 20 million people, and in 2010 he hosted and co-wrote the 2010 NOVA television series This Emotional Life.
Gilbert's route to prominence was not straightforward. As a 19-year-old high school dropout and budding science-fiction writer, he enrolled in a community college psychology course only because the writing course he wanted was full — and there he found his true calling. Gilbert earned a bachelor's degree  in psychology from the University of Colorado at Denver and a doctorate in social psychology from Princeton.
---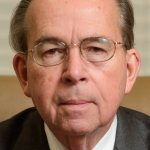 A national leader in higher education, University of Alabama System Chancellor Robert Witt made a name for himself transforming good schools into great ones. He did it at the University of Texas, and he did it again when he was named president of The University of Alabama in 2003.
While Alabama's fervid "Roll Tide!" fan base spanned the globe, its academic reputation was more circumscribed. Witt heard from parents of high-achieving prospective students that they didn't see the university as a particularly rigorous institution. Under his leadership that changed, as Alabama opened its Honors College, giving the state's best young scholars the opportunity to study alongside other top students. Witt then carried that message beyond Alabama by placing a new emphasis on enrolling students nationally, and he personally made recruiting trips to high schools around the country to pursue top scholars.
Today, more than half of the university's students come from outside Alabama, and the school ranks among the country's top public flagship universities in its enrollment of National Merit Scholars.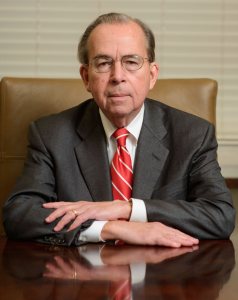 During Witt's years at the helm, enrollment jumped 55 percent, to 31,000 students, making The University of Alabama, located in Tuscaloosa, one of the fastest-growing, as well as most forward-looking, U.S. universities. While raising the number and quality of students, Witt also spearheaded Alabama's efforts to raise faculty salaries, increase financial aid, and enhance facilities — to the tune of $1.5 billion for campus construction, building renovations, and land purchases.
In 2012 — as Alabama state lawmakers praised his record of achievement as "truly unprecedented" — Witt was the unanimous pick to be chancellor of The University of Alabama System, which comprises three doctoral research universities in Tuscaloosa, Birmingham, and Huntsville, as well as the acclaimed UAB Health System.
All told, Witt today leads an organization that educates some 63,000 students and employs 35,000 workers on a budget of more than $5.4 billion. In 2015, he announced his intent to retire from The University of Alabama System later this year.
In December, Witt stepped forward as the leader of Alabama Unites for Education, a broad coalition of K-12 schools, colleges, universities, and other advocates for increased funding and stability in the state's public education system. The organization marks the first time in the state's history that schools from all levels have joined to lobby legislators on a single issue.
Prior to his tenure in Alabama, Witt was for eight years the president of the University of Texas at Arlington. He began his higher education career in 1968 when he joined the business school faculty at the University of Texas at Austin, where he would eventually become an associate dean. In 1985 he became dean of the UT business school, recognized by The Wall Street Journal as one of the top seven public schools of business in the world.
In addition to his economics degree from Bates, Witt has a master of business administration from the Tuck School at Dartmouth College, and a doctorate from Penn State.
---