Commencement 2016: Some basics for the 150th edition
If you do something 150 times, you're bound to get pretty good at it.
Accordingly, the May 29 ceremony marking Bates' 150th Commencement is something special, featuring a Commencement speaker called "one of the most courageous persons the civil rights movement ever produced."
That would be Rep. John Lewis of Georgia who, along with three other notables representing the fields of psychology and neuroscience, literature, and higher education itself, will receive an honorary degree during the ceremony beginning at 10 a.m. on Bates' Historic Quad.
Livestream
If your heart is with Bates but you can't make it to campus, the college's Commencement livestream is the next best thing to being here, with a four-camera setup that promises to bring viewers right onto the Quad.
Resources for Attendees
Bates' Commencement page presents a host of resources for anyone attending Commencement, including a schedule of events, campus map, and a list of FAQs.
On Stage
Hailing from 32 states and 43 nations, some 461 Bates students will receive bachelor's degrees on Sunday, and President A. Clayton Spencer will confer honorary degrees on four notable Americans, including two Bates alumni.
Commencement speaker Lewis is esteemed as one of the most effective and enduring leaders of a civil rights movement that can claim as one of its founders a Bates alumnus: the Rev. Benjamin E. Mays '20.
"We are thrilled that the Commencement address will be delivered by Congressman Lewis, whose life and work exemplify the animating values of this institution," said President Spencer.
The history of Lewis' involvement in the civil rights movement is virtually a history of the movement itself. And Lewis continues to dedicate his life to protecting human rights, securing civil liberties, and building a society ruled by justice and compassion — the "Beloved Community" described by the Rev. Martin Luther King Jr.
In addition to Rep. Lewis, Bates' 2016 honorary degree recipients are:
Lisa Genova '92, neuroscientist and author of the bestselling novel Still Alice, whose empathetic insights into the workings of the brain have touched millions;
Daniel Gilbert, renowned psychologist and author of Stumbling on Happiness, whose work resulted in new understandings of human emotions;
Robert Witt '62, a higher education leader who transformed the University of Alabama into one of the country's best public universities.
Senior Speaker and Other Grand Grads
Senior Speaker Shannon Griffin '16 of Philadelphia continues the tradition, begun in 2013, of a senior address at Commencement, and she will remind listeners of the immense power, intellectual and moral, of questions.
"When I was very young I incessantly asked questions like any other kid — 'Why can't I ride the dog's back?' … But early on in the education system the magic of asking questions was lost for me. I stopped asking questions out of fear of being perceived as incompetent."
Griffin represents a highly accomplished Bates class. Among other achievements, the class conducted some 75,000 hours of community-engaged service or academic work during their Bates careers.
Eleven seniors graduating on Sunday will begin their next adventures overseas as Fulbright researchers or teaching assistants. Two received Watson fellowships, and two will spend this summer in India undertaking a Davis Project for Peace addressing arts education.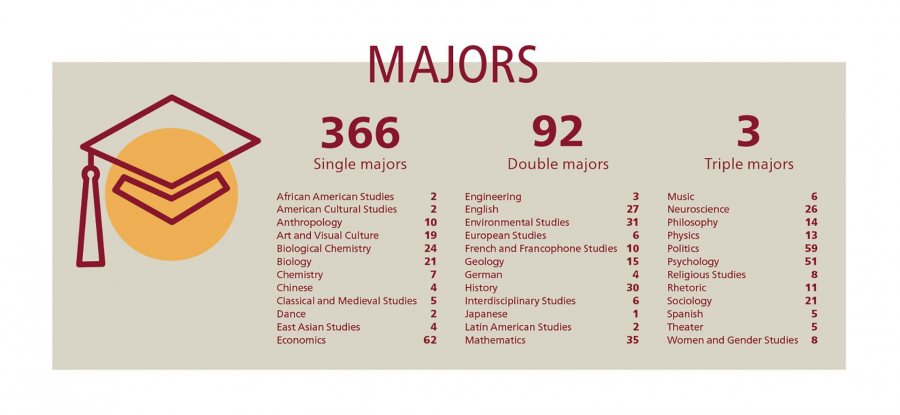 Nearly half played a varsity sport — and there could be national champions among the class for a second year in a row (so to speak), depending on the outcome on Saturday as Bates' women rowers defend their NCAA title.
The class consists of 366 single majors, 92 double majors, and three triple majors. Sixty-two students are graduating with economics degrees, making that the most popular major. In second place is politics, with 59 majors, followed by psychology, with 51.
Commencement weekend happenings also include Baccalaureate, a senior-designed celebration for friends and family that brings together many faiths and many arts; at 2 p.m. May 28 on the Historic Quad.
It's a Social Occasion
Fans of social media are invited to participate using #batesgrad and #batescollege, but with social media channels abundantly abuzz during the weekend, you can keep abreast of the action at a single site: bates.edu/commencement/social/.
View Comments