There are at least 50,000 low-to-moderate-income students in the U.S. who have the talent to excel at the nation's leading colleges and universities. Yet, for a variety of reasons, they don't have access to those institutions.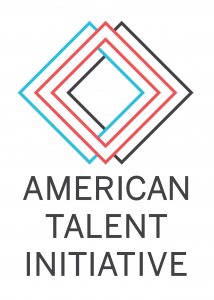 It's ironic, because these students have the most to gain from a top-quality college education: Research shows that a quality college education significantly improves the chances that lower-income students will not only graduate, but will thrive after graduation.
To bridge that gap and help those underserved young people gain access to the best U.S. schools, Bates College has joined 30 of the nation's most-respected colleges and universities in a new nationwide effort — the American Talent Initiative.
Bates was invited to join the initiative, which includes peers Amherst and Williams as well as universities such as Princeton, Harvard, and Berkeley, on the strength of the college's proven commitment to access, affordability, and success after graduation.
"We are proud to join the American Talent Initiative and look forward to offering our energy, experience, and creativity to the campaign," says President Spencer.
Supported by Bloomberg Philanthropies, the initiative seeks, over the next nine years, to expand by 50,000 the number of low- and moderate-income students attending 270 top U.S. schools.
"At a time when we're too often reminded of issues that divide us, education remains the great equalizer in our society," says Bates President Clayton Spencer, a longtime champion of improved access to education.
"Since our founding by abolitionists in the Civil War era, Bates has maintained an unwavering commitment to recruiting talented and motivated students from a broad range of backgrounds and supporting them for success in college and beyond," she says.
"We are proud to join the American Talent Initiative and look forward to offering our energy, experience, and creativity to the campaign."
Named for the student potential that the initiative will cultivate, the ATI is a partnership among the 30 schools; Bloomberg Philanthropies; and two organizations dedicated to strengthening academe and student outcomes, the Aspen College Excellence Program and Ithaka S+R.
ATI hopes ultimately to enlist 270 institutions, those that consistently graduate at least 70 percent of their students in six years or less.
Representing diverse regions and academic missions, each institution will choose its own way to contribute to the 50,000-student enrollment goal. They will step up their own efforts to recruit and support lower-income students, share ideas and experiences, and contribute to research that helps other colleges and universities expand opportunity.
A commitment to accessibility is rooted in its Bates values: From its founding, in 1855, Bates has recruited students without regard to race, religion, national origin, or sex.
In 2011, the college demonstrated this commitment to access and affordability in a particularly high-profile way with the appointment of Spencer as president. As vice president of policy at Harvard prior to Bates, she played key roles in the reshaping and major expansion of the university's financial aid program; and in the creation of the Crimson Summer Academy, which provides low-income high-school students with on-campus experiences leading to higher education.
Compared with its peers, Bates spends a significantly larger proportion of its resources on financial aid.
For Bates, financial aid is a central priority. The college ensures that 100 percent of its students' demonstrated financial need is met for all four years. Forty-three percent of students receive grants from Bates, with such grants averaging $40,000 per student.
Compared with its peers, Bates spends a significantly larger proportion of its resources on financial aid. In fiscal year 2015, for example, Bates had an operating budget of $103.4 million and spent the equivalent of a third, $31.4 million, on financial aid.
That year, Bates' financial aid outlay was equivalent to 12 percent of the college's endowment — more than twice the commitment of several peer liberal arts colleges with far larger endowments.
Also in the interest of increasing accessibility, Bates was among the first U.S. colleges to cease requiring that applicants submit standardized test scores — a requirement that narrows the doorway of college opportunity for low-income students and other underrepresented groups.
But if the headline of the ATI story is 50,000 new enrollments, the initiative is just as deeply concerned with the progress of its students once they're inside the wrought-iron gates — as well as their success as college graduates. Here, too, Bates has an enviable track record.
With 96 percent of students participating, Bates' robust senior thesis program is especially beneficial to students from underrepresented groups. So too is the college's 10-to-1 ratio of students to faculty, which means more individualized attention and stronger academic relationships.
Relatively new on the scene, the college's Purposeful Work initiative is nationally distinctive. Spearheaded by President Spencer as one of her central initiatives, Purposeful Work is dedicated to the proposition that, because work is fundamental to our lives, a liberal arts education should help students discover the unique path that aligns who they are with what they will do later in life.
Driven by innovative programming, Purposeful Work includes wide-ranging paid internships and myriad opportunities for students from families without strong professional networks to make connections that can be essential to a professional career.
Purposeful Work has also seen the infusion of life-purpose considerations and life skills into the curriculum; the development of practitioner-taught courses that have ranged from journalism to entrepreneurship to music production; and a speaker series that brings notable guests to campus to talk about the traits that support meaningful work.
Bates offers a variety of other programs designed to enable all students to thrive during their Bates years, including the 12 percent of Bates students who are the first generation of their families to attend college.
For instance, the Bobcat First! program specifically supports first-generation students. It strengthens their sense of belonging at Bates, their sense of community, and their emotional intelligence. And the Dinner Table series of mealtime conversations has been shown to improve participants' satisfaction with the college experience and their comfort with communicating across cultural differences.
Programs like these figure in a high freshman-to-sophomore retention rate that, for fall 2015, was nearly 95 percent. And nearly 90 percent of Bates students graduate within six years — well above the ATI's benchmark of 70 percent.
Within six months of graduation, 99 percent of Bates alumni are settled in a job, internship, or graduate school. And students in the Bates Class of 2015 had an average federal loan debt of around $14,000, less than half the national average.
The American Talent Initiative's 28 founding institutions represent the cream of U.S. academe. Spanning the spectrum of category, region, and size, they include eminent small liberal arts colleges like Bates and Williams, Ivies like Harvard and Yale, and such powerhouse research universities as the University of Michigan and UC Berkeley.
Today, that college degree is more critical than ever, even as higher education moves further out of reach for many young people.
The ATI will invite the remaining 240 schools into the program over time, with the goal of adding at least 100 in just the next few years.
In the mid-20th century, with the G.I. Bill, the Higher Education Act, and the Civil Rights Act, the nation invested in and opened access to higher education for its citizens, characterizing a college degree as a path to success. Today, that college degree is more critical than ever, even as higher education moves further out of reach for many young people.
A lack of information about options, confusion about costs, and inadequate offers of financial aid keep thousands of new high school graduates every year from attending the colleges and universities that could best help them succeed. The ATI seeks to ensure that these "missing" students have a path to attend and thrive at the institutions with the highest graduation rates and best track records for post-graduate success.
"If we're serious about promoting social mobility in America, we need to ensure that every qualified high school student in the U.S. has an opportunity to attend college," says Michael R. Bloomberg, founder of Bloomberg Philanthropies and three-term mayor of New York City.
"I'm so glad that so many great colleges and universities have stepped up today and committed themselves towards that goal. This is a vital first step toward creating a more meritocratic society."
View Comments