There's never been an opening like this. After an eerily quiet spring and summer on campus, it was startling, in the best way, to hear laughter, shouts of happy reunion and snippets of conversation over the course of this week's three-day move in.
Here were new suitemates, sitting on a bench on Alumni Walk, having an early dinner and working out their living arrangement. "OK," says one. "Let's have a conversation now about what we do that drives anyone crazy."
There were Elysia Garza '22 of Houston and Erick Gredonia '21 of North Hollywood, Calif., headed to Garcelon Field to record a Tik-Tok dance. And over by Ladd Library, a group of students headed toward the outdoor dining near Commons stopped to cheer as one of their classmates ended a speedy bike ride across the Quad by popping an impressive wheelie. Ah, Bates.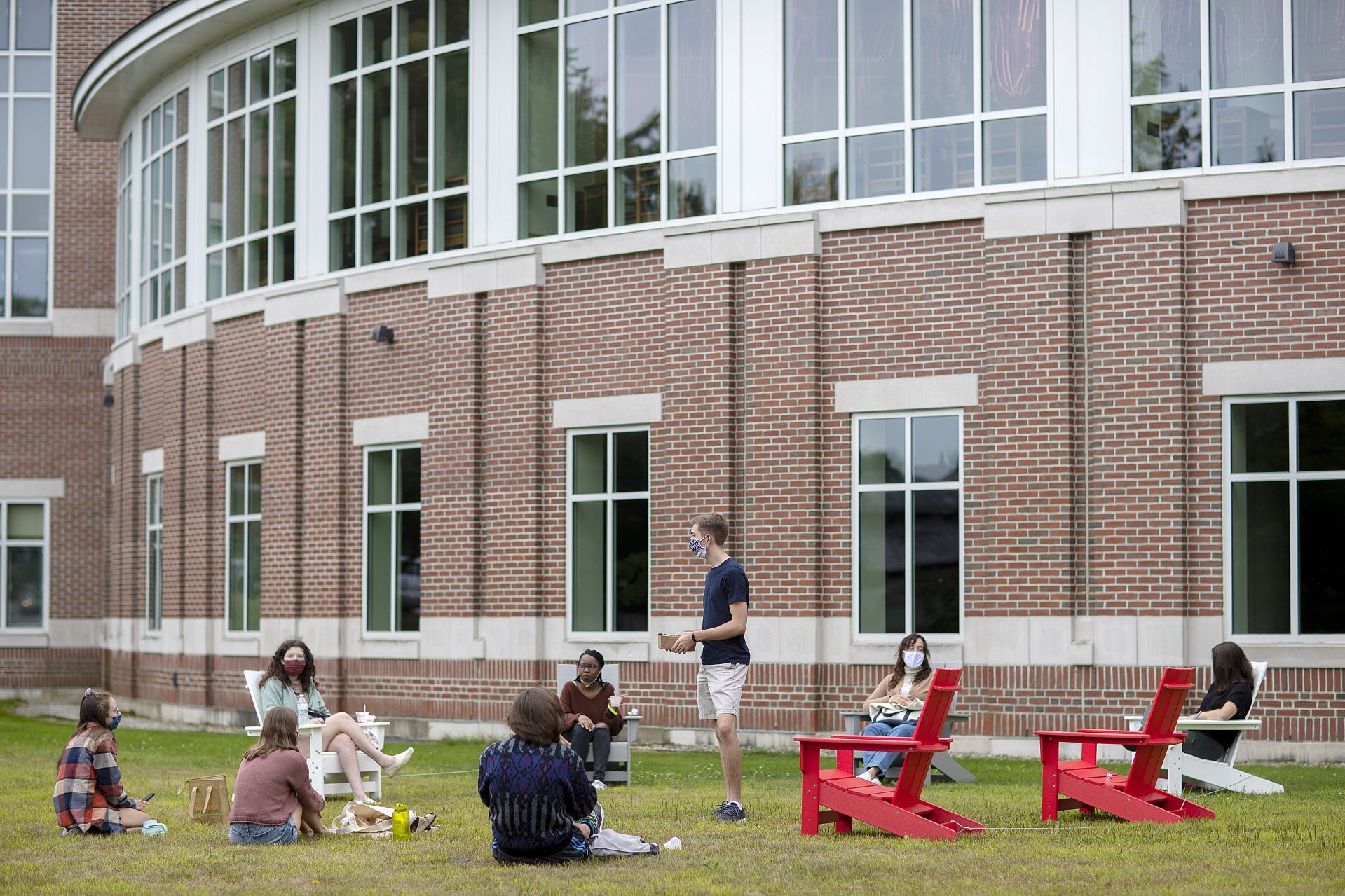 From Tuesday through Thursday, Bates welcomed back to campus some 1,700 students, including the incoming Class of 2024. (Another 170 or so students will do their fall coursework remotely.)
From 8:30 a.m. on Tuesday through 8 p.m. Thursday, all student arrivals were scheduled and spaced out like a New York City subway schedule. There was much less revelry and merrymaking, but still a strong sense of purpose as Bates reopened with myriad protocols — universal masking, twice weekly testing, social distancing, limited extracurriculars — for the first time since closing on March 13 due to the pandemic.
As Nellie Breen '21 of Pasadena, Calif., said, "We all so want to be here and we want to stay here. We're going to do everything we can in order to stay."
We felt their joy and enthusiasm as we watched over three days, and shared every bit of it. Here's what it looked like, day by day, hour by hour.
Reporting by Bates Communications staff members Jay Burns, Dave Ernst, Aaron Morse, and Mary Pols, and photography by Phyllis Graber Jensen
Day 1: Aug. 25
8:25 a.m. Standing Room Only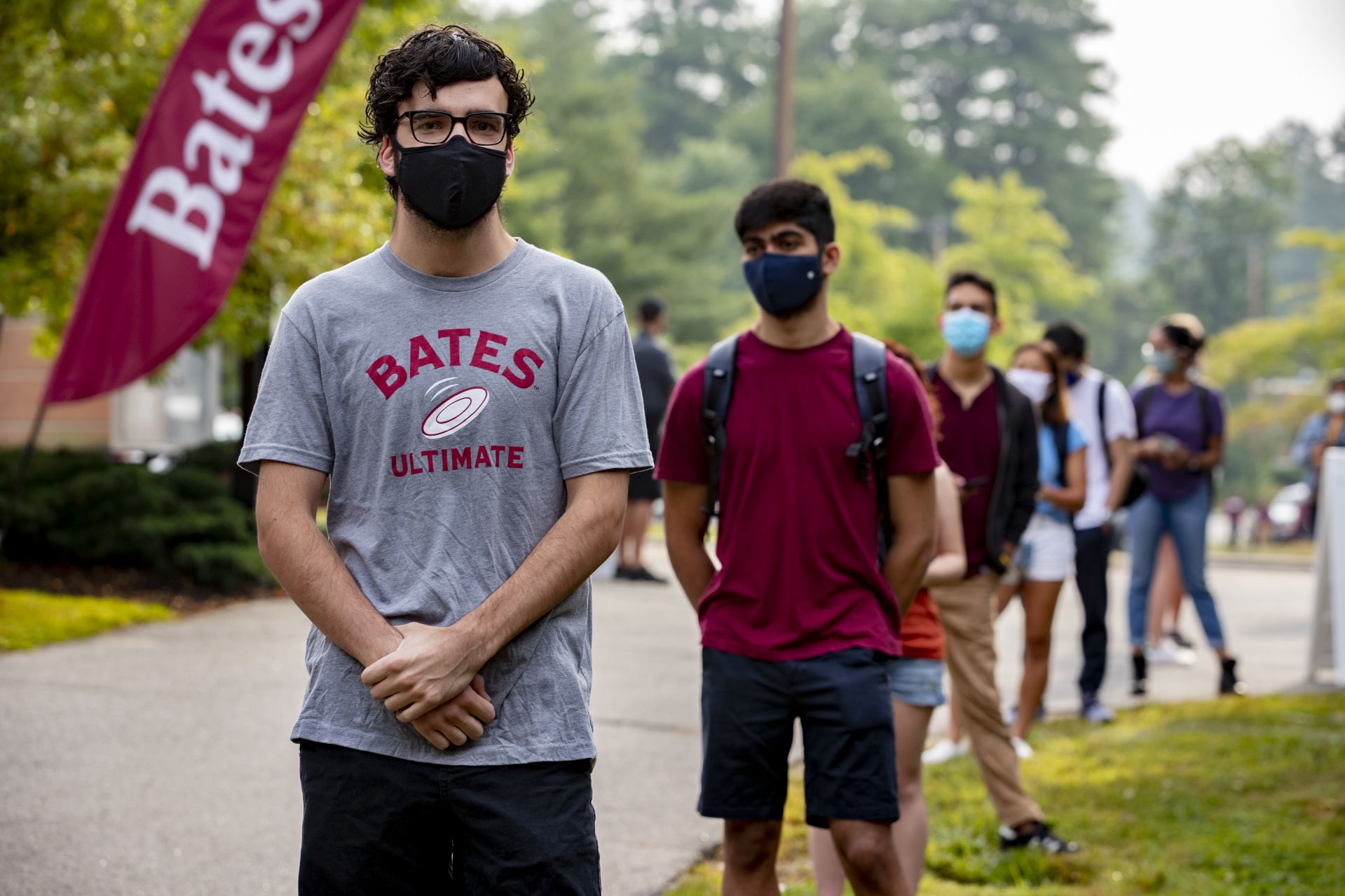 "Where do I stand?" asks Harris Manganiello '21 of Collegeville, Pa., first in line at the Bates Testing Center, a repurposed Underhill Arena, on the first day of arrivals.
Luckily, that question had been anticipated: spray-painted squares, the familiar distance of 6 feet apart, told students where to queue up for the first of their twice-weekly COVID-19 tests.
"I'm nervous to see how it goes," he says. "But I suppose in a few minutes, it will be normal."
8:26 a.m. Game On
In terms of putting a plan into action, Day 1 of testing "is like the first game of the season," says Nick Cooke, surveying the scene as students arrive Tuesday morning.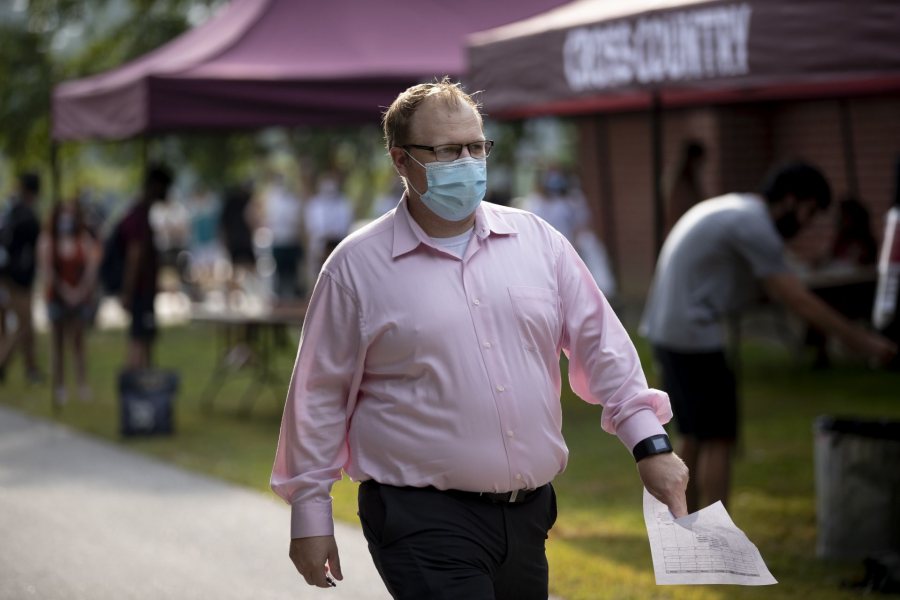 Until this summer, Cooke had one Bates hat, assistant athletic director for athletic performance. Hence the sports comparison.
With the announcement of the college's plan to reopen, he added another: director of the new Bates College Testing Center at Underhill Arena, which will test all students, some 1,700, twice weekly.
"The message that I'm giving to our staff is that students will be anxious because it's a brush with the unknown," he says. "It's our job to guide them from the unknown to the known."
8:33 a.m. That Was Easy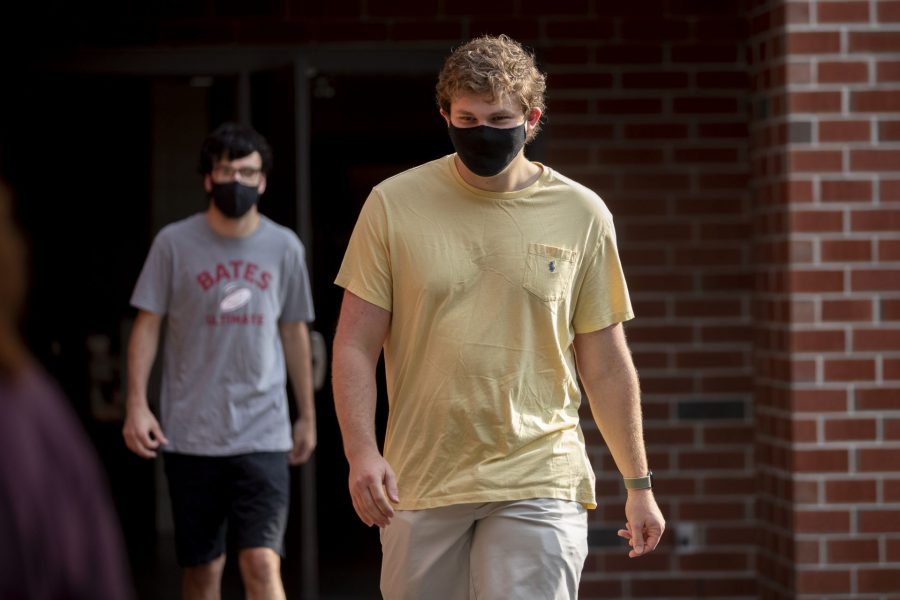 Manganiello, at left, following classmate Alan Bisesi '21 of Bloomington, Ind., steps out of the Testing Center.
Could he come up with one word to describe the test? "Easy." he says. It felt good, he adds, to get a feel for the process which will play such a big part of every student's fall routine. "I know how part of this will go for the rest of the semester."
From there, all arriving students head into a temporary quarantine in their residences until receiving a negative COVID test.
8:57 a.m. A Sterno Test
"I did the math," says Director of Dining Cheryl Lacey, standing behind a stack of Sterno cans that she needs to keep food warm in the many chafing dishes set up in the dining tent next to Garcelon Field.
During the first week back, students will pick up their grab-n-go Dash meals — hot and cold dishes, from egg sandwiches to veggie Italians — from the tent. After that, they'll start picking them up in Commons or the Gray Cage.
The math? "I've got 28 cases of Sterno, 72 cans per case." Those 2,016 cans should last a total of 4,000 hours.
9:19 a.m. A coach with a different role
"At the end of the day, despite no football, it's exciting to welcome our Bobcats back to campus because we still have each other," says head football coach Malik Hall. Dollies at the ready, Hall joins Sarah Pearson '75, vice president for college advancement, to greet students at Kalperis Hall.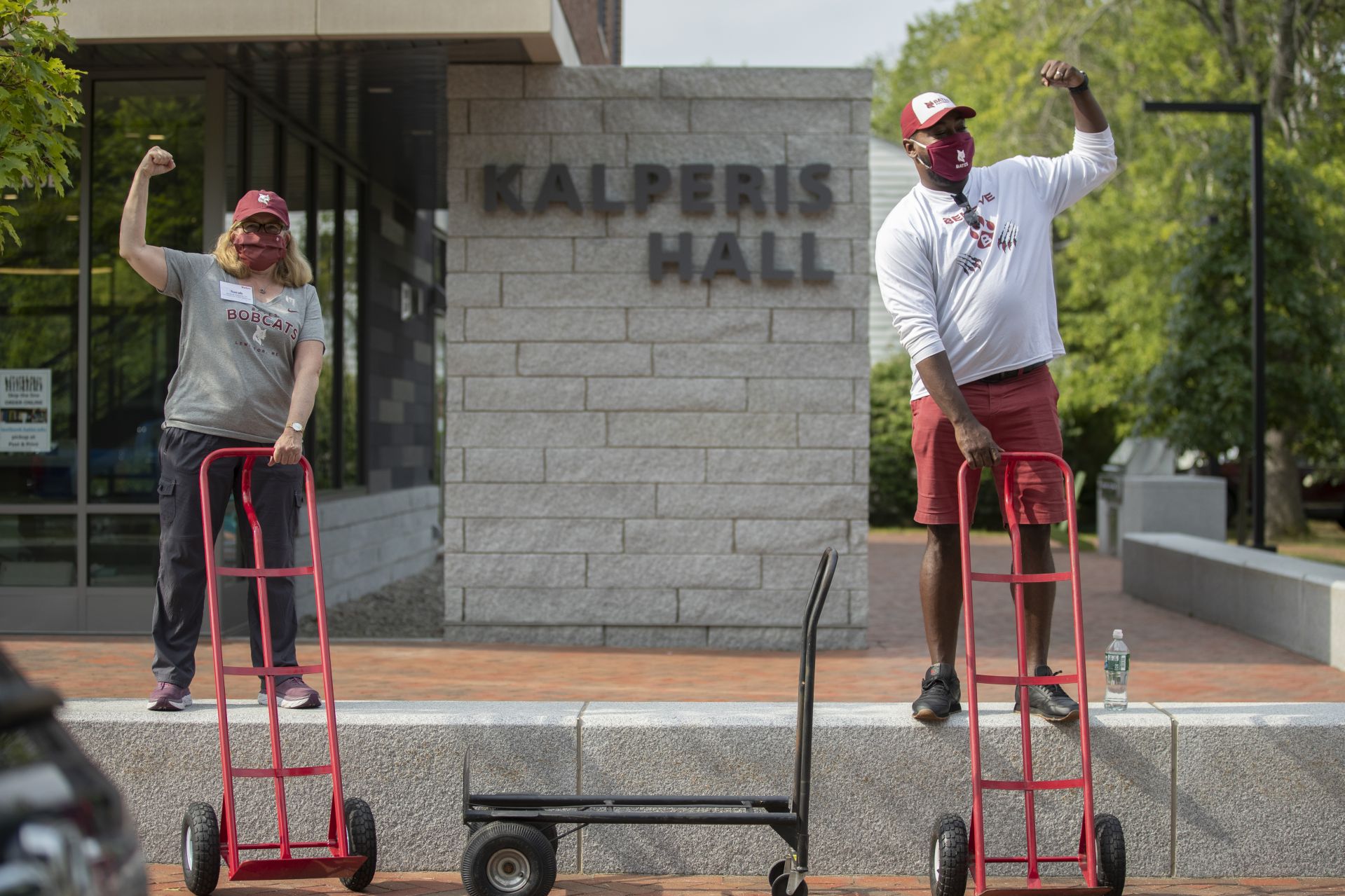 They are two of many Bates faculty, coaches, and staff helping with the historic move in. Students moving in Tuesday are all returning students, with first-years scheduled to arrive Wednesday and Thursday.
"I haven't seen the first-years in-person since they made their visits to campus a year and a half ago," Hall says. "I am so excited to see those guys."
9:36 a.m. Move-In to Kalperis
Hayley Neighmond '22 of Ballston Spa, N.Y., moves into Kalperis Hall with the help of professional movers. To ensure that residence didn't get clogged with students and parents lugging gear, the college hired local moving companies to help out.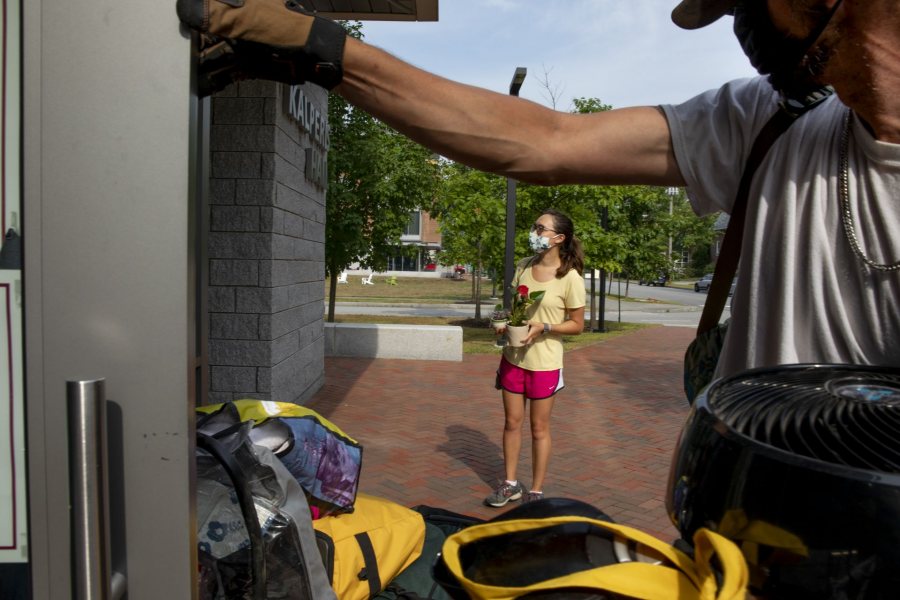 9:47 a.m. Dance Happy
"I'm so happy to be back!"
Walking on Campus Avenue to her Chu Hall residence, Orientation week leader Katia Ryan '23 of Amsterdam, N.Y., does a jig to express her excitement about returning to campus.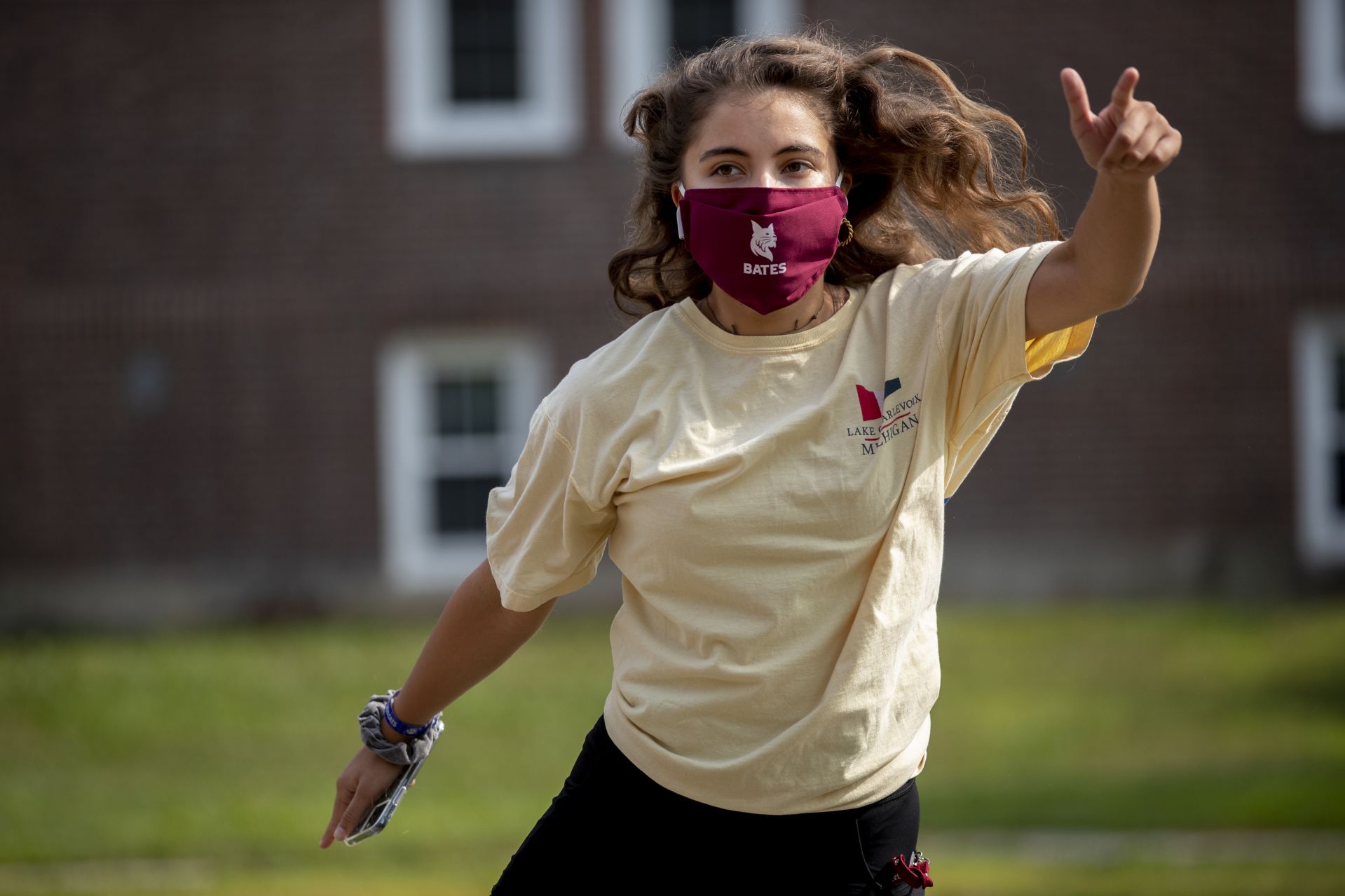 11:22 a.m. Duck, duck, Bates
At Page Hall, junior adviser Nathan Huynh '23 of San Diego looks all around and likes what he sees. Like most returning students, he has not seen the campus since mid-March, when the college moved to remote learning due to COVID-19. And it looks quite different.
"The trees are green," Huynh says. "The grass is tall and the weather is warm. It's perfect here. My favorite part about being on campus is just walking around. So yeah, I've been stretching my legs a little bit."
What else? "Just interacting with people again. And also the ducks. I really missed the ducks here."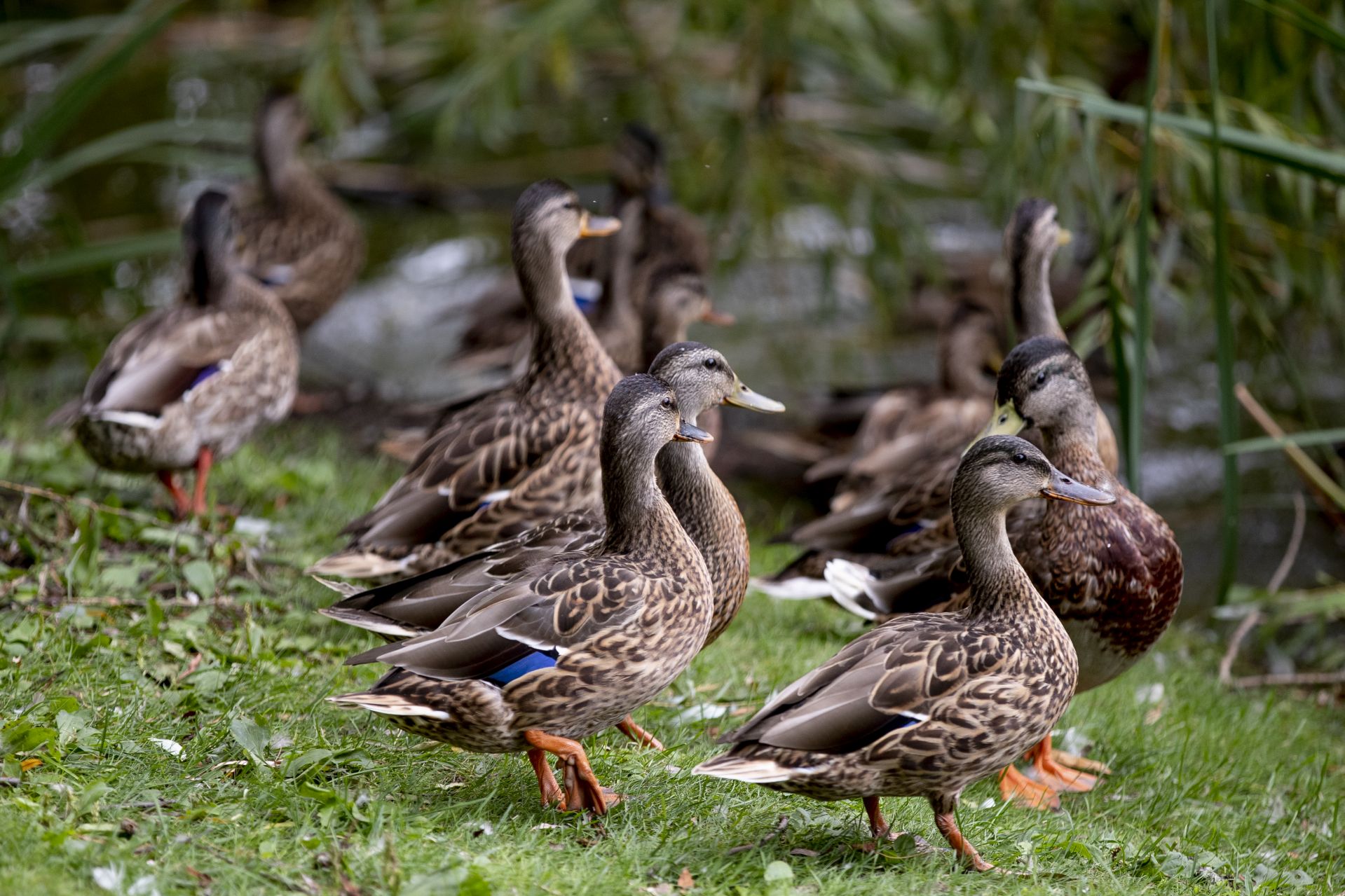 3:01 p.m. Coming Attraction
"Look what's coming," says a dad from New Jersey, holding out his phone to show the pulsating orange blip on his weather radar app. "Five minutes until it's here."
He looks a little skeptical about whether or not the movers can get his daughter and all of her stuff into 280 College St. residence before the thundershower hits. The trees on Mount David are already starting to bend under the wind and the thunderheads are building.
Then the seven-person crew at 280 College descend with their secret weapons: dollies topped with refrigerator-sized cardboard boxes with one side cut out, into which the student's gear goes.
By 3:11, when the welcome "committee" — men's lacrosse coach Peter Lasagna — has finally conceded to sheltering from the torrential rain under the dorm's portico, the sophomore is moved in and the family is pulling away.
Day 2: Wednesday, Aug. 26
8:36 a.m. Sanitize and Step This Way
As a student rubs her hands with sanitizer, Vice President for Finance and Administration and Treasurer Geoffrey Swift points the way to the Bates Testing Center entrance. After testing in Underhill, students walk across the way to Merrill Gym for final check-in.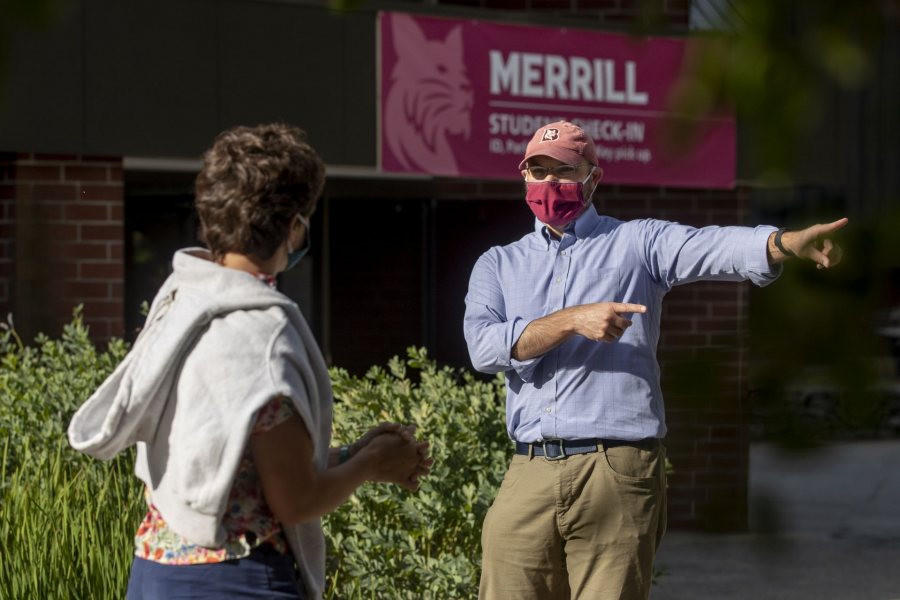 9:34 a.m. Couching Bobcat
Ridge Kelly '23 of Bremen, Maine, moves a couch into his residence at Chu Hall.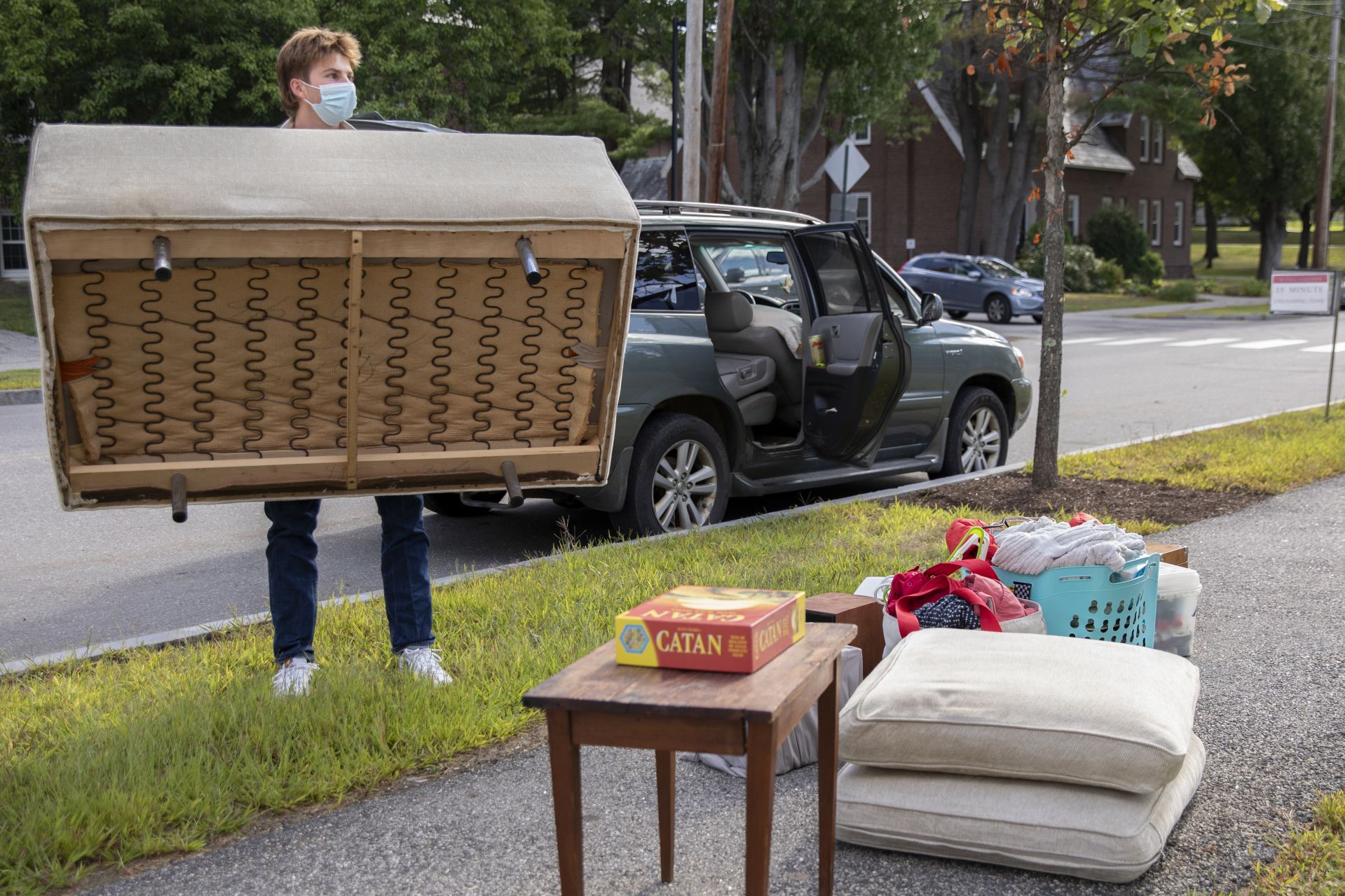 10:12 a.m. Hoot Hoot Hellos
There isn't the usual levity — but Bobcats will be Bobcats. Orientation week leaders Jackie Tam '22 of Gardena, Calif., and Aaliyah Black '22 of Auburn, N.H., greet students and families in front of Wentworth Adams Hall.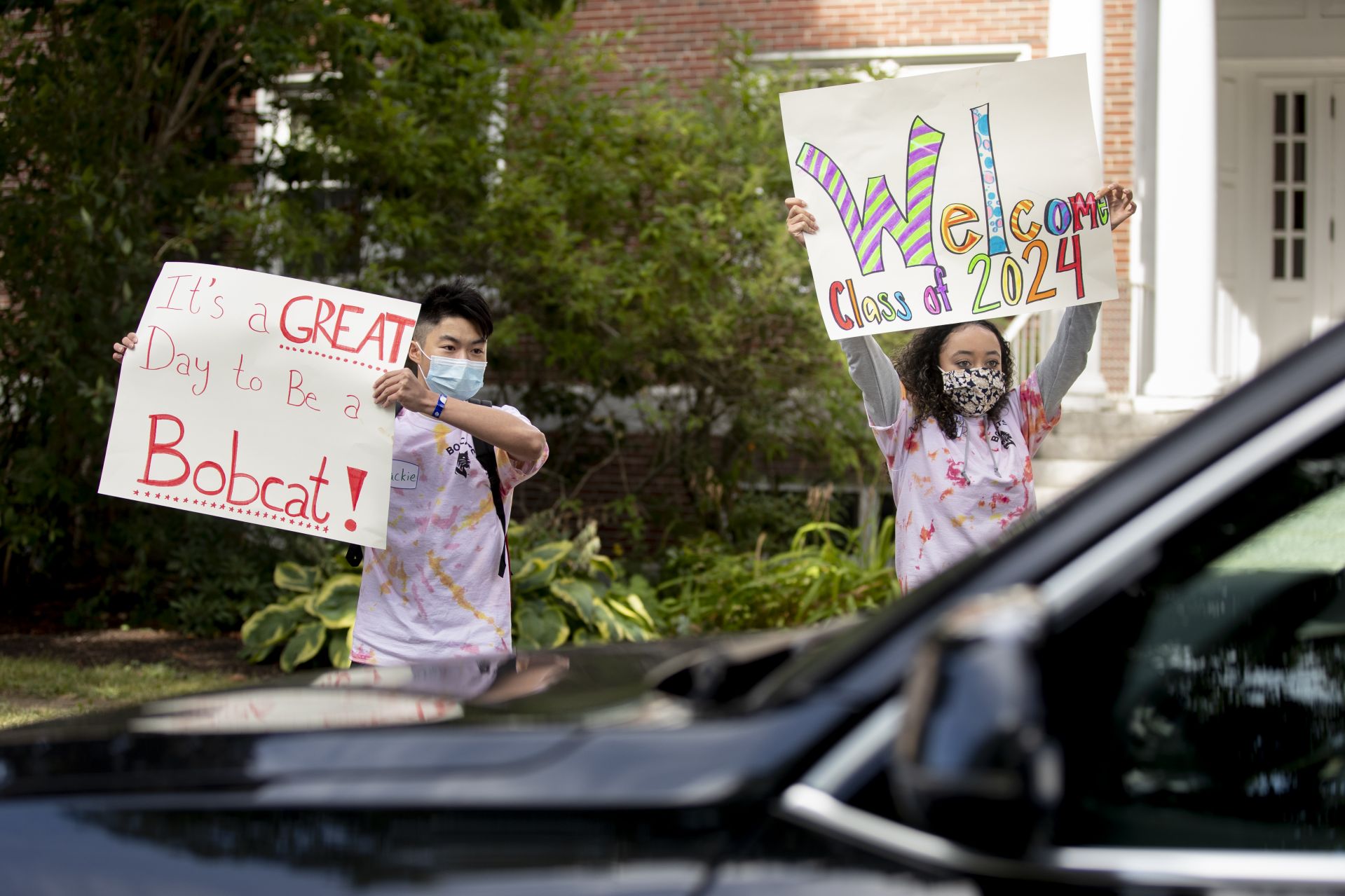 10:23 a.m. Almost Done
With parents Katherine and Andy, Ellory Kearns '24 (right) of Steamboat Springs, Colo., ponders her next move after her stuff is unloaded from the family truck outside her Wentworth Adams residence.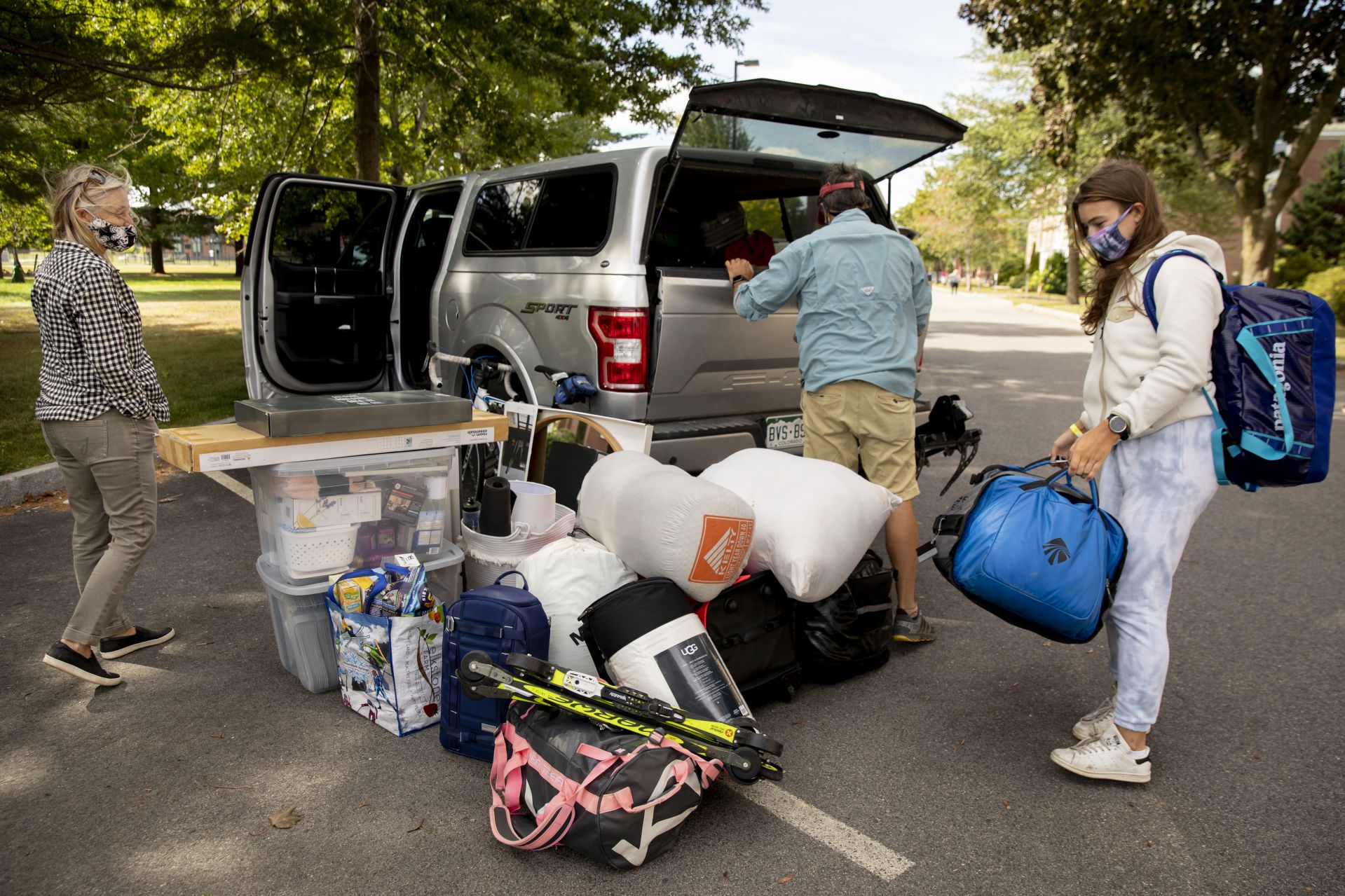 10:38 a.m. Goodbye Sis
Sydney Phan '24 of Zion, Ill., offers a goodbye hug to sister Kay, 10, as their mother Wendy prepares to head out.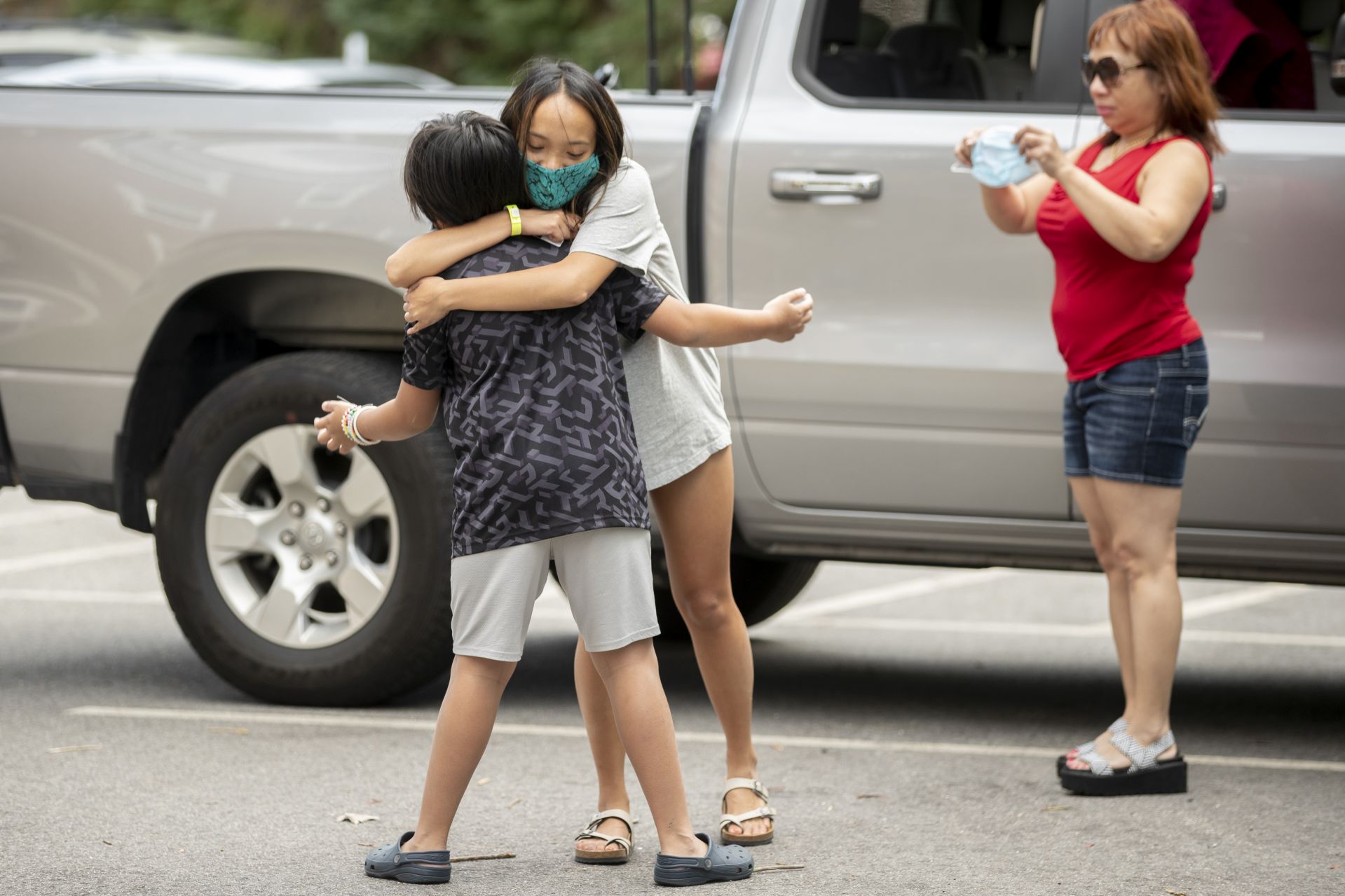 10:56 a.m. On the Button
Greeting students and families outside Parker Hall, College Advancement staff member Meghan Getz Metzger '07 found a creative way to greet folks with a friendly smile by wearing a button with her unmasked face.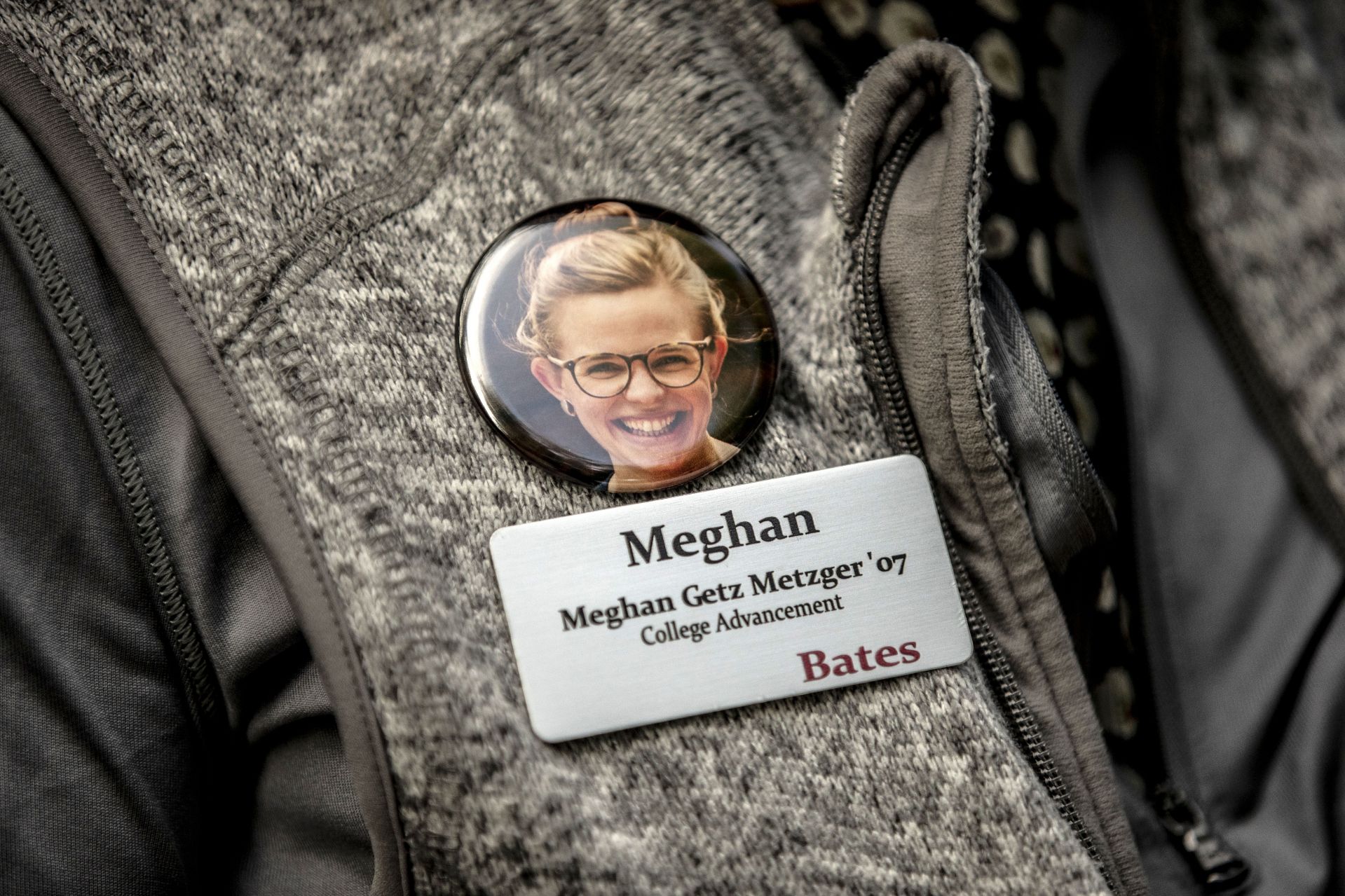 9:58 a.m. Room at the Inn
At 280 College St., men's lacrosse coach Peter Lasagna stands at the ready to greet students moving into the 280 College residence.
Two of coach Lasagna's players — whose season was cut short last spring — stop by to greet their coach. Before their arrival, they had been grumbling to their coach about their housing assignment at the downtown Hampton Inn, pressed into use mostly for juniors who cannot go abroad as they planned.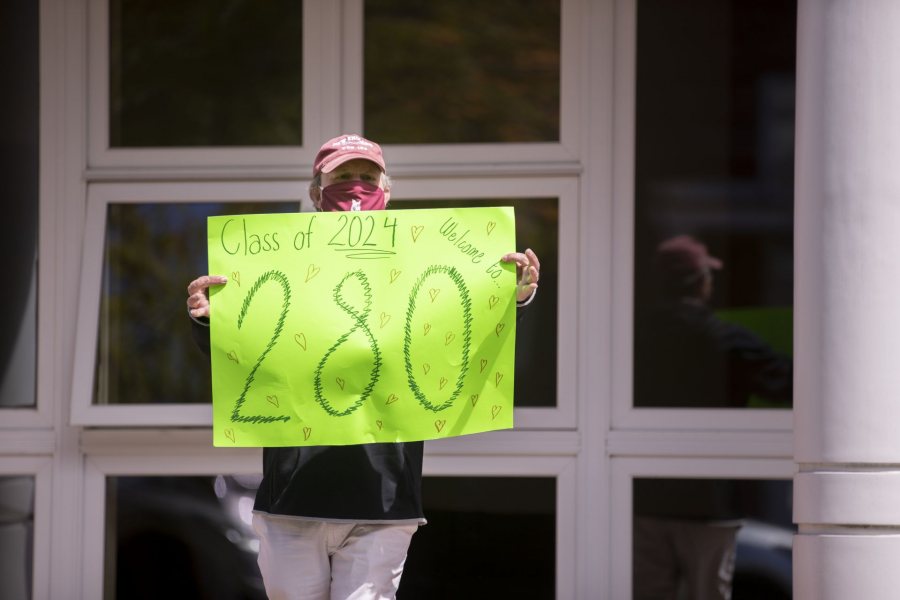 Now that they are moved in, it is not bad at all, the players say, and even have some bonuses: Because the inn's laundry facilities will be off-limits to students, the college will offer them a laundry service.
Under sunny skies, Pierson Rambusch '22 of Madison, N.J., tells his coach about his timetable for applying to medical school. And naturally, the conversation shifts to talk of training and the hope of a spring season for the team.
11 a.m. Al Fresco
Under the dining tent near Garcelon, three lanes guide students to their Dash meals. Students will pick up all meals from the tent for the first week, then pick them up from the Gray Cage or Commons thereafter. (All meals will be Dash.) On the brunch menu:
Veggie Italian — American cheese, green pepper, onion, tomato, dill pickle, kalamata olives, salt, peper
Bobcat bistro salad — mixed greens, sliced cucumbers, grape tomatoes, celery, and shredded carrots
Mediterranean beef salad — spring mix, marinated beef, feta, kalamata olives, roasted red peppers, tomatoes, cucumbers
Breakfast sandwiches — egg, chicken sausage patty, and American cheese on an English muffin
Here, Chidubem Umeh '22 of Randolph, Mass., poses for a photo after picking up lunch. He's a residence coordinator at Hacker House.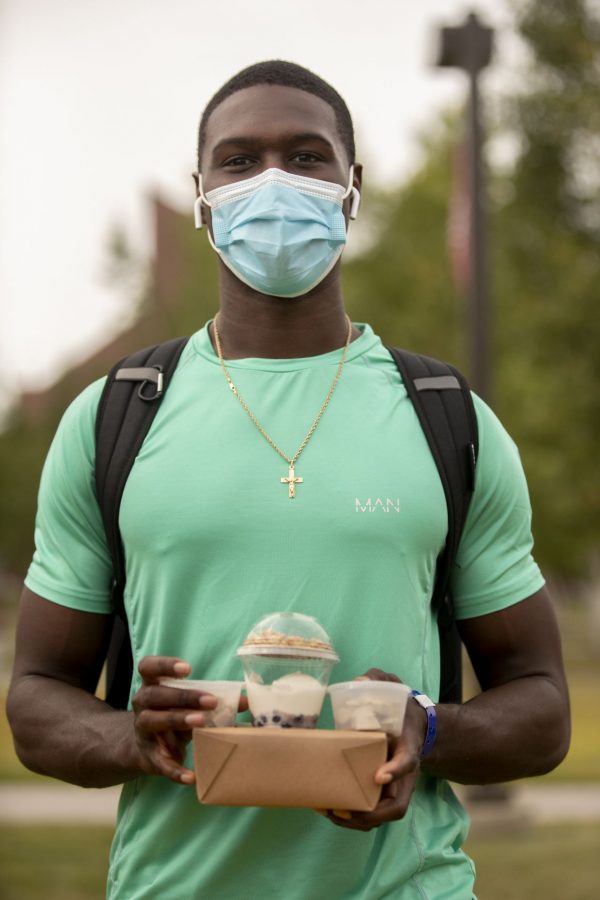 11:12 a.m. Presidential Greeting
On hand to greet students and parents, President Clayton Spencer, seen in a mirror, speaks with Dave Griffin as his daughter Molly Griffin '24 moves into Parker Hall on Alumni Walk.
11:13 a.m. A Keen Eye
Andrea Allen and David Allen Sr., parents of David Allen Jr. '24 of Dorchester, Mass., watch as he moves into Parker Hall. It is a particularly tough year for parents dropping off their first-years; as part of move-in protocols, parents cannot enter residences, help move stuff in, and engage in the ritual of helping to set up their children's rooms.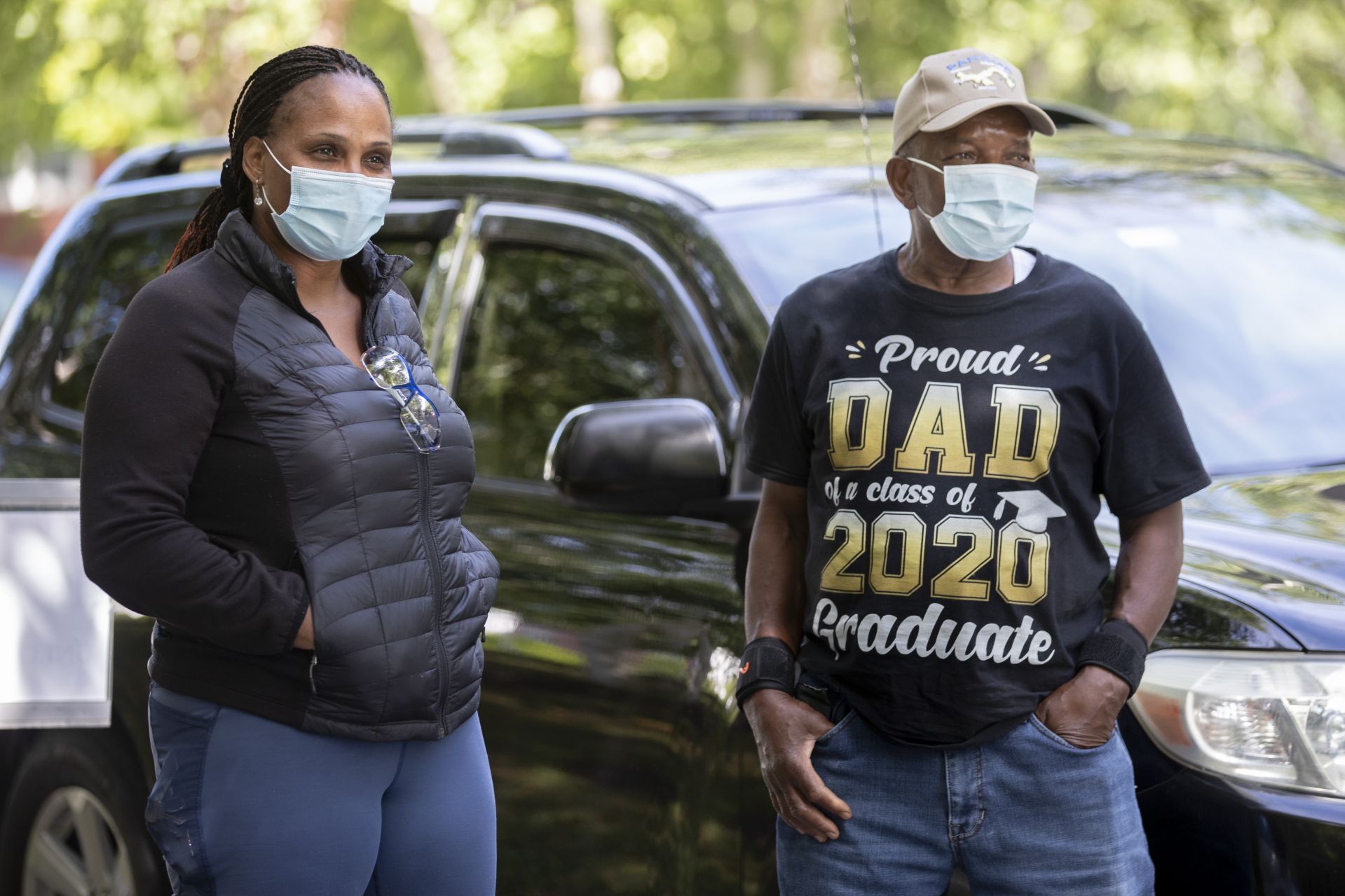 11:36 a.m. Wrapping It Up, Tightly
Simon McCormick '24 of Whitfield, Maine, shares a goodbye moment with his mother, Karen.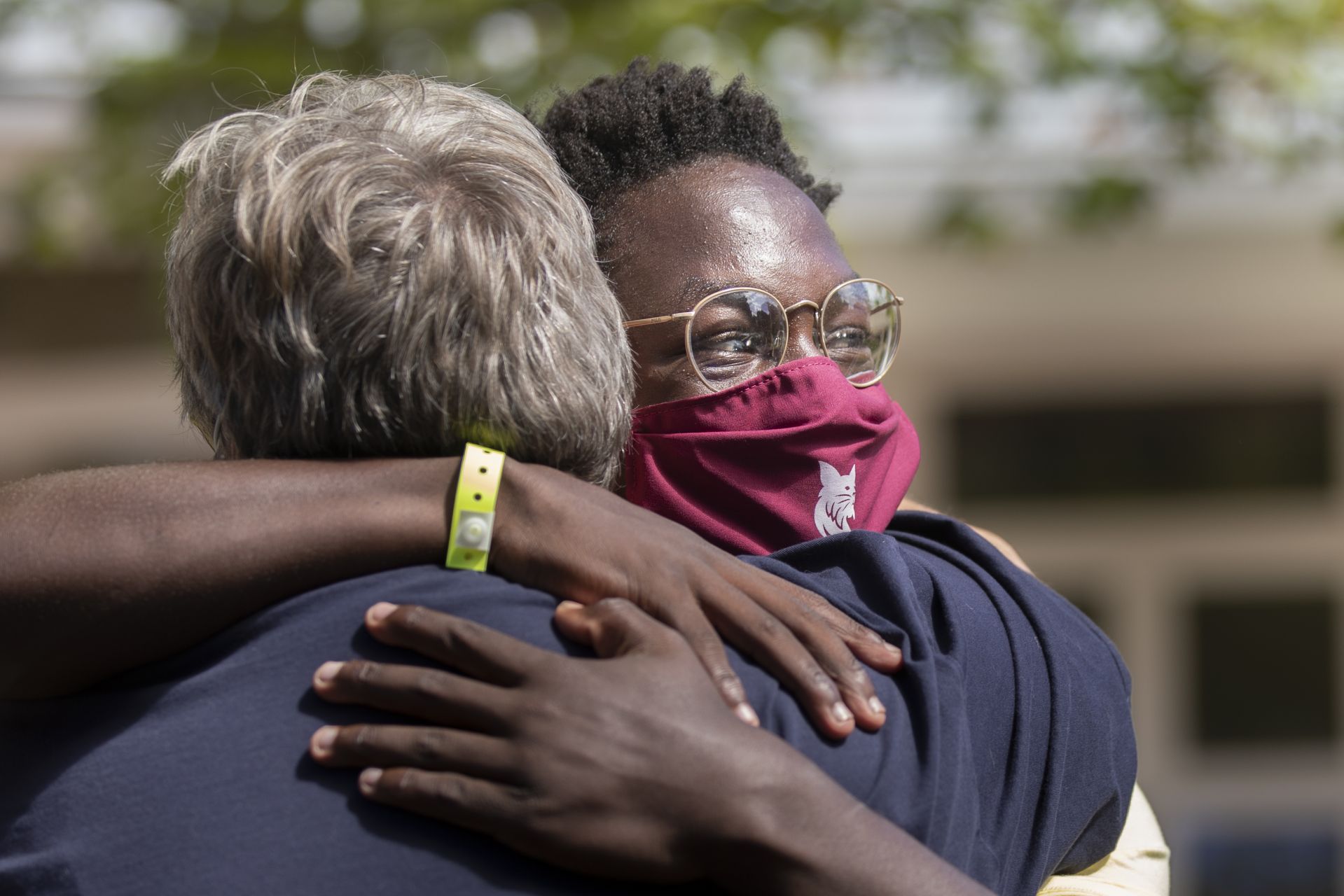 11:39 a.m. As Close as You Can
Krista Bussell and her daughter, Sarah Bussell '23 of Mohegan Lake, N.Y., get in one last hug at the 280 College St. residence.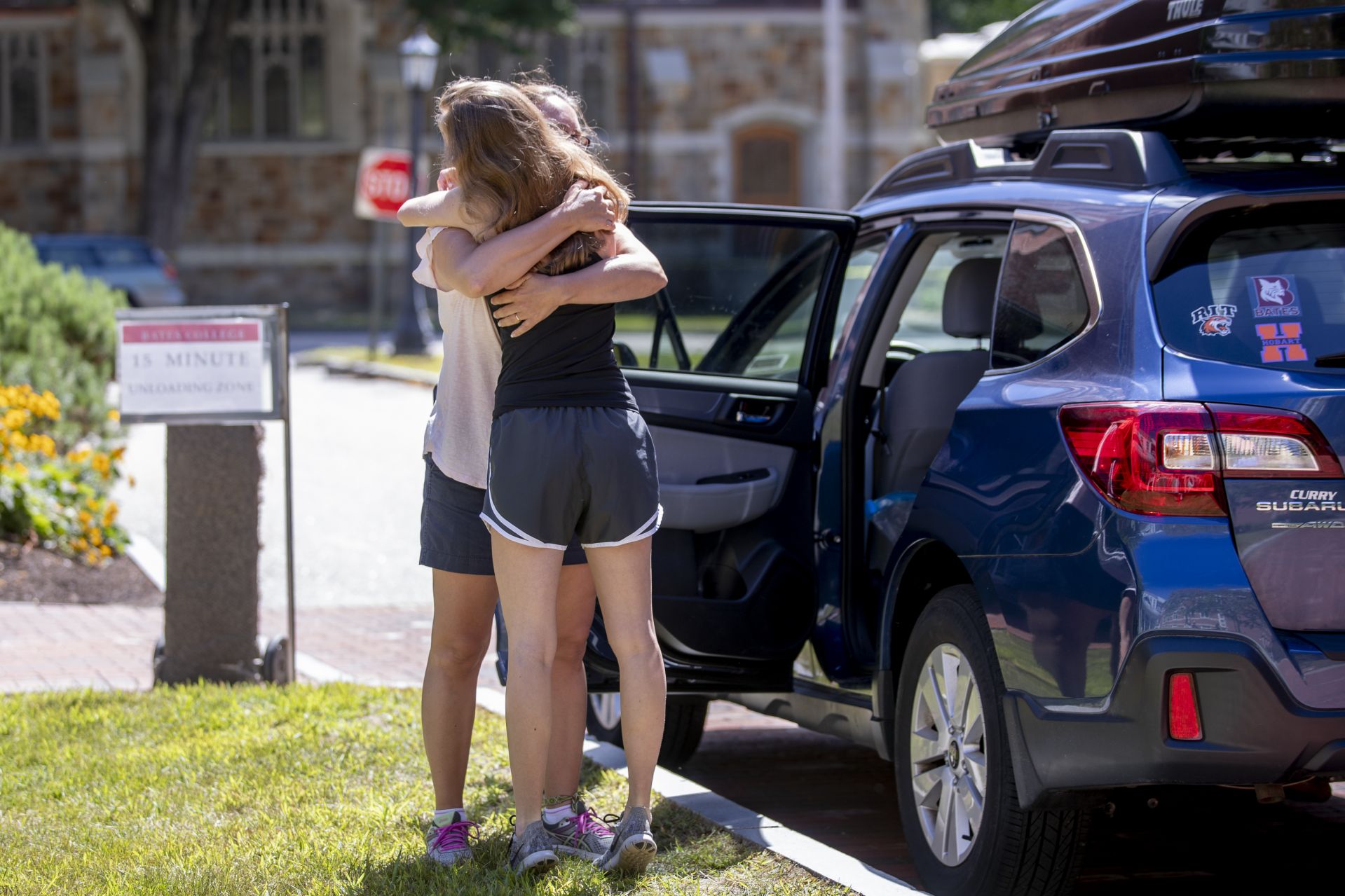 11:51 a.m. 'The Food Situation'
"Well, I've got the food situation down," says Christopher Barker '21 of Burlington, Vt., as he leaves the dining tent near Garcelon.
His roommates haven't arrived yet, so he is feeling a bit untethered. "I'm excited, I'm hopeful, and I'm taking it day by day. I'm interested in seeing what this is all going to look like. We have such a great community. I think everyone's going to do their part to make this work."
12:33 p.m. Really Surreal
At Page Hall, residence coordinator Nellie Breen '21, of Pasadena, Calif., takes a quick break from holding the door open for first-years and workers from Southern Maine Movers — hired this year to help with move-in — to talk about the "new normal" of life at Bates during a pandemic.
She was eight and a half months into a junior year abroad in Sevilla, Spain, when the pandemic hit, so she's been away from Bates for a year and a half. "It feels pretty surreal to be here and to see people," she says.
"There are so many incredible things that we do on campus that don't necessarily require being close to each other."
So far, just hours into her return, she is "impressed with how everyone's doing with masks and with distancing. I think that we're going to continue to do a great job."
She's been spreading the gospel, so to speak. "What I've talked with everyone is, 'We all so want to be here and we want to stay here. We're going to do everything we can and follow as many rules as we can.'"
It's now about the simple but important pleasures of Bates life, she says. "There are so many incredible things that we do on campus that don't necessarily require being close to each other. Just being able to go to class, walking down Alumni Walk, seeing the Puddle — those are things that I've been looking forward to for a year.
"And I'm so excited to be here and I want to stay. I'm looking forward to seeing the programming that Bates comes up with and the new experiences and the ways —the creative ways — that we find community."
Day 3: Thursday, Aug. 27
9:18 a.m. The Nest Empties
Julia and Rene Dumont stand at the curb, watching as movers unload the possessions of their twins, Austin '21 and Noah '21, and whisk them into 280 College.
The Dumonts haven't come far (they live in Auburn), but this is the end of a long journey for them. The twins are the youngest of their five children, so this is the last of many college drop offs for the couple. "That was the 20th," Rene says as he closes his car trunk.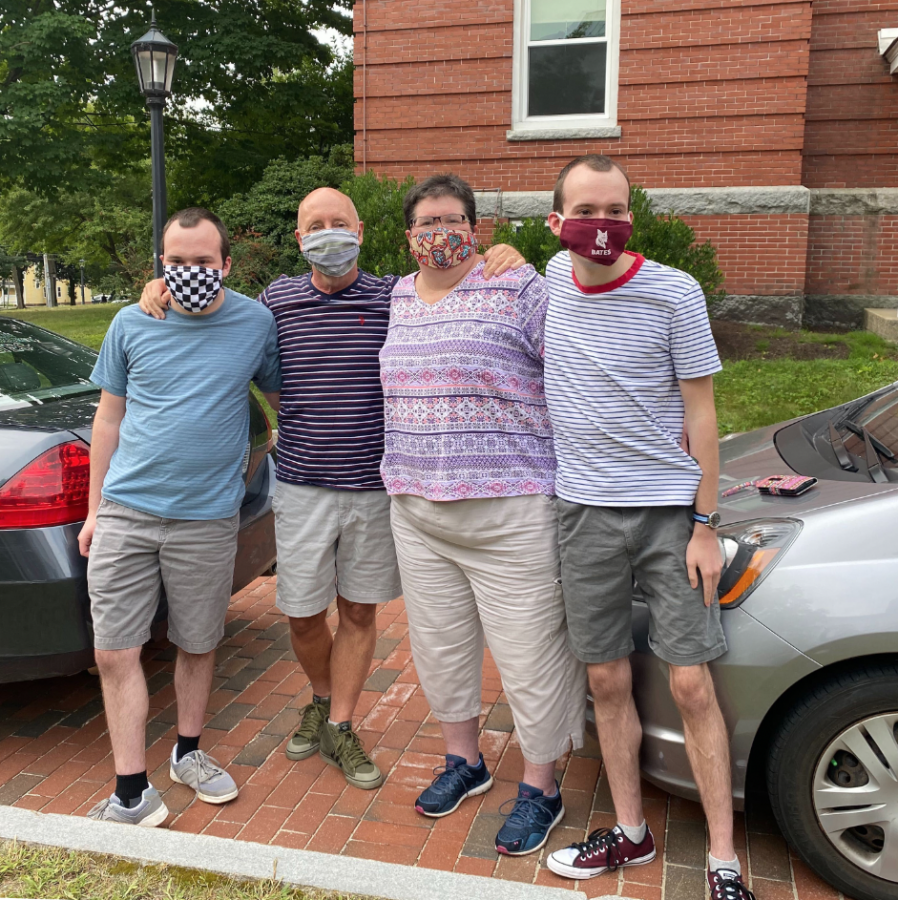 It's hard to miss that the Bates sticker is by far the biggest and most dominant of the stickers on the car's rear window (sorry Bowdoin). "Because we've got two here!" Rene Dumont says. "We're going to celebrate quickly — and hopefully not see them until Thanksgiving," Julia adds.
Rene says he's been reflecting on something President Spencer said during one of the informational webinars for families, about how college is full of quiet joys. "And that resonates for us," he says, because their family tends to be introverted. "So hopefully, this can be a time for those who like things a little more quiet."
Austin reappears, looking pleasantly surprised. "That was so easy," he says. Noah emerges from the other side of 280 a minute later and they pose for one last drop-off day picture and a hug. Home may be close by, but "this is their world," Rene Dumont says.
10:49 a.m. Looking Around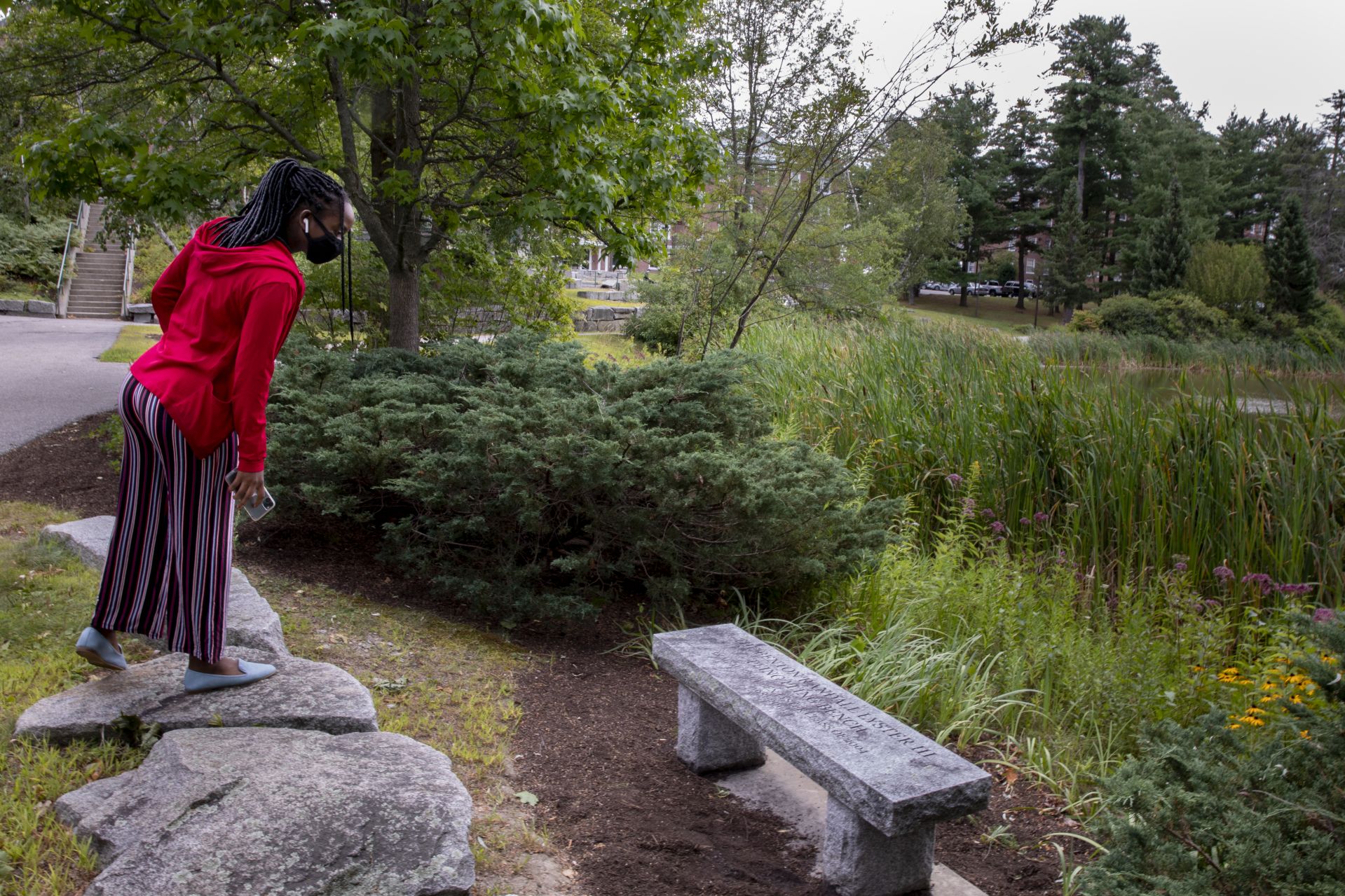 After receiving her negative COVID-19 test, Aaliyah Moore '24 of Phoenix, Ariz., is able to leave her residence and take her first campus walk around the puddle. Here, she takes a closer look at one of the memorial benches around the pond, this one dedicated to the memory of Benton Randall Lyster III '04.
She is particularly interested in the wildlife — ducks, squirrels, the occasional osprey feeding on fish — and eagerly imagined what Lake Andrews would look like when frozen over. She has never seen snow fall.
4:35 p.m. You Can Say That Again
Back at the testing center, the team is still expecting about 90 more students for initial testing and check-in before the three-day move-in concludes at 8 p.m.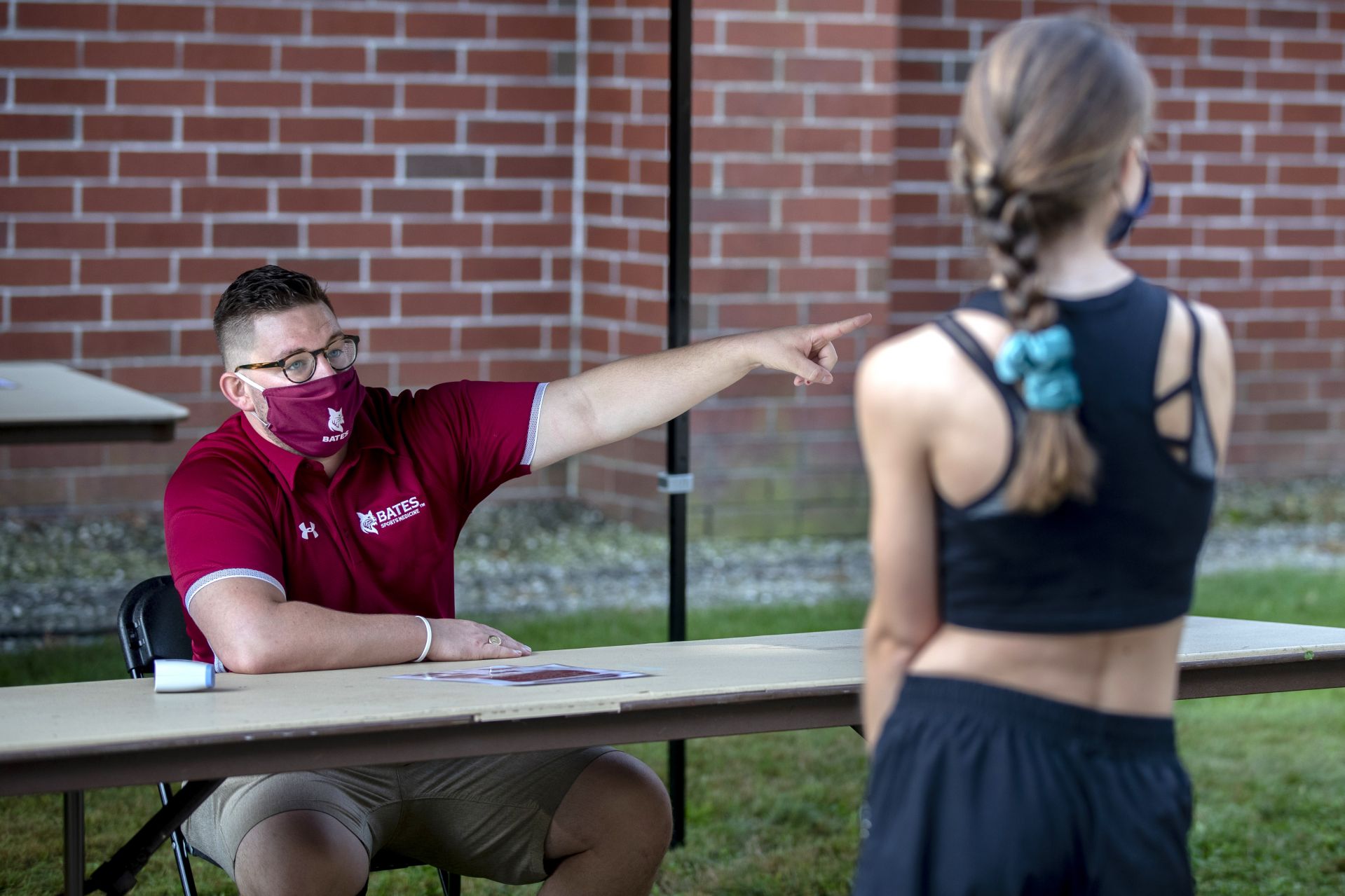 Athletic trainer Andrew England — seen here on Day 1 pointing a student toward the testing entrance at Underhill — is finishing three days of asking the same COVID-19 screening questions to students.
He estimates that he alone has asked the screening questions "probably 1,500 times." But it's worth it, he says, to start the fall off right. "It takes a village. It takes a team effort."
View Comments