The email went out at 10:07 a.m. on Friday, March 13, 2020, from President Clayton Spencer.
Due to the surging pandemic, Spencer announced, Bates would immediately suspend in-person classes, asking all 1,700 students — except those granted waivers through petition — to move off campus in preparation for remote learning to begin in 10 days.
"My heart goes out to all of our students," Spencer said. But, "we are at a pivotal moment with respect to both the spread of the COVID-19 virus and our ability as a college to take proactive, rather than reactive, steps."
Thus began a year filled to the brim with reactions, proactions, and a lot of Bates teamwork, culminating in a return to campus in August and a successful — so far — in-person academic year.
Here's a look at the year gone by through the lens of COVID.
12:06 p.m., March 13, 2020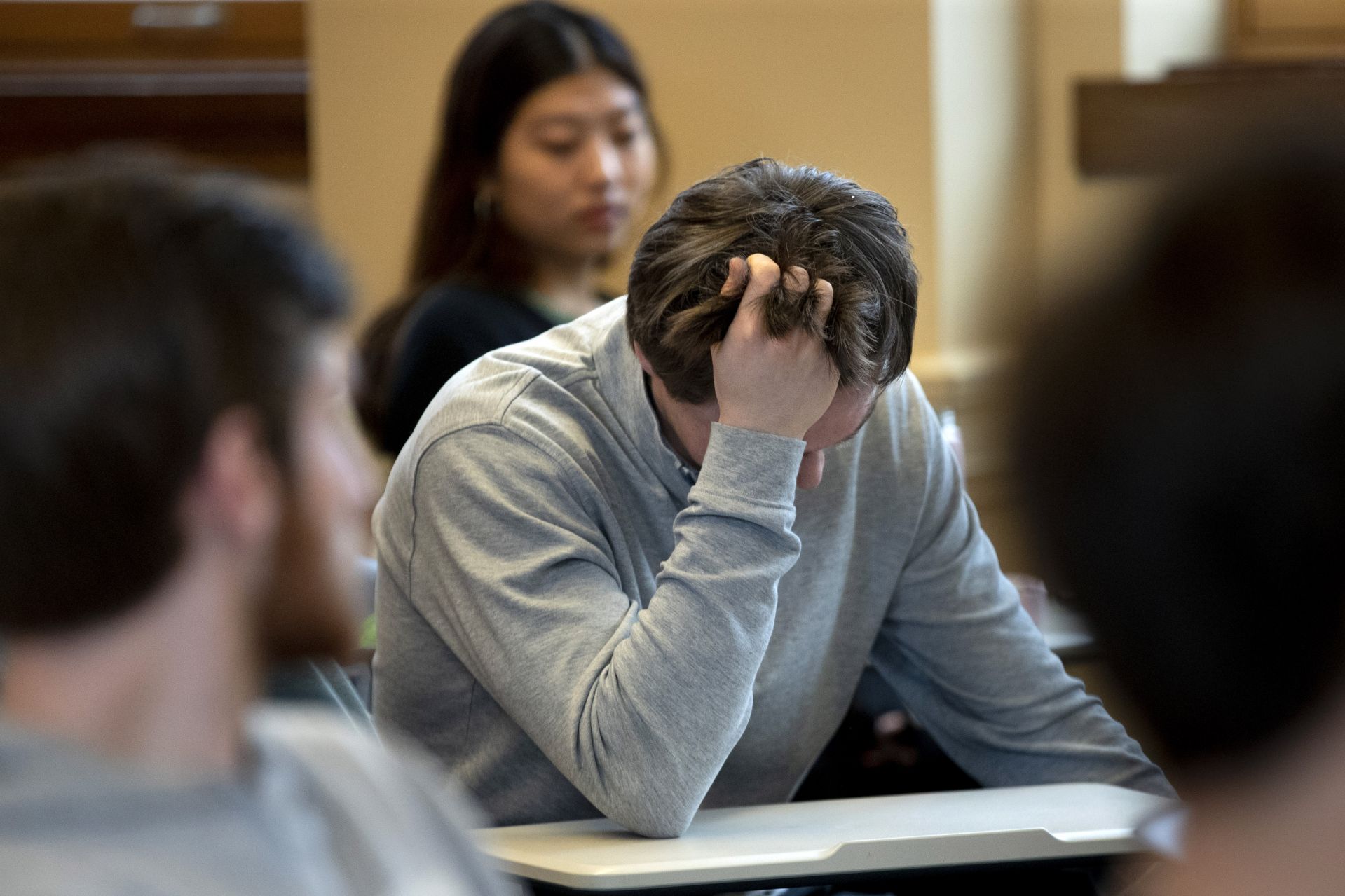 With a rough sweep of his hand across his head, a student expresses worry and uncertainty on the final day of in-person classes on March 13, 2020.
3:20 p.m., March 16, 2020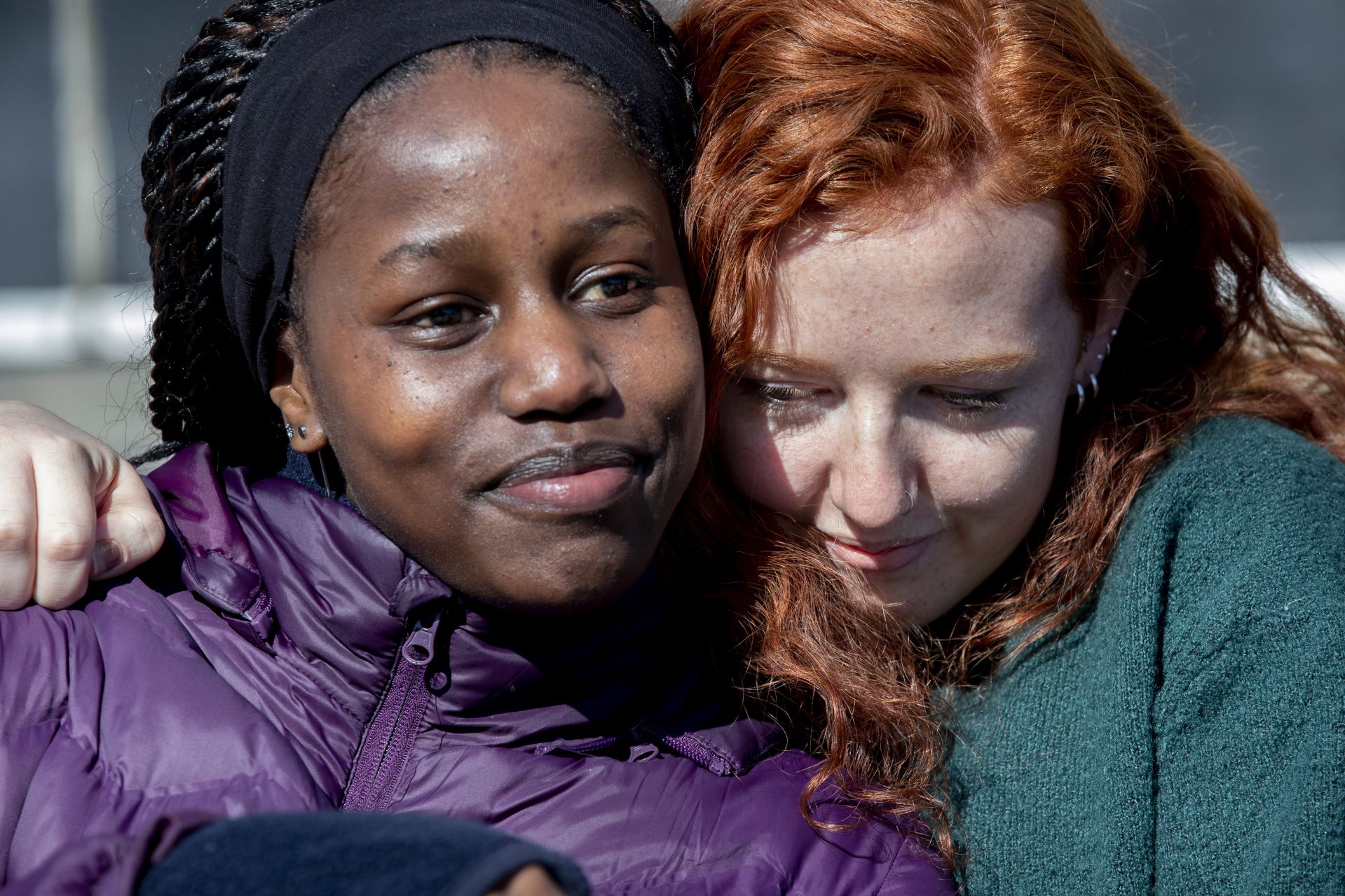 Awaiting a bus outside Chase Hall, two students hug and say goodbye as they prepare to leave campus due to the growing pandemic.
3:34 p.m., March 16, 2020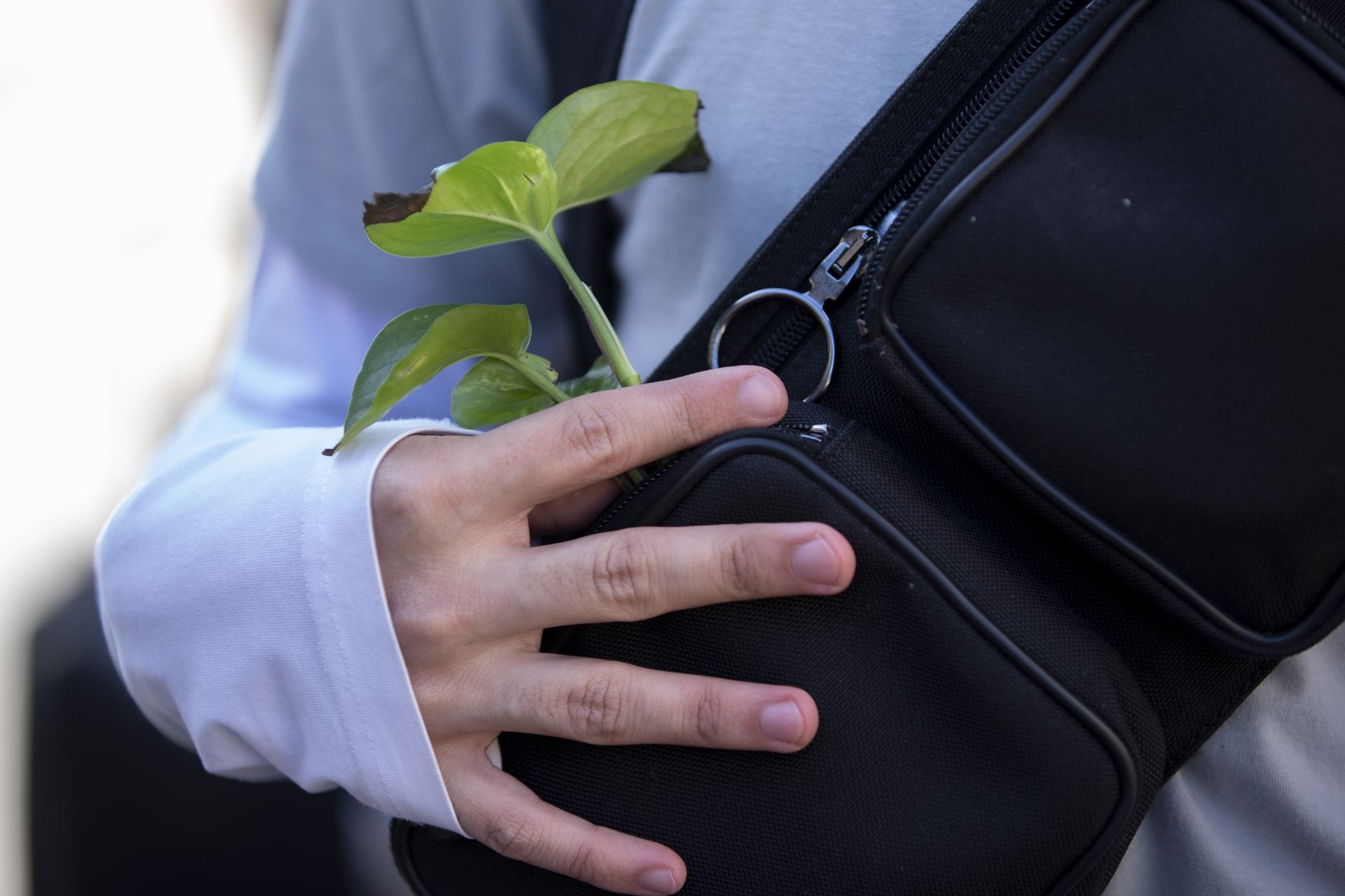 Waiting outside Chase Hall to board a bus home, Sultan Hashmi '23 of Belvedere Tiburon, Calif., tucks a philodendron cutting from his Bates dorm room into his travel organizer. "I couldn't bear to leave it behind," he said.
4:14 p.m., March 17, 2020
"Beginning immediately, Bates will transition to a remote working model for any employees whose physical presence on campus is not required to carry out their duties." — President Clayton Spencer, in an announcement to Bates staff.
"We are moving to remote work, to the extent possible, because public health guidance tells us that decreasing the number of people on campus, combined with other social distancing practices, is crucial to slowing the spread of COVID-19."
11:17 a.m., March 25, 2020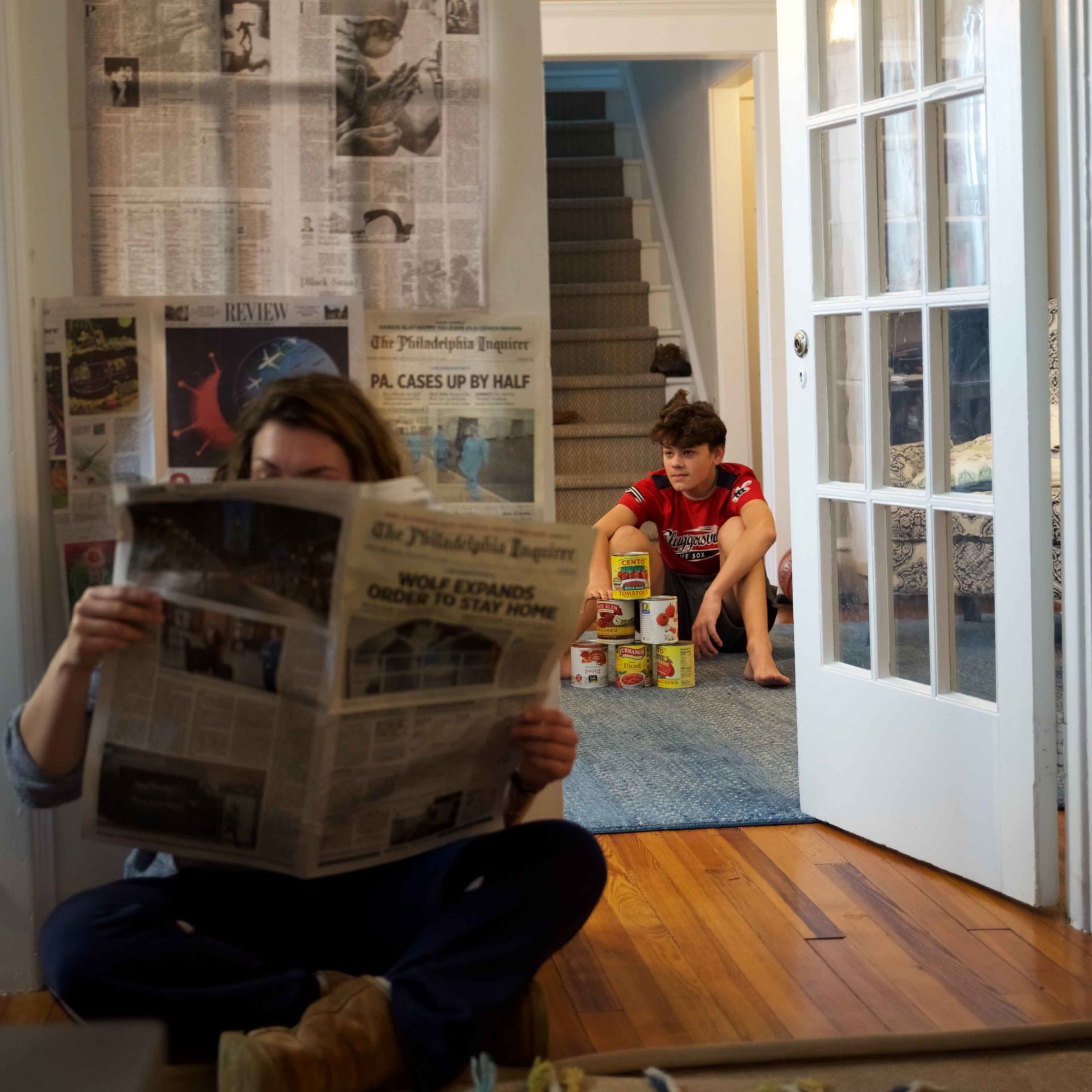 During their state's stay-at-home order, siblings Alison Gouveia '22 (left) and Will Gouveia pose in the living room of their home in Jenkintown, Pa., on March 25, 2020.
Gouveia composed the photograph for her "Perceptions and Expression" course.
"It was taken when every day brought heaps of alarming, quickly changing information. As quarantine continued to be extended, I chose to pose my siblings in a way that expresses common concerns about food availability and mental health during these unprecedented times."
6:13 p.m., April 5, 2020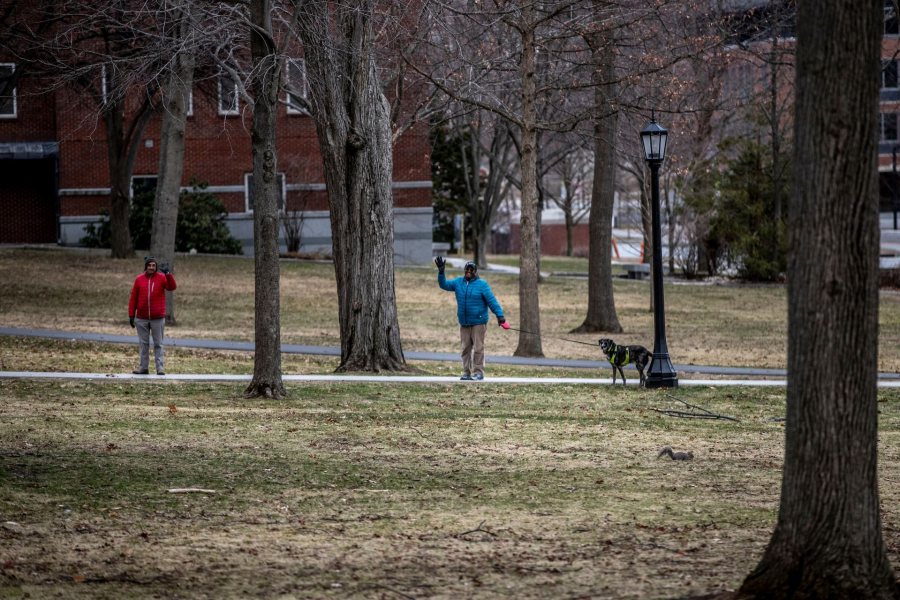 Professor of Spanish Baltasar Fra-Molinero (left) and Charles Nero, Benjamin E. Mays '20 Distinguished Professor of Rhetoric, Film, and Screen Studies, wave from a distance on the Historic Quad as they walk through a mostly empty campus with their dog, Caesar.
7:48 p.m, April 6, 2020
"Given where we stand with the global pandemic, it is clear that it would be neither safe nor prudent for us to host an in-person Commencement in May…. I am heartbroken to convey this news, adding to the disappointments you have experienced this semester, as events beyond imagination have conspired to deprive you of the traditions students look forward to as the culmination of their four years at Bates." — President Clayton Spencer
3:27 p.m., April 24, 2020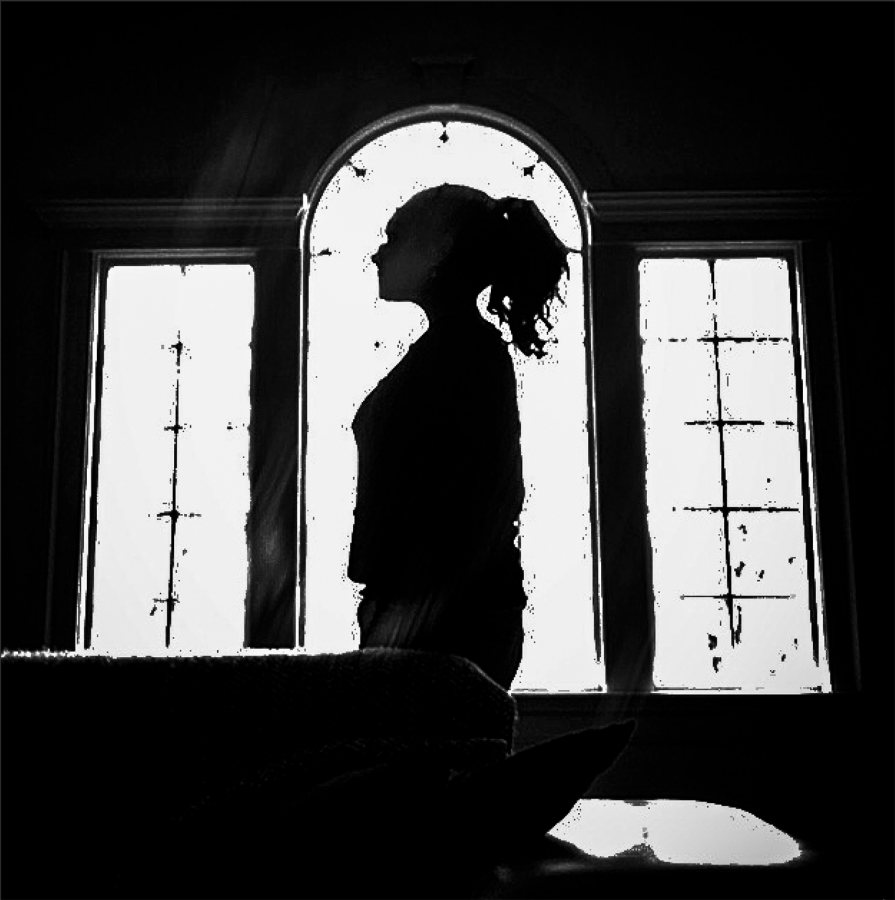 When the pandemic sent students away from Bates for the balance of the winter semester, Maya Seshan '20 of Wilton, Conn., said she found it "extremely difficult to give myself the structure and environment I needed to get work done."
At Bates, my favorite spot to work was always the large tables by the windows on the first floor of Ladd Library. I loved being surrounded by the light-filled windows and in an open space buzzing with noise. At home, our family room with big windows is about the closest I can get to that."
12:06 p.m., April 28, 2020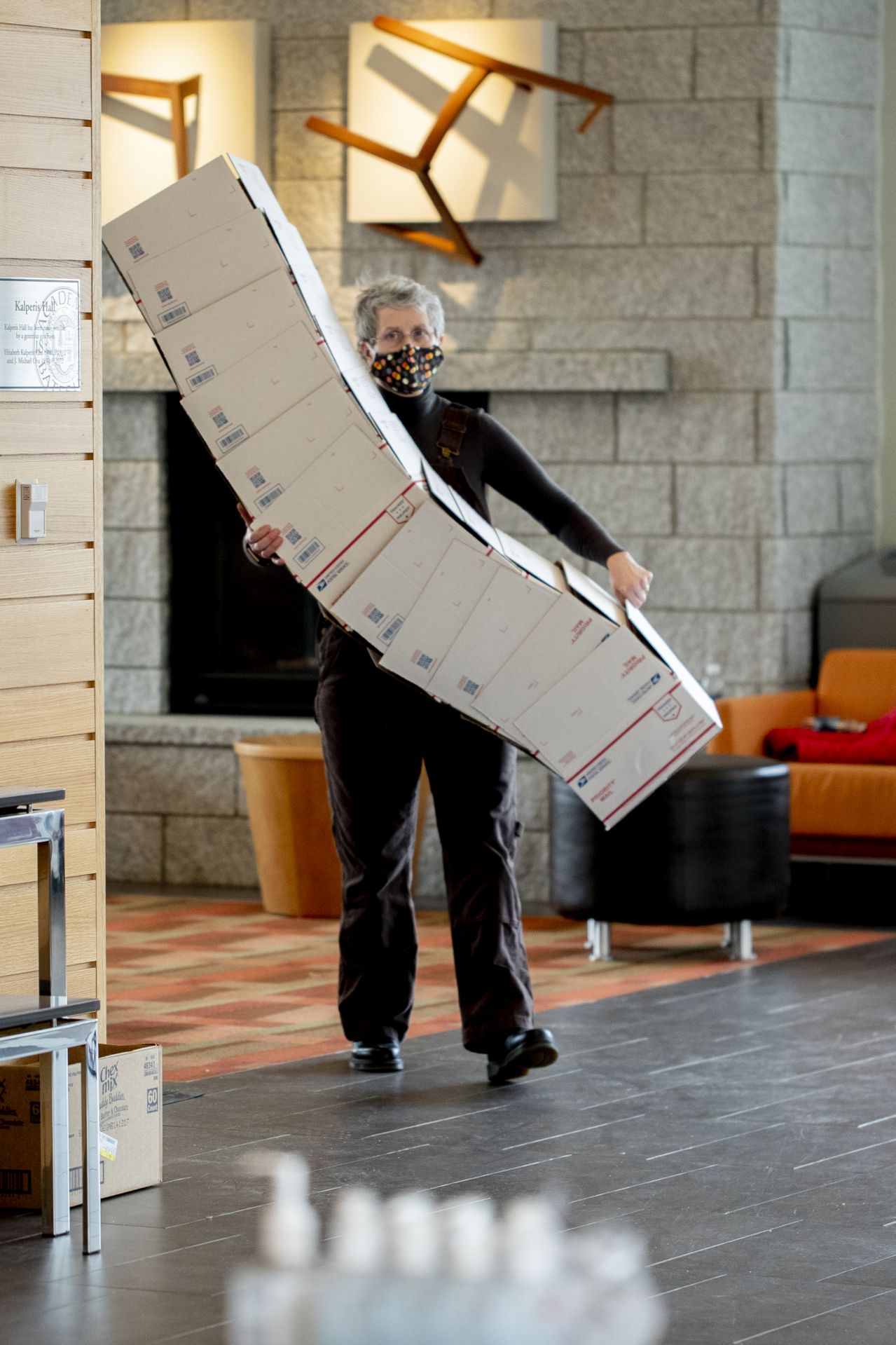 With Commencement fully remote in 2020, Bates staff went to work trying to deliver, in more ways than one, a positive experience for the Class of 2021.
Assistant Vice President for Dining, Conferences, and Campus Events Christine Schwartz hauls a stack of "Bobcat Boxes" to an assembly line of staff who packed and shipped a selection of pre-Commencement swag to members of the Class of 2020 in early May.
"With every box, I think of every senior. We're preparing for Commencement as we do every year, but in a very different way this year. What hasn't changed is the pride and excitement we feel for our seniors," said Schwartz.
3:46 p.m., May 7, 2020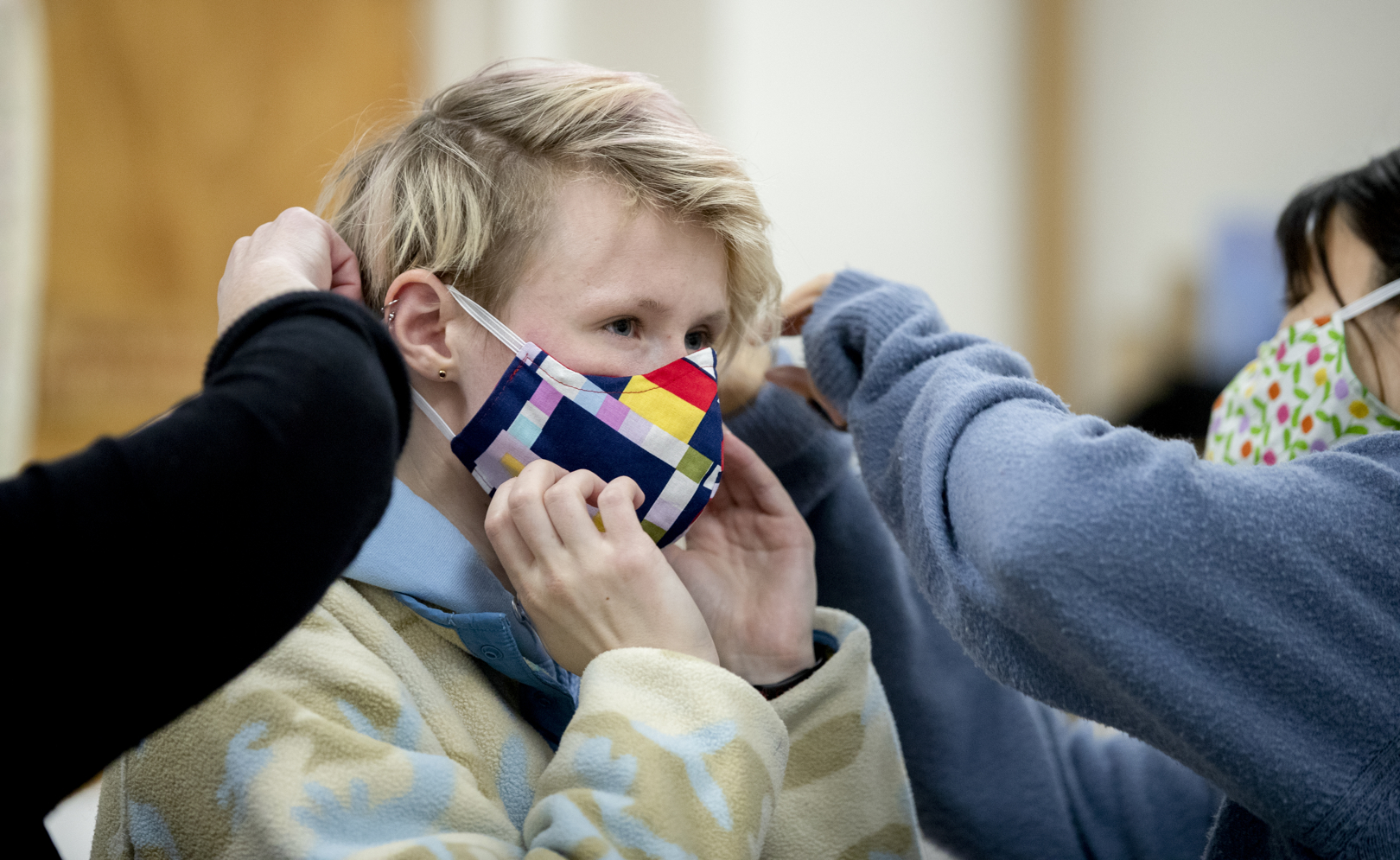 In the Bates costume shop, a team of faculty, staff and students set to work sewing hundreds of cloth face coverings for Bates employees' use. Here, Gabi Gucagaite '21 tries on a mask.
"This is one of the few times in life where a practical skill that, not only do we have in our wheelhouse, but that I really advocate as part of the Bates experience, could come to the forefront," said Associate Professor of Theater Christine McDowell.
Elsewhere, Assistant Professor of Biology Andrew Mountcastle joined an effort to 3D print protective face shields for healthcare workers.
6:46 p.m., May 8, 2020
"The essence of our educational model is that our students live and learn in a residential community through a rich array of experiences inside and outside the classroom. It is thus our fervent hope that it will be safe to welcome new and returning students in person in the fall, and we are actively working toward that goal." — Clayton Spencer
9:19 a.m., May 11, 2020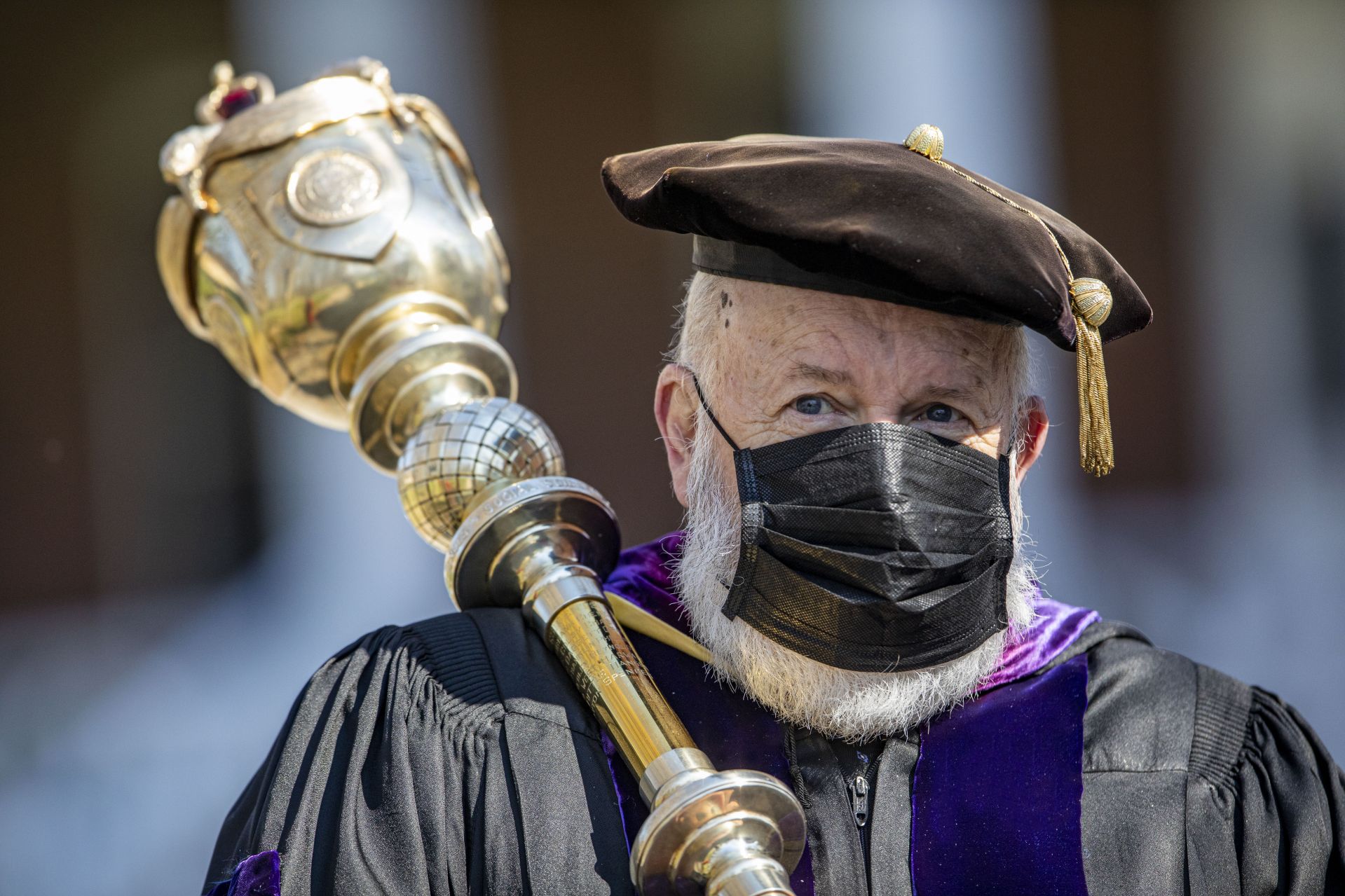 Wearing a face mask due to the COVID-19 pandemic, Michael Murray, the Charles Franklin Phillips Professor of Economics, carries the mace on May 11 during the taping of portions of the 154th Bates Commencement.
1:49 p.m., May 26, 2020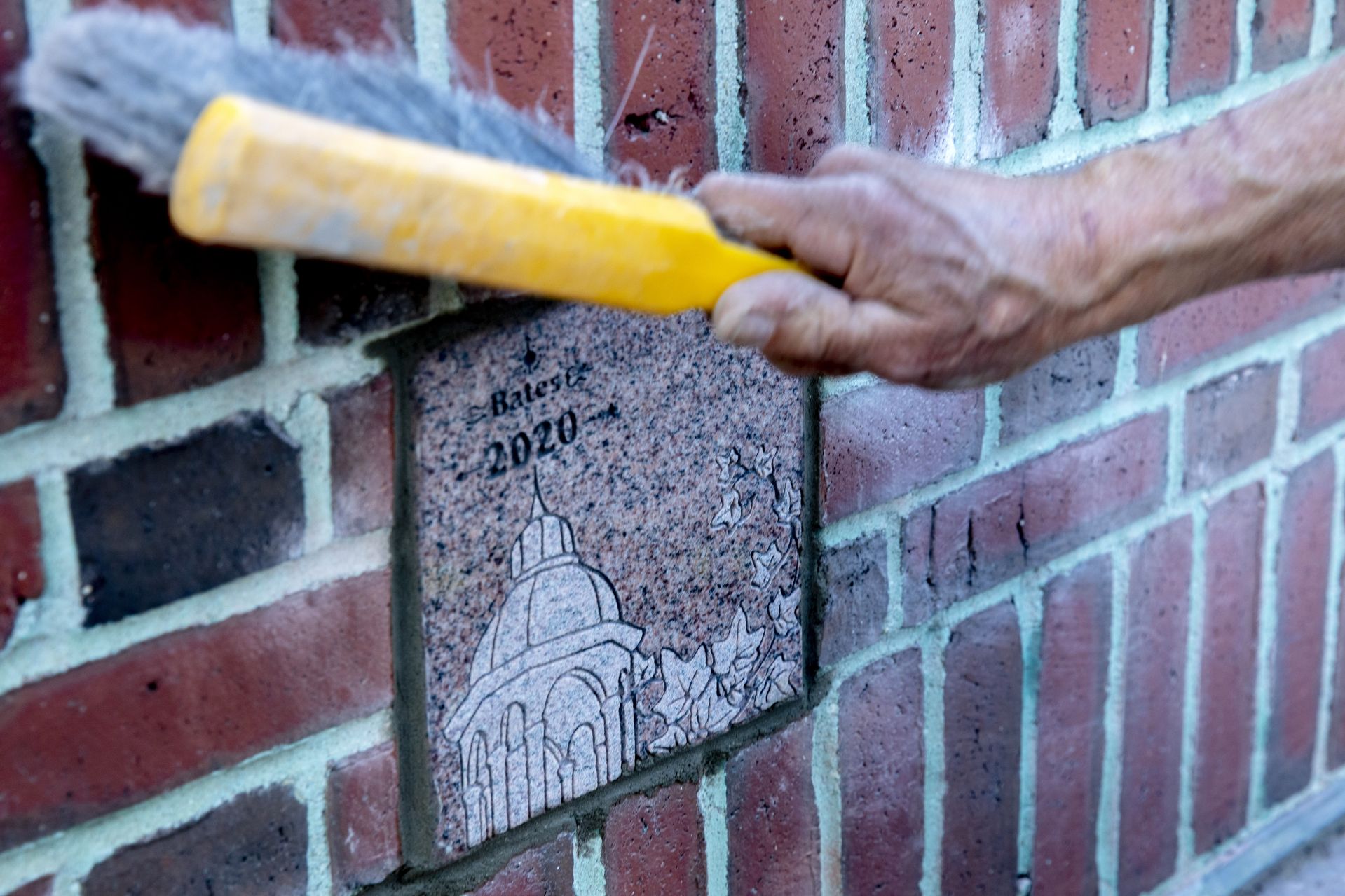 Ron Tardif, mason for facility services, installs the Class of 2020 ivy stone on the front of Pettengill Hall.
10:56 a.m., May 31, 2020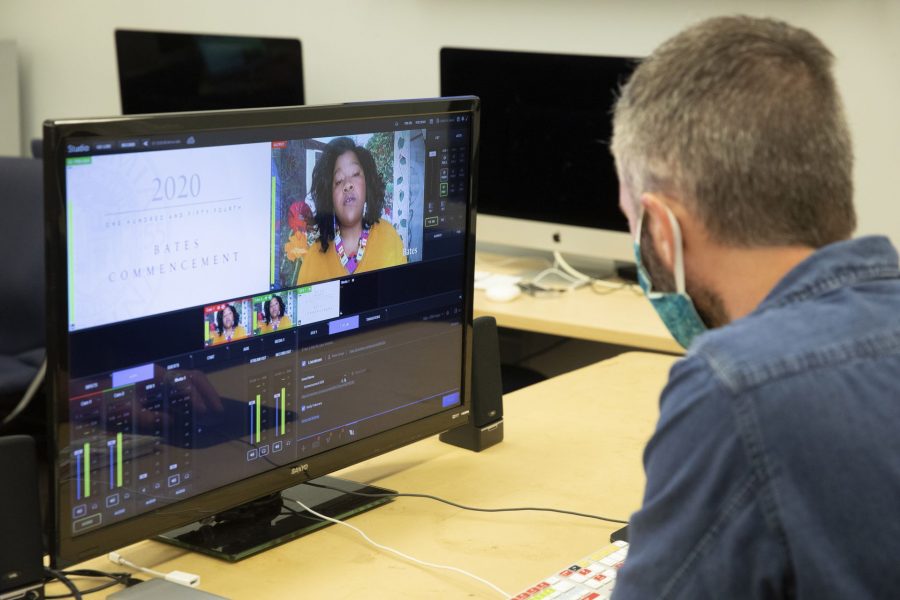 In a Pettigrew Hall computer lab, staffers oversee the livestream presentation of the pre-recorded Bates Commencement.
"We have three layers of redundancy with hardware and two layers for internet uplink," said Bates Communciation's Nick O'Brien about the setup.
11:55 a.m., May 31, 2020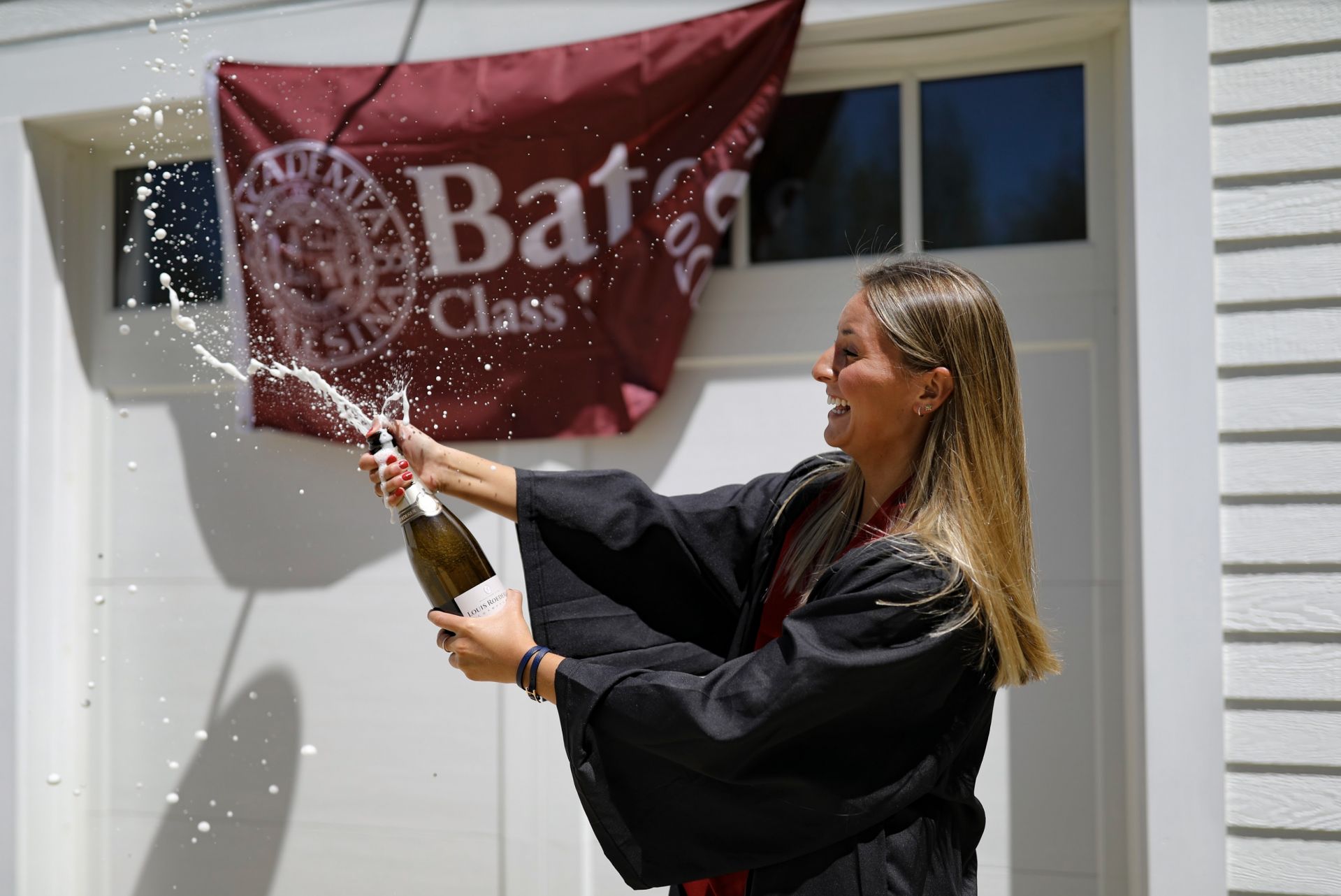 Commencement was a remote affair this year for members of the Class of 2020. Here, Anna Glass '20 of Wilton, Maine, celebrates at home with her parents, Marc '88 and Wendy Glass.
1:37 p.m., June 2, 2020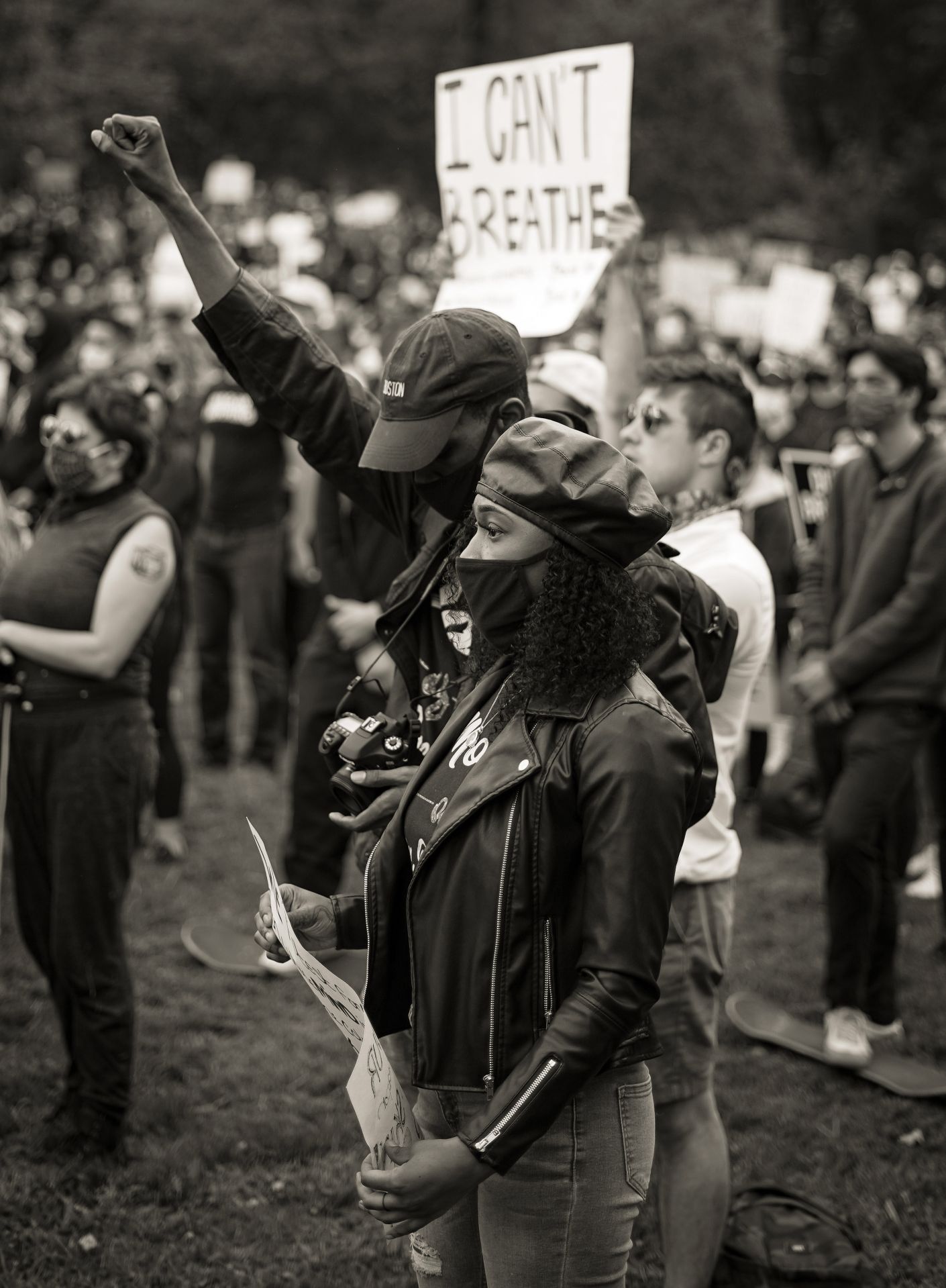 Samuel Mironko '21 of Belmont, Mass., took this photograph of peaceful participants in a Black Lives Matter protest gathering in Boston's Franklin Park on June 2, 2020, in the wake of the May 24 death of George Floyd.
10:23 a.m., June 10, 2020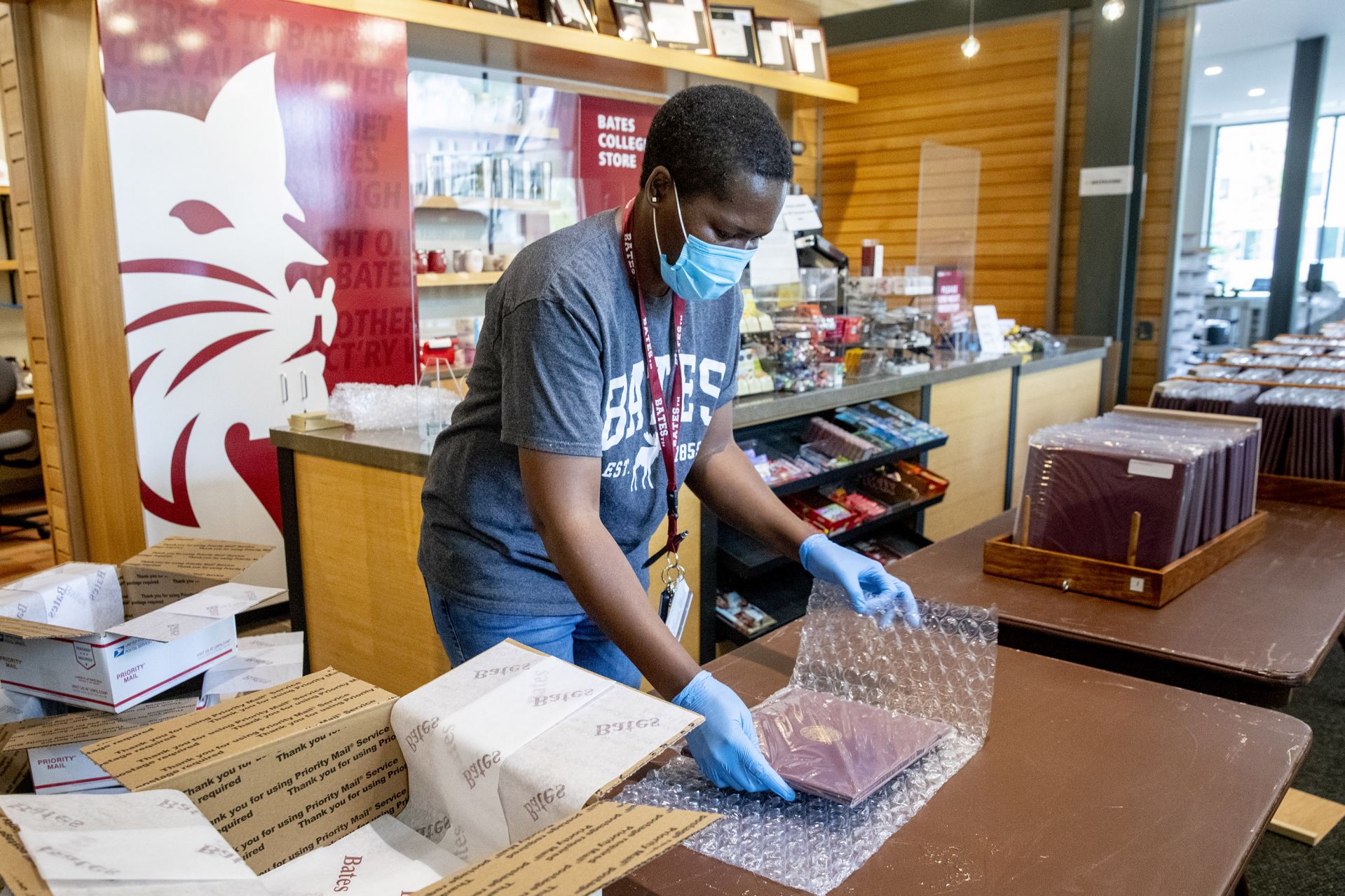 Judith Otim joins fellow Bates staff in the College Store to pack and ship diplomas and other Commencement items to 463 graduates from the Class of 2020.
Many hands made light work. Many hands also helped write the final chapter of the most unusual Commencement in college history.
"My job was bubble-packing the diplomas and nestling them into the boxes," said Kerry O'Brien, assistant dean of the faculty. "As I wrapped each diploma, I thought about all the energy and imagination and sheer effort that earned it. There's a long story in each one."
3:16 p.m., June 16, 2020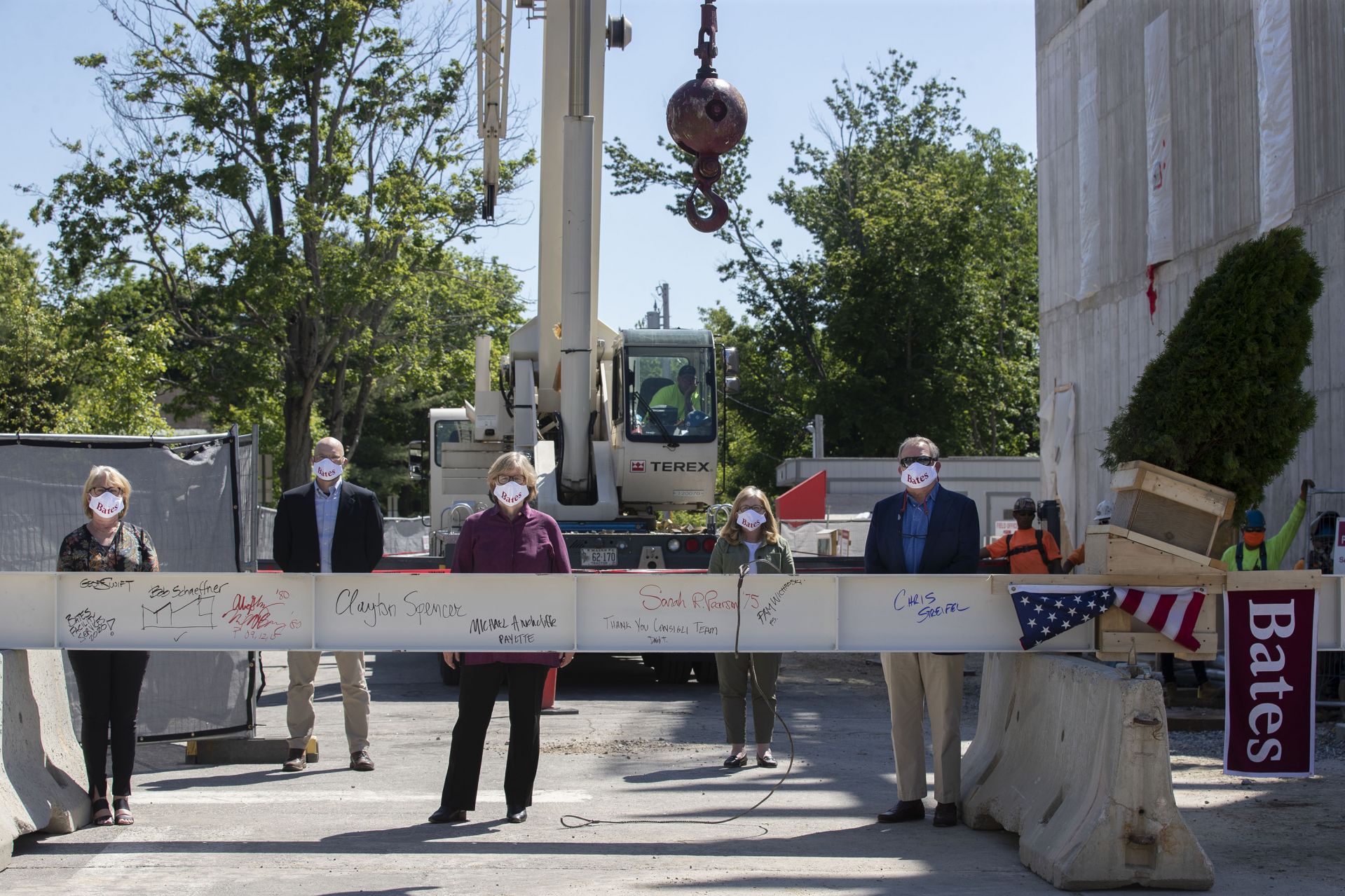 A "topping-off" ceremony brought a few dozen people to the Bonney Science Center construction site on June 16, including project donors Michael '80 and Alison Grott Bonney '80.
It was the first time some participants had seen Bates colleagues in person (appropriately covered and distanced) since COVID-19 had descended three months ago.
Harking back to medieval Scandinavian tradition, an evergreen branch or tree is mounted to the girder (or brick or wooden beam) whose placement will end one chapter in a construction project and begin the next. The idea is to bring good luck to the new building, and maybe some public recognition to the folks involved.
From left, Alison Bonney, Vice President for Finance and Administration and Treasurer Geoff Swift, President Clayton Spencer, Vice President for College Advancement Sarah Pearson '75, and Michael Bonney.
8:42 a.m., July 13, 2020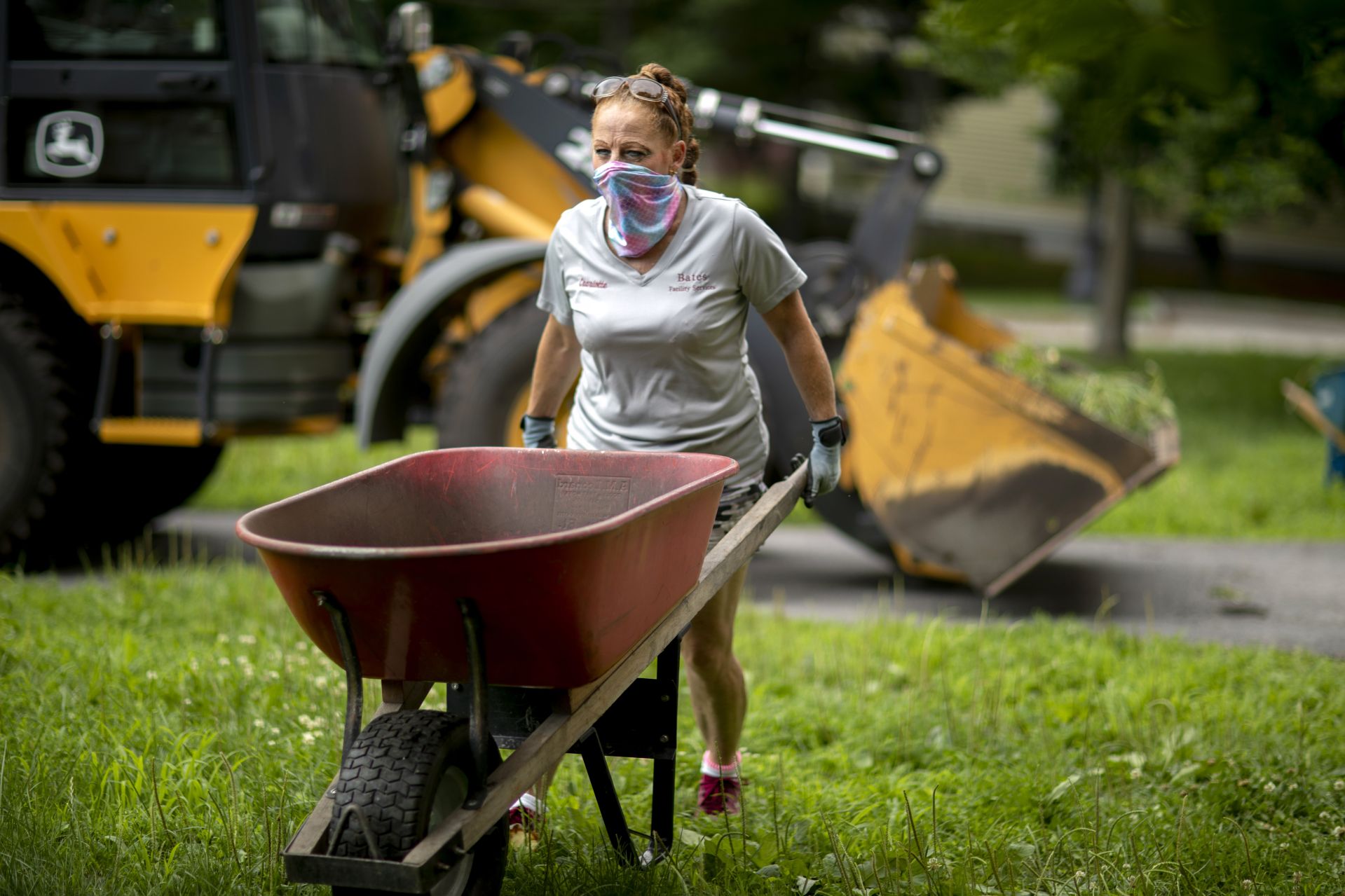 With the campus mostly empty during the summer — there were no summer programs, no Admission tours, few student researchers — the efforts of Bates staff to keep things looking beautiful came into sharp relief. Here, Charlotte Barrett of Facility Services helps mulch flower beds around campus.
7 a.m., June 30, 2020
"We will invite students to come to campus in person to begin or continue their Bates education, so that we can do our best to support their forward momentum. Based on exhaustive consultation and planning, we are confident that we can make it safe to do so, assuming that we have broad commitment across the campus community." — President Clayton Spencer
12:30 p.m., July 14, 2020
"I'm going to talk about chairs now." — Professor of Politics Stephen Engel, during a Fall Planning Team meeting in which reopening discussions start to dig into the dizzying details of ensuring physical spacing by altering the indoor academic environment, including removing hundreds of chairs from classrooms.
The Fall Planning Team, co-chaired by Vice President for Campus Life Josh McIntosh and Associate Professor of Politics Senem Aslan, was responsible for considering calendar adjustments and teaching model options for academic year 20-21.
2:15 p.m., July 20, 2020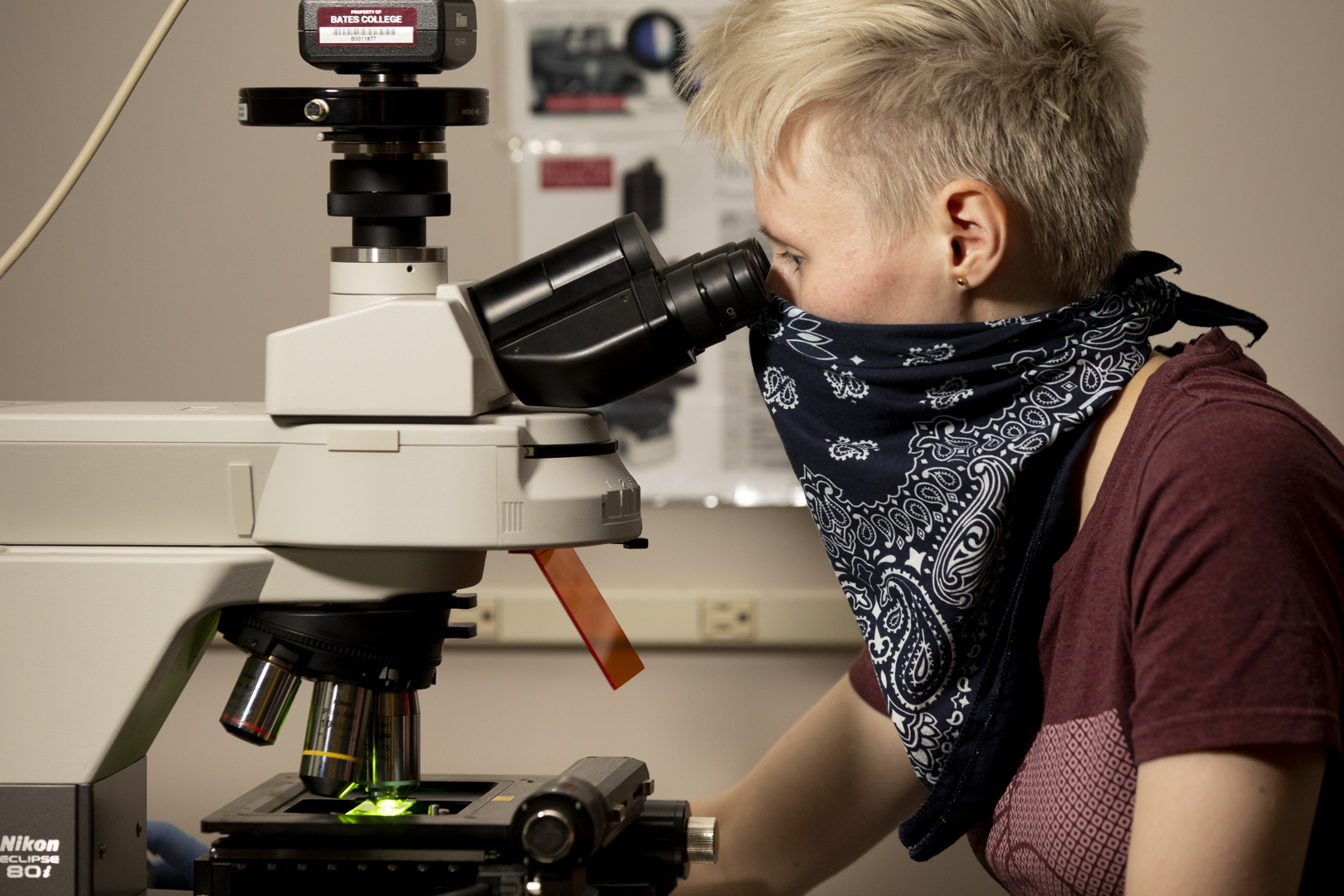 Only a few students, already on campus due to pandemic-related travel restrictions, did summer research in 2020.
Working in the lab of Assistant Professor of Chemistry and Biochemistry Andrew Kennedy, chemistry major Gabriele Gucagaite '21 of Kaunas, Lithuania, created slides and images that display, through fluorescent imaging of brain proteins, actual mouse memories, such as a specific taste or smell. The lab's neuroscience research also involves altering or enhancing the memories that a mouse has.
3:16 p.m., June 29, 2020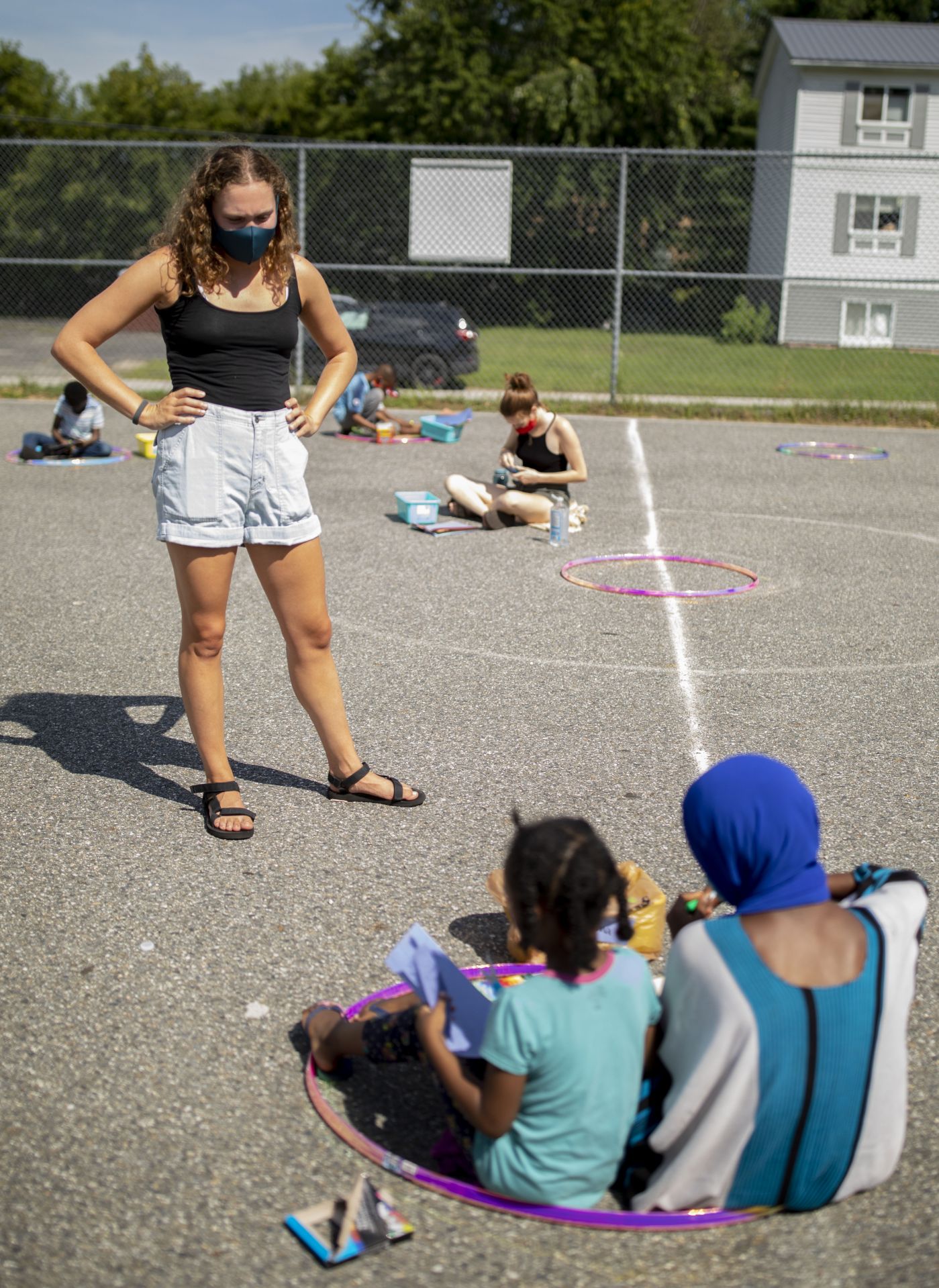 During summer 2020, politics major Georgia Moses '21 did arts programming with children at Hillview Family Development, a public housing community in Lewiston.
"Many of the kids I'm working with haven't participated in activities in a structured way since March," said Moses, whose work was supported by a Harward Center Summer Civic Fellowship.
"Working with kids during a pandemic is a challenge. I've had to set a lot of ground rules in order for the programming to run smoothly and safely, from distancing to mask wearing to hand sanitizing. That said, I've been really impressed by the level of understanding these kids have. They clearly know the importance of keeping themselves and their communities safe and healthy.
"I'm learning that they are incredibly eager to put their minds to work and spend time outside around others. They're itching to do things."
1:30 p.m., Aug. 10, 2020
"I believe that with the appropriate measures, policies, and procedures in place, including thoughtful screening, it is appropriate and safe to have people come back to campus. We are very impressed with the thoughtfulness, thoroughness, and due diligence that the Bates leadership has put into considering how to reopen the campus." — Dr. Stacey Rizza P'20, infectious disease expert at the Mayo Clinic and consultant to Bates, along with colleague Dr. Jack O'Horo, during a briefing for all Bates faculty and staff.
10:29 a.m., Aug. 11, 2020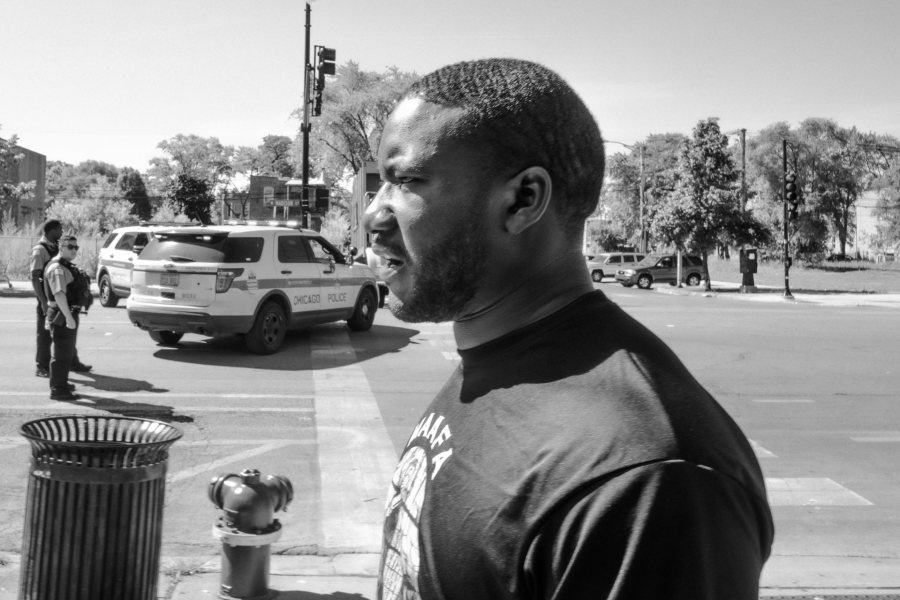 Marshall Hatch Jr. '10 walks by a police blockade on Chicago's Madison Street near the New Mount Pilgrim Missionary Baptist Church on Aug. 11, 2020, in the tense days following the shooting of a 20-year-old Black man by police.
In the West Garfield Park neighborhood of Chicago, where Hatch grew up and works now as an activist and community leader, he was confronting the twin pandemics of 2020, COVID-19 and the battle with white supremacy.
4:29 p.m., Aug. 17, 2020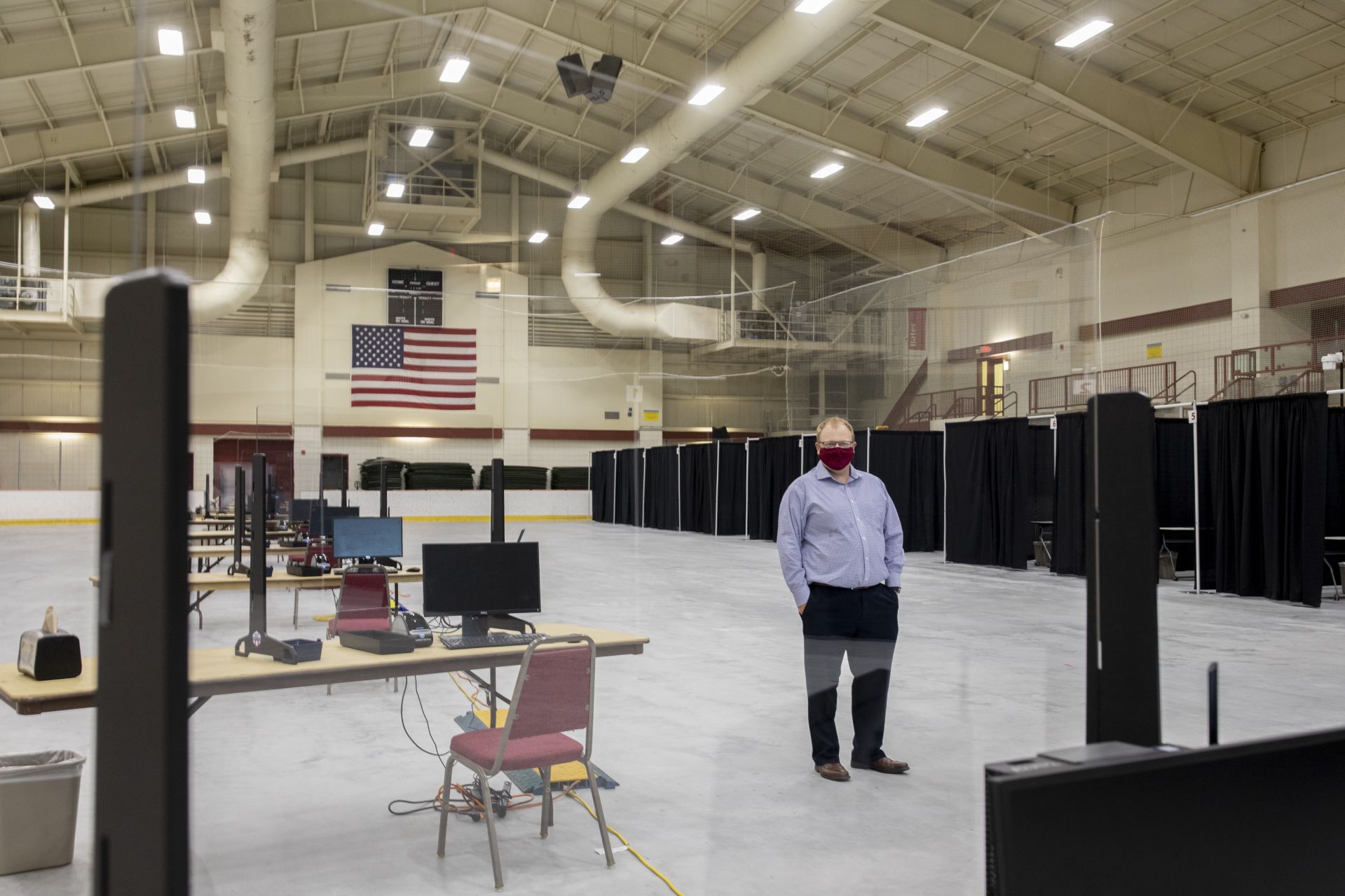 Nick Cooke, assistant athletic director for athletic performance and director of Bates Testing Center in Underhill Arena, stands at the ready on Aug. 17.
In the background at right are collection rooms where employees and students do their self-swab COVID-19 tests, the goal being to identify early and aggressively potential outbreaks, and then adjust college operations accordingly.
8:25 a.m., Aug. 25, 2020
Maine New Cases 7 Day Average: 21
Total Bates Student Cases During a Week of Return Testing: 1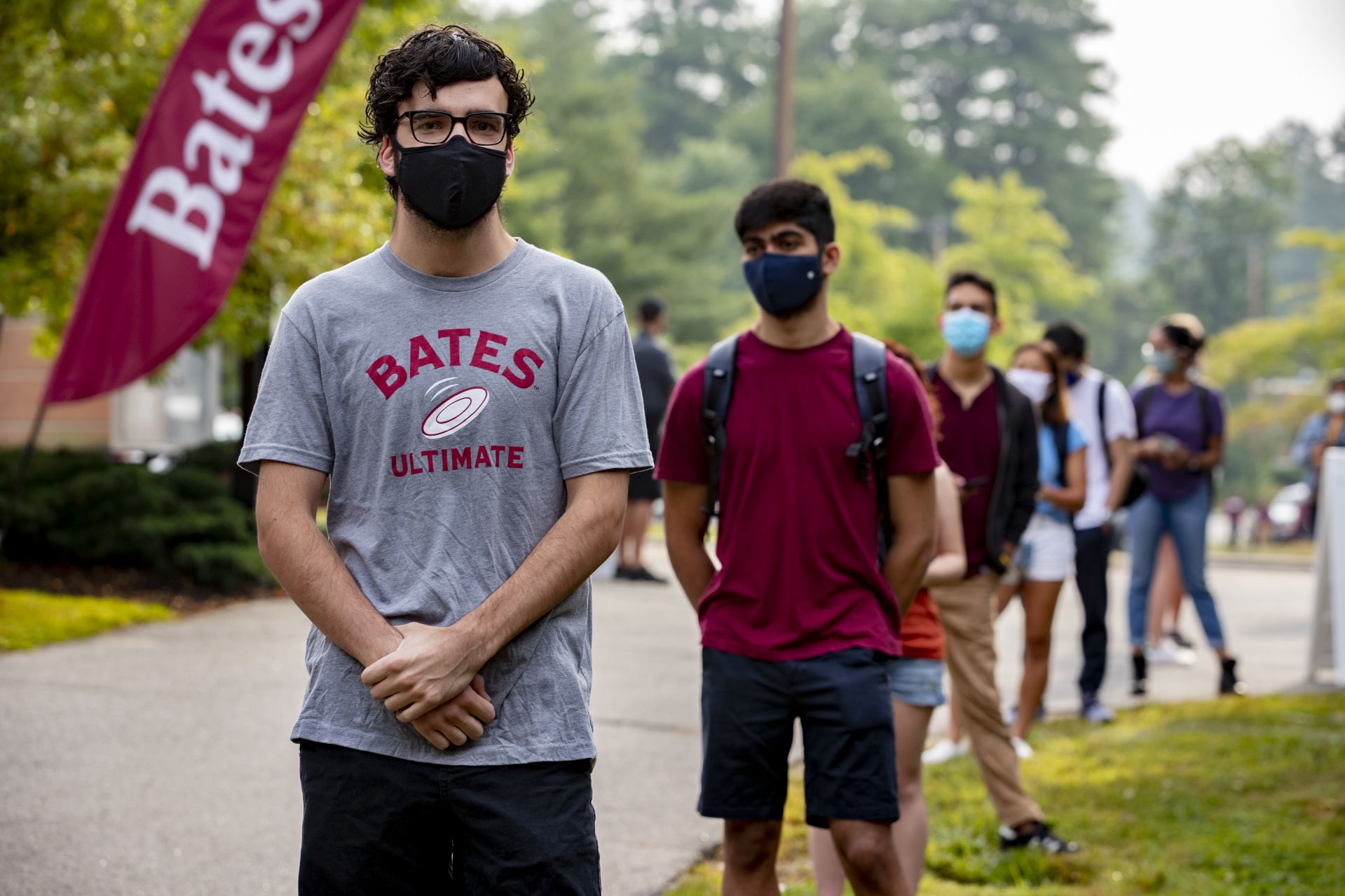 "Where do I stand?" asks Harris Manganiello '21 of Collegeville, Pa., first in line at the Bates Testing Center, a repurposed Underhill Arena, on the first day of arrivals.
Luckily, that question had been anticipated: spray-painted squares, at the familiar distance of 6 feet apart, told students where to queue up for the first of their twice-weekly COVID-19 tests.
"I'm nervous to see how it goes," he says. "But I suppose in a few minutes, it will be normal."
8:36 a.m., Aug. 26, 2020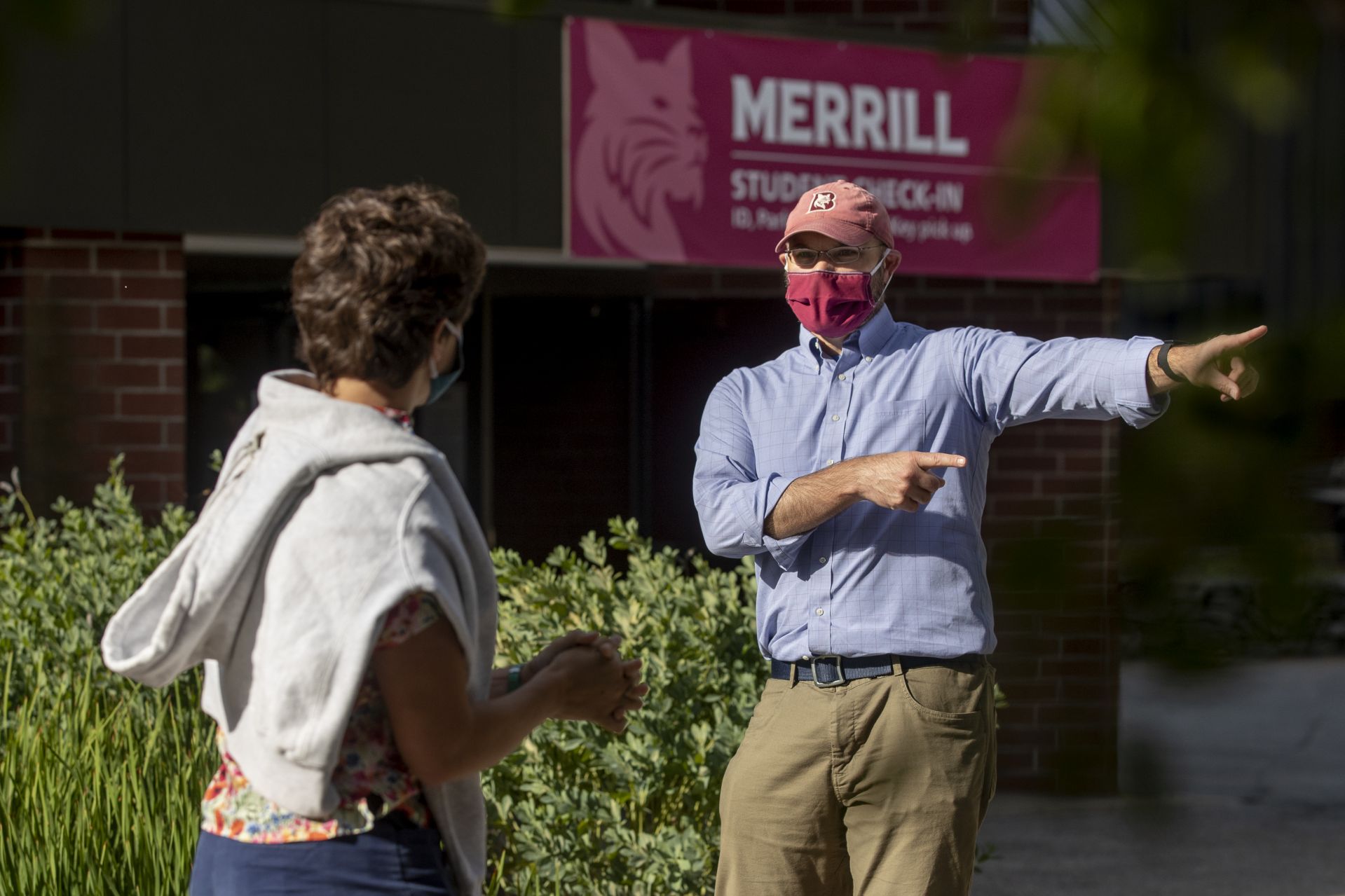 As a student rubs her hands with sanitizer, Vice President for Finance and Administration and Treasurer Geoffrey Swift points the way to the Bates Testing Center entrance. After testing in Underhill, students walk across the way to Merrill Gym for final check-in.
9:50 a.m., Sept. 2, 2020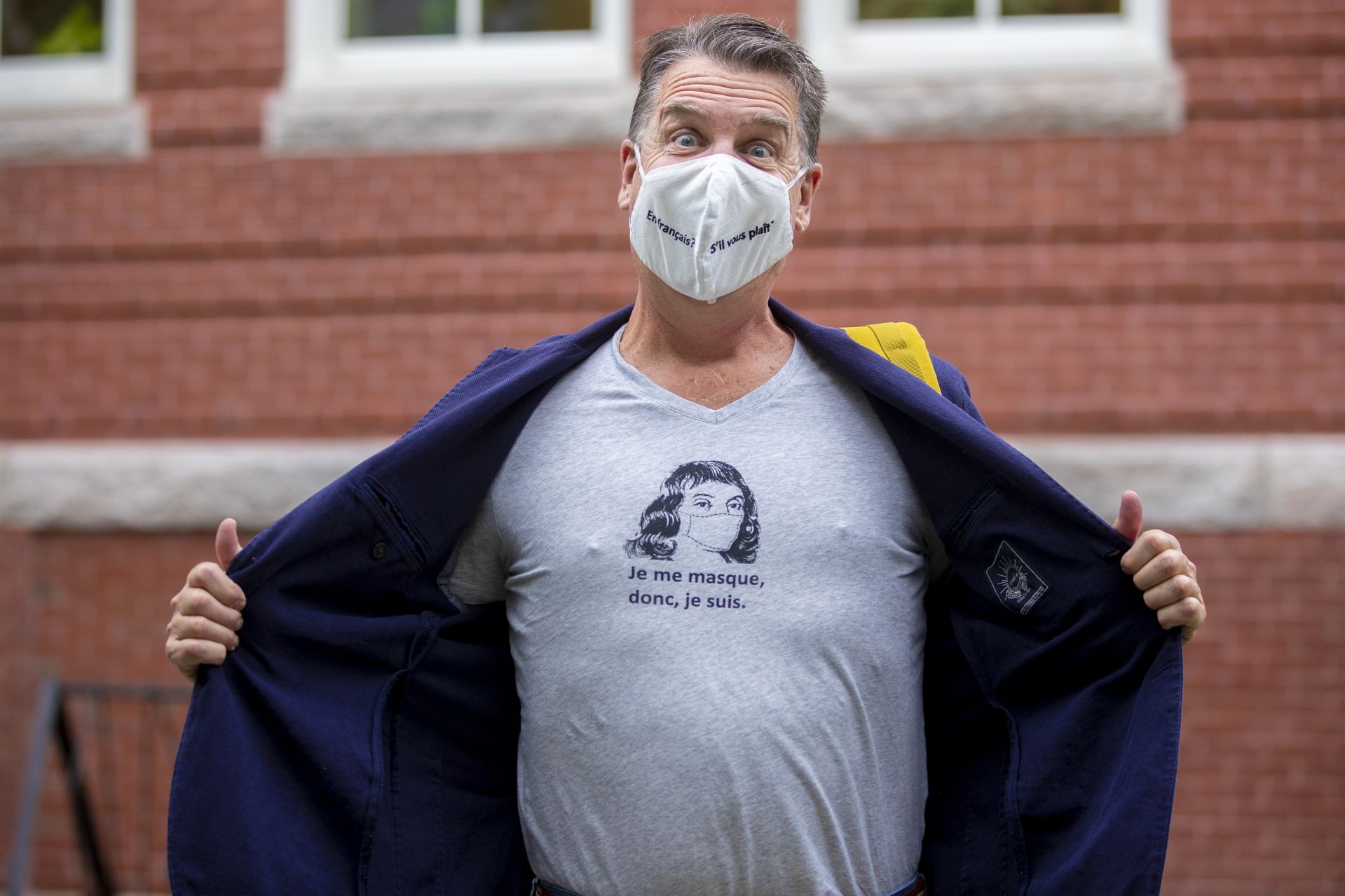 "Je me masque, donc, je suis." — Professor of French and Francophone Studies Kirk Read, riffing on Descartes, created this T-shirt with a fall 2020 rallying cry, translated, "I mask, therefore, I am." His face mask says, "En français? S'il vous plaît"
1:12 p.m., Sept. 2, 2020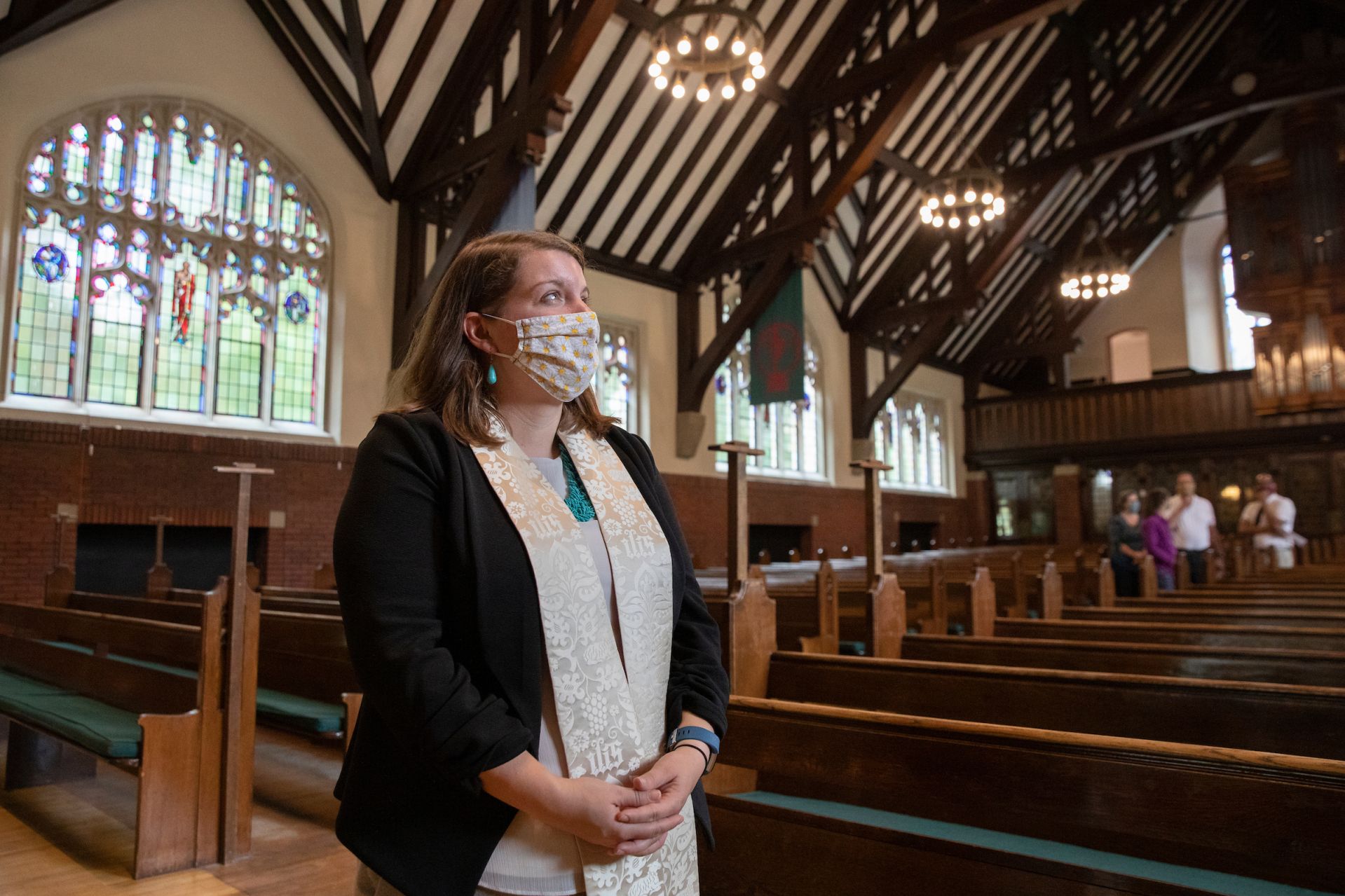 Multifaith Chaplain Brittany Longsdorf savors her surroundings in the Peter J. Gomes Chapel after a reopening ceremony on Sept. 2. The chapel had been closed for extensive restoration since November 2018.
7:06 p.m., Sept. 3, 2020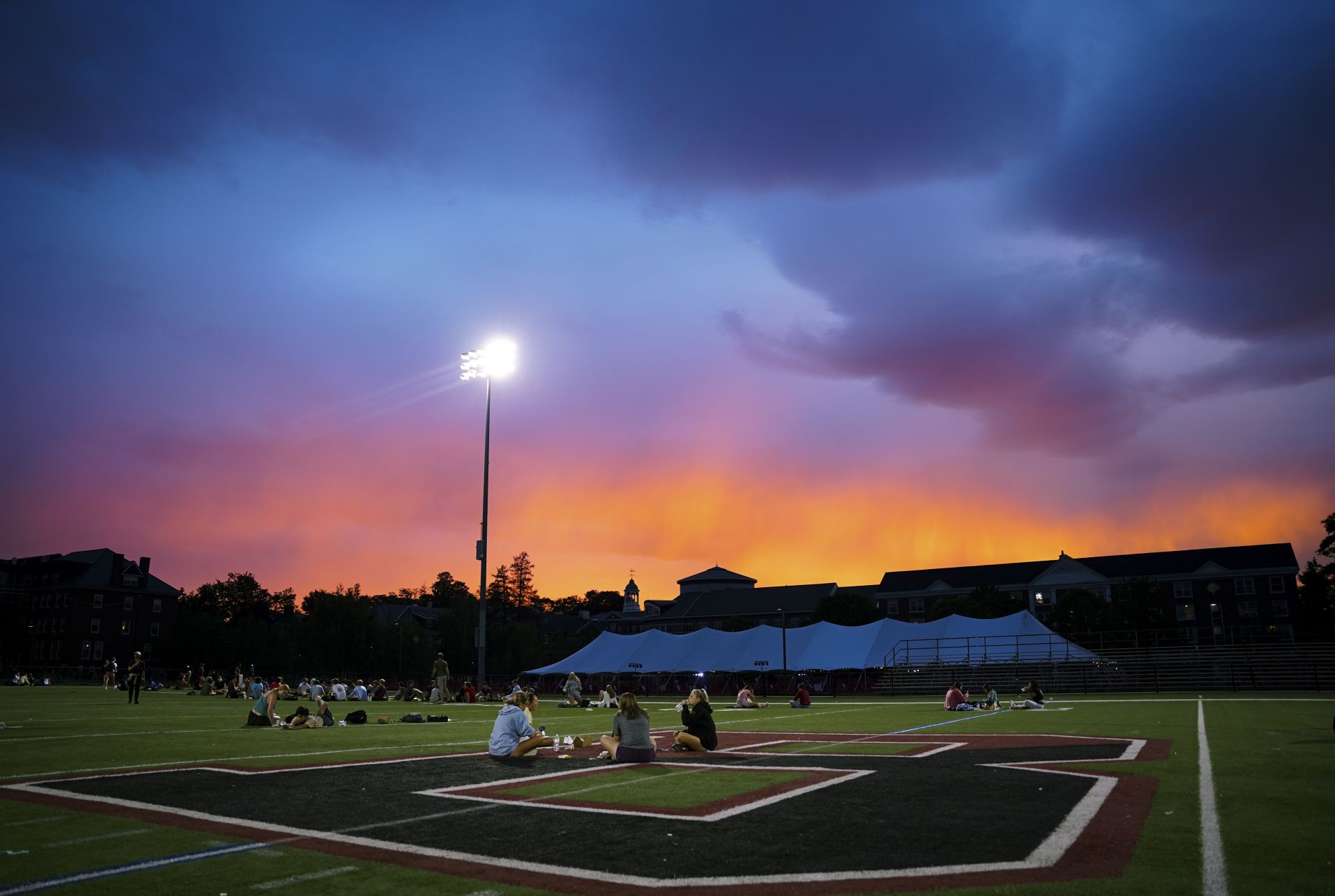 With indoor dining not available in Commons, students flocked to the next best thing: Garcelon Field, seen here on a warm late-summer evening. (Samuel Mironko '21 for Bates College)
9:14 a.m., Sept. 12, 2020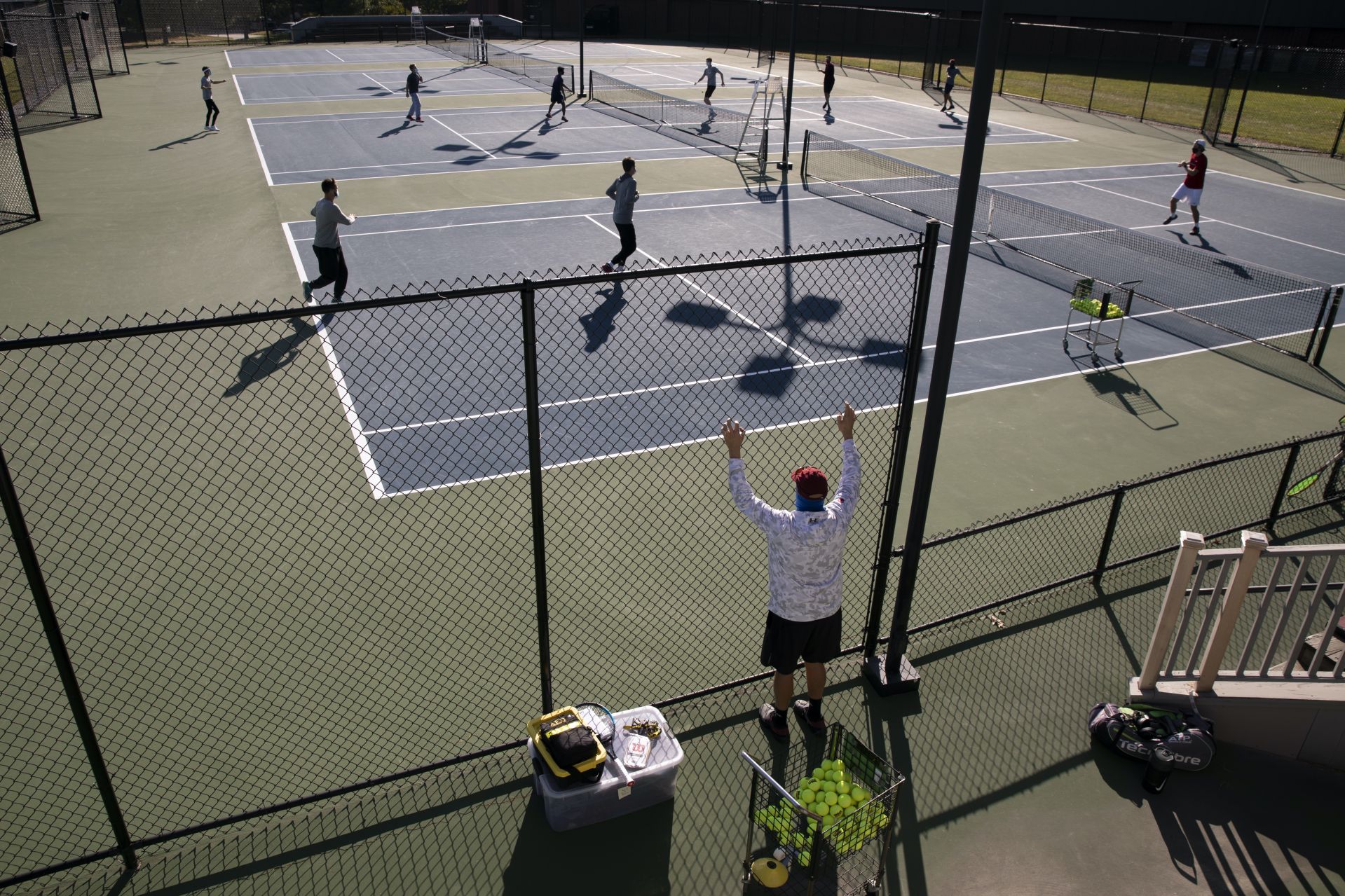 Head tennis coach Paul Gastonguay '89 oversees warmups during a men's practice at the Wallach Tennis Center.
4:33 p.m., Sept. 16, 2020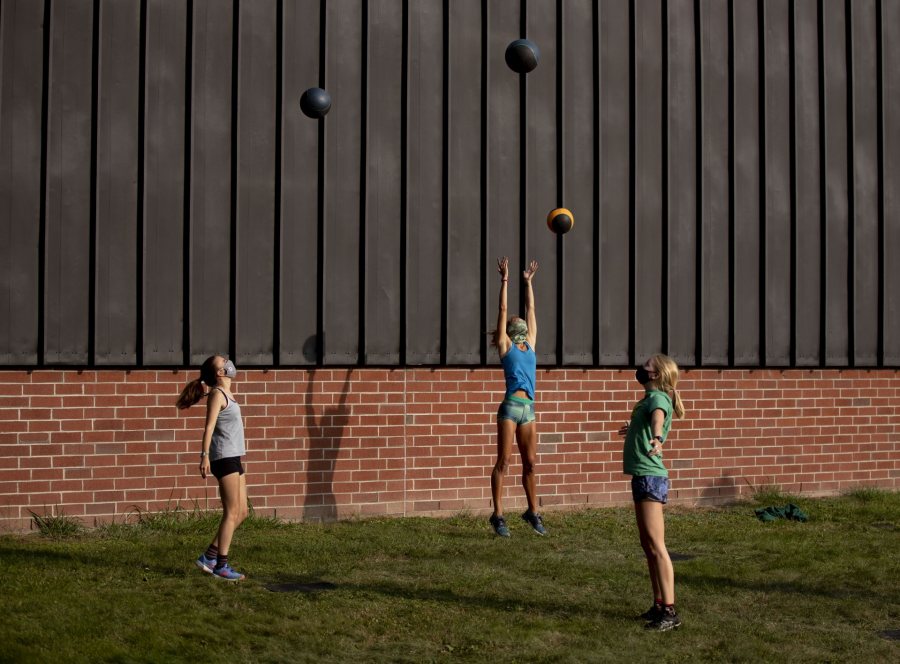 Bates athletes found creative ways to stay busy and fit during a fall without competition. From left, cross country runners Vanessa Paolella '21, Elise Lambert '22, and Frieda Kickliter '23 warm up with a medicine ball toss outside Merrill Gymnasium before going on a run.
9:36 a.m., Sept. 29, 2020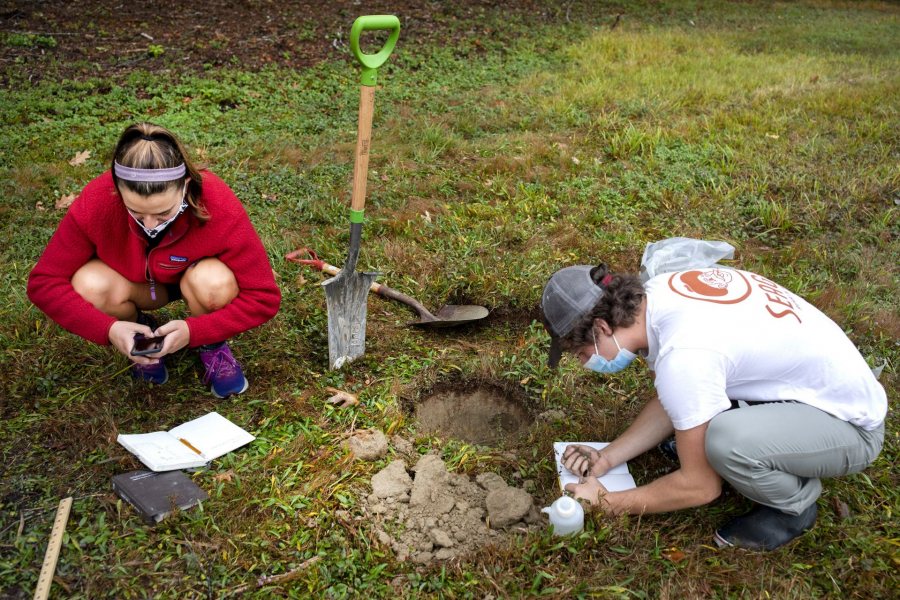 During 2020–21, faculty and students had the choice to offer or take courses in person or remotely.
For Holly Ewing, the Christian A. Johnson Professor of Interdisciplinary Studies, her course "Soils" needed to be taught in person. "The course absolutely relies on students being able to see, smell, and feel soils in a variety of landscapes," she says.
Here, environmental studies major Sam Gilman '22 (right) of Mendham, N.J., and lab partner Zoe Knauss '23 of Buffalo, N.Y., dug one of their eight holes during the course of the morning's fieldwork.
1:53 p.m., Oct. 1, 2020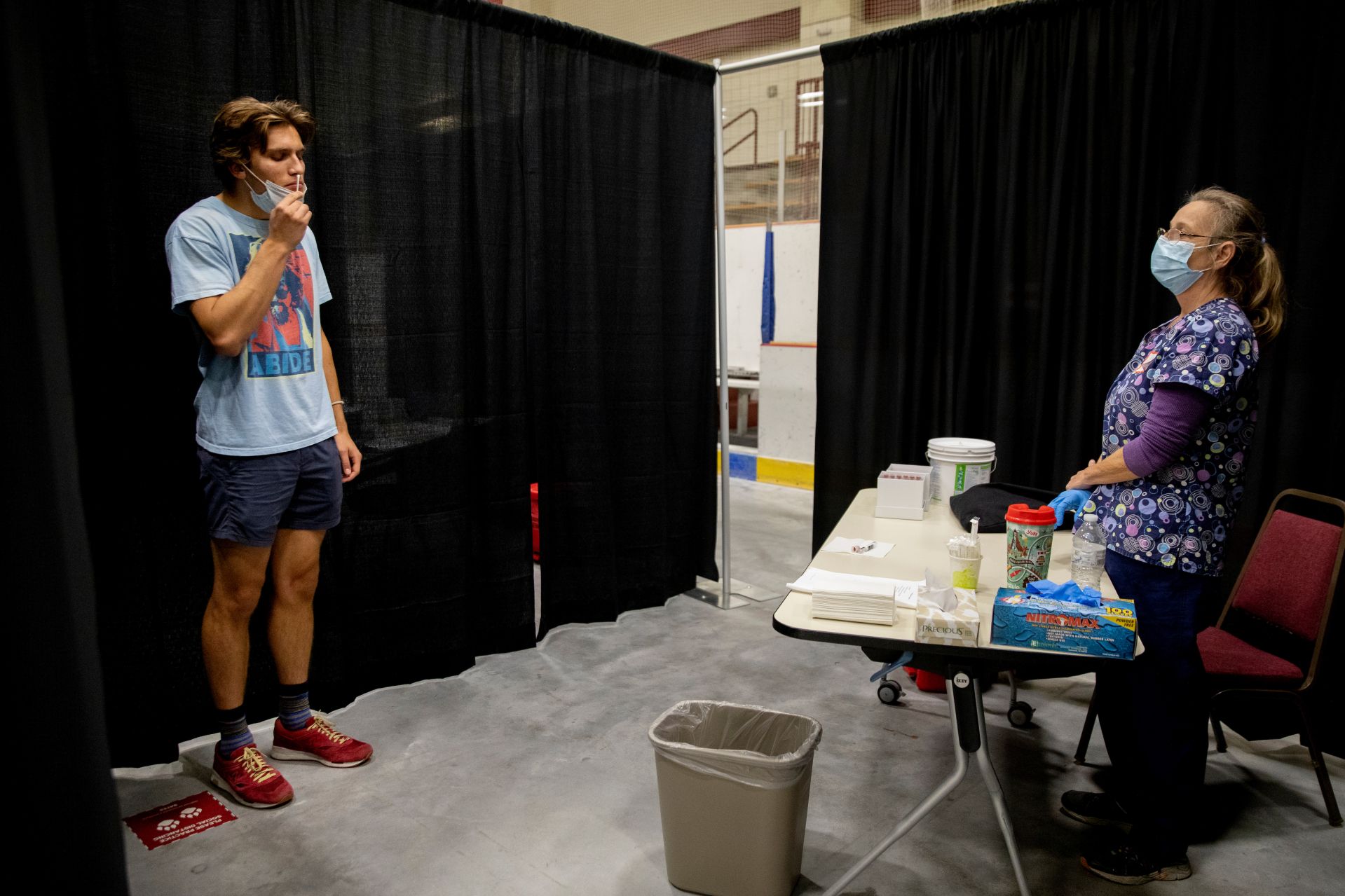 Henry Morjikian '22 of Pelham, N.Y., swabs his nostrils in a curtained-off testing space at the Bates Testing Center in Underhill Arena. To ensure proper technique, the tests are observed by medical assistants and certified nursing assistants who are overseen by a registered nurse.
7:03 p.m., Oct. 2, 2020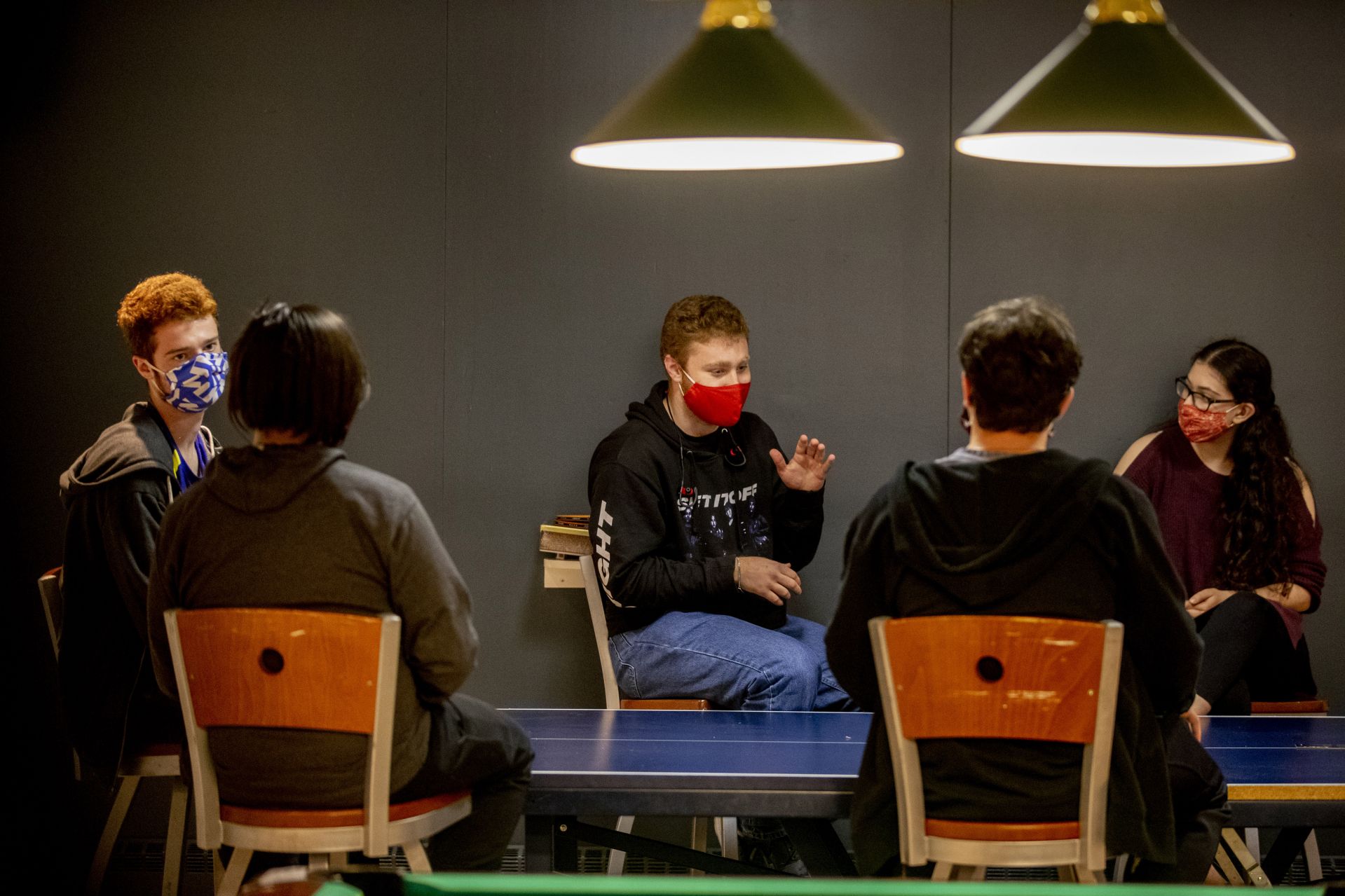 Physically distanced, the Discordians hold their Friday evening meeting in Chase Hall's Little Room. Chem-free and community-oriented, the gaming-and-gathering club hosts everything from magic tournaments and snow-decorating contests to the campus-wide Humans vs. Zombies game.
12:48 p.m., Oct. 8, 2020
Maine New Cases 7 Day Average: 30
Total Bates Student for the Week: 0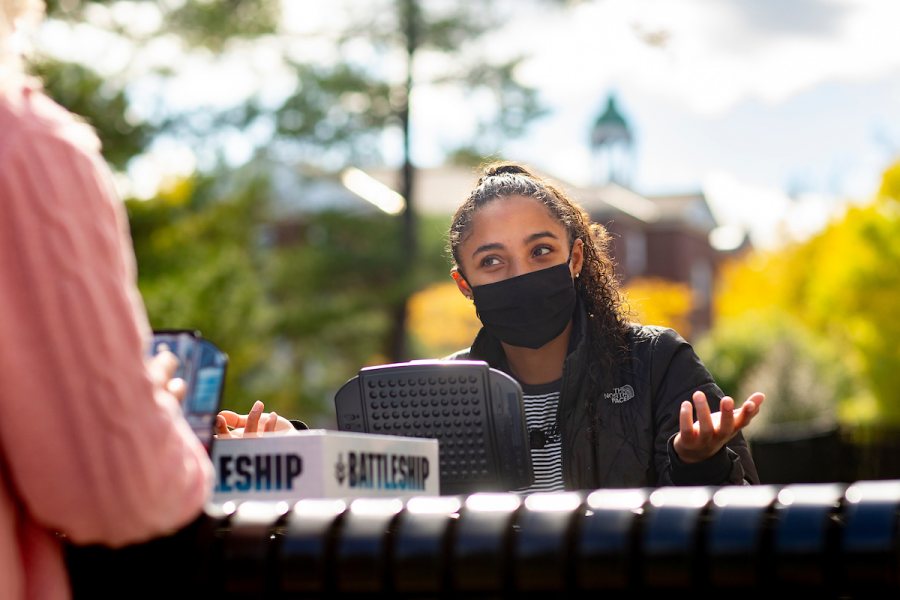 Outside Page Hall, Junior Advisor Kama Boswell '23 (right) of Bellevue, Wash., plays a game of Battleship with first-year student Julia Johnson of Cleveland Heights, Ohio. Boswell has used the game as a way to get to know her first-year students in Page while staying physically distant, per public health protocols.
Even in a normal year, it's a challenge for new students to get into the swing of college life.
They're helped along the way by five dozen or so Junior Advisors and Residence Coordinators who live and work with students in the college's 30 residences, a job made extra tough by COVID-19 protocols that limited indoor gatherings.
4:30 p.m., Oct. 22, 2020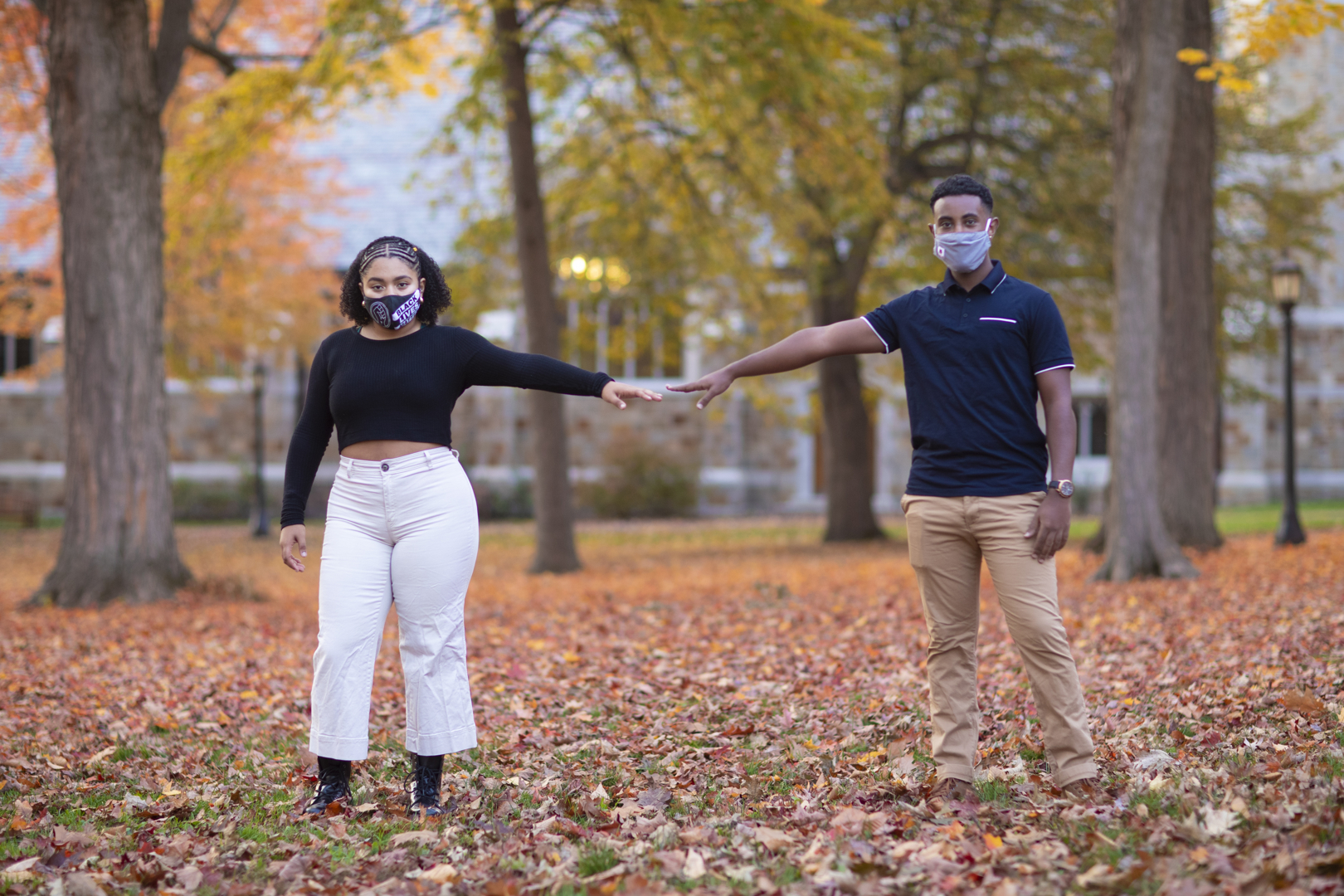 Perla Figuereo '21 of the Bronx, N.Y., and Lebanos Mengistu '21 of Somerville, Mass., are co-presidents of Bates Student Government. Asked to physically distance for a portrait, they extended their arms to create the required 6 feet, and a note of strength, connection, and community.
3:15 p.m., Nov. 6, 2020
Maine New Cases 7 Day Average: 136
Total Bates Student for the Week: 2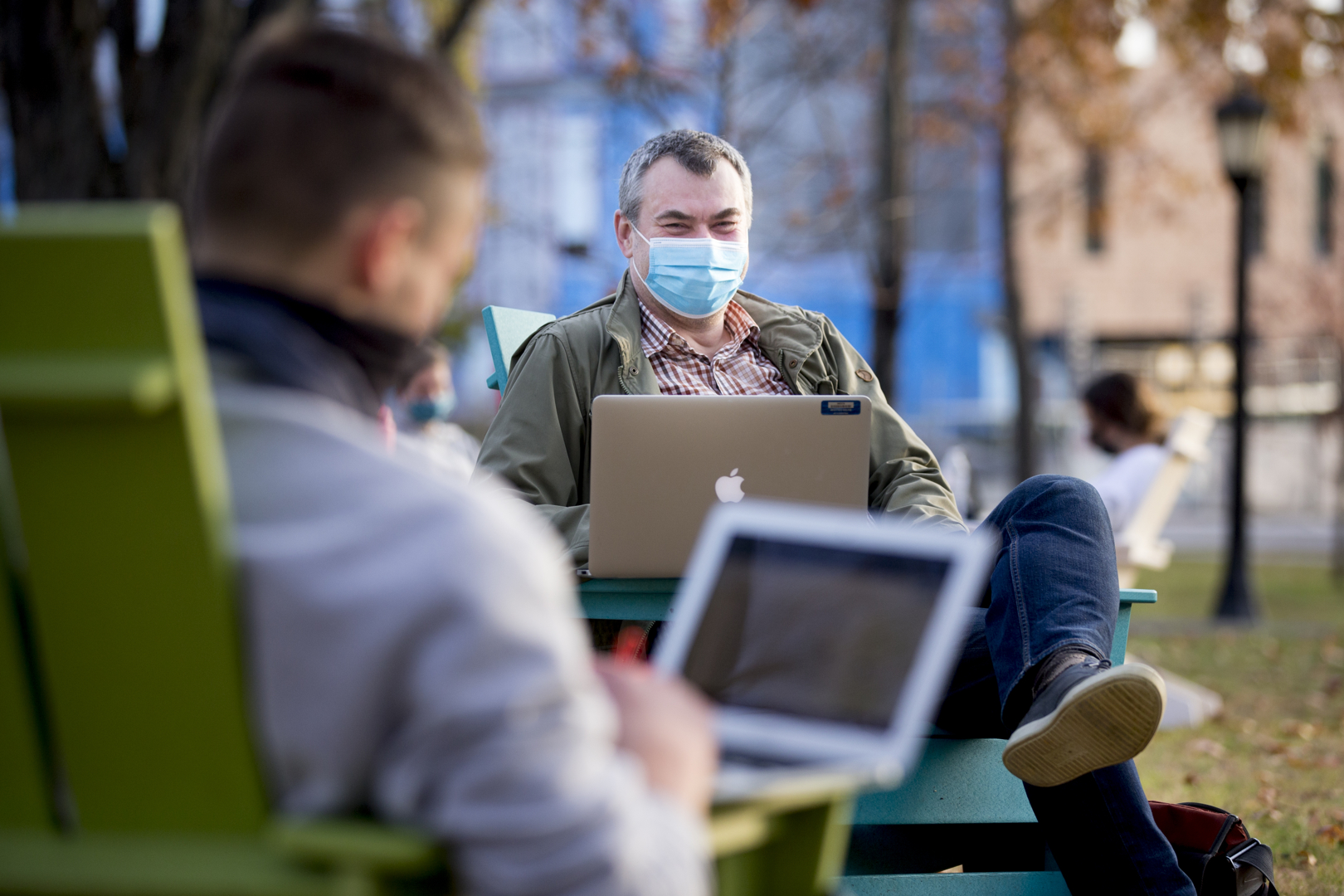 A mild fall helped things by allowing professors to meet and teach students outside. On a balmy November day on the Historic Quad, Associate Professor of German Jakub Kazecki teaches his course examining the question "What is German literature?" through the lens of writers who are "difficult to incorporate into a national narrative."
2:48 p.m., Dec. 2, 2020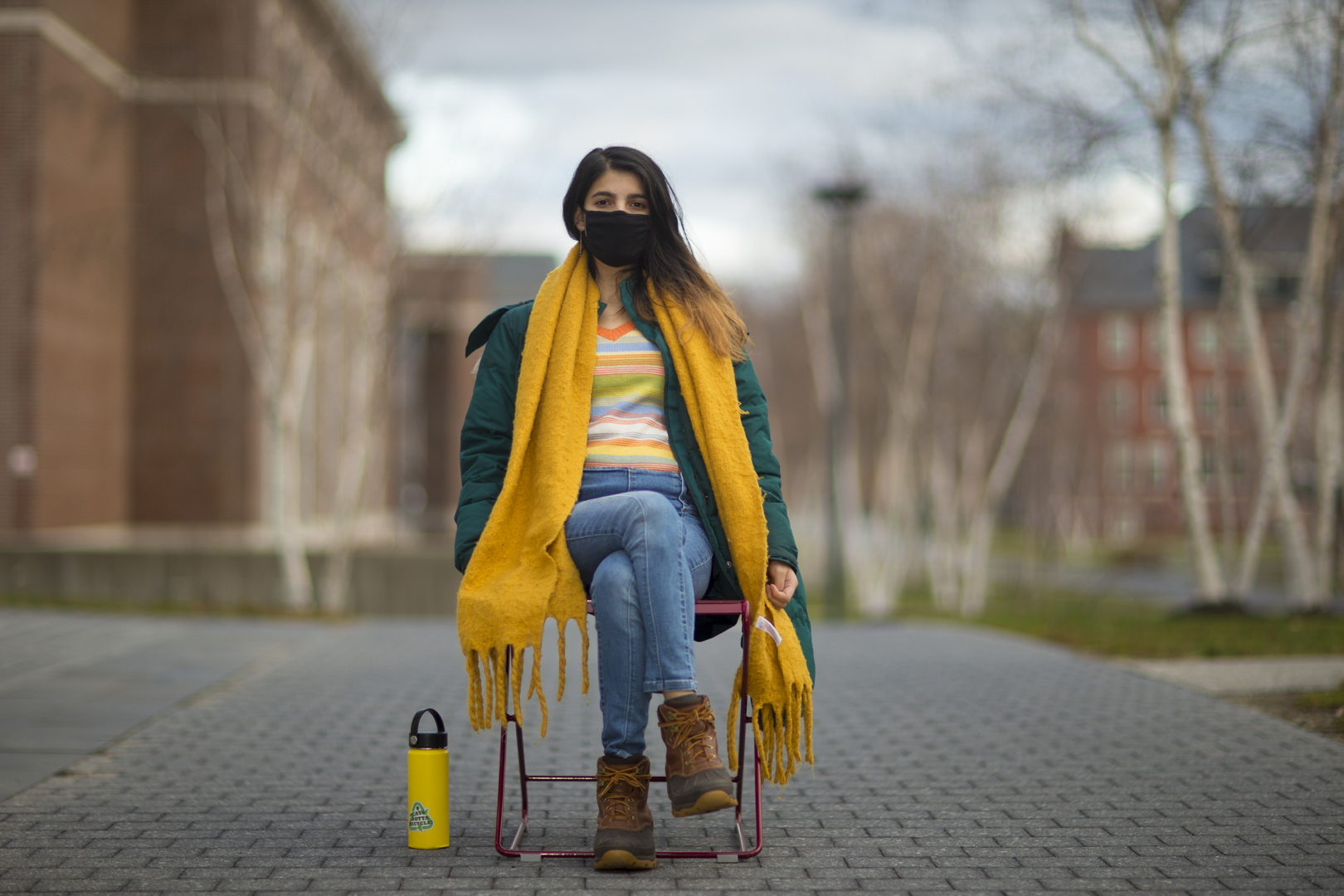 Muskan Verma '21 of Shimla, India, poses on Alumni Walk for a story about the challenges that students have faced in 2020–21.
Verma has been at Bates since March 2020. "This semester, one of my close family members died unexpectedly. If it had happened any other year, I probably would not have gone home. But just the fact that I didn't even have a choice — that hit harder. But support from people around me in terms of the staff and professors got me through it."
8:51 a.m., Dec. 6, 2020
Maine New Cases 7 Day Average: 289

Total Student Tests During the Fall: 43,842
Cumulative Student Positive Tests: 24
Overall Fall Student Positive Rate: 0.05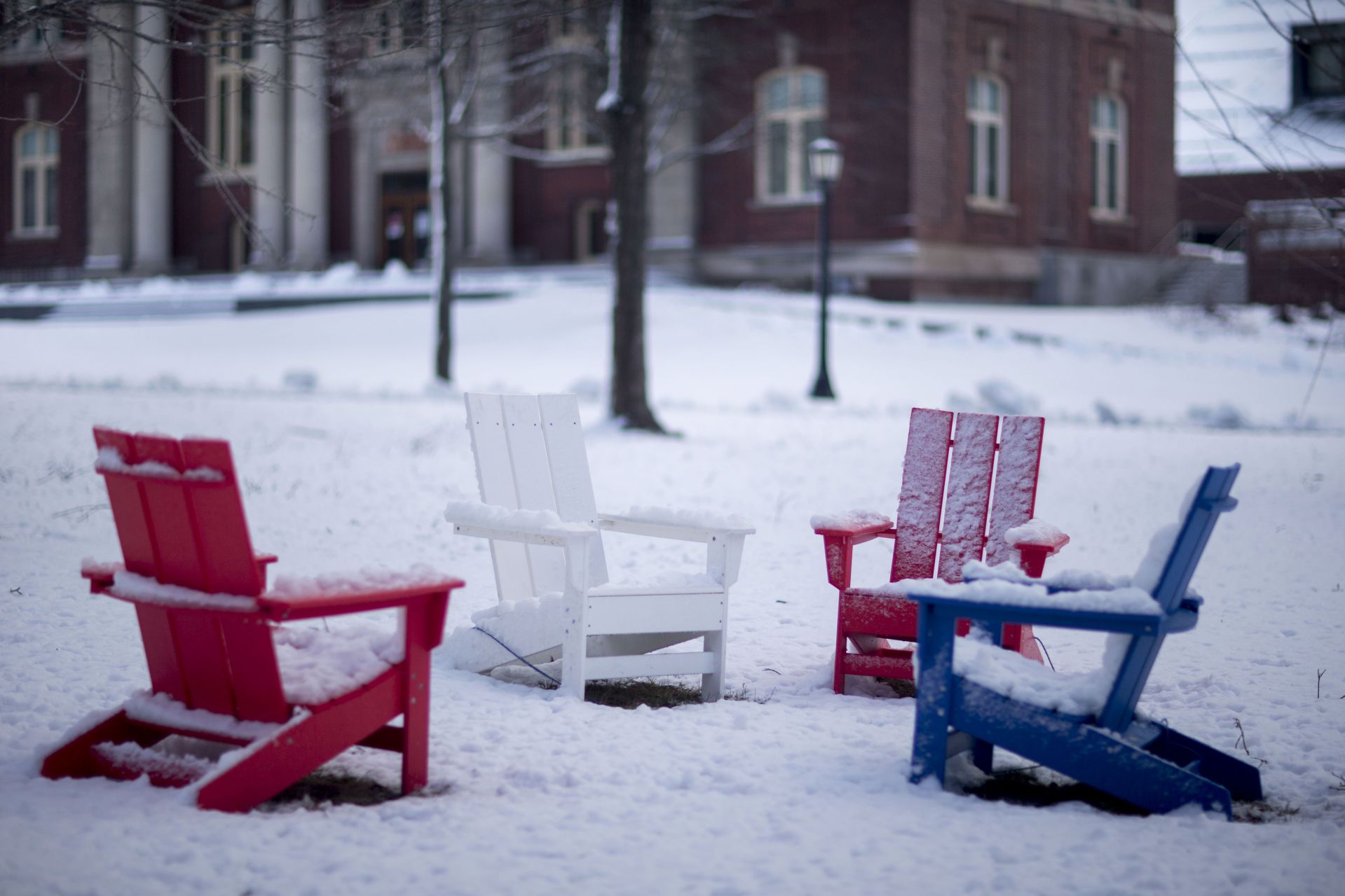 Instead of returning to campus after Thanksgiving, students finished the fall semester remotely, leaving behind a mostly-empty campus, including the new and popular Adirondack chairs around campus. (An all-weather model, the chairs remained in place during the winter, awaiting the spring like the rest of us.)
To avoid having students return during the teeth of the predicted winter COVID surge, winter break was extended to mid-February.
8:43 p.m., Dec. 31, 2020
Maine New Cases 7 Day Average: 279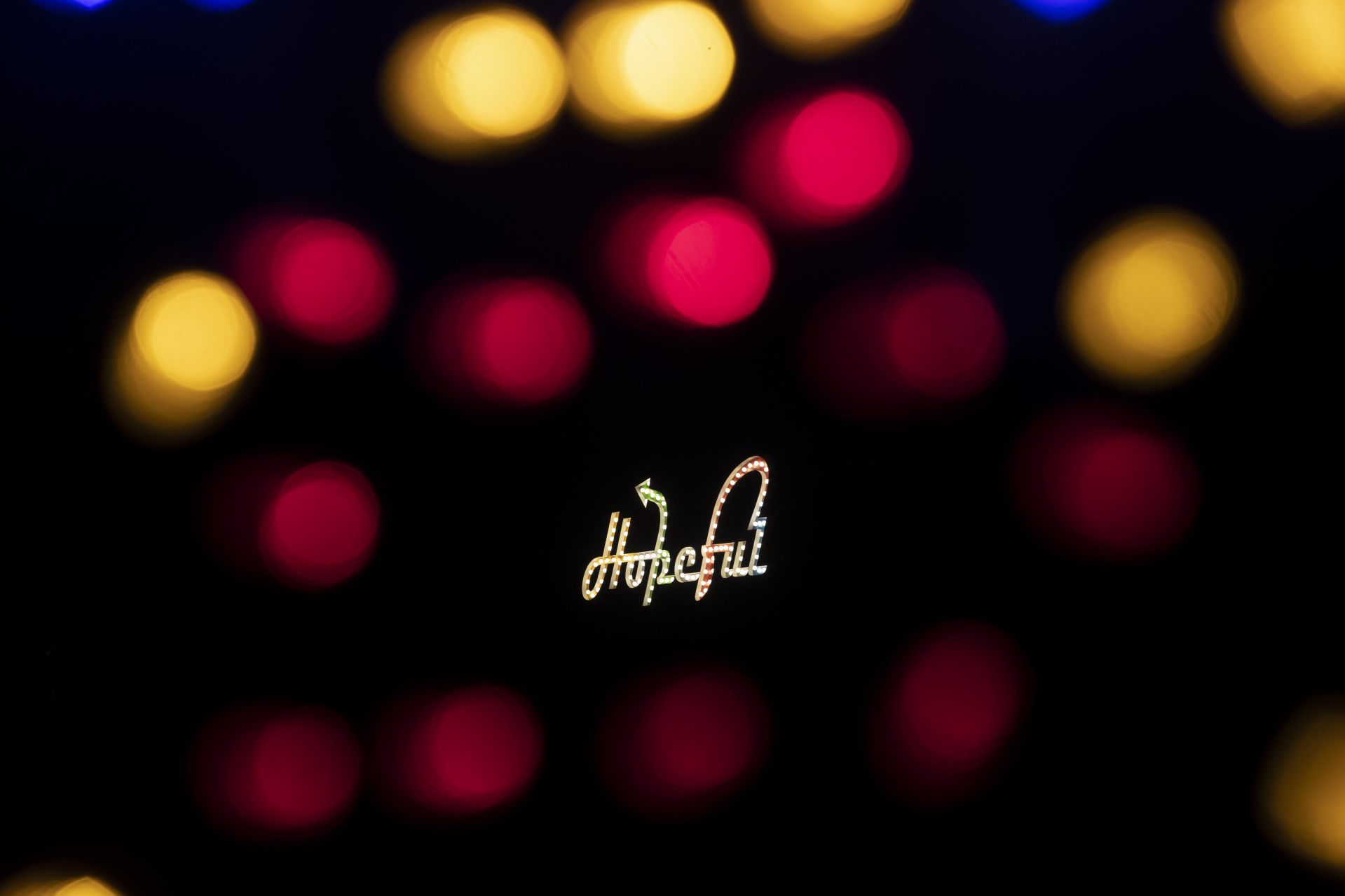 A year after its New Year's Eve 2019 dedication, artist Charlie Hewitt's Hopeful sign continues to shine brightly on the side of Bates Mill No. 5 on Main Street. In this image, taken last December, the 30-foot, illuminated aluminum sculpture is framed by holiday lights on nearby Lincoln Street. We remain hopeful!
9:56 a.m., Jan. 18, 2021
Maine New Cases 7 Day Average: 565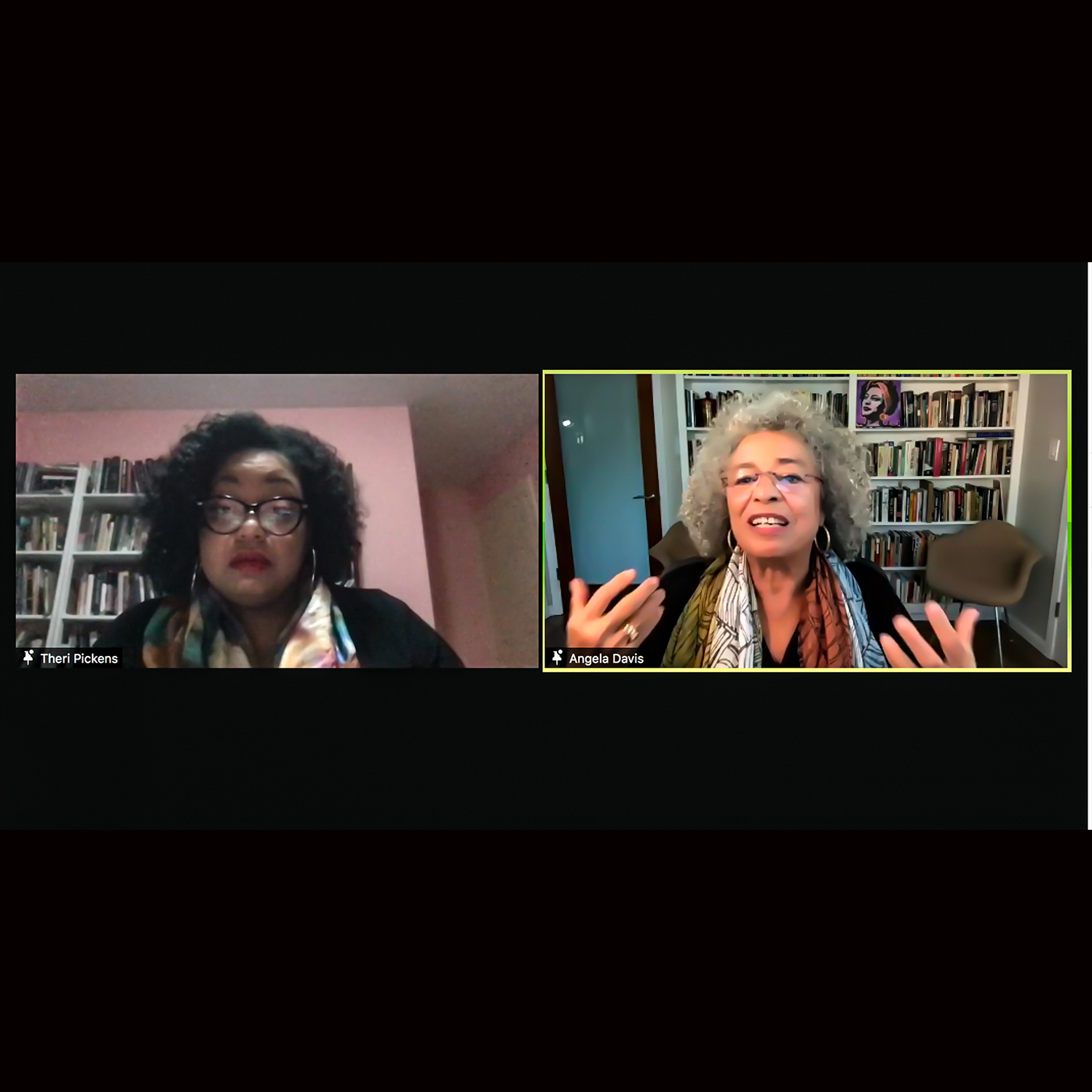 The college's Martin Luther King Jr. observance was conducted remotely this year. The keynote event took the form of a prerecorded long-distance Zoom conversation between author, scholar, and activist icon Angela Davis and Therí Pickens, professor of English and chair of the college's Program in Africana.
3:23 p.m., Jan. 25, 2021
Maine New Cases 7 Day Average: 493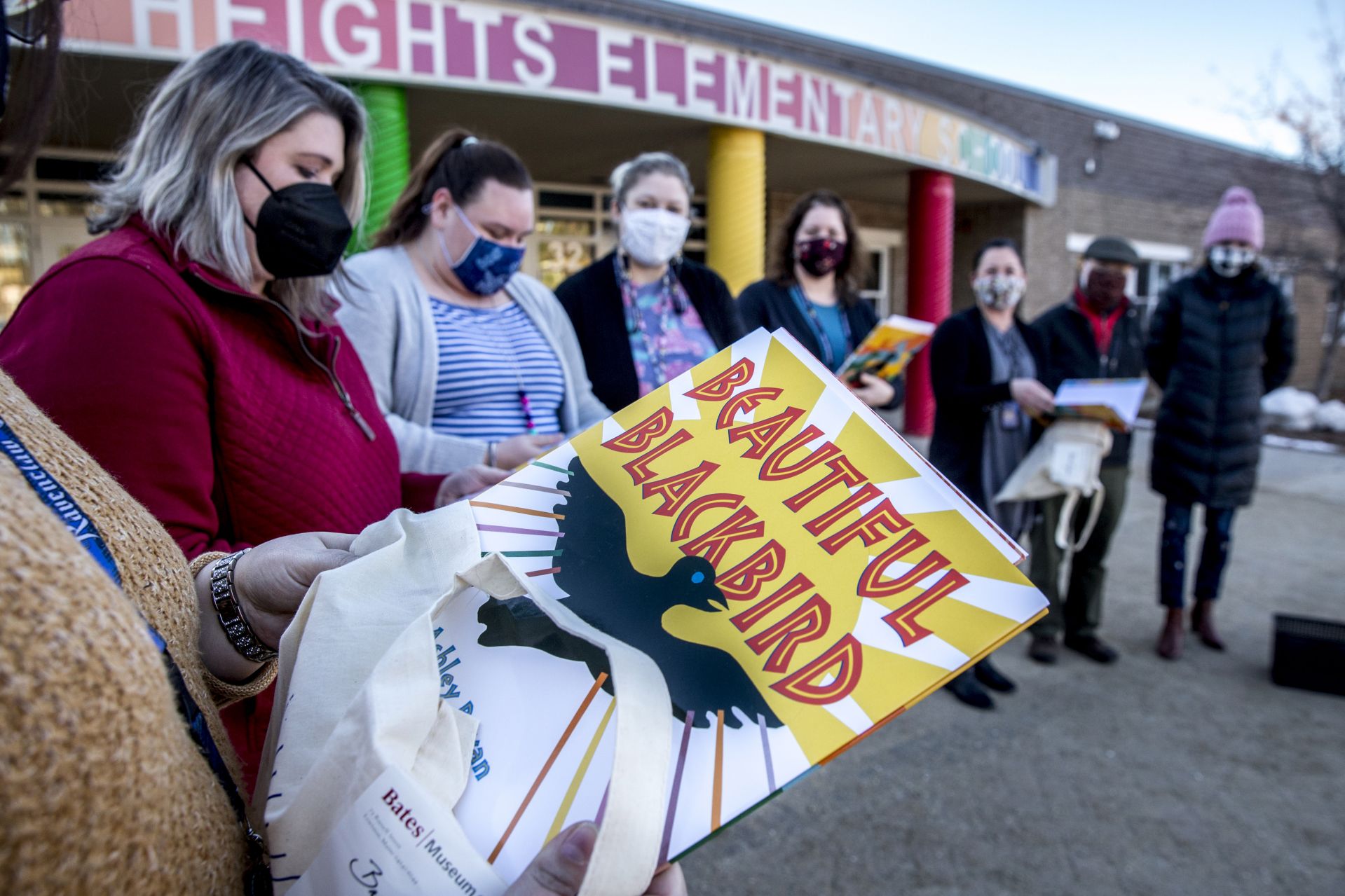 Sherwood Heights Elementary School teachers line up in front of the Auburn school as they receive Ashley Bryan "swag bags," delivered by Bates Museum of Art education curator Anthony Shostak.
The gift bags included Bryan's Beautiful Blackbird and other education materials about the Maine artist, author, and illustrator, whose work was exhibited at the museum through March.
12:53 p.m., Feb. 12, 2021
Maine New Cases 7 Day Average: 194
Total Bates Student Cases During a Week of Return Testing: 6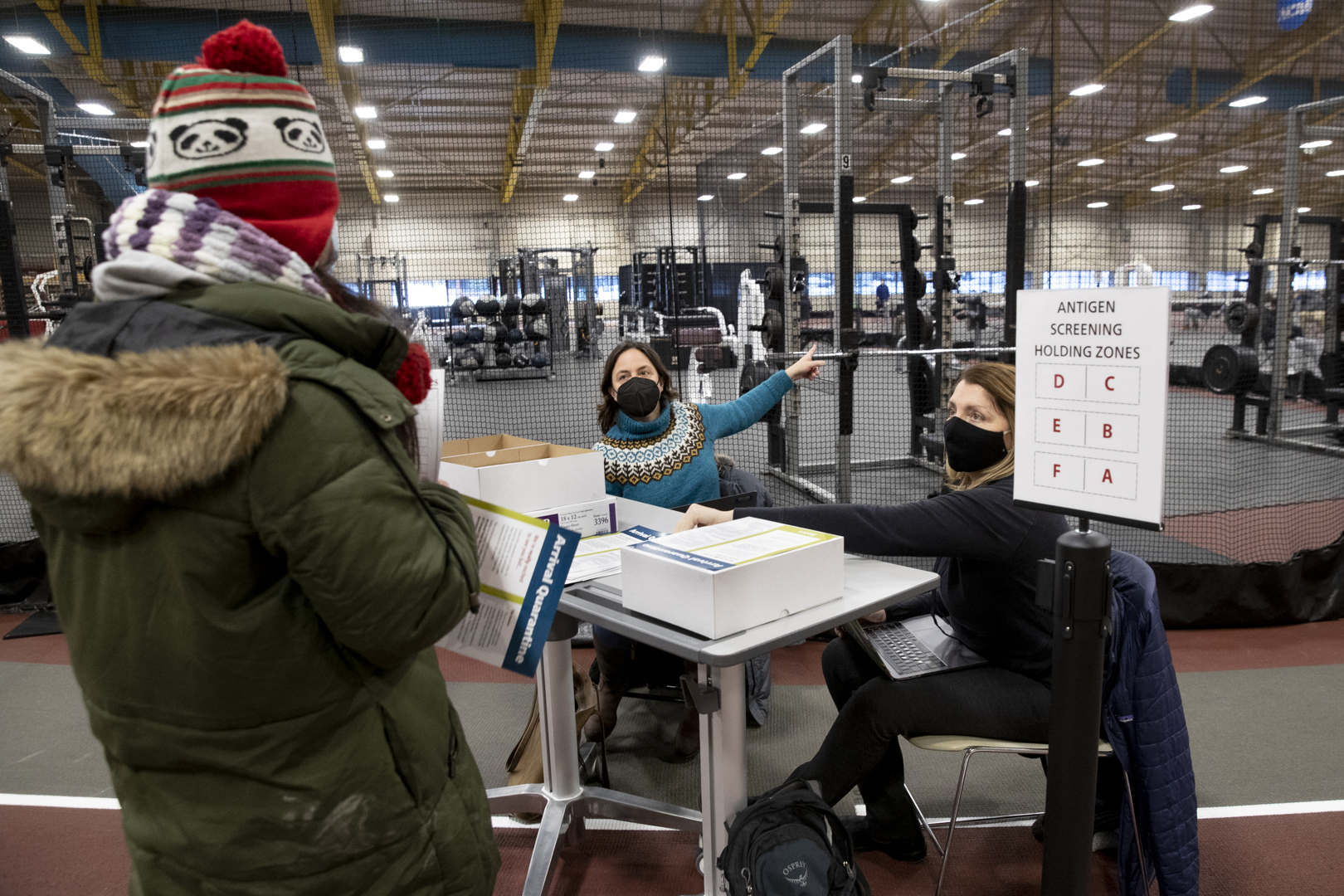 Two Bates professors, Associate Professor of Chemistry and Biochemistry Jennifer Koviach-Côté and colleague April Hill, Wagener Family Professor of Equity and Inclusion in STEM, greet and guide students to a waiting area in Merrill Gymnasium where they await their screening results.
As part of the February return, Bates implemented a second type of COVID-19 screening, known as rapid antigen screening, in addition to the twice-weekly PCR test.
A rapid antigen screen yields results within minutes, while a PCR test — the gold standard for testing — yields results in about a day. Rapid results help Bates identify active cases of COVID-19 quickly and thus immediately begin isolation protocol.
1:04 p.m., Feb. 24, 2021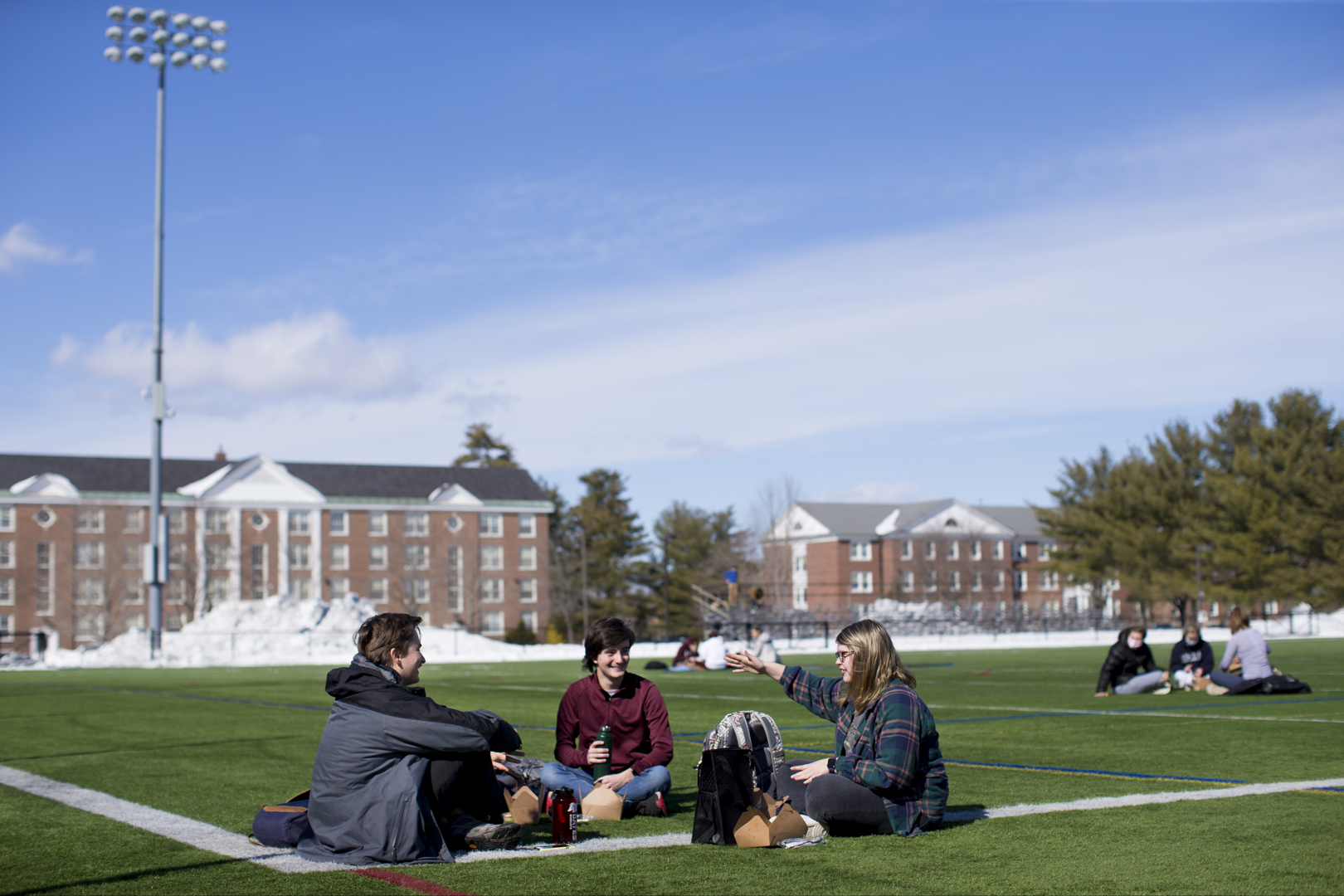 It doesn't take much to lure Bobcats out into the open. On a calm and bright February day, students took their lunches to sunny spots on Garcelon Field and elsewhere.
12:11 p.m., March 7, 2021
Maine New Cases 7 Day Average: 167
Total Bates Student for the Prior Week: 3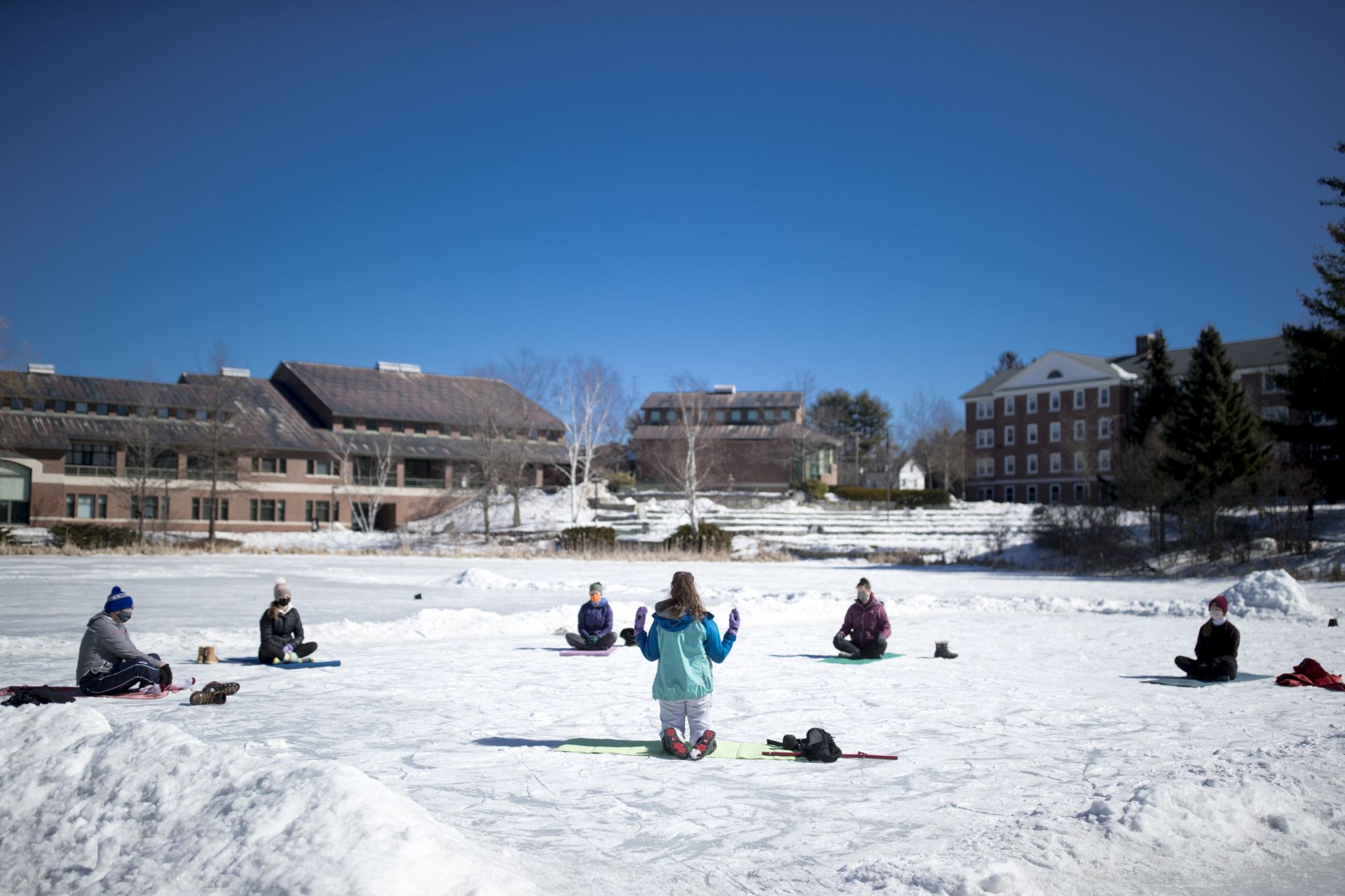 "I think I'm always looking for new perspectives," says Katia Ryan '23 of Amsterdam, N.Y., leading a group of her fellow Bobcats on a Sunday morning session of yoga on Lake Andrews.
"You can have the same practice be it on land, ice, water and have a completely different experience," Ryan says. "At Bates we are looking for new ways to connect to the campus we love. Sometimes all you need is a fresh perspective."
View Comments