A groundskeeper helps to create and maintain outdoor spaces for students. A laboratory assistant prepares instruction and instruments for students as she fills their once-bustling environment with background music.
A financial aid counselor works with students and their families to alleviate stress. And an associate multifaith chaplain provides students with opportunities for spiritual reflection and social action.
Whether students are feeling down, or need help getting their feet back on the ground, they get the support they need from Bates staff, whose work helps position students for success in their work with the equally talented and devoted Bates faculty.
Each week for the next four weeks, we'll continue to share three or four portraits of Bates staff members who have responded to the needs of our students during a time of crisis. Totaling 21 staffers, from 19 different college offices, these Bates people rise to the challenge when students need somebody — not just anybody.
Lorna Clark
An assistant in instruction in the Department of Chemistry, Lorna Clark works closely with students, setting up laboratory experiments and training students on how to use various instruments.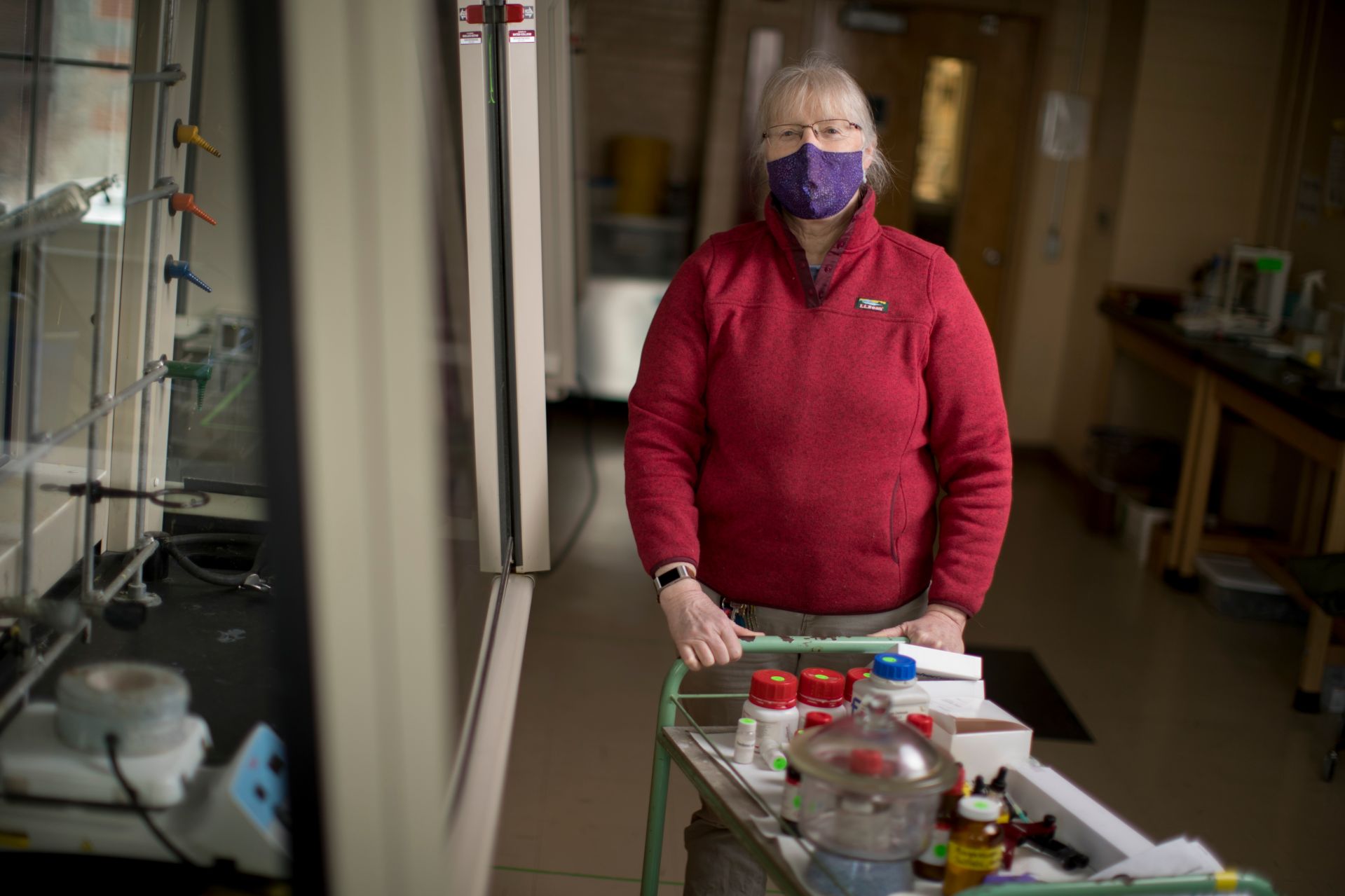 Assistants in instruction spend a lot of time helping students learn techniques and methods in the laboratory. Being close by is a big part of the job, but that became a challenge when we had to physically distance in the lab. I'm here to help, but the guidelines mean I can't be right beside them to help them with an instrument or an experiment as I normally would.
That meant the bar got raised quite a bit for students. They really needed to understand what they were doing when they came into the lab. To help with that, our faculty, Jen [Koviach-Côté] and Andrew [Kennedy], made videos of every single laboratory experiment we were doing. By watching the videos, students could see exactly what they were coming into the lab to do.
To physically distance, we went from 24 students down to 11 in the lab. Under ordinary circumstances, students feed off each other — they really work with each other to figure things out. When we went to 11, with everybody spaced out, that became very challenging.
With just 11 students physically distanced, it also got quiet in the lab, almost unsettling. I missed all the chatter. So we started playing music, not as a distraction, but more as background so it just wasn't dead silence. It helps students just relax.
I'm usually smiling behind my mask. I think about how I believe in science, how I'm just so thankful that soon we'll be out of this mess because of science. There'll be a time where it will be back to somewhat normal, and I can't wait.
Raymond Clothier
As the Associate Multifaith Chaplain, Raymond Clothier works with students to plan activities that create space for conversation, art, reflection, and social action. He also meets with students, faculty, and staff for private conversation and spiritual care.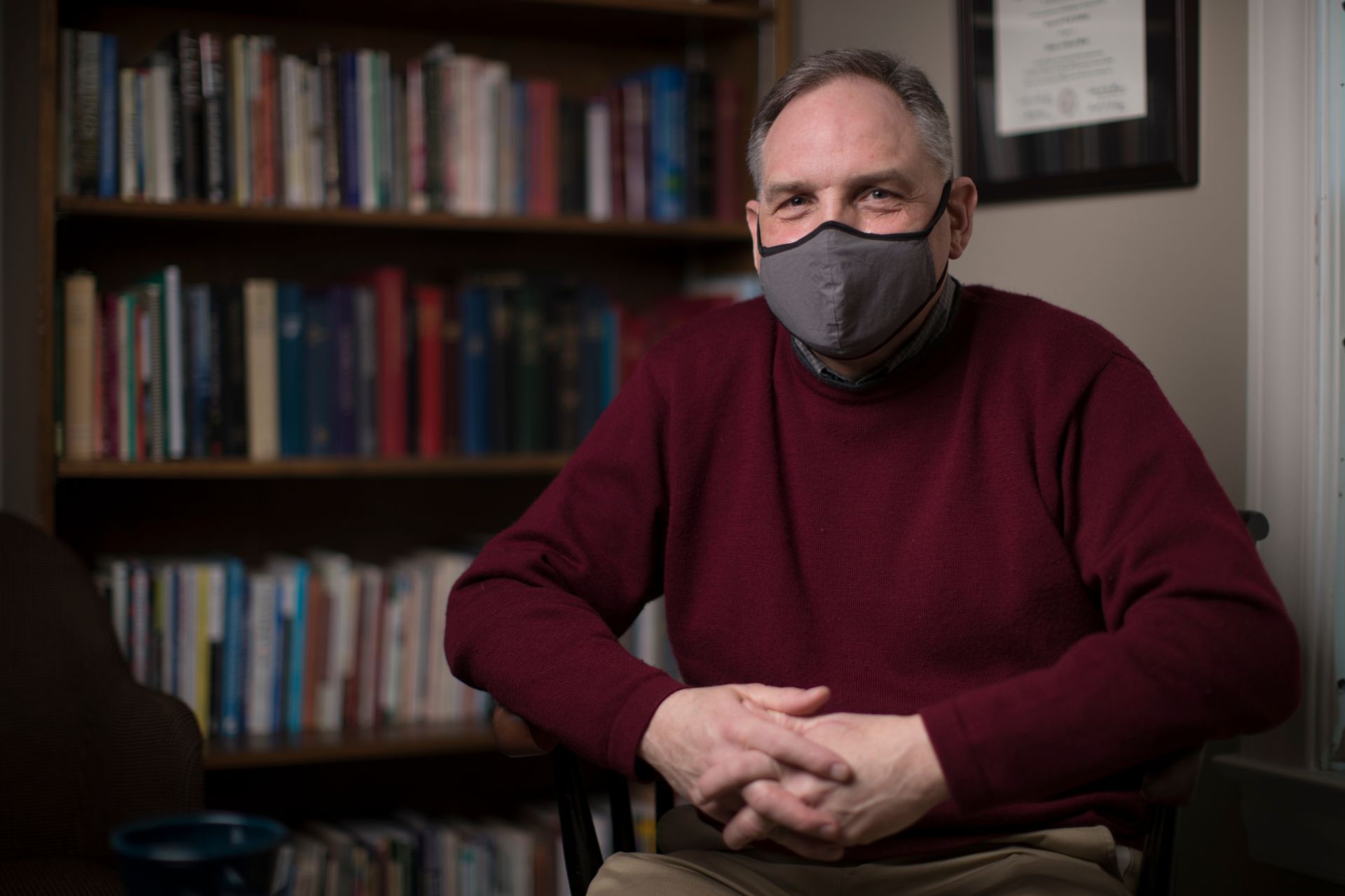 Realizing that big group meetings would no longer be possible, I envisioned a new program called Thresholds that offers small groups of students ways to find belonging and community at transitional points in their college careers.
The groups have themes, like "Telescope," about personal history and identity; "Horizons," about integrating new experiences into your daily life; and "Touchstones," to help students cultivate inner peace.
I had fun working with two of our Multifaith Fellows who dreamed up an online meeting based on the "36 Questions That Lead to Love" popularized by The New York Times. I don't know if any of the students fell in love, but they felt less alone. I also attached a ping pong net to the conference room table belonging to our colleagues at the Harward Center next door, but please don't tell them.
This year, I've learned how surprisingly difficult it is for first-year students to make friends. That is especially true with masks and COVID restrictions, but it contributes to the loneliness that many college students feel every year. Bates staff do a remarkable job of offering programming, but the way we live today — always looking down at our phones — keeps people from looking up to see others.
It's not cheery to say, I have noticed more sadness and a general lack of joy. Maybe springtime and traditional events, like senior thesis bindings, will help bring back some joy. If not, there is ping pong in the Harward Center conference room.
Nina Hicks
Nina Hicks is a student financial services counselor in the Office of Student Financial Services. She helps students and families navigate the process of applying for financial aid, loans, and understanding their account statements and payment options.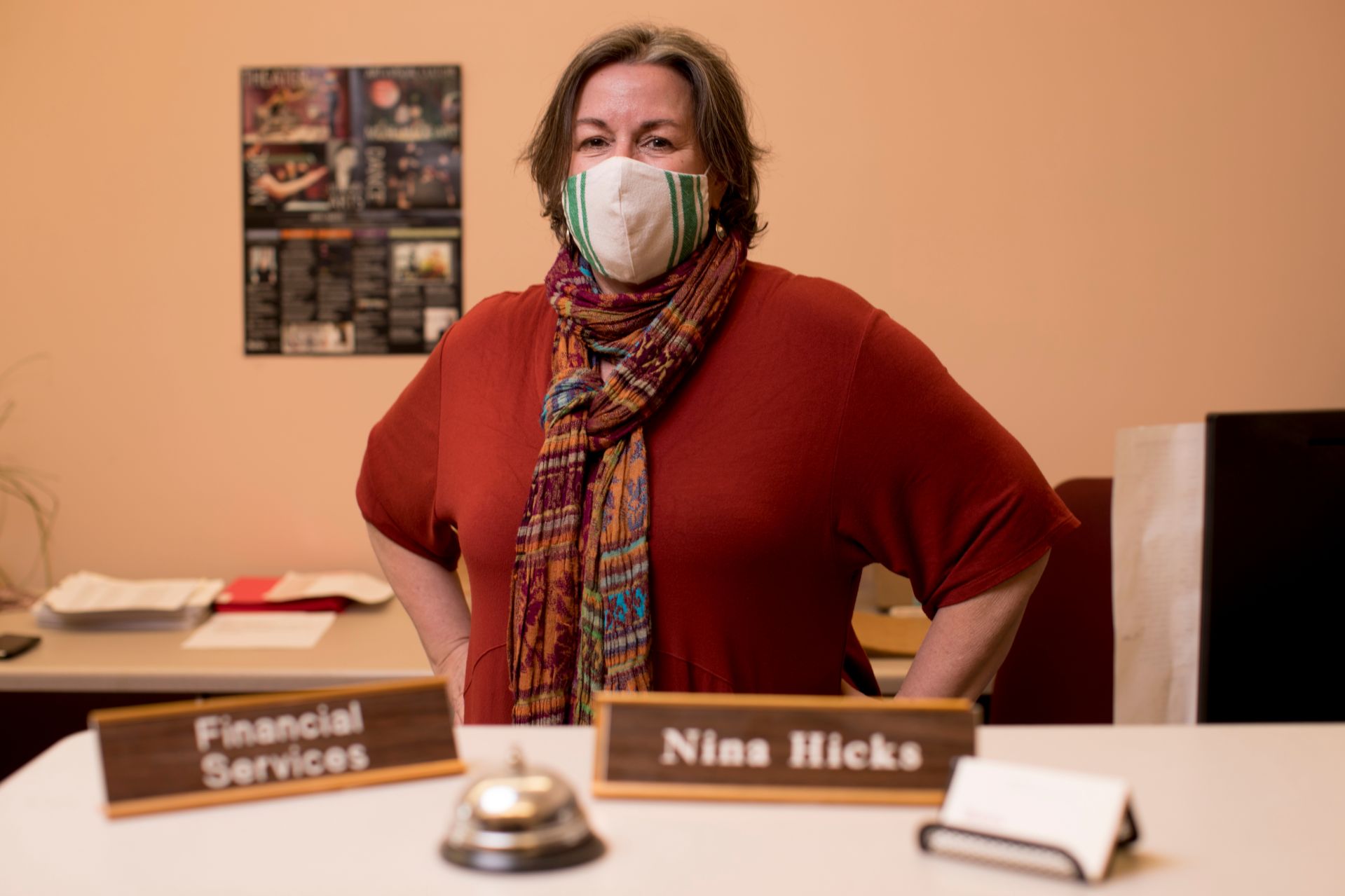 Like many staff members, I've been working remotely during the pandemic. That has meant a big increase in email and phone conversations, especially during the school year.
At the same time, many students and their families are, very understandably, under a lot of stress, both financially and emotionally.
For me and my colleagues at Student Financial Services, it means being extra focused on being available to quickly respond to inquiries, and offer assistance, as much as we are able. It means building relationships based on trust and, hopefully, helping to alleviate some of the stress they are feeling.
Our Bates students and families have been wonderful throughout this entire pandemic challenge. My SFS colleagues and I look forward to our continued work with our Bates community as we all work through these unusual and challenging times.
Timothy Kivus
Timothy Kivus and his fellow groundskeepers with Facility Services have helped Bates provide more outdoor opportunities for students, either by setting up furniture or clearing snow from Garcelon Field, a space that he — and Bates students — have dubbed "Garcelon Beach."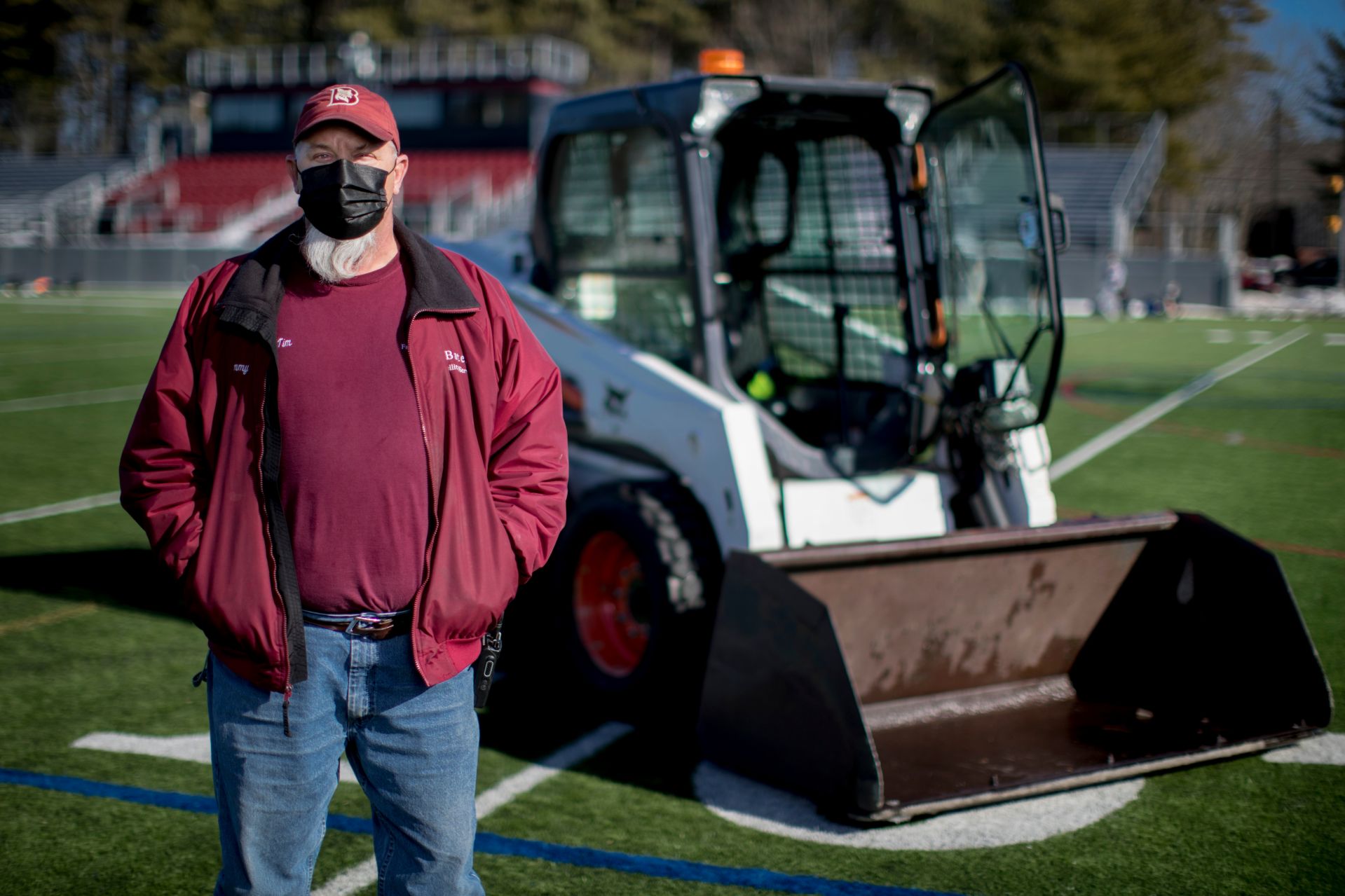 Garcelon Field is nearly a year-round space. Students eat there, play sports here, and have fun at night there. I enjoy watching the students on Garcelon Field. I'm so glad that they can be out here.
That's what we're doing: Helping the increased need for outside life during the pandemic. We've added more outside seating, for hanging out and eating. We've added more under-canopy seating. I think students have really enjoyed these opportunities.
But some things have changed, such as the maintenance underneath the Library Arcade, where students often eat. With to-go dining in throwaway containers, there's been more outside trash, and that's now a really big factor on campus.
When we plow Garcelon Field — it has a turf surface — we use three vehicles. I use a pickup truck with a plastic blade to push the snow to the edge. The Bobcat skid-steer grabs the snow and pushes it through the gate. The loaders grab the snow and pile it on the edge.
During the last 10 years, we've noticed that it's a lot better to plow it every storm than it is to wait to let it build up before plowing it. Luckily, this was a very mild winter, and so it was easy to take care of.
View Comments