---
One of the joys of this end-of-the-year list — a tradition now in its eighth year — lies in reconsidering what favorite means.
For instance, Phyllis Graber Jensen, director of photography and video for the Bates Communications Office, accompanied biology students on a rainy-day trip to Wolfe's Neck Farm for what turned out to be a muddy, mucky, feces-filled assignment. But you'll see one of those images in Phyllis' favorite images of the year.
Meanwhile, multimedia producer Theophil Syslo came back from a new student orientation exercise in August talking about the dramatic number of bugs interfering with his video production. It sounded awful, like a Hitchcock movie. But that clip made Theo's year-end list of his favorite behind-the-scenes video clips.
For our photographers, "favorite" examples of their work can mean a lot of things. You'll see technical expertise here, joyful glimpses of behind-the-scenes action that capture Bates students and their commitment to their work, their sport, or their lives as scholars.
But maybe more than anything, you'll see the images that captured an unforgettable experience. That seems very in keeping with the entirety of 2021, a year that made a very deep impression.
---
Don't Despair
Phyllis Graber Jensen says:
OK, technically, I made (photographers like to use this verb to signify agency) this picture in 2020 (8:42 p.m. on New Year's Eve, to be exact).
But physically and mentally, I had already moved onto and into 2021. Mid-pandemic and without celebratory plans, my husband awaited me in a warm home as I tooled around a frigid Main Street in Lewiston, looking for…what? Something to signify the end of a, shall we say, troubling year? Charlie Hewitt's 30-foot-long, eternally lit aluminum sculpture on an exterior wall of Bates Mill No. 5 — framed by holiday lights — seemed a natural for Instagram, whose insatiable appetite I feed on a daily basis.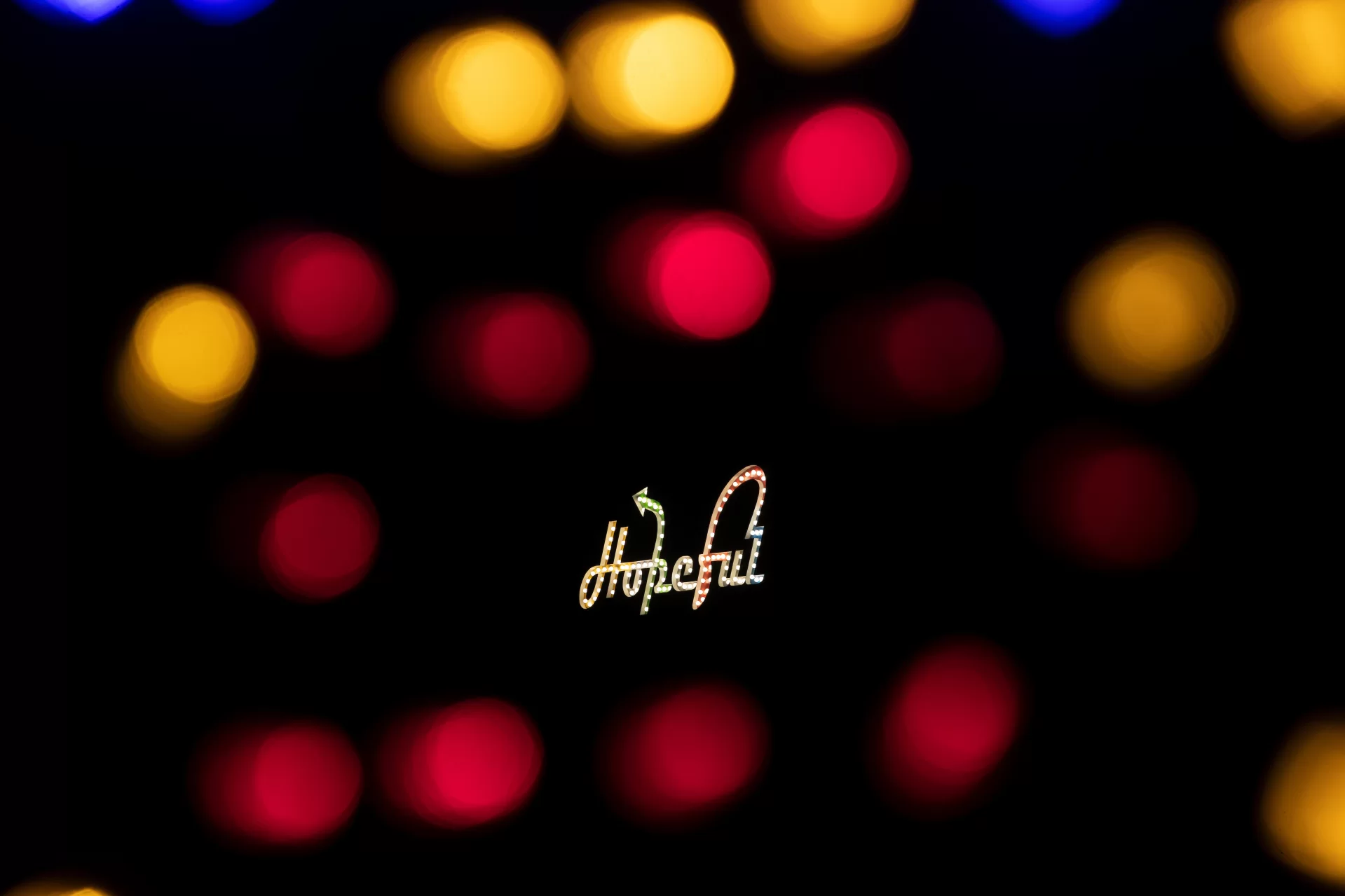 And perhaps at that moment, looking into the abyss, I felt hopeful or at least wanted to feel that way. Reflecting on the photograph in Bates Magazine, I wrote: "Finding hope allowed me to sidestep the hurdles of cynicism and despair; abandoning hopelessness vaulted me into the land of common cause."
But in hindsight, maybe it was too much color, too much light; what filmmaker Michael Moore calls "hopeium." At the end of another year, I need to remind myself that hope is an essential I can't afford to live without.
---
The Shadows Know
Theophil Syslo says:
This clip shows three Bates friends — and their shadows — futzing around during a break in a rehearsal last May for a senior thesis dance choreographed by Erick Gredonia '21. I like how simple, candid, and human they are.
Maybe I also like that it's exactly what I would be doing in that position. Erick performed in his dance, but he's not seen here — he was elsewhere in Schaeffer Theatre, working with the stage crew on sound and light positioning. But what I saw here reflects the energy I felt while in his presence.
---
Follow the Green Orb
Theophil Syslo says:
If a tree falls in the woods and nobody is around, does it make a sound? If 'nothing' is happening, is it a moment? That's what I was pondering as I shot some frames as a new pitcher warmed up during a softball game between Bates and visiting Tufts.
In other words, what you're seeing is not a "real" pitch. In fact, you might say that the pitches tossed during a pitching change are one of the most "non-moment" moments in all of sports. No other sport interrupts their games the way a pitching change does. And I also thought, "Great! This is something I can write about for Photographers' Favorites!"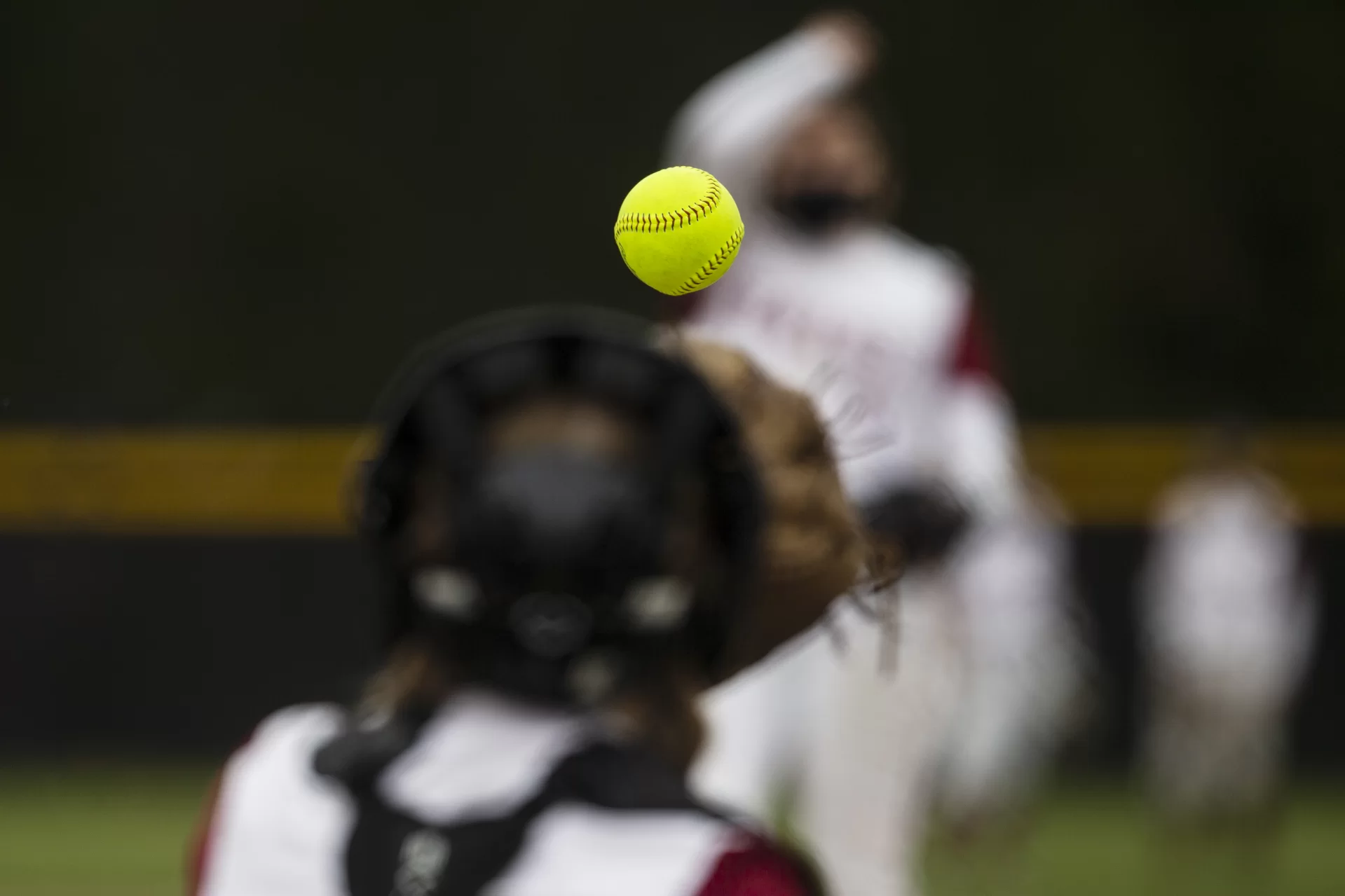 ---
Uncorked
Phyllis Graber Jensen says:
In a pandemic year where I was able to photograph very few rituals of Bates students, I felt lucky to be there when Riya Nakum '21 marked the completion of her senior thesis by uncorking champagne on the shore of Lake Andrews. Nakum, who had lived in Adams Hall for three of her four years at Bates with her closest friends — "amazing and intelligent women of color" — found comfort in the daily view from her Puddle-side room.
So it was fitting to bind her senior thesis, examining the experiences of women of color college students in academia, in a setting that "witnessed my evolution as a student and a woman of color and influenced the way I framed my thesis."
That her thesis was accepted for presentation at a national psychology conference added another reason to celebrate. Nakum's joyful moment felt liberating, even just to witness.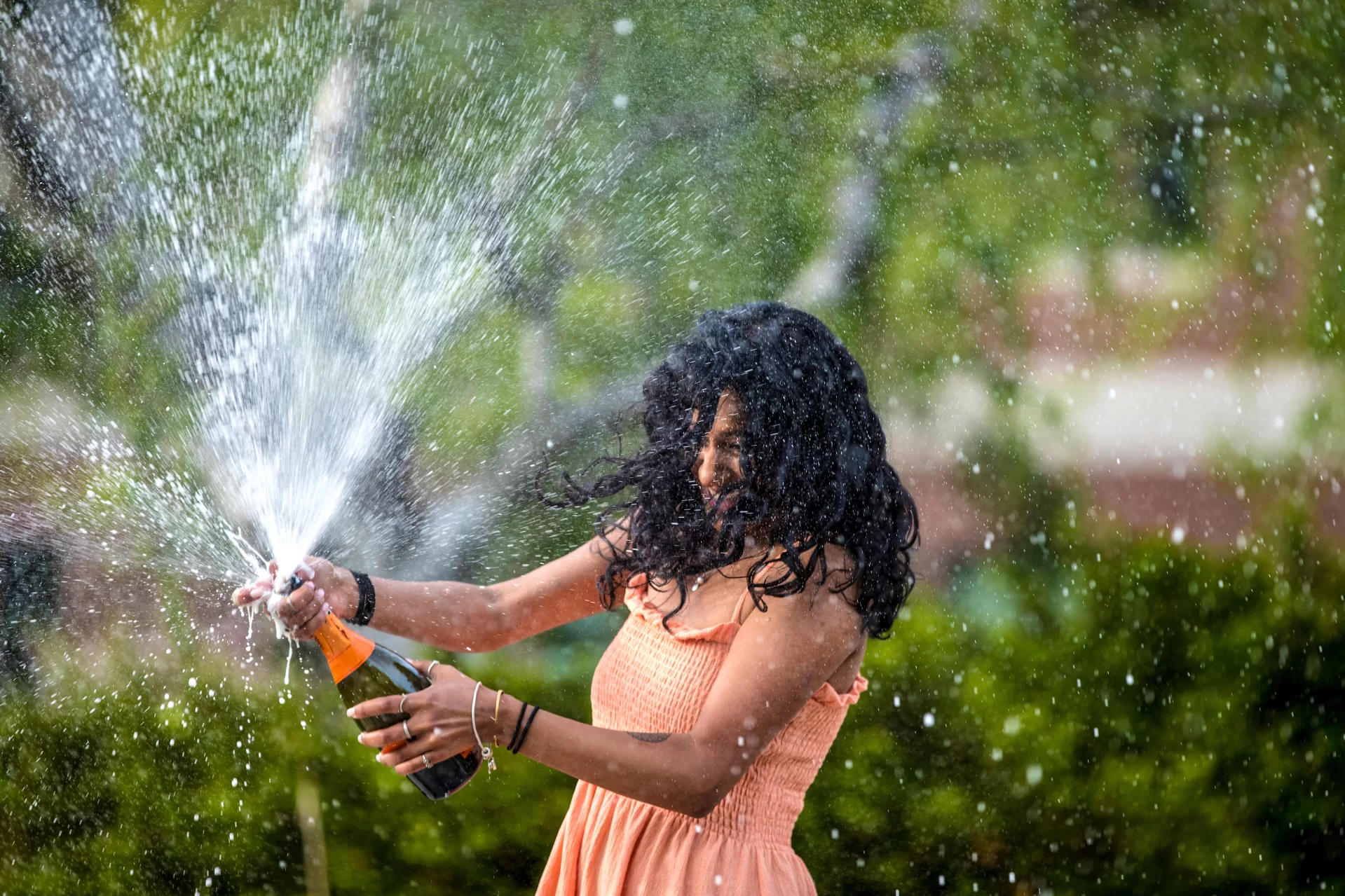 ---
Oh, Snap!
Theophil Syslo says:
This clip shows Deon Custard '21, a double major in theater and English, following along as the actors in the play he was directing — a modern interpretation of Twelfth Night — go through one of their typical warmups in Schaeffer Theatre. Deon's finger snap at the end seals the deal for me. He's so present: outside the circle but part of the circle.
I like how something simple like this can be so telling of a person. In the completed video, the sequence is set up by a wide shot of the stage, shot from the wings, then followed by a tight shot of Deon's reaction.
---
Monitor Musician
Theophil Syslo says:
Bates had two Commencement ceremonies in 2021, one for each half of the class, to reduce the crowd density on the Historic Quad. During the morning ceremony on May 27, a photograph of honorary degree recipient Rhiannon Giddens was displayed on a large monitor as her degree citation was read.
I'm not sure why this image feels compelling to me. Maybe it's not just one thing. The pop of color, or maybe it's the exposure, or layering within the frame? Or could it be the compression from using a long lens? Or the frame within the frame? Maybe it's because musician Giddens is maskless, or maybe the curl of her fingers? Maybe it's the nature of the day, or maybe it's summer!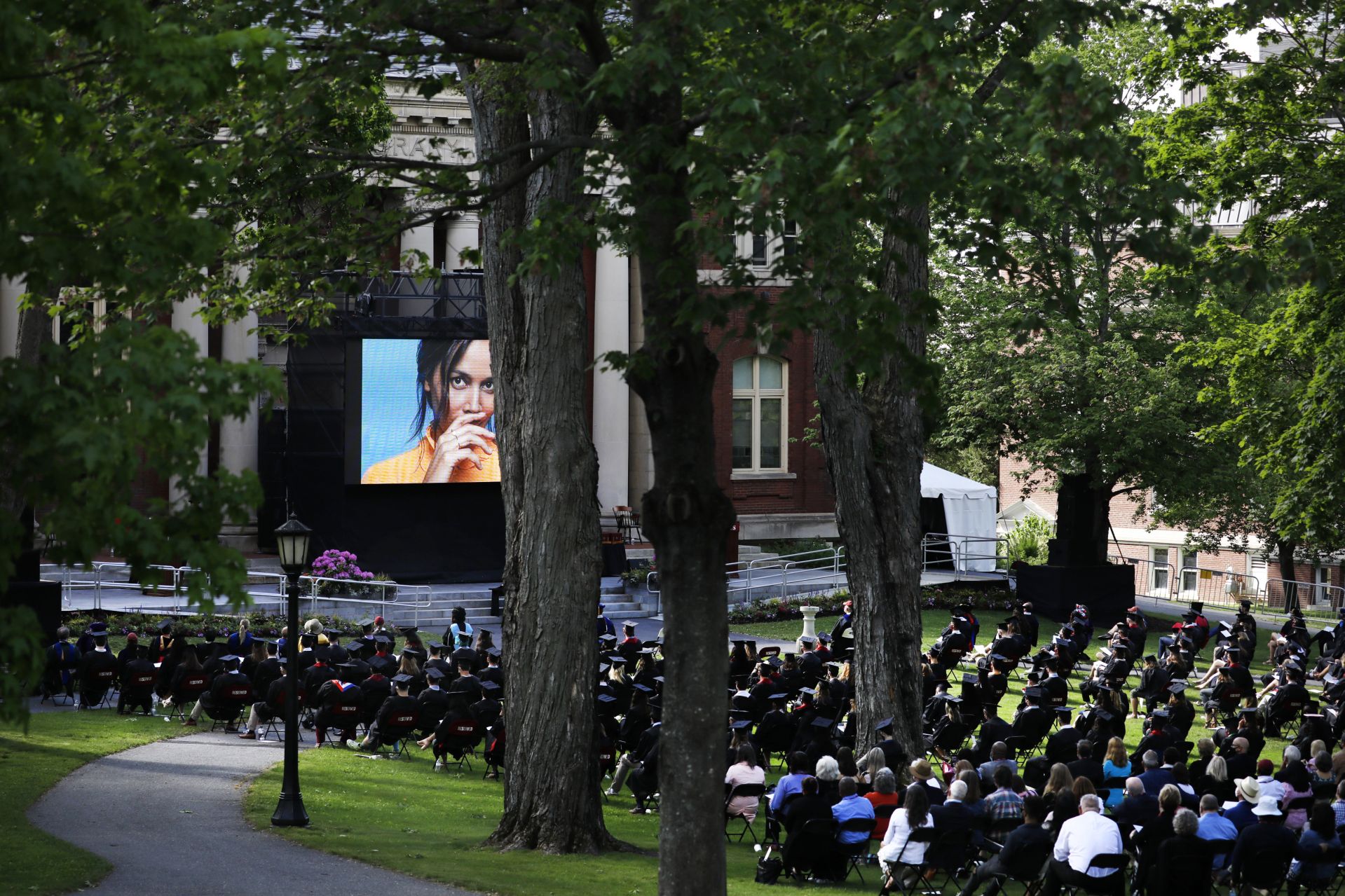 ---
That's My Hand
Theophil Syslo says:
I enjoy photographing field hockey, even though I'm not entirely sure what's going on at all times. But I do know that when you capture the moment when a player steps on her opponent's hand while they're trying to pick up their stick, it's going to make the short list for Photographers' Favorites. Beyond feeling the frame's "Ouch!" I enjoy the repetitiveness in the use of triangles within the frame.
When photographing ball sports, you tend to need three things: two faces and a ball. Face: check! Ball: check! Face: ouch! Hand: double ouch!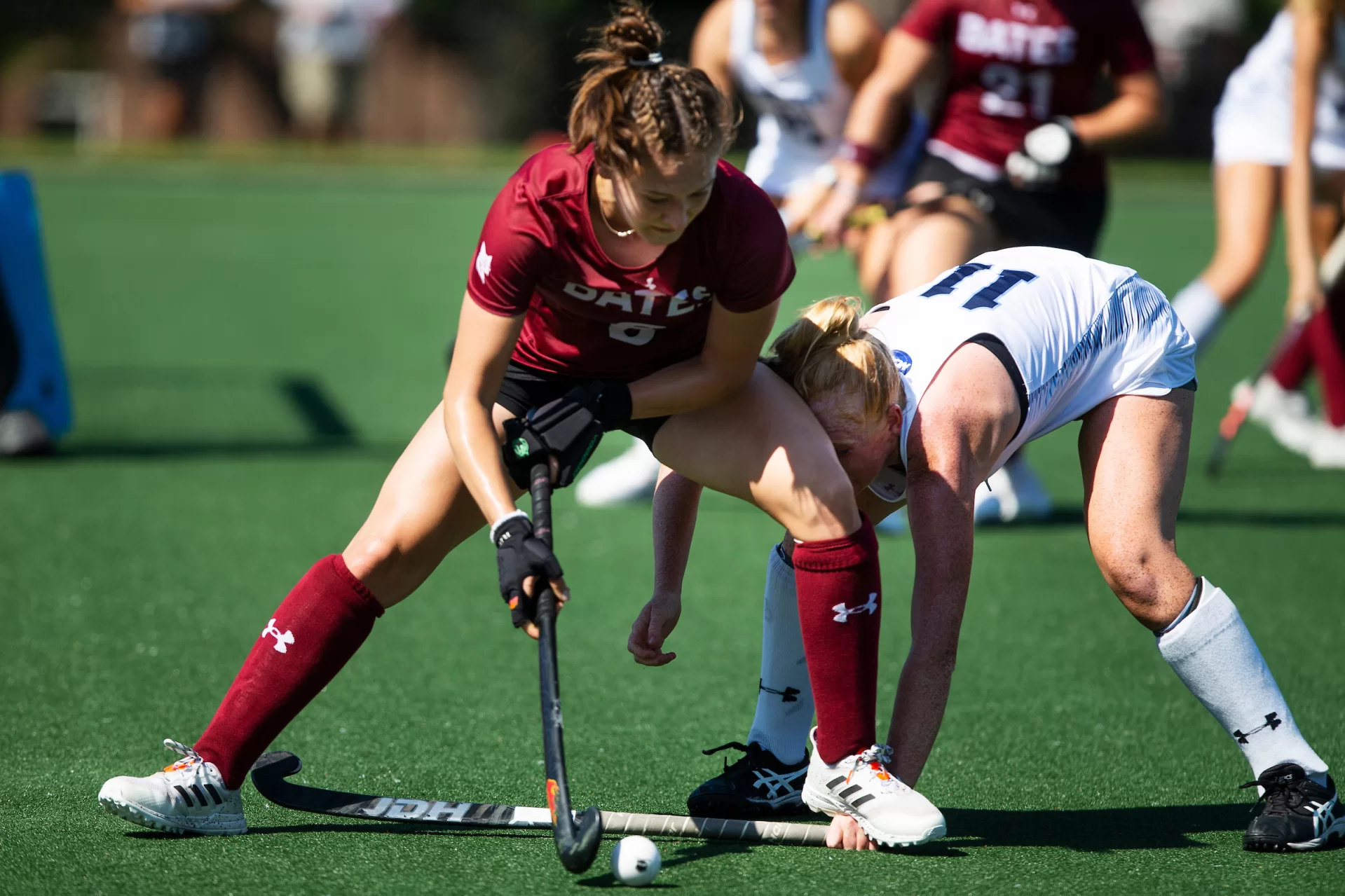 ---
A Little Bit of Narnia
Phyllis Graber Jensen says:
If I could translate this picture into a personal state of mind, I would use these adjectives: peaceful, focused, undisturbed, and beautiful. It's one of those early-morning scenarios when almost no one else is around, and I can focus on isolating certain elements however I like. Nobody else's expectations come into play. I rarely see the world this way; I'm too easily distracted. It's a pity. But I'm grateful for the opportunity when it arises, or when I make room for it.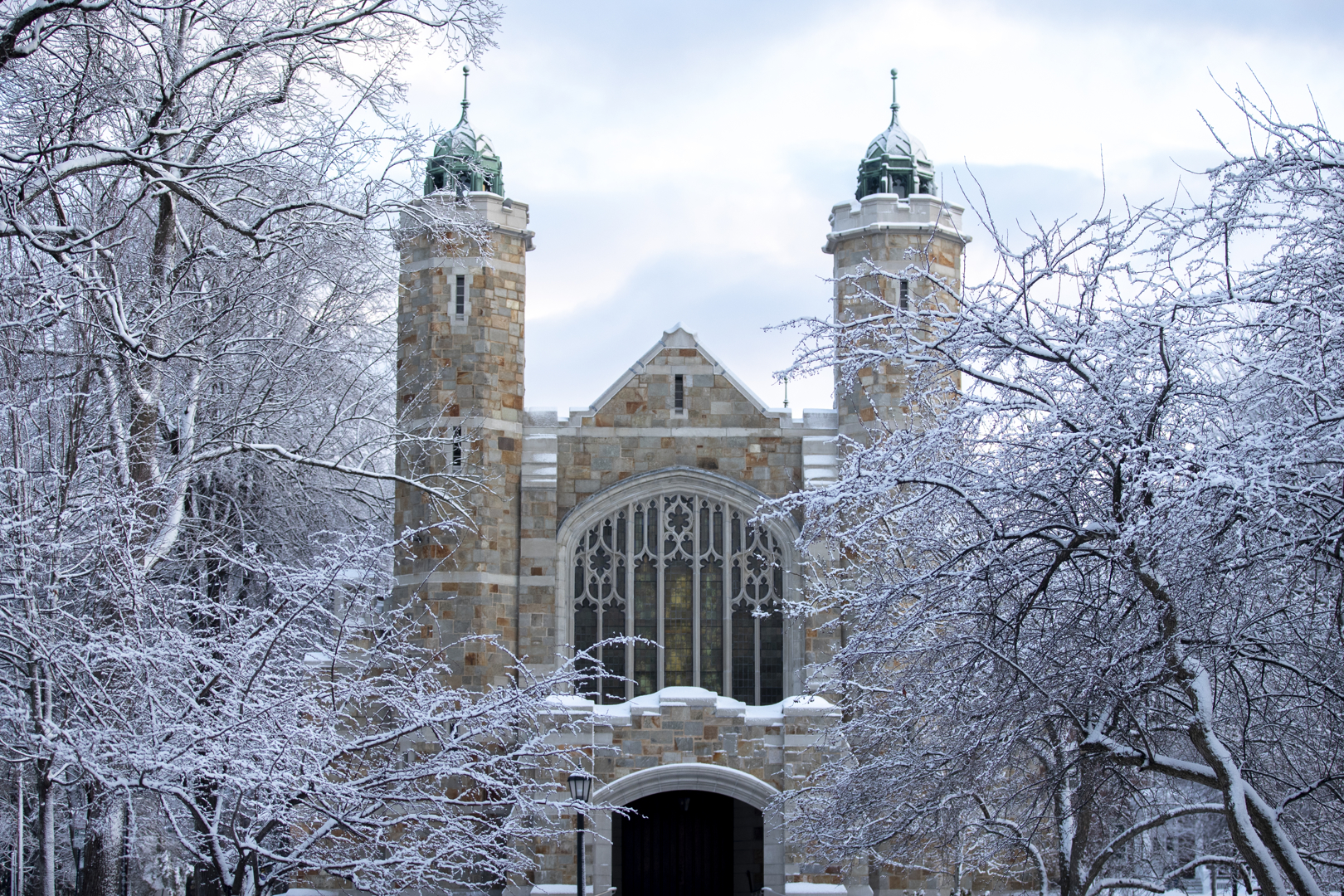 ---
Complete Focus for the Incomplete Pass
Theophil Syslo says:
I was very satisfied when I made this frame of a Bates receiver reaching for the ball (alas, it fell incomplete) during the football game between Williams and Bates on Oct. 23 at Garcelon Field.
We shoot sports with a telephoto lens, which create dynamic images but create a couple of challenges. One, the subject can sometimes overfill the frame. Second, the lens creates a shallow depth of field, so even with autofocus, it's not guaranteed that you'll always achieve tack-sharp images.
I was photographing the game from the North end zone, near the Village. Generally, it's easier to shoot action that's going across your field of view. When a player is coming right at you, it's harder because the focus keeps changing. Hitting this sequence in focus and in the frame, I gave myself an immediate pat on the back.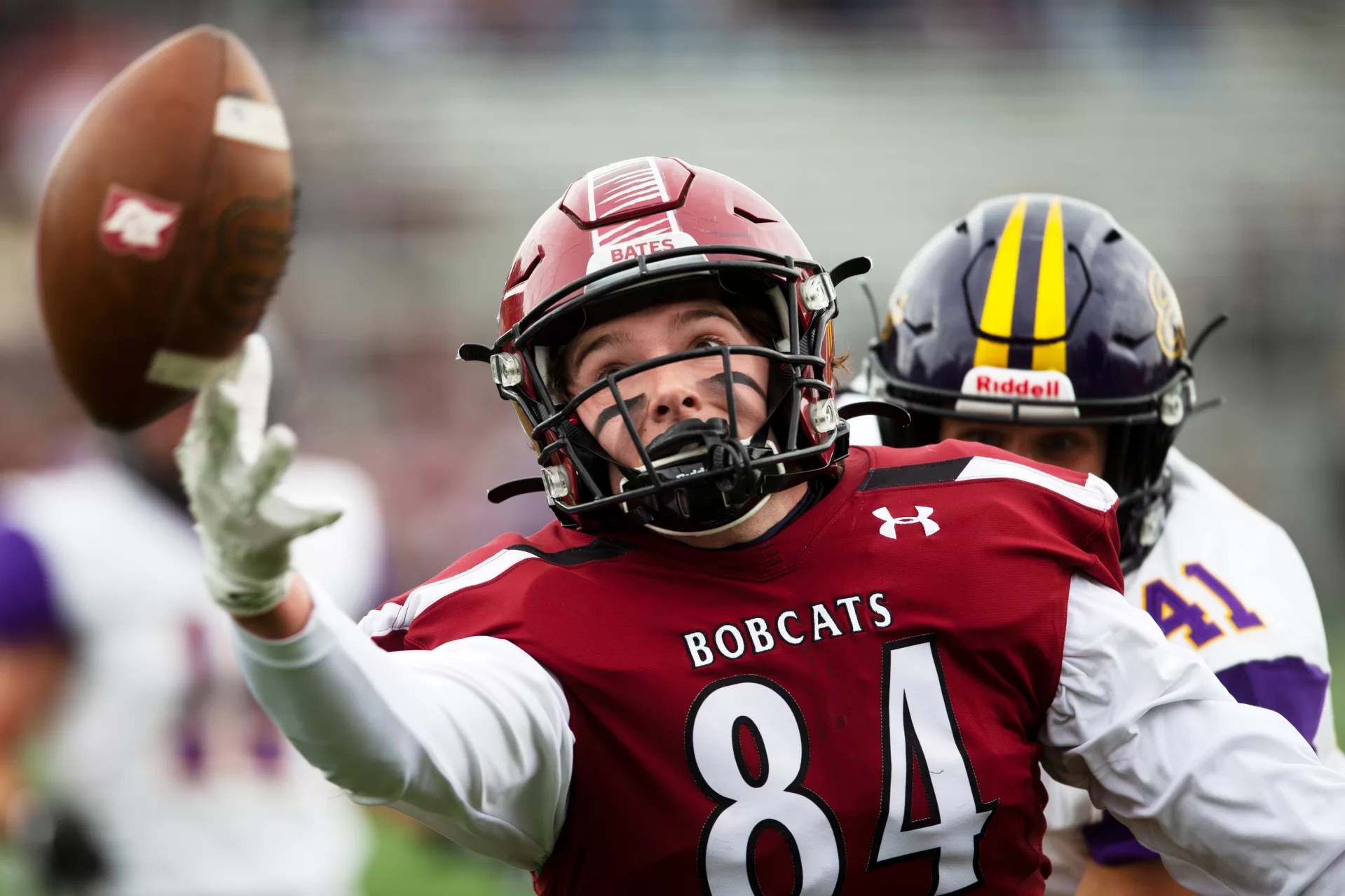 ---
What, Again?
Phyllis Graber Jensen says:
I've incorporated one version or another of this shot since we unveiled Photographers' Favorites in 2014. Here's the basic recipe: In mid-October, head over to Hedge Hall, climb to the top floor, raise high the window screen, wait for someone to walk by and voilà, it's done.
Only this year was different. A temporary fence that surrounded the construction site next door at Dana Chemistry Hall, which is being renovated to focus on science teaching, prevented traffic across the leafy carpet. Instead, I had to recruit a team of students who suddenly appeared frame left to enter Hedge for class and ask them to detour. I pride myself on producing candid moments, but sometimes, I'm willing to set the table.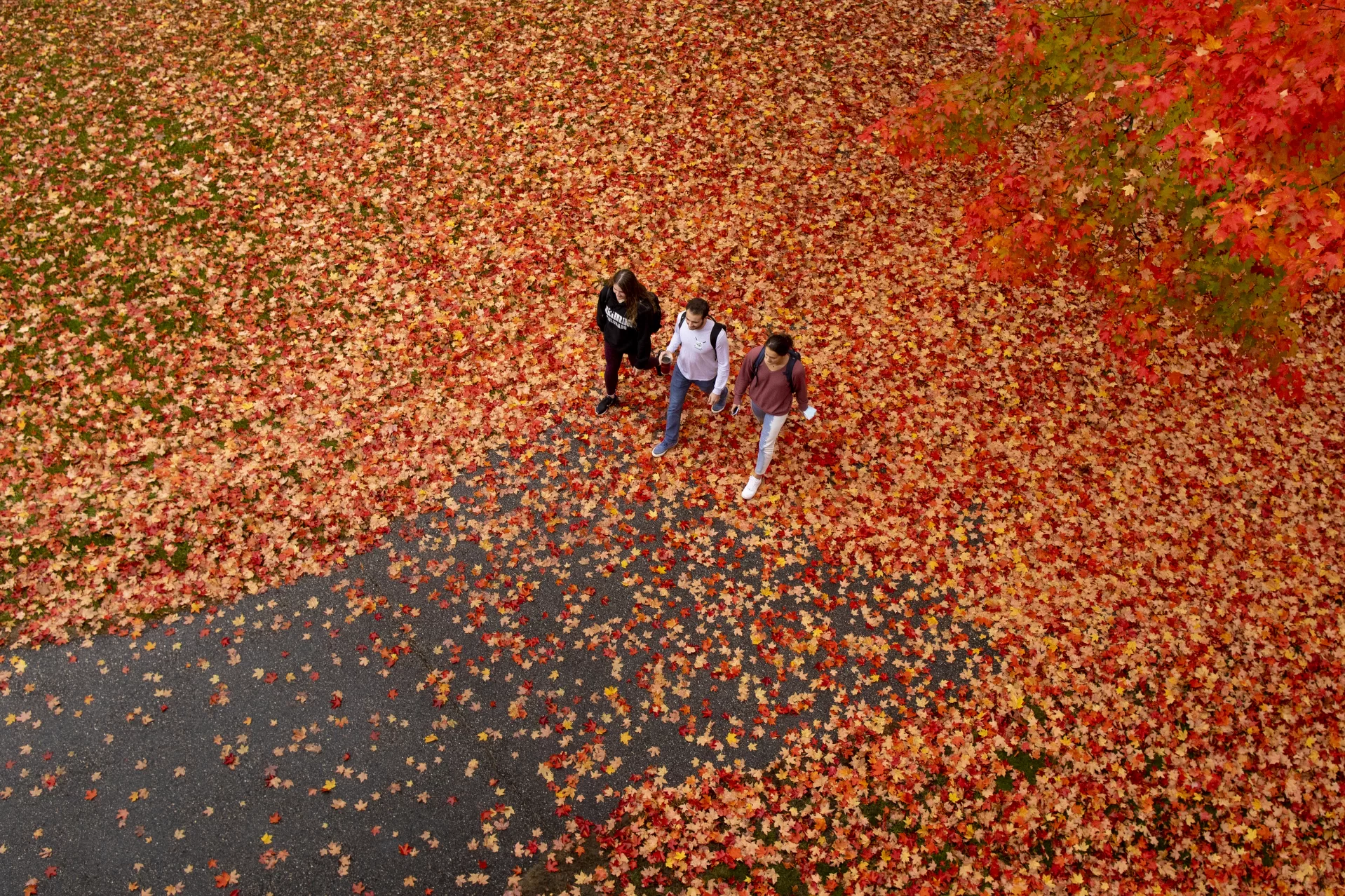 ---
Eye Candy
Phyllis Graber Jensen says:
Look what I saw through the looking glass. First, an explanation of what you're seeing: exhaust stacks on the roof of Carnegie Science Hall reflected in the windows of the Beacon, a glass curtain wall on the new Bonney Science Center, right across Campus Avenue.
Upon looking up, my eyes opened wide at the scene's distorted color, pattern, and sculptural shapes. Bonney will doubtlessly provide many new opportunities for those who work in this striking treasure; I grabbed this one for myself. As one of its new faculty occupants commented: "Eye candy!"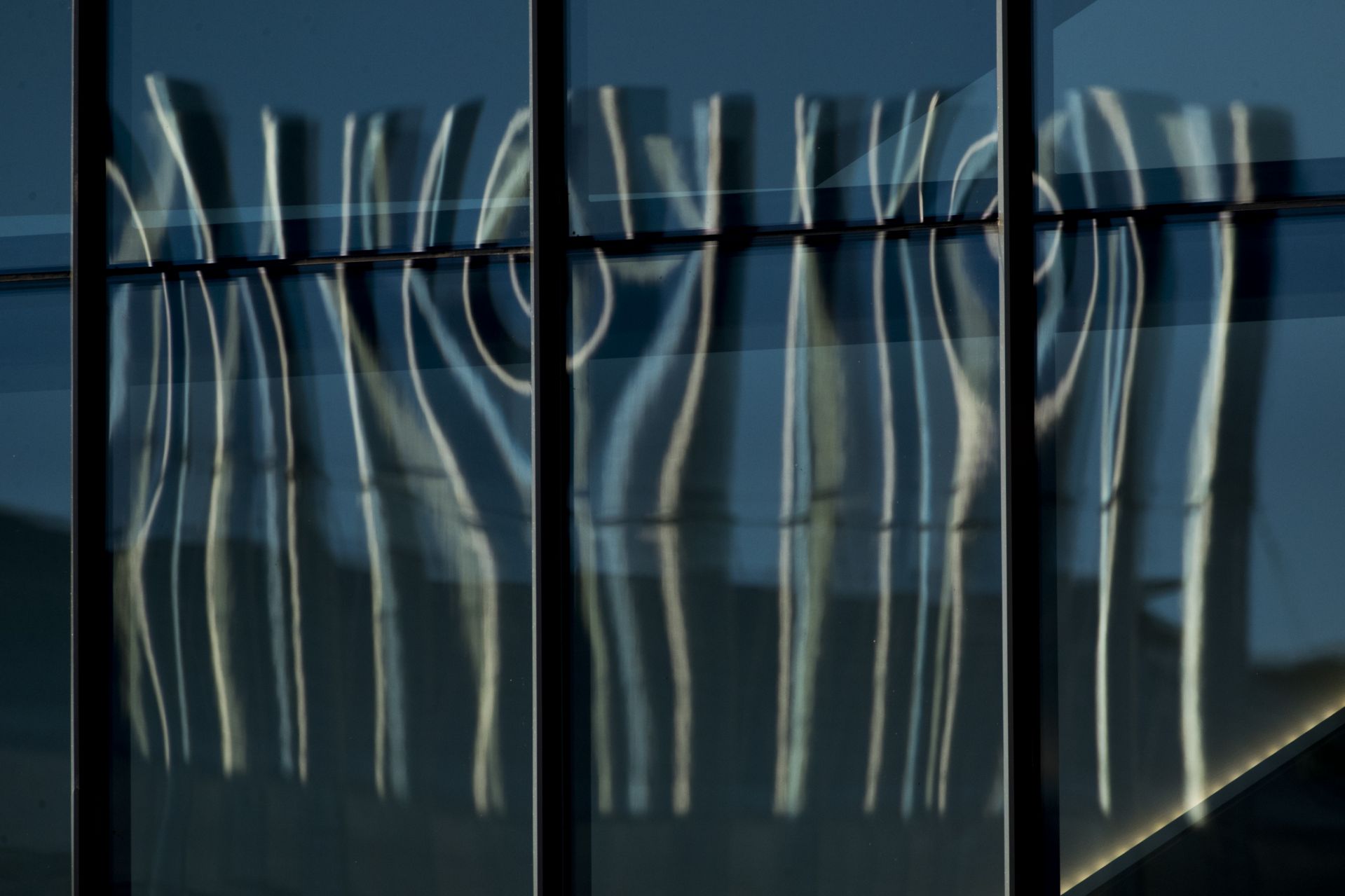 ---
Sunshine State
Theophil Syslo says:
When the photo shoot is the Trashion Show, I have a good reason to be excited: It's fun! And witty. And this photo shows why. A trio of first-year students created this outfit, and when asked to strike a pose, the two designers — Adelle Welch (left) of Livingston, Mont., and Izzy Borah (right) of Needham Heights, Mass. — pretend to be blinded by their model, Maria McEvoy of Missoula, Mont.
The joke, of course, is that McEvoy's dress is made from discarded Sun Chip bags. Nicely done! You might wonder why I set the "studio" up in a less-than-perfect way. That's because the Trashion Show is such an authentic presentation of Bates student life, and that felt more in line with the event's aesthetic. In other words, everything doesn't have to be perfect!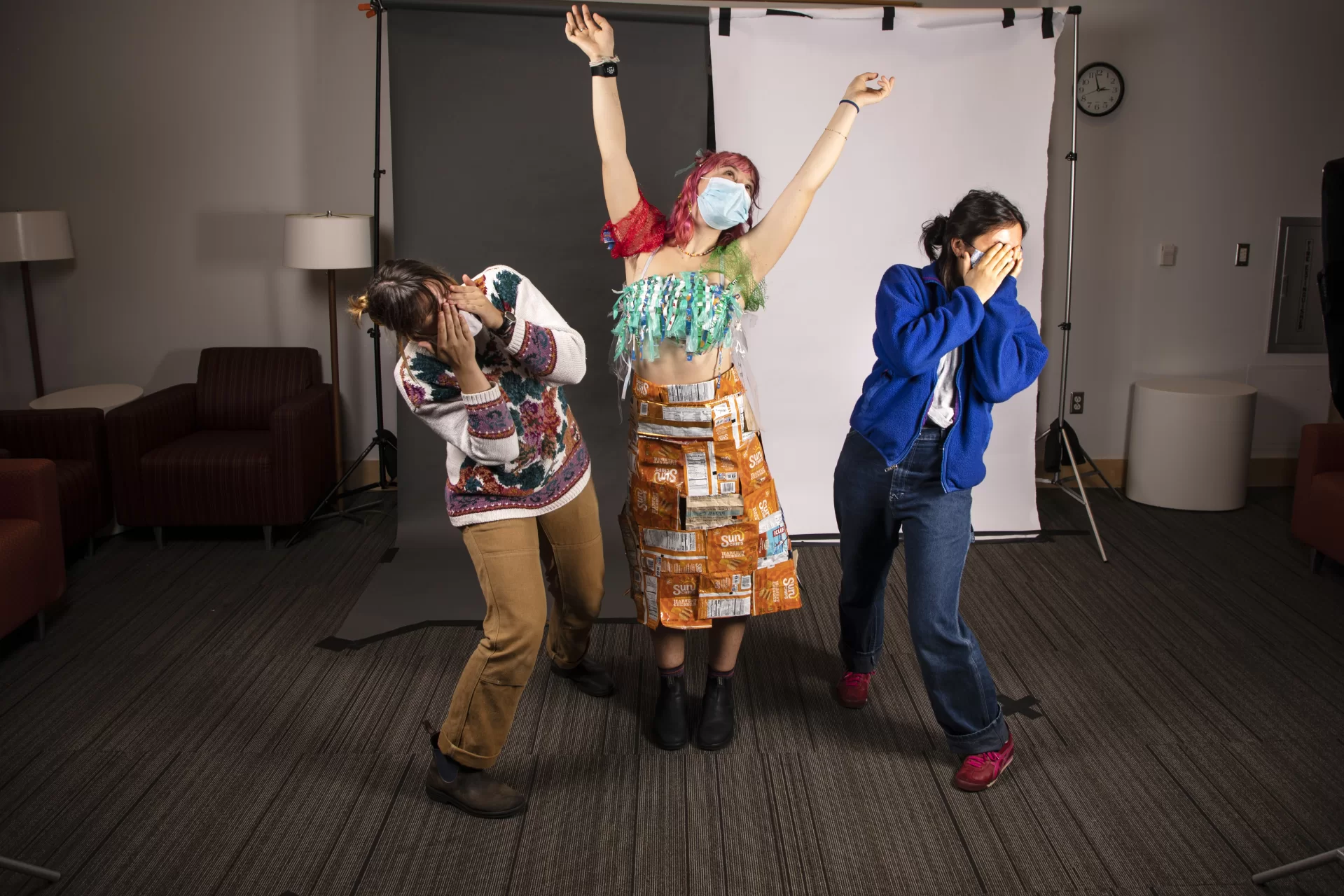 ---
Bugging Out
Theophil Syslo says:
As much as you think you can plan for every contingency, there's always something. On Aug. 26, which was Opening Day for the Class of 2025, it was bugs, from a hatch around campus of some kind of flying insect. While interviewing students who are Junior Advisors and Residence Coordinators, the bugs were all around, including pit stops on the camera lens.
But the students were troupers, giving me great quotes about supporting new students while bugs were in their faces. This short sequence highlights some of the bugginess. I think it's great. I mean also a bit horrible, but great.
---
Staying Strong
Phyllis Graber Jensen says:
Walking down Frye Street in April, I noticed the sign on College Street's Nash House and walked over to take a closer look. Within moments of my inspection, Lauren Nudi '23 of Wayzata, Minn., and roommate Courtney Tally '23 of Hanover, N.H., appeared at the window, eager to tell me more. During in-room restrictions due to a spike in COVID-19 cases, they'd hung their spirit-lifting sign.
Their housemate Patrick Bergin '23 came up with the idea for the sign and wrote the letters, then Nudi and Tally painted them. "We used a recycled sign from Winter Carnival and some leftover paint to make it happen," Nudi said. "It was a group effort done through contactless handoffs in the hallway." They had provided visual shorthand for exactly what the community, including me, needed.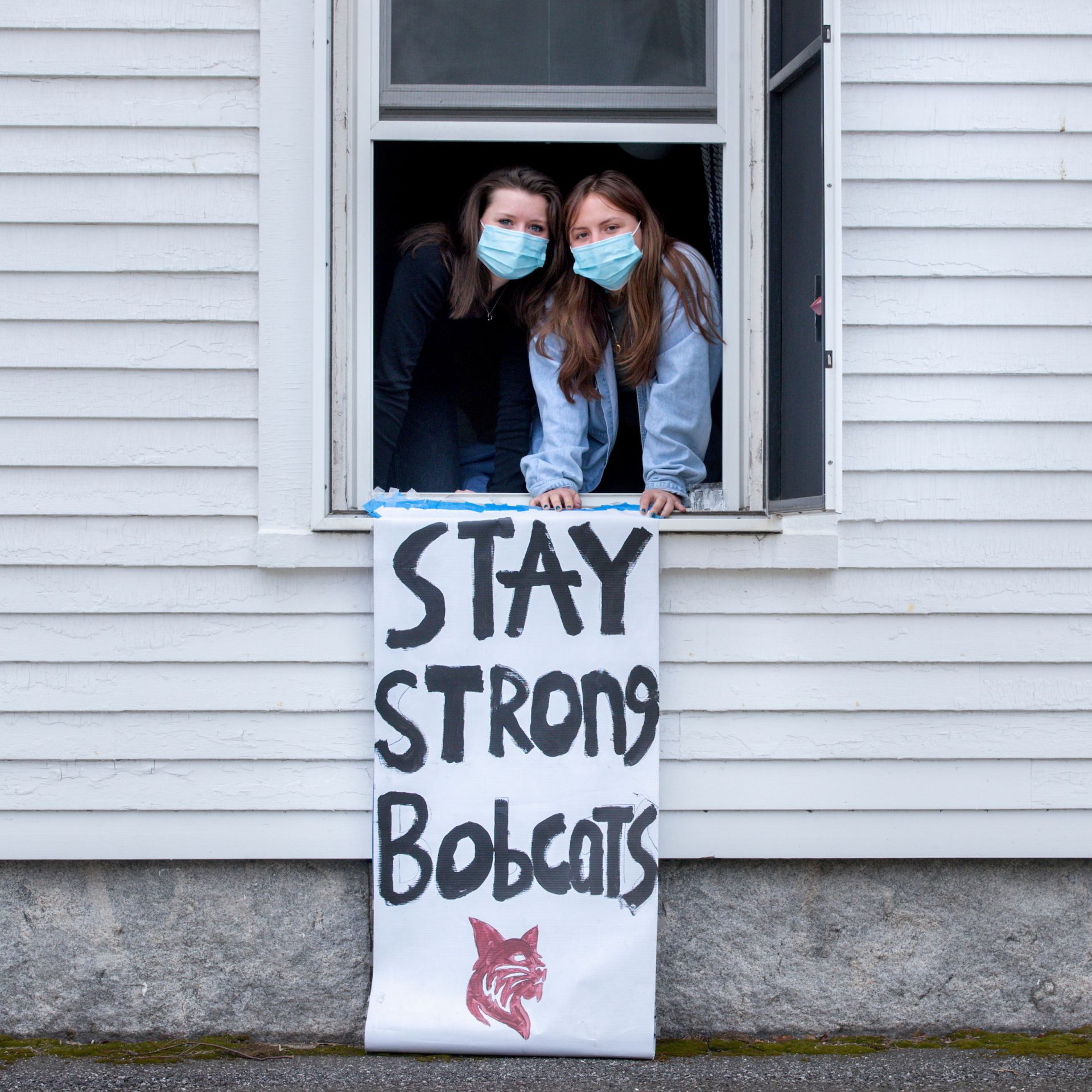 ---
Bound for Success
Theophil Syslo says:
As each semester draws to a close, seniors perform a beloved Bates ritual: having a friend help them bind their senior thesis. This clip shows Africana major Joshua Redd '21 and Mayra Gomes Spencer '22 binding Josh's thesis, an analysis of Black students' experiences in New York City charter schools. I was working with Josh on a video profile, but alas, the year concluded before we could finish. But, as we talked about the project, we discussed how the piece would focus on academics and that thesis, which is why I was there for the special moment. Congratulations to the Class of 2021!
---
Divine Connection
Phyllis Graber Jensen says:
I have a book on my shelf at home, When They Came to Take My Father: Voices of the Holocaust, by Hollywood portrait photographer Mark Seliger. It's a series of stylized black-and-white portraits paired with first-person survivor testimony, both painful and celebratory.
One photograph in it, a portrait of a husband and wife, has stuck with me for decades, and I've always wanted to photograph two individuals in a similar way. Copy and steal, they call it. It's a posture that implies a journey as well as proximity. My opportunity arose in February when I was asked to photograph Ed Walker '02 and his daughter, Bates senior Tiauna Divine Walker for a Bates Magazine feature.
COVID-19 restrictions meant that the photography had to be done outdoors. No problem: the Bates Windsor chairs on Alumni Walk and the father-daughter connection warmed up the whole scene. What I see — and what I had hoped for— with Ed and Tiauna is love, joy, and pride.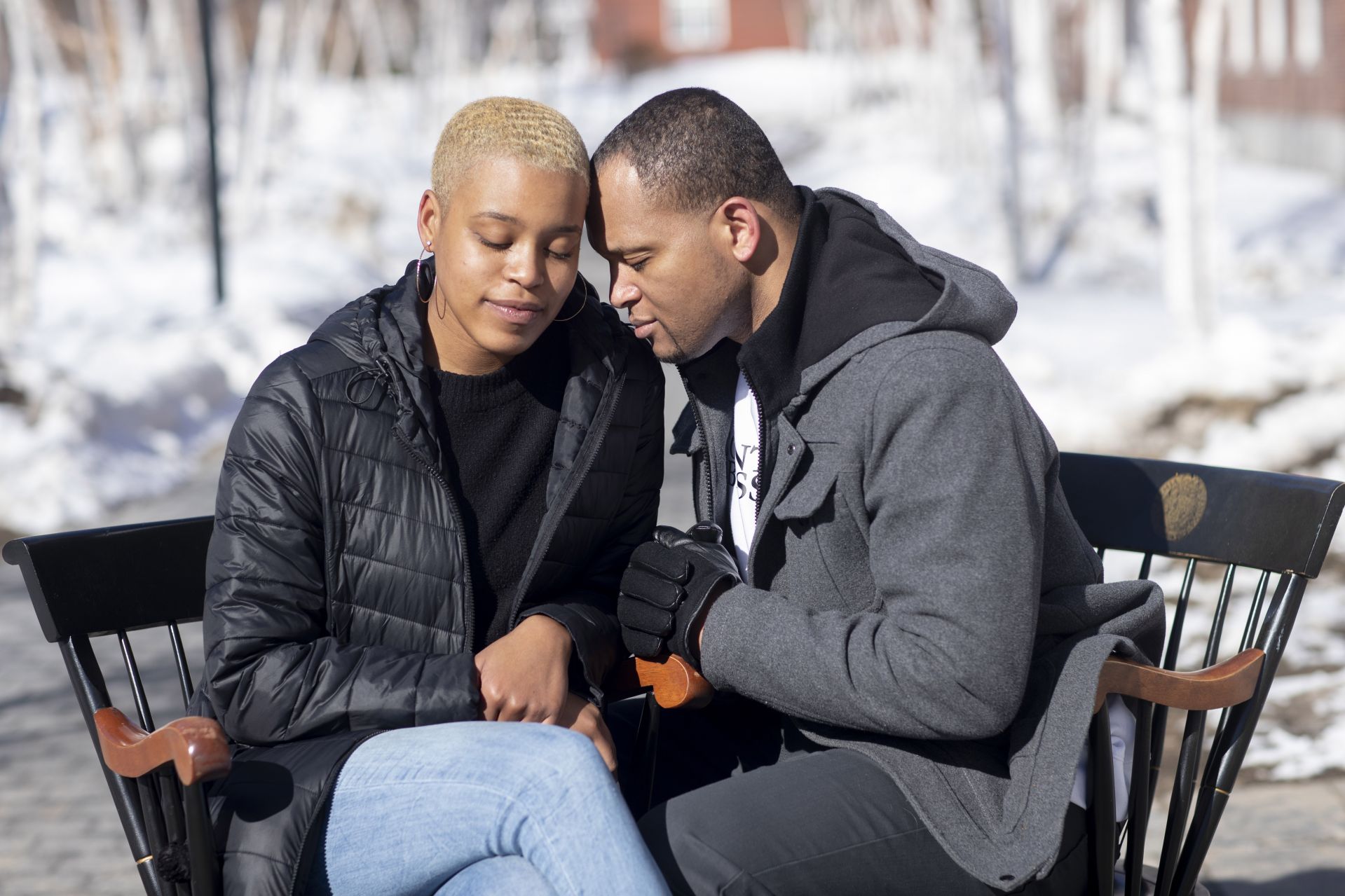 ---
Slo Mo Sprinkles
Theophil Syslo says:
I like sugar, I like cake, and I also love birthday parties, so this was a clear choice for me. Not that I wouldn't also have loved seeing the Bates Bobcat make an attempt. In this clip, the sprinkles landing on top of the cake's frosting in slow motion reminds me of simpler times playing Candyland as a child, shooting for the Queen Frostine card.
---
'Yes, You Can'
Phyllis Graber Jensen says:
With 11 seconds to go in Alumni Gym, the Bates men's basketball team was leading Bowdoin by four points in a December game. Stephon Baxter '23 (left) of Worcester, Mass., had already poured in 26 points — but you might not sense that from this photograph.
Baxter was heading to the line for two free throws. Bates needed those points, so I was following him with my lens. Then Stephen Ward '23 of Boston stepped into the frame.
In full view of the entire crowd, but in clearly a private moment, their somber closeness intrigued me. I asked the players and heard back from Ward: "We had Bowdoin on the ropes, and I was telling Steph, 'Knock these down and let's send them home.' Sure enough, he did just that, and we came out with the win." What they were thinking: It's my favorite part of photography.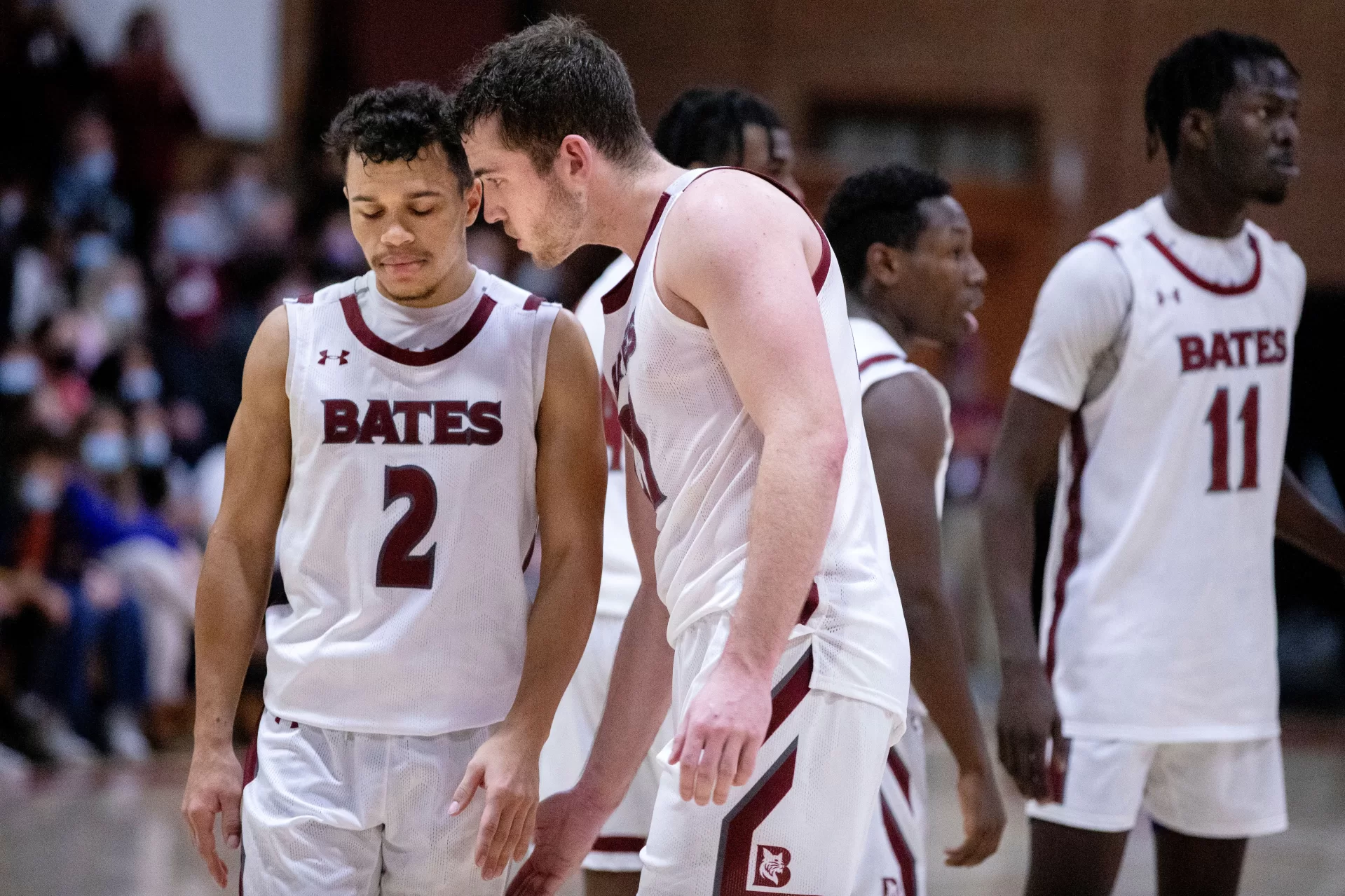 ---
All Eyes
Phyllis Graber Jensen says:
Monarch butterfly? A purple flower? I didn't really know any of the details as I used a macro lens with an extension tube to photograph this moment outside Pettengill Hall. Captioned vaguely for Instagram, the picture yielded several comments identifying both the butterfly, a Painted Lady, and its purple landing pad (Echinacea purpurea, aka purple coneflower).
I was hoping for a nice closeup of something, anything really. And butterflies were in full supply on the first of August as I prowled campus looking for the short view in environmental details. Changing your perspective with a closeup lens yields particular delights. In this case, those brown orbs on the butterfly's wing make me almost feel as if I'm looking at an owl. This just goes to show how little I understand about the natural world.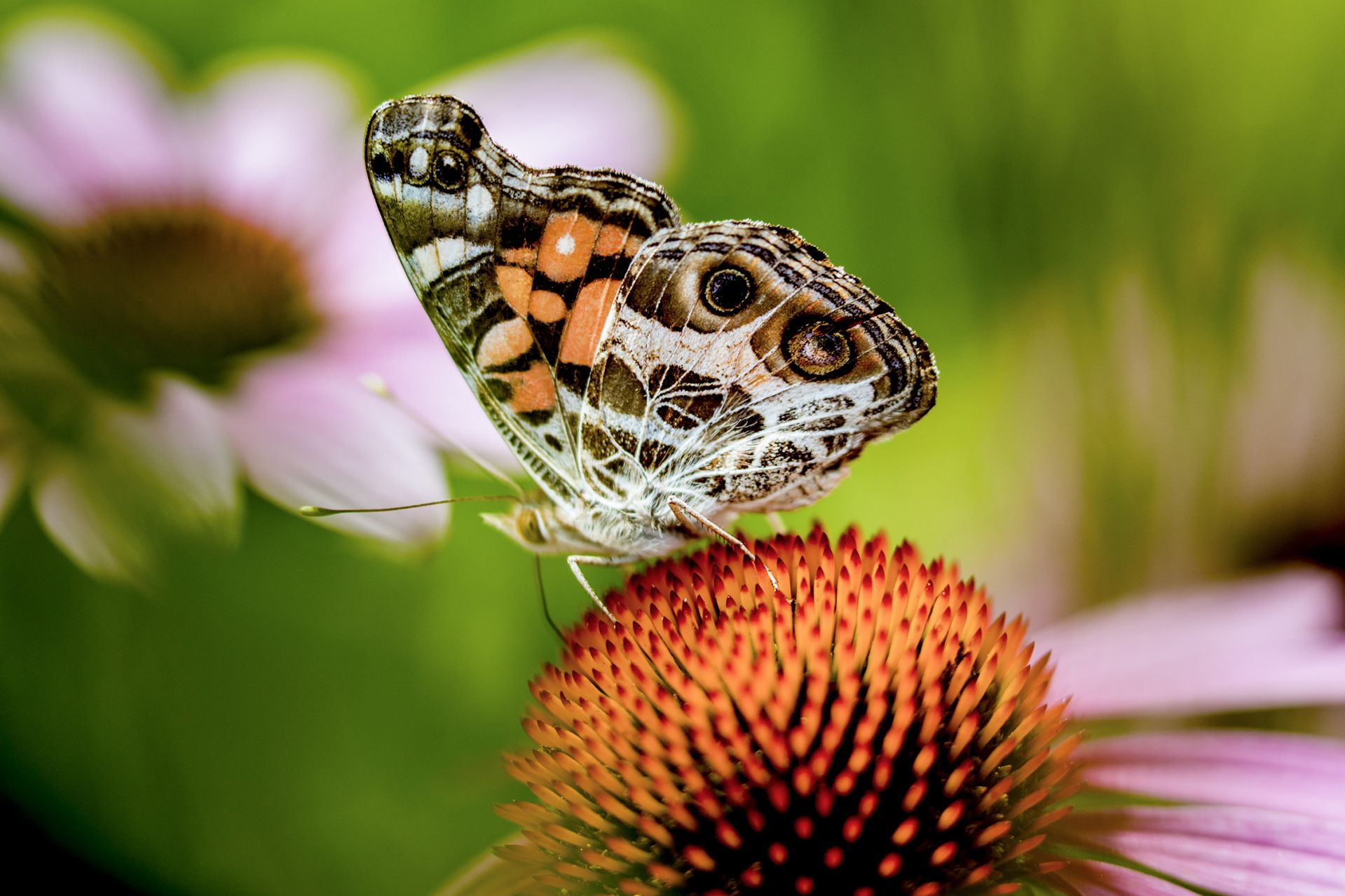 ---
Holy Cow
Phyllis Graber Jensen says:
How to describe? Après la fecal grab? Leah Puro, a staff member at Wolfe's Neck Center in Freeport, displays her hand (gloved, thankfully) in the facility's organic dairy barn, where she had pulled a sample of cow excrement from a test subject. She'd just handed off the specimen to a group of Bates students enrolled in the immersive biology course "Biological Research Experience: Molecules to Ecosystems," when she held her hand up for the camera.
The research topic was lofty, examining how a seaweed supplement might decrease the high levels of methane cows burp out, but it involved getting messy. One thing I noticed while editing the photograph: Her mask mirrored her gloves in a colorful way. Therein lies the beauty of the moment. For me.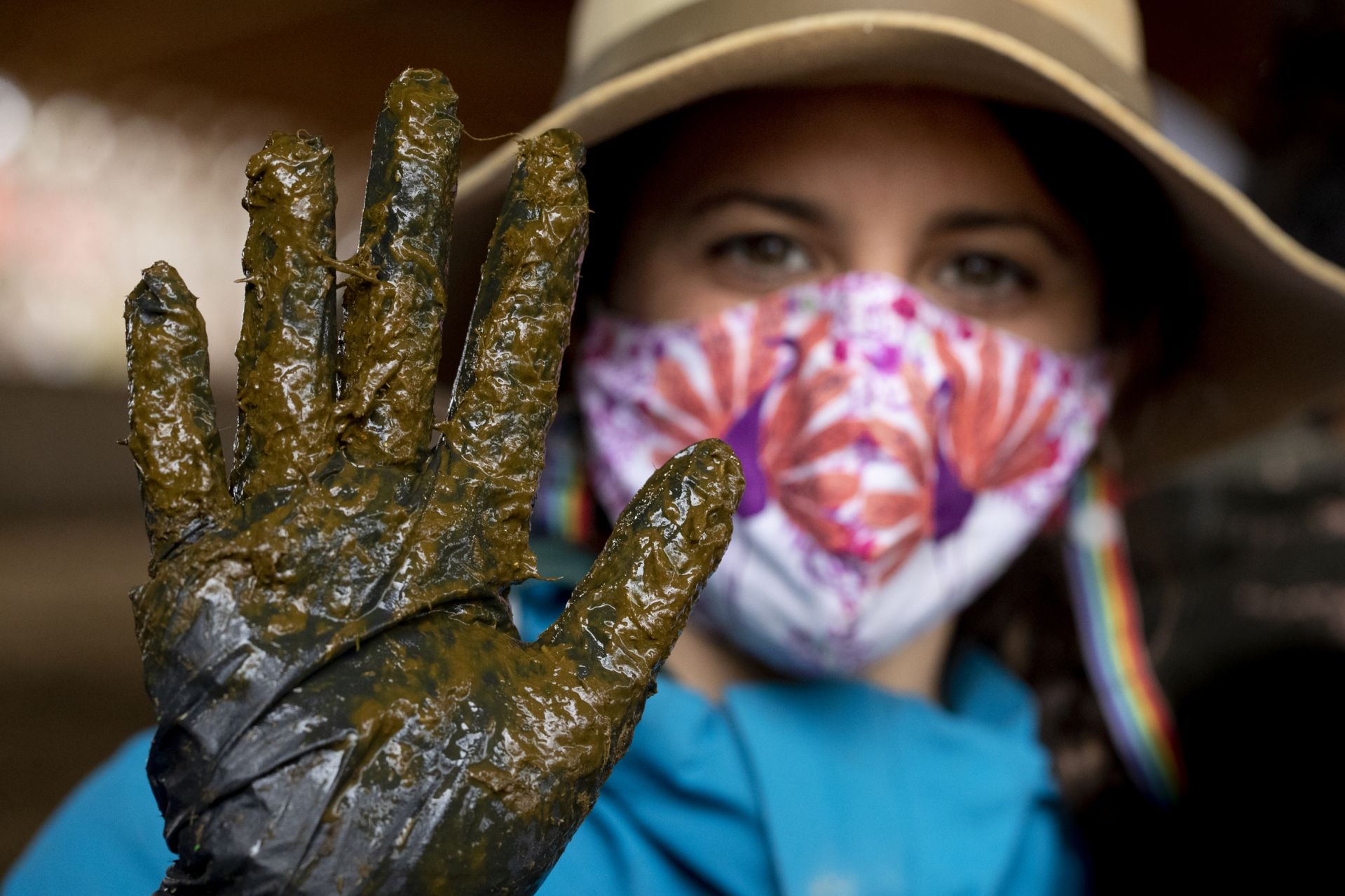 ---
View Comments