For Campus Construction Update, whose physique has been chiseled by years of lugging stepladders across campus so as to peep over construction-site fences, it's something to celebrate when the fence comes down.
So we've been looking forward to a bourbon and Moxie float since we saw, this week, that much of the fence around the Bonney Science Center site had disappeared: specifically, along parts of Nichols and Bardwell streets, and all of the Campus Avenue section.
Losing the latter is especially significant because the building's north facade is its visual calling card. It incorporates the center's main entrance and two signature design features, a two-story glass-walled lounge called the Beacon and a come-hither staircase, also showcased in glass, billed as the Monumental Stair.
The building's exterior structure, as a matter of fact, is fundamentally done, although work continues on tricky bits like rain gutters, entryway fittings, and window housings. The outdoor emphasis has shifted to the site at large, notably that Campus Avenue frontage and the large service and parking area behind the building, on the south side.
When we stopped by, on Monday, a crew from sitework contractor Gendron & Gendron was using an excavator and shovels to spread rough subsoil over what you might call the center's front yard. This will soon be topped by landscaping and a triangular entrance plaza paved with charcoal-gray asphalt blocks identical to those laid on Alumni Walk 13 years ago.
Meanwhile, on the south side, landscaping has commenced at the back of the lot. The stormwater diversion basin has been contoured and ringed with a few bushes and trees (no diving board yet), and a line of saplings now runs from east to west. According to construction administrator Jacob Kendall, tree species in the back lot include quaking or trembling aspen (Populus tremuloides) and the showy evergreen known as weeping Alaskan cedar (Chamaecyparis nootkatensis or Xanthocyparis nootkatensis).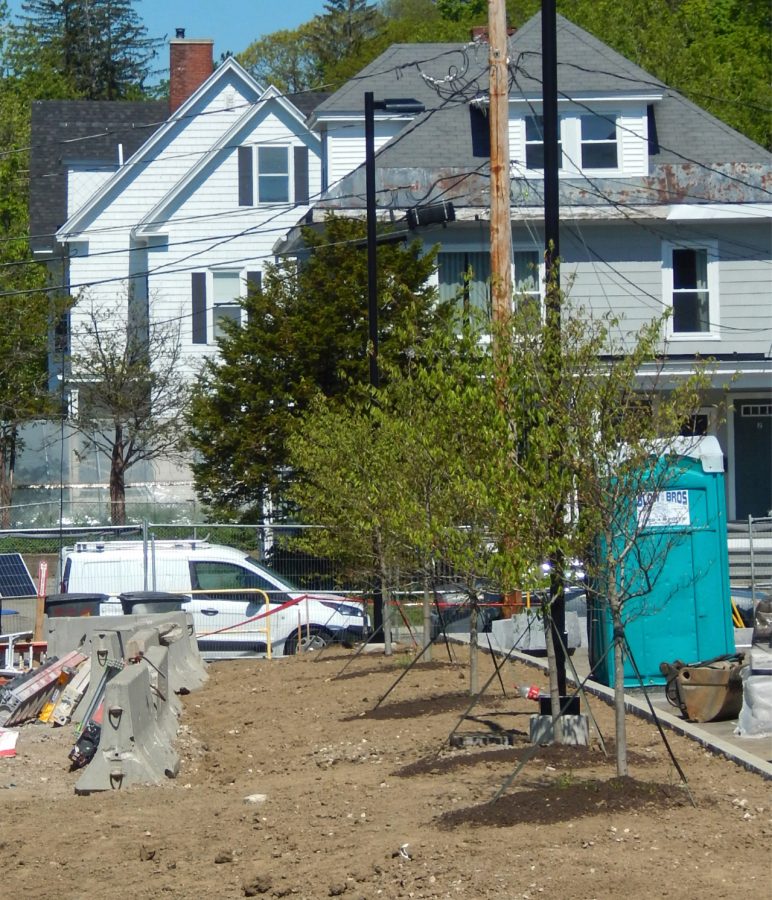 The south side remains the place to stage supplies, so the dance between storage and production in these tight quarters — a dance familiar nearly from the start of the Bonney project — will continue just a bit longer. Among the pallets loaded with lamp bases and paving blocks, we were interested to see long blocky concrete benches that will be placed around the science center. It's another visual echo of Alumni Walk, a project as transformative to the campus culture as Bonney will be to the practice of life sciences at Bates.
Other than a third glass wall, this one providing serious distraction potential to inhabitants of a third-floor classroom, the Bardwell Street view won't offer much to passers-by besides sidewalk and a grassy esplanade (also known in the no-punches-pulled parlance of public works as a snow shelf, because that's where the street plows heap up the snow).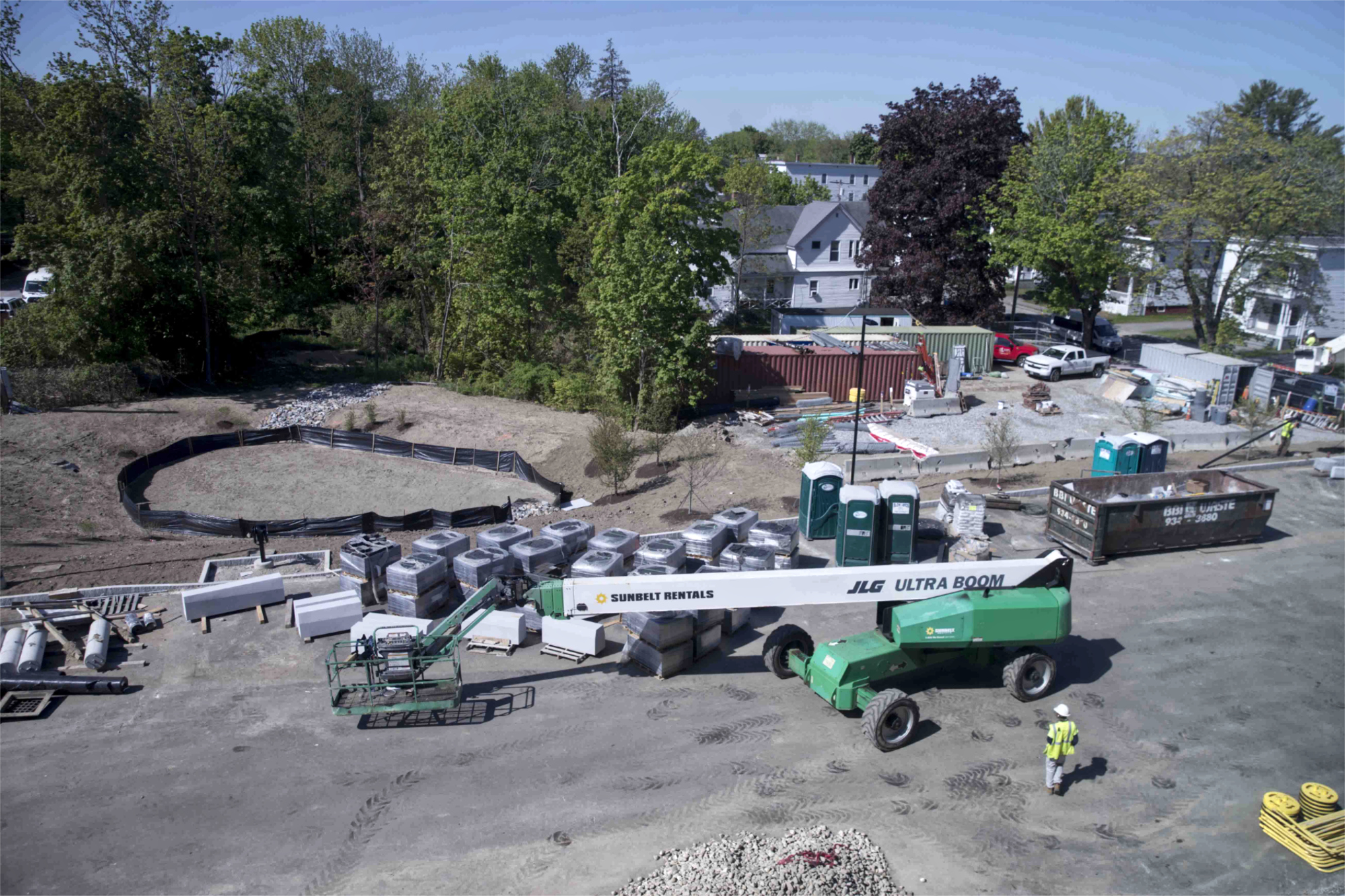 At the opposite end of the building, the Nichols street side features an entrance and a bench that's built into the hardscape. Still shady in the late morning, that area was occupied Monday by a couple of concrete workers finishing up the steps and the bench in preparation for the final placement of subsoil.
The science center interior was no ghost town on Monday, but neither was it the beehive of March and April. And the work the workers were doing signaled the end game: painters brushing final coats onto handrails, cleaners polishing glass on a research lab door, the lead technician for Cornerstone Commissioning checking machinery in the fourth-story penthouse.
"If we're scrambling anywhere, it's at the building entrances, just to make sure that those are done to support the move-in and occupancy," which begin in June, says Chris Streifel, Bonney Center project manager for Bates.
Another portent of finality was the "Room final cleaned / Ready for punchlist" signs taped up all over the place. (When you enter such a room, you step first onto a tacky mat that pulls all the dirt from your shoe soles.)
"We're close to two-thirds of the way through" punch-listing, Streifel says. The third and second floors, the basement vivarium, and parts of the first floor are done. It's a bit paradoxical that the last areas for punch-listing will be those that are either the least or the most important — examples of the latter being mechanical spaces, corridors, and stairways.
Greater Dana
It's also true that, in yet another emotional roller-coaster ride, the glow from those celebratory bourbon and Moxie floats won't last long.
That's because soon after the Bonney site fence goes away, a new one will spring up halfway across campus.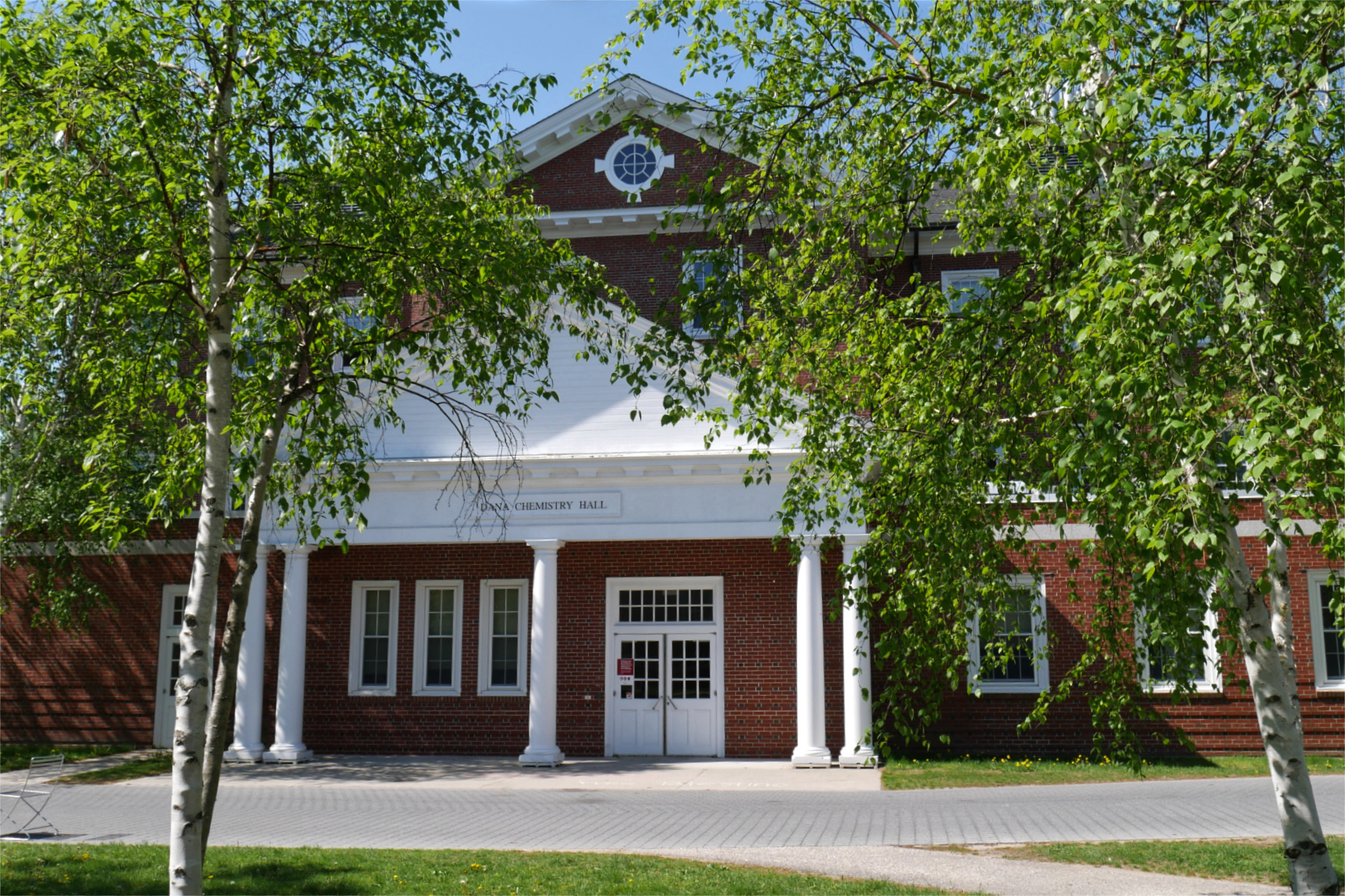 This time the object of attention won't be a brand-new building, but rather a brand-new role for an old one: 56-year-old Dana Chemistry Hall, soon to undergo a yearlong gut renovation.
As we've reported, the building of Bonney and the Dana makeover belong to the same greater project: nothing less than a comprehensive reconfiguration of Bates science facilities, also including Carnegie Science Hall. This is the result of a review of Bates STEM facilities (science, technology, engineering, and mathematics) conducted in 2016 under the direction of Payette, the Boston-area firm that, in partnership with faculty and staff, subsequently designed the Bonney Center.
Dana will be rebuilt to focus on science teaching, with a goal of effectively welcoming new students to STEM fields. Bonney, of course, will be a campus hub for faculty and programs in biology, chemistry, and neuroscience with overlapping research interests and technical needs. Carnegie, whose original structure is more than 100 years old and has been twice expanded, will be updated to better serve programs in concomitant STEM fields such as physics, and earth and climate sciences, formerly geology.
At Dana, says Chris Streifel, "everything comes out and a lot of the building's central core is reconfigured to open up space and provide a sense of transparency. It'll be less of a warren of small dark hallways and dark rooms.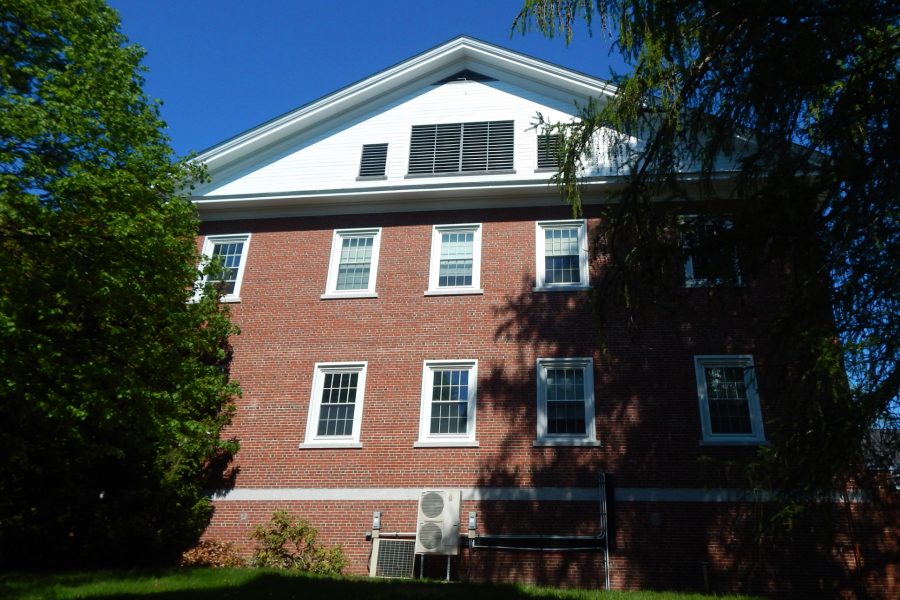 "So we realign some of the main corridors to give better sight lines and a more logical flow through the building. And then we're moving away from research to focus on teaching, so we'll have chemistry teaching labs on the first floor, biology teaching labs on the third floor. And there will be three big general-purpose classrooms on the second floor. Much needed, much desirable spaces, centrally located on campus."
At the same time, all building systems will be brought up to date. "Much of it is vintage, for sure," says Streifel. "These are sorely needed improvements, addressing deferred maintenance, addressing energy-inefficient equipment."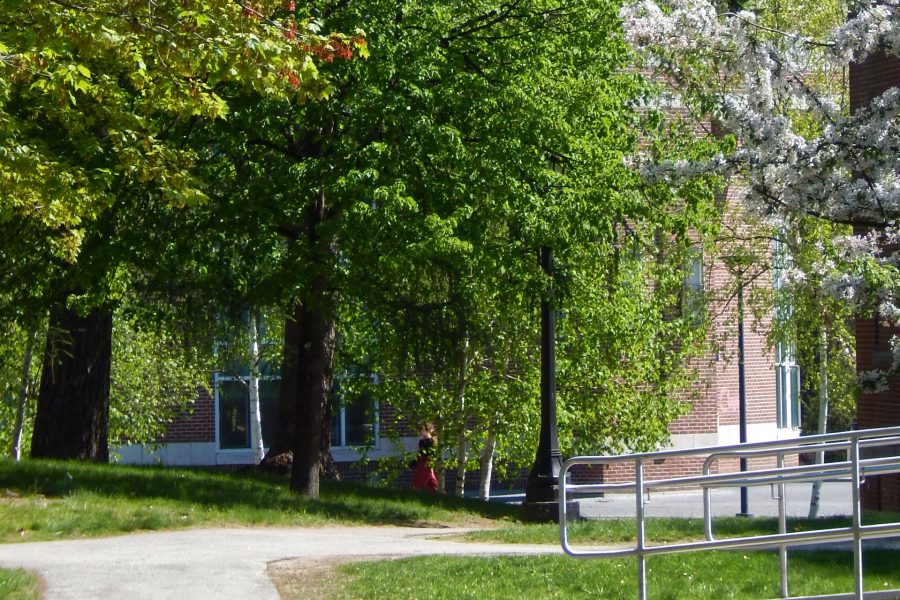 But, as we like to remind you whenever the opportunity arises (and it's the last time for this metaphor, we promise!), you can't make an omelette without breaking eggs. The breakage here involves getting across campus, which will be less convenient during the year of Dana reconstruction.
The latest construction fence will enclose not just the chemistry building and adjoining land, but the busy walkway between Dana and Hedge Hall — a Hedge wall (as opposed to an herbaceous border) will actually form part of the site perimeter — and an entire lane of Alumni Walk across Dana's frontage. (At least we won't have so far to haul the Campus Construction Update stepladder, which lives in Lane Hall.)
An additional length of fence will extend from the Dana perimeter to the brick wall where Ladd Library Plaza overlooks Dana, Hedge, and a service road. This will bar shortcuts past the work site.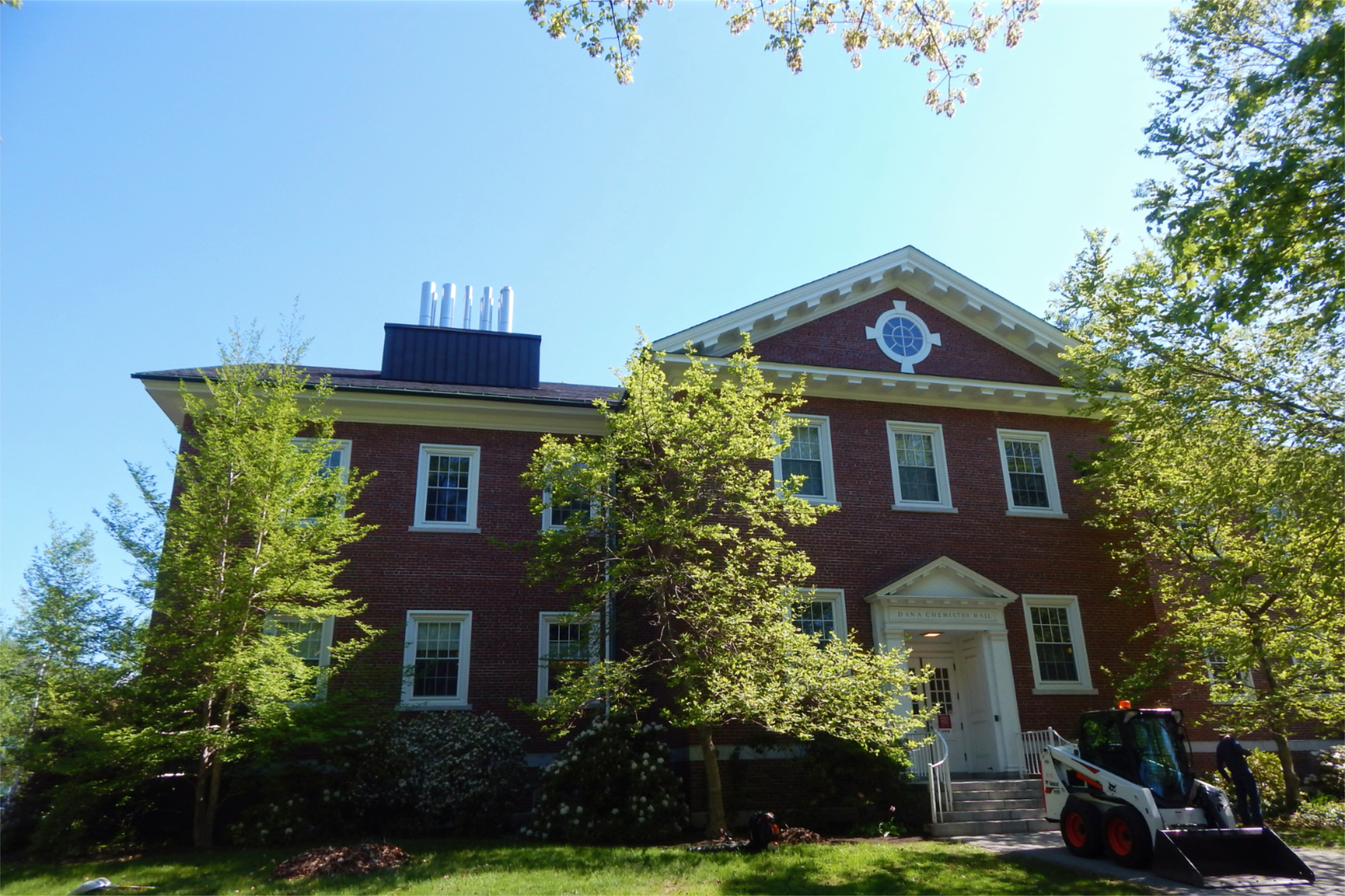 So if you want to get from the Bonney Science Center, say, to the Puddle, your quickest routes will go between Hathorn and Dana or via the Library Quad. The ramp to Ladd Library will remain accessible.
Consigli Construction, the regional firm that has managed the building of Bonney and other Bates landmarks, remains as construction manager for Dana. Site work starts around July 1, and interior work will commence soon thereafter — general demolition and the removal of old mechanical and other systems.
But as Streifel explains, the Dana project has actually been underway for many months, in the form of an inventory and dispersal of supplies and equipment, some of which soon will be moved over to Bonney. More recently, the construction team has been conducting so-called coordination modeling: the creation of a detailed three-D virtual model of the building.
In conjunction with GPS and wireless technology, this gives surveyors working in the physical building the information needed to mark, with impressive accuracy, the spots where pipes, ducts, and other utilities infrastructure and other features will be placed.
Post renovation, by the way, the building will be known simply as Dana Hall.
Can we talk? Campus Construction Update welcomes your questions and comments (as long as they're not mean) about current, past, future, and phantasmagorical improvements. Please e-mail Doug Hubley, with "Construction Update" or "If you wore stilts, you could lose the stinkin' ladder" in the subject line.
Doug Hubley is a musician and writer living in Portland, Maine.
View Comments