Vice President for College Advancement Sarah R. Pearson '75 to retire on June 30, 2022
Bates College President Clayton Spencer announced today that Vice President for College Advancement Sarah R. Pearson '75, a nationally recognized leader in higher education fundraising and the architect of the record-setting Bates Campaign, will retire on June 30, 2022, at the conclusion of the campaign.
"Ten years ago, I was thrilled when Sarah decided to return to her alma mater and take on the crucial role of leading fundraising and alumni engagement efforts at Bates," said Spencer. "She was well known in fundraising as a consummate strategist, and she saw the future as an opportunity for Bates to become stronger. Combining her considerable experience and deep devotion to Bates with her seemingly boundless energy and optimism, Sarah led the design and execution of the largest and most successful fundraising campaign in the college's history. As a new president, I could not have asked for a better guide in the art of fundraising or a better partner in our shared work on behalf of Bates."
Through the end of the fiscal year on June 30, Spencer added, "Sarah will focus her energies on the successful conclusion of the Bates Campaign," turning over management of advancement to Associate Vice President Eric Foushee, who will become acting vice president for college advancement on July 1.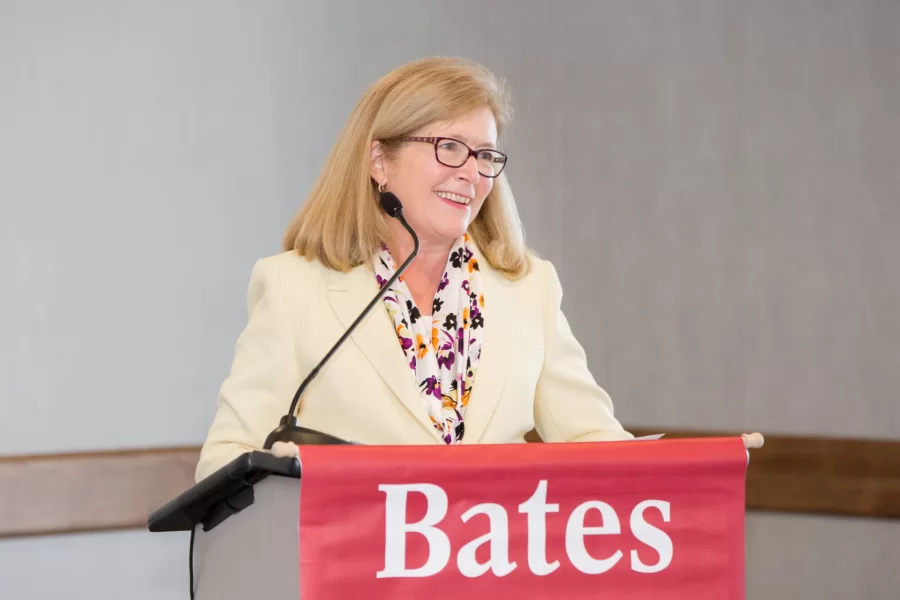 "It has been a great privilege to serve the institution I have loved since the day I arrived on campus in September 1971," said Pearson, who was an honors major in theater at Bates and earned an M.F.A. from Brandeis University. "I am grateful for the support of the college, the Bates Board of Trustees, as well as the many alumni, parents, and friends who have made this a remarkable and memorable closing chapter to my career. I want to give special thanks to my colleagues in College Advancement and, finally, to my son and daughter, Ben and Liz Balcom, for their endless love and support throughout my career."
"Bates is stronger now thanks to the work of Sarah Pearson and her team in College Advancement," said John D. Gillespie '80, chair of the Bates College Board of Trustees who serves as co-chair of the Bates Campaign. "Viewed through the lens of our charge as a board, which is to protect and strengthen the college's generational ability to offer the highest quality liberal arts education possible, Sarah represents the best of that imperative, with her robust leadership, clear vision, and unerring sense of the right direction forward. Speaking personally as a fellow Bates graduate, I feel great pride in what we've accomplished together."
During Pearson's tenure at Bates, annual fundraising has nearly tripled, from $12 million in fiscal 2013 to $34.2 million in fiscal 2021. In shaping a new strategy for fundraising at Bates, Pearson and her team played a central role in translating the goals of the college's Institutional Plan into a set of compelling fundraising priorities, which were presented to the college community at the public launch of the Bates Campaign in May 2017 with a goal of $300 million.
Sitting squarely at the center of the campaign's goal of Investing in Opportunity, the college announced a $100 million fundraising partnership with the Schuler Education Foundation in 2021. Kicked off with the foundation's challenge grant of $50 million to Bates, to be matched dollar for dollar by Bates donors, the Schuler Access Initiative will enable the college to increase the number of talented students from America's lowest-income families. To date, more than $34 million has been raised from Bates donors to meet that challenge.
With a focus on the future of higher education philanthropy, Pearson has led the college's involvement in a strategic partnership, also supported by the Schuler Education Foundation, with five leading national liberal arts colleges to research and address declining rates of giving among the large demographic cohort known as millennials.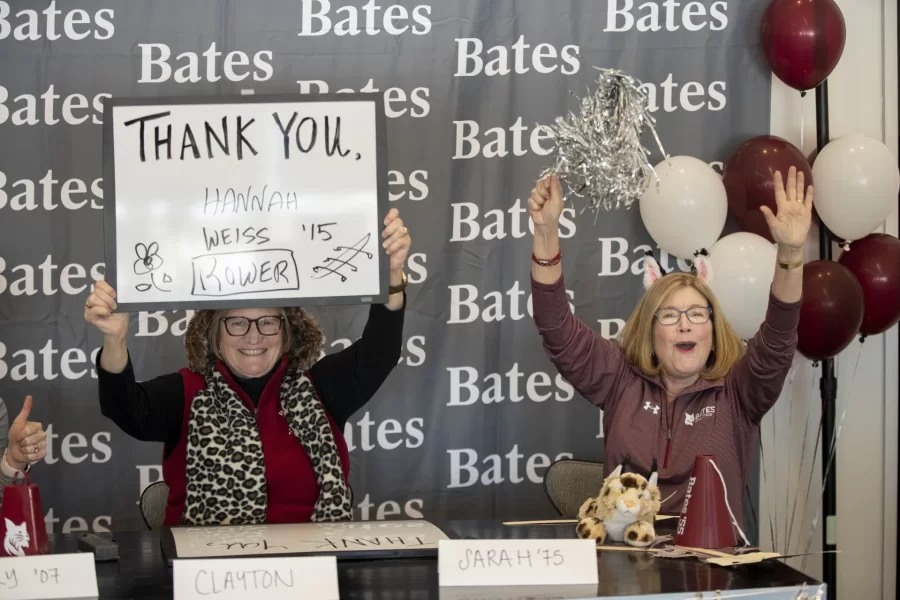 Pearson has led College Advancement's significant investment in reimagining the range and goals of the college's engagement programs, including Reunion programming and the Bates Alumni MOSAIC program, which builds community among underrepresented racial, ethnic, LGBTQIA+, first-generation college, and international alumni. Throughout Pearson's tenure, signature college events in cities around the world regularly set attendance records.
In a 42-year career in higher education, Pearson has served as chief development officer at the Broad Institute at Harvard and MIT and as vice president for alumni relations and development at Northwestern University. During her tenure at Northwestern, total university giving increased from $138 million to $235 million annually. Pearson also held leadership positions at the University of Chicago, Cornell, and Harvard.
In her service to the field of advancement nationally, Pearson has served on the board of trustees of the Council for Advancement and Support of Education International and chair of the CASE Philanthropy Commission. Characterized as a "creative strategist," she was among 10 leaders featured in Making the Case for Leadership: Profiles of Chief Advancement Officers in Higher Education. She has taught at numerous CASE conferences including serving as chair for the CASE Summer Institute in Educational Fundraising, the largest institute for new advancement professionals.
Prior to her appointment as Bates vice president for college advancement, Pearson served for four years on the Board of Trustees, co-chairing the college's advancement committee and was co-chair of the Bates Fund, charged with overseeing strategic and tactical objectives for the college's annual giving program.